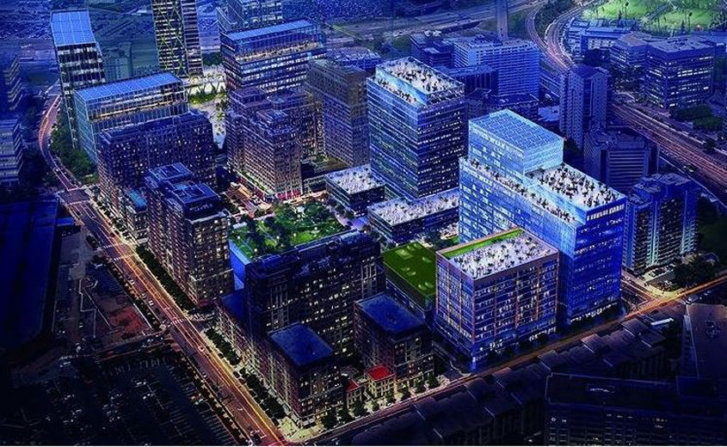 On November 13, 2018, residents of Crystal City, Pentagon City, and Potomac Yard awoke to news that they had been transplanted to a new neighborhood.
News that had been trickling out for months would soon be official: Amazon had picked Northern Virginia as home to one half of its new headquarters. And with that announcement, came another unexpected piece of news: the creation of a neighborhood called National Landing, which Amazon described as "an urban community located less than 3 miles from downtown Washington, DC." More simply, it is a neighborhood that consists of parts of Crystal City, Pentagon City, and Potomac Yard. Local development officials, as part of their bid for the headquarters, came up with the name.
The arrival of Amazon's second headquarters means more than just 25,000 new jobs in Northern Virginia over the next 10 years. It also means the redevelopment and creation of millions of square feet of office space, thousands of new residential units and hundreds of millions of dollars in infrastructure spending.
For many, the arrival of Amazon and the birth of National Landing is exciting. But what about the residents who find themselves, unexpectedly, in the spotlight?
Martin Zuniga, who rents an apartment with his wife in Crystal City, doesn't share in the excitement. "I can't say I'm a huge fan," he told UrbanTurf. "While I've never considered myself a NIMBY, I have a feeling we won't be able to live here once our lease is up."
The perspective of those who were involved in negotiations with Amazon since back when it felt like an expensive popularity contest between major American cities is a little different.
"I'm positive about this, and most of us who worked on it are mostly positive," said Carol Fuller, president of the Crystal City Civic Association. "But we are rational about what's coming."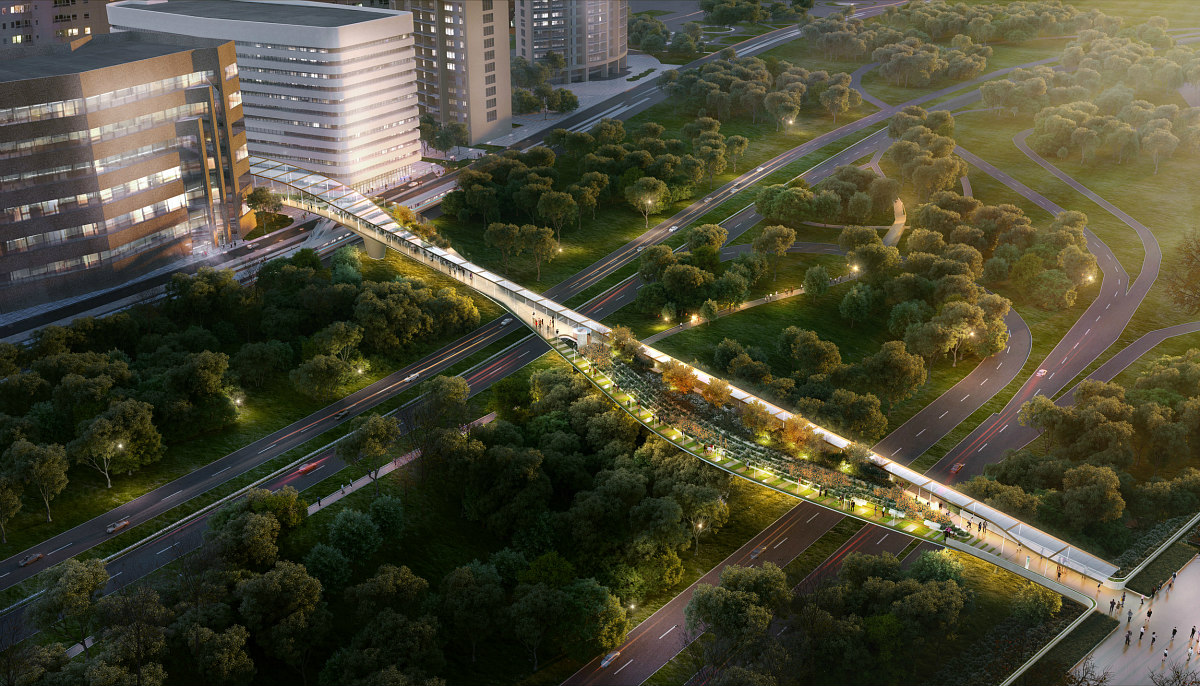 Fuller recognizes that there are going to be some challenges in the future.
"One challenge is transportation, and when the incentives will come for the second Metro station in Crystal City," Fuller said. "The fact that Amazon is only bringing 800 jobs in 2019 and the rest over a 10- to 12-year period, it slows down the money that will go into the infrastructure."
Lori Timan and her husband bought their brand-new, four-story townhouse in Potomac Yard in 2016. What lured them to the neighborhood, in addition to lower real estate prices relative to their former home in DC, was the promise of the development. With Amazon's arrival, that promise will likely be kept.
Residents of the area are hoping for a boost in several developments projects that have already been in the works before Amazon made its decision. Among these are an expansion of the Long Bridge Aquatics Center; the creation of a pedestrian bike bridge from Crystal City to Ronald Reagan Washington National Airport; additional Metro station entrances at Potomac Yard and Crystal City; an "innovation campus" for Virginia Tech at Oakville Triangle; and a future concept of transforming Route 1 into more of a boulevard.
One of the central developments on the boards from National Landing developer JBG Smith will be Crystal City Central District, a four-building development that will include a new pedestrian plaza outside a new Metro station entrance and over 240,000 square feet of retail (including a boutique grocer and a new location of Alamo Drafthouse Cinema), plus a new office building. This project will be just the first of many on tap for National Landing.
How fast the area now known as National Landing will change remains to be seen. But once Amazon arrives, nothing will be the same for very long.
Outlining a Concept
Boundaries for established neighborhoods in the DC area have always been a sensitive topic, and that remains true when deciphering the exact borders for an entirely new neighborhood. JBG Smith has the new area spanning Crystal City, east Pentagon City, and north Potomac Yard.
For a better picture of what this looks like, consider the boundaries of each individual neighborhood.
Crystal City's boundaries are 33rd Street north on Crystal Drive to 12th Street, west on 12th Street to S. Eads, south on S. Eads to 15th Street, west on 15th to S. Fern, south on S. Fern to 23rd Street, east on 23rd to S Eads, south again to S. Glebe Road crossing Route 1, then back up Crystal Drive. Pentagon City is bounded on the north by Interstate 395, on the west by S. Joyce Street, on the east by S. Eads Street and S. Fern Street, and on the south by parts of 18th Street, 15th Street, and 16th Street. Potomac Yard Arlington's general boundaries are the George Washington Memorial Parkway, Four Mile Run and the City of Alexandria, Crystal Drive, and the Airport Viaduct. Potomac Yard Alexandria's boundaries are Four Mile Run, Route 1, the Potomac River, and parts of Slaters Way and Potomac Greens Drive.
Geographically, the location makes sense for Amazon's Northern Virginia portion of HQ2, given the proximity to downtown DC and major transportation routes (including I-395 and the George Washington Memorial Parkway), but perhaps most importantly, Ronald Reagan Washington National Airport, which is almost directly in the middle of the neighborhood.
From Freight to Tech
National Landing's history is being written daily. Nevertheless, there are long histories for each of the area's composite neighborhoods.
Potomac Yard opened in 1906 and quickly became a freight yard and switching station for rail cars traveling up and down the eastern seaboard. The mechanics and switch operators who made a living in Potomac Yard settled in the nearby Del Ray and St. Elmo neighborhoods. In 1992, Potomac Yard closed, paving the way for new development that, over the years, brought about the existence of the Potomac Yard shopping center that has spurred new construction.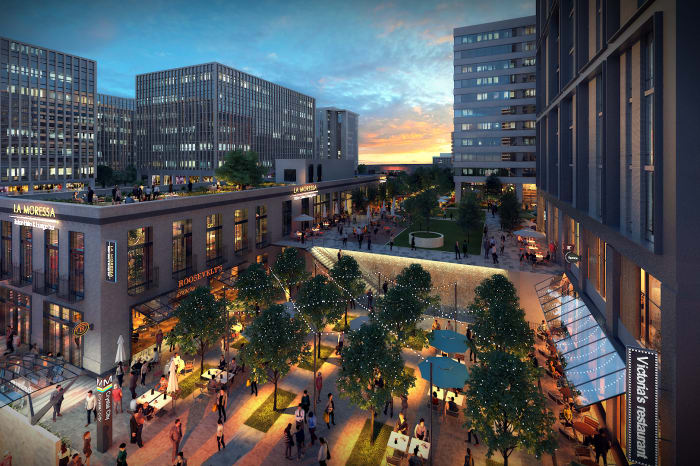 Crystal City's renaissance began in the 1960s, with the development of office buildings and high-rise apartment and condo units. One of these apartment buildings, Crystal House, is responsible for the neighborhood's moniker thanks to its lobby's crystal chandelier. Crystal Drive, Crystal City's retail corridor, has bloomed in recent years and helped turn the neighborhood into what Carol Fuller calls a pleasant hybrid urban setting.
"People underestimate Crystal City," she said. "I used to be able to go to any restaurant during the week and on weekends with no problem, but now it's gotten more difficult since people are coming and staying here more often."
With its views of the Pentagon and Arlington National Cemetery, Pentagon City was developed after World War II, which brought about the area's own crop of high rise buildings, as well as the Fashion Centre in 1989. In subsequent years, Pentagon Row's mixed-use space of retail and housing popped up.
---
UrbanTurf Coverage of HQ2 in National Landing
(Article continues below the links)
---
Gold Rush?
"We were planning to buy in Crystal City when our lease ended, but I've been reading about how there is already a rush for property, so it's likely to exceed our budget," said Zuniga.
New real estate statistics for 22202, the zip code that includes Crystal City and Pentagon City, reveal that there was indeed a rush on real estate following the Amazon announcement. The number of homes that went under contract in November shot up a whopping 633 percent compared to the year before.
As for whether this jump in sales will result in higher home prices, it's a little too early to tell. Still, median home prices in 22202 have risen 6.2 percent, from $524,000 to $557,000, over the last year.
Most of the buildings in National Landing are apartments, with a few condo buildings located near the Metro stations, as well as pockets of duplexes and single-family homes. However, there is a slew of development on the boards that will bring a wide variety of new housing to the marketplace in the coming years.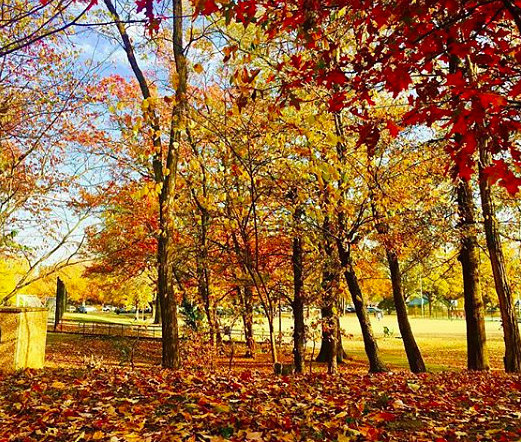 Five Things to Do
Fashion Centre at Pentagon City --

Think indoor malls are a thing of the past? Think again. You could make an entire day shopping and dining through this four-level mall—one of the largest in the DC region.

Synetic Theater:

Blending dance and movement with technology and the visual arts, this innovative theater company transforms well-known stories like Hamlet and The Wizard of Oz into impossible-to-describe and impossible-to-forget experiences.

Virginia Highlands Park:

Stretching near 20 acres, this public green located along South Hayes Street is where neighborhood children and adults meet to play sports (on one of several fields), walk on off-street trails, and picnic.

Freddie's Beach Bar and Restaurant:

This eclectic LGBT restaurant and bar offers everything from happy hour specials and champagne brunches to karaoke nights and drag bingo Wednesdays.

Mount Vernon Trail: National Landing's proximity to the Mount Vernon Trail offers easy access to the iconic 18-mile track on which you can run, bike, and walk from Mount Vernon to Theodore Roosevelt Island (complete with great views of DC).
Connected
An influx of people in the National Landing area invariably means more cars on the road.
"I'm worried about traffic in the area," said Potomac Yard resident Kionna Davis. "When I take a car to work, the stretch of Route 1 going past Crystal City to the highway can take up half of my commute time."
Still, the neighborhood is nothing if not connected. National Landing is home to two Metro stations, Pentagon City and Crystal City on the Blue and Yellow Lines, and a third coming in 2021 at Potomac Yard.
Residents have access to several major roads, including I-395, Route 1, and Glebe Road, as well as plenty of Metrobus routes throughout the area. And if you need to travel farther afield, there's Ronal Reagan Washington National Airport just across the GW Parkway.
The Bottom Line
Thousands of new residential units, millions of new and refurbished square feet of office space, hundreds of new parking spaces, and one epic online retailer; what these and other upcoming arrivals mean for the region and the three neighborhoods that make up National Landing will become more clear in the comings months and years.
"This is going to happen over a relatively long period of time," said Natalie Vaughan, a real estate agent who works in the region. "So 25,000 jobs over the course of 10 years, when you really think about it: It's sort of not that exciting."
Which means residents have a little more time to adjust to the new developments. And the new name.
Zak M. Salih is a freelance writer based in Washington, D.C. His work has appeared in publications including Washington City Paper, the Richmond Times Dispatch, Baltimore City Paper, the Chicago Tribune, and the Christian Science Monitor.
Recent Neighborhood Profiles:
This article originally published at https://dc.urbanturf.com/articles/blog/national-landing/14796.
DC Real Estate Guides
Short guides to navigating the DC-area real estate market
We've collected all our helpful guides for buying, selling and renting in and around Washington, DC in one place. Visit guides.urbanturf.com or start browsing below!
First-Timer Primers
Intro guides for first-time home buyers