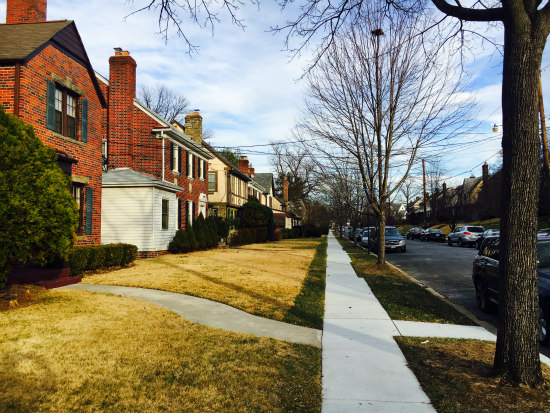 Shepherd Park
UrbanTurf has profiled more than 50 neighborhoods in the DC area. We are now revisiting each of those neighborhoods to update our profiles and see how they've changed over the years.
---
Holly Ramsawh and her husband, Jamil, had a decision to make. After a year renting in Montgomery County, the couple was looking to take the plunge and buy a home. They'd confined their search to Chevy Chase and Bethesda, when one day Jamil came home from work and passed along a neighborhood recommended by a coworker at the Children's National Medical Center: Shepherd Park. The couple visited, found a three-bedroom Dutch colonial that was to their liking, and bought it. "Even back in the summer of 2013, homes in Shepherd Park were getting multiple offers, so we felt lucky to get in when we did," Ramsawh remembered. "I'm a city person at heart, whereas Jamil likes areas with a more suburban feel. Shepherd Park, we felt, was a good compromise." Ask most residents of this tight-knit, community-focused neighborhood off 16th Street in upper Northwest and you're bound to hear similar praise of Shepherd Park as something of a special oasis. The neighborhood has increasingly become a major draw for families who want easy accessibility to downtown DC, a home life with front lawns and friendly next-door neighbors, and don't want to pay the premium that comes with living west of Rock Creek Park. Christopher Alexander and his wife purchased a 2,200-square-foot home in Shepherd Park for around $550,000 in 2010. "My wife grew up in southeast D.C. and was eager to experience the amenities of suburban living: a single-family home with a lawn and a driveway," he told UrbanTurf. "I was raised in the suburbs, so I really wanted to stay in the city. Shepherd Park was our happy medium."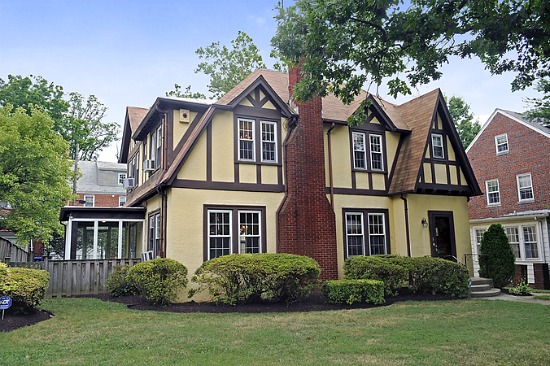 A home on Geranium Street NW.
Then there's the long-gestating, finally-arriving development plans at the old Walter Reed Army Medical Center campus -- The Parks at Walter Reed -- that's expected to make the neighborhood more self-sufficient. Currently, residents depend on downtown Silver Spring for restaurants, stores, and watering holes. "This development project will be the catalyst for the already northbound revitalization of the District," said Joan Brierton, a preservation specialist who lives in the area with her husband and son. "We hope it will spark reinvestment for a long-suffering (and underutilized) stretch of Georgia Avenue."
A "Garden of Diversity" at the Top of the Diamond
Sitting at the tip of D.C.'s diamond, Shepherd Park is bounded on the west by 16th Street, and on the East by Georgia and Eastern Avenues. To the south, the neighborhood's borders are Alaska Avenue and Fern Street, with the currently vacant stretch of Walter Reed Army Medical Center campus just below.
Shepherd Park takes its name from Alexander "Boss" Shepherd, a Gilded Age governor of the District who chose the land as the site for a summer mansion. (The mansion, named "Bleak House," was demolished in the early 1900s.) Current residents take pride in the neighborhood's diversity, but it wasn't always that way. As the neighborhood grew in the 20th century, Jewish and African-American families were barred from moving in. It was only after World War II, when such practices were ruled unconstitutional and with the help of passionate community activists, that Shepherd Park began to truly diversify. The Shepherd Park Citizens Association has the unofficial motto for the neighborhood as "A Garden of Diversity" – appropriate, given streets with names like Juniper, Hemlock, and Locust, and residents ranging from professors to federal employees. Residents are keeping a watch on the impending development at Walter Reed to make sure that doesn't change. "It goes without saying that maintaining diversity in this area is key," Brierton told UrbanTurf. "Lose it, and you lose Shepherd Park's essence, which has defined it for generations."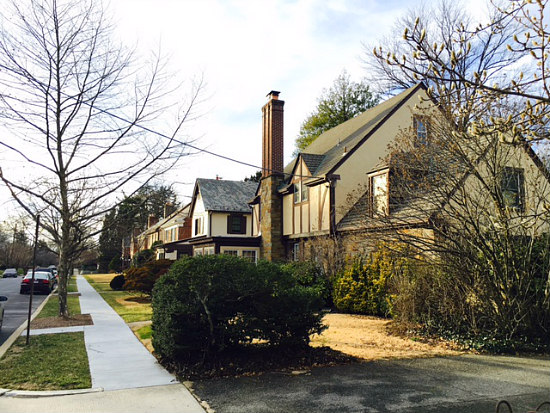 The Future of Walter Reed
When it comes to new real estate developments in this section of the city, all eyes are on The Parks at Walter Reed. The future of the Walter Reed Army Medical Center campus sat in limbo from its closing in 2011 until 2016, when the District finally assumed ownership of its portion of the site (66.2 acres for an estimated $22.5 million). Set to include around 250,000 square feet of retail, over 2,000 rental units and homes, and 20 acres of green space, The Parks at Walter Reed will shape the future of Shepherd Park in the years to come. Expected projects include a Hyatt Hotel and Conference Center, a big-box grocery store, housing options for seniors and veterans, apartments, parks and community gardens, and a non-emergency medical care clinic. With construction expected to start this year, the development team of Hines, Triden, and Urban Atlantic say the project, in its current iteration, will take 10 years to complete.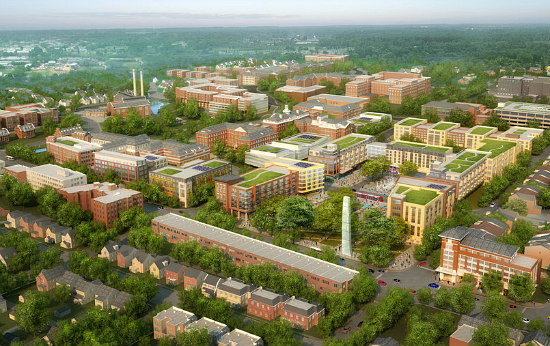 Aerial rendering for The Parks at Walter Reed.
Neighborhood residents seem optimistic, if a little cautious, about the massive changes on the way. The key concern is making sure the community stays involved with the site's development team every step of the way. "We have confidence in the developers and in the District that we'll be afforded every opportunity to consult on, review, and contribute to the project," Brierton told UrbanTurf. "The goal should be to strike a balance between much-needed change while preserving and maintaining the character of this community."
Appreciating Real Estate
When Christopher Alexander and his wife bought their home in Shepherd Park, the median price in the neighborhood was $563,000. Last year, it eclipsed $825,000, and Alexander's home assessed for $712,000. "Prices have quietly but steadily edged up," Marilyn Charity of Washington Fine Properties said. "Two $1.5 million sales of new construction in 2015 at 16th and Geranium Streets, as well as new construction on the 1300 block of Holly Street listed at $1,595,000, are putting pressure on the rest of the neighborhood." While new construction commands a premium, the dominant property types in the neighborhood are the single-family colonial revival homes, going for around $800,000. A major draw for families in Shepherd Park is the schools. The neighborhood is zoned for some of the most popular public schools in the District: Shepherd Elementary, Deal Middle School, and Wilson High School. This has added to the price tags of the Colonial, Mid-century Modern, and Tudor homes that line the neighborhood's verdant streets. "It's crazy," Holly Ramsawh says of the increase in home prices since she first moved to the neighborhood. "I'm not sure we'd be able to afford to buy here now."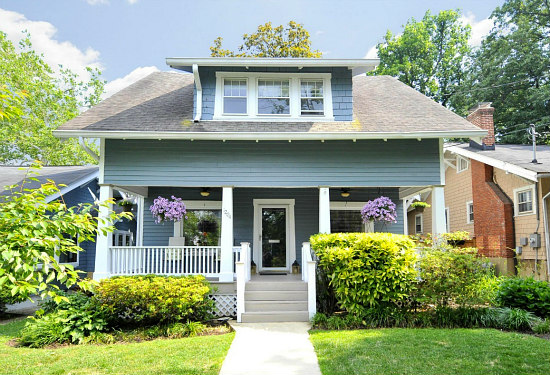 A home on Holly Street NW.
Four Things to Do
While The Parks at Walter Reed will bring dining and retail options, Shepherd Park is currently home to the family-friendly activities and events you might expect. * SPCA New Year's Potluck. In January, Shepherd Park neighbors and families get together for the community association's annual New Year's Potluck, a welcoming event for residents old and new. * Rock Creek Park. Shepherd Park affords easy access to Rock Creek Park and all its various outdoor adventures, including the Holly Trail, which starts at the intersection of 16th and Holly Streets. * Jessup Blair Local Park. Located just across the border between DC and Maryland, this 24.2-acre park is home to a rentable recreation center, picnic areas, playgrounds, and sports fields. * SPCA Garden Tour. Every summer, the community association hosts a self-guided tour of the gardens in Shepherd Park. It's a great way to explore the landscaping that's the pride and joy of residents. Befitting a city neighborhood with a suburban vibe, Shepherd Park offers residents ample driveway and street parking for cars. Several bus routes run along 16th Street (S1, S2, and S4 routes) and Georgia Avenue (79 route). For those who prefer Metro, two stations are a short drive (or generous walk) away: Silver Spring and Takoma (Red Line).
The Bottom Line
Veteran Eric Johnson purchased a red-brick five-bedroom Colonial Revival in Shepherd Park in 2002 for around $360,000. It's a price, and a value, that's hard to come by nowadays in this increasingly popular, increasingly expensive northern D.C. neighborhood. But for those who managed to move into the neighborhood early -- or for those willing to pay a price -- Shepherd Park is an easy distance to urban work and play, and has a friendly familiarity that downtown DC lacks. It will be interesting to see if and how the massive development plans just to the south of the neighborhood will change that reputation. Note: An earlier version of this article stated that the Takoma Metro station is on the Green/Yellow Line. It is on the Red Line.
---
Zak M. Salih is a freelance writer based in Washington, D.C. His work has appeared in publications including Washington City Paper, the Richmond Times Dispatch, Baltimore City Paper, the Chicago Tribune, and the Christian Science Monitor.
Real Estate Agents Serving Shepherd Park
The following real estate agents are active in Shepherd Park. Call or email them to get in touch.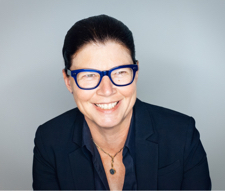 Beth Hughes
Compass
Phone: 202-277-7553
Website: View website
Listings: View listings

Recent Neighborhood Profiles:
This article originally published at https://dc.urbanturf.com/articles/blog/shepherd_park_waiting_for_walter/12117.
DC Real Estate Guides
Short guides to navigating the DC-area real estate market
We've collected all our helpful guides for buying, selling and renting in and around Washington, DC in one place. Visit guides.urbanturf.com or start browsing below!
First-Timer Primers
Intro guides for first-time home buyers