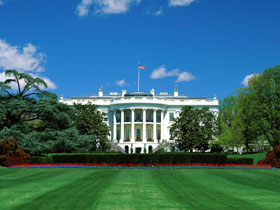 President Obama travels to Denver this morning to sign the stimulus bill that has been almost the sole focus of his administration since taking office four weeks ago. The bill, which passed both the House and Senate on Friday, includes a number of measures to address the troubled housing market. Two measures in particular are notable: the $8,000 homebuyer tax credit, and the reinstatement of increased loan limits for FHA, Fannie Mae, and Freddie Mac.
The final $8,000 tax credit might disappoint those who hoped for the original $15,000 that was introduced two weeks ago but was later reduced. Still, the credit is an improvement over the existing $7,500 credit, which was more like an interest-free loan that had to be paid back over 15 years. The new tax credit never has to be repaid, and effectively amounts to an $8,000 discount on the cost of a new home. A few of the key stipulations are:
Only first-time homebuyers are eligible. (First-time buyers are defined as people who have not owned a principal residence over the three years prior to purchase.)
The credit only applies to the purchase of a principal residence (i.e., not a vacation home or investment property).
The credit is actually the lesser of $8,000 or 10 percent of the purchase price of the home. (This distinction only matters to those who purchase a home worth less than $80,000; everybody else gets the full $8,000.)
The home must be purchased between January 1, 2009 and December 1, 2009.
The National Association of Realtors (NAR) has published a handy one-page chart explaining the details of the new $8,000 tax credit and comparing it point-by-point to the existing $7,500 credit.
The second measure reinstates the $729,750 loan limit offered by FHA, Fannie, and Freddie. This loan limit is the threshold at which a mortgage crosses from "conforming" to the much more expensive "jumbo". The increased loan limit is applied in varying amounts on a county-by-county basis depending on the median price of a home in each locality. The idea is that in more expensive markets, the original conforming loan limit threshold of $417,000 was too low and forced homebuyers into onerous jumbo loans even for homes that were not very expensive by local standards.
NAR published another chart that shows the loan limit in every county around the country. In all counties and cities in the DC metro region the loan limit was increased to the full $729,750, a testament to the very high cost of housing in this area.
As for the stimulus bill, there were a handful of other measures directly or indirectly related to housing.
NAR
has quick explanations of each:
This article originally published at https://dc.urbanturf.com/articles/blog/final_stimulus_include_8000_credit_and_reinstatement_of_loan_limits/548