UrbanTurf has profiled more than 50 neighborhoods in the DC area. We are now revisiting each of those neighborhoods to update our profiles and see how they've changed over the years.
---
After spending several years in Asia, Cindy Paladines longed to plant roots in a neighborhood. New to DC, she pounded the streets of Northwest searching for a possible home.
"I was driving along and pulled up to LeDroit Park at the Sixth and T Street entrance, and immediately a sense of calm came over me," Paladines recalled.
Two years later, Paladines is in the midst of cosmetic changes to a house constructed more than a century ago in LeDroit Park. But she's holding off on major work out of respect for the home's – and the neighborhood's – pervasive sense of history.
Eric Fidler, who purchased a two-bedroom, end-unit rowhome in 2009 and is in the process of moving to a new house in the neighborhood, has a similar attraction to LeDroit Park's history. Not only did he develop the neighborhood blog, Left of LeDroit, he also made it his mission to share and promote the neighborhood's iconic history and architecture with others.
"I joined the civic association and started researching the neighborhood's history, which turned out to be richer and more fascinating than I had expected," Fidler said. "I volunteered with Cultural Tourism DC on creating heritage trail markers throughout the neighborhood. I also devised a historical walking tour, which I lead every year for free as part of the annual city-wide 'Walking Town DC' event."
A designated historic district since the 1970s, most of LeDroit Park has not experienced the development booms (and controversies) in places like Logan Circle, Shaw, and the U Street Corridor. In a way, history acts as an armor that gives LeDroit Park residents the benefit of access to development in the surrounding area without having it encroach on their historic homes.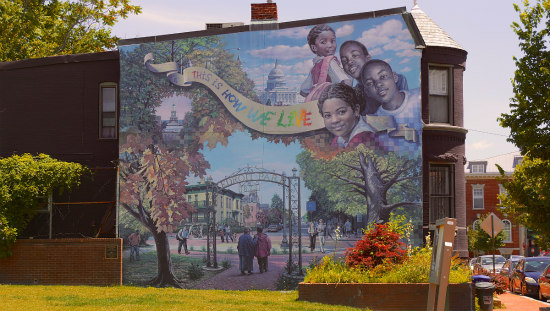 A mural on the side of a home in LeDroit Park.
"I'm far enough away that I don't have to live with all the rowdiness that comes with a nightlife district," said Fidler. "When I walk back from U Street on a Friday or Saturday night, the streets get noticeably quieter when I turn off Florida Avenue and into the neighborhood. It makes a peaceful end to long nights."
Paladines agrees. "As the U Street Corridor and the northern part of Shaw expands, it's bringing retail even closer – without interfering with what we have here," she said.
In fact, the biggest development news this year is one that's not a major concern for many residents. In early September, it was announced that two vacant Howard University dorms – George Washington Carver Hall and Lucy Diggs Slowe Hall – would be renovated into apartments. The most contentious issue: parking.

A Museum of Architecture
LeDroit Park is a modest, pentagonal patch of streets bounded by several major Northwest DC arteries: Rhode Island Avenue NW, Florida Avenue NW, and Georgia Avenue NW. Its northern and eastern borders, traditionally, are W Street NW and 2nd Street NW.
Take a brief walk through the streets of LeDroit Park and you'll get the sense you're in a secluded museum of different architectural styles. Queen Annes, Italianate marvels, Victorian turrets and porches, grand estates with green frontage, carriage houses, tightly packed rowhomes – it's hard not to stop for a moment to gawk at the variety of houses that line the neighborhood's streets.
"This rich diversity of housing size and type, not permitted under most modern American zoning, provides housing at different sizes and costs," Compass real estate agent Suzanne Des Marais said. "It attracts a broad range of people at different income levels and stages of their lives."

From Segregation to Inclusion
It's hard to forget the date of LeDroit Park's founding in 1873 as it's right up there on the iconic fence that introduces you to the neighborhood.
In some ways, however, there's a hidden side to that pleasant fence. LeDroit Park was originally intended to be an all-white suburb and, according to the National Park Service, a fence enclosed the entire neighborhood, complete with guards. In the 1890s, after protests that saw the removal of the fence, African-American families began moving into the neighborhood.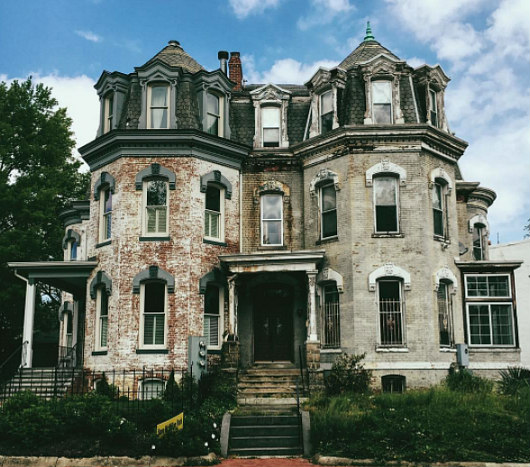 Home at 1901 3rd Street NW.
And it's here where LeDroit Park's hallowed connection to African-American history truly begins. Notable figures who at one time called these streets home include former DC mayor Walter Washington, writer Paul Laurence Dunbar, civil rights leader Mary Church Terrell, activist Jesse Jackson, and the first elected African-American senator, Edward Brooke.
"When I lead my neighborhood history walking tour, I'm continually awed when I describe residents who brought two landmark civil rights cases to the Supreme Court or who conducted groundbreaking research in biology," Fidler told UrbanTurf. "It makes me wonder what I've done with my life in comparison."
What began as a segregated neighborhood has now transformed into a welcome blend of ages, races, cultures, and economic backgrounds.
"We have people living in public housing two blocks away from million-dollar homes," Fidler said. "We have senior citizens, middle-aged people, millennials, college students from Howard, teens, and little kids. Our civic association may be the most diverse group of people I have ever met."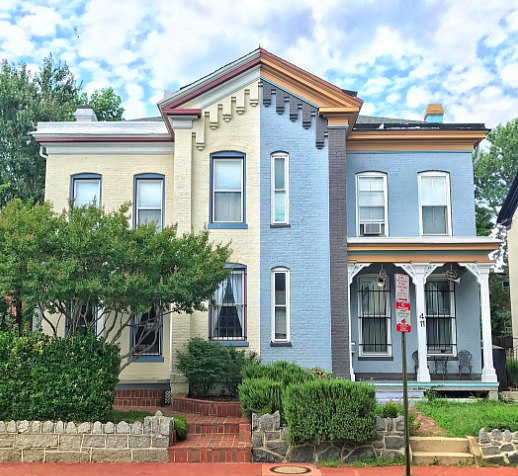 Homes in LeDroit Park.
The Price of History
The past few decades have been good for home prices in LeDroit Park.
"Except for a brief period around the Recession, prices in the area have been steadily increasing since the late 1990s," Suzanne DesMarais told UrbanTurf. "With the recent commercial development around the Howard Theater and the section of U Street closer to Georgia Avenue, LeDroit Park has seen an increased demand from buyers competing over a limited supply of active listings."
As of early 2017, the median price for a single-family home in LeDroit Park is $1.05 million. For a condo, the median price is $452,250.
"The median number of days on the market for a house here is nine days," Des Marais said. "For condos, it's about seven days."
Where you want to live, too, plays a role in how much you pay for property. Given that part of the neighborhood is a historic preservation district, homes on the western edge tend to be pricier. (Being closer to the bars and restaurants on U Street and the Metro helps.)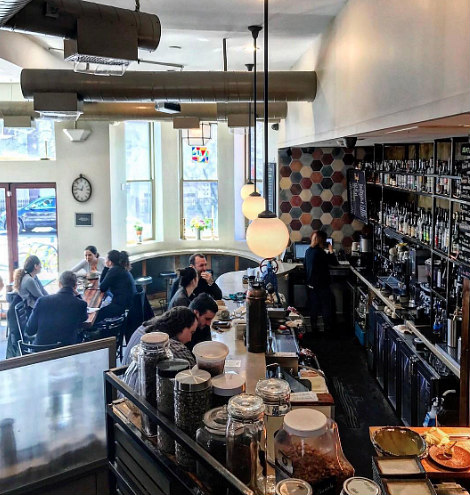 Inside The Royal.
Three Things to Do
The Royal. Part coffee shop, part bar, part kitchen, this hip little spot on Florida Avenue is a welcome respite for remote workers (by day) and a neighborhood watering hole and restaurant (by night). Plus, they serve boozy snow cones.
Heritage Trail. The 16-stop LeDroit Park/Bloomingdale Heritage Trail is an enlightening and informative trip into the neighborhood's past. You can take the annual guided tour – or just follow the trail on your own.
Anna J. Cooper Circle Park What this neighborhood park lacks in size it more than makes up for in charm. Secure a bench on a mildly breezy day and find yourself surrounded by some of the many architectural wonders LeDroit Park offers.
A Well-Connected Spot
LeDroit Park is a short walk to two Green and Yellow Line stations: Shaw-Howard University and U Street/African-American Civil War Memorial/Cardozo. To get where they need to be, residents also take advantage of the major bus routes that run along Florida Avenue NW (including the 90 and 92), Rhode Island Avenue NW (G8, G9) and Georgia Avenue NW (70).
If you have a car, prepare to hunt for spaces. Considering that LeDroit Park stands shoulder-to-shoulder with other popular neighborhoods, this shouldn't be a surprise.

The Bottom Line
Walk through LeDroit Park's streets and you'll certainly hear the bang of hammers and the whirr of saws. But the noises aren't usually announcing the arrival of a new condo unit. Rather, they're just the sounds of homeowners like Paladines treating their historic treasures with tender, loving care.
Zak M. Salih is a freelance writer based in Washington, D.C. His work has appeared in publications including Washington City Paper, the Richmond Times Dispatch, Baltimore City Paper, the Chicago Tribune, and the Christian Science Monitor.
Recent Neighborhood Profiles:
This article originally published at https://dc.urbanturf.com/articles/blog/ledroit_park_behind_the_gate_trustees_of_history/13123.
DC Real Estate Guides
Short guides to navigating the DC-area real estate market
We've collected all our helpful guides for buying, selling and renting in and around Washington, DC in one place. Start browsing below!
First-Timer Primers
Intro guides for first-time home buyers