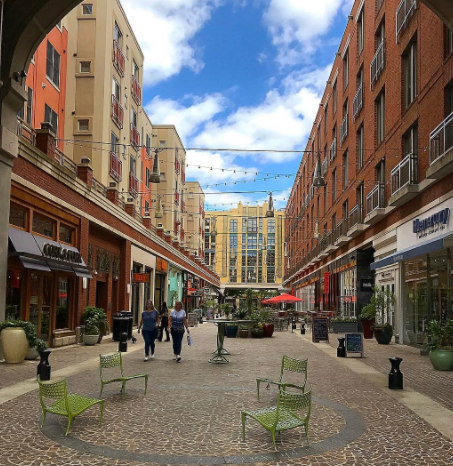 Bethesda Row
UrbanTurf has profiled more than 50 neighborhoods in the DC area. We are now revisiting each of those neighborhoods to update our profiles and see how they've changed over the years.
---
When construction began on the Bethesda Metro station in the early 1980s, local blogger Robert Dyer was a young boy. "My sense was that we were giving up the old to become the city of the future," Dyer recalls. "But we went off-track after the 1990s. I had imagined more signature high-rise buildings, a more impressive skyline, more energy and events, more Fortune 500 corporate logos." Now, more than 30 years after the Bethesda Metro station brought its own modest wave of development, Dyer's about to get the first of what may be many more corporate logos to come – this one in the form of a giant red "M." In 2022, Marriott, the world's largest hotel company, will move its corporate headquarters to downtown Bethesda, bringing with it over 3,000 employees, 22 stories of office space, an additional hotel with more than 200 rooms, and 800 onsite parking spaces. What it's also bringing: renewed excitement over a wave of development designed to transform the Maryland neighborhood. "Marriott will be a huge boost for downtown Bethesda," Dyer told UrbanTurf. "The county was desperate to keep Marriott, and we need them, as no major corporation has moved to Montgomery County in two decades." Granted, Marriott is just moving its headquarters from one part of Bethesda (10400 Fernwood Road) to another (7750 Wisconsin Avenue). But it's a five-mile move that could have big ramifications for the area. "Marriott's employees are going to inject a tremendous amount of cash into the shops and restaurants downtown," Dyer says.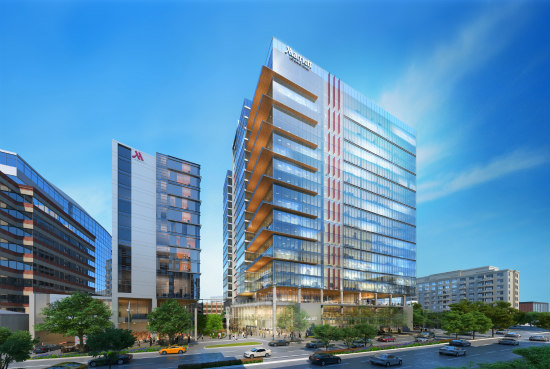 Rendering of the new Marriott headquarters
Rebecca Ross Hess, a resident of a small colonial home in East Bethesda since 2009, shares Dyer's sentiment. "We're hopeful the new Marriott headquarters will be good for the neighborhood," the mother of two says. "We were looking for a more urban feel when we first moved here from U Street, so I think we may be happier about the new development than some of our neighbors, who first moved here when Bethesda had a much more suburban feel." In addition to the Marriott move, there's what developers expect to be Bethesda's tallest building at 7272 Wisconsin Avenue. Currently home to the Apex building, the site, as currently envisioned, will stretch nearly 300 feet off the ground and include two massive towers linked by a glass-enclosed skywalk. The proposed project will bring with it 360,000 square feet of office space, 7,000 square feet of public space, more than 14,000 square feet of retail space, and over 450 residential units. The site will also be home to the Bethesda station of the region's proposed Purple Line project. Of course, with new development comes change. And with change comes loss. Current downtown institutions that, as of this writing, may be on the chopping block in the near future include the Tastee Diner, Bethesda Farm Women's Market (whose roots go back to the Great Depression), and Bethesda Row's three-story Barnes & Noble. The potential loss of these institutions, and the dawn of taller buildings and more corporate logos, has Bethesda residents taking a more active role in the planning process for future development. "Most are not opposed to development per se but think it's important to have infrastructure in place to make sure all the new residential space is balanced by appropriate improvements to things like parks and schools," says Hess.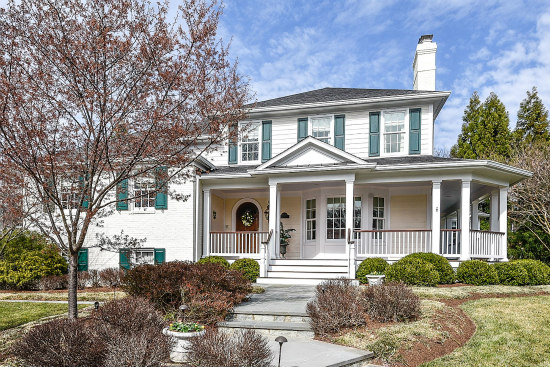 A home for sale in Bethesda.
Swelling schools, in fact, are one of her chief concerns. "Our older daughter has one more year before she starts kindergarten, so I'm just starting to try to learn more about the school overcrowding issues, which seem to be significant," she says. The "city of the future" Dyer dreamed of all those decades ago – playing with G.I. Joes purchased from Lowen's Toy Store and eating at the Hot Shoppes at the corner of East-West Highway and Wisconsin Avenue (both businesses now just a memory) – may soon be here. But it's not arriving without taking a piece of the past with it.

More Than Just Bethesda Row
Most of what visitors think of as Bethesda – the crowded intersection of East-West Highway, Georgetown Road, and Wisconsin Avenue or the shopping area near Woodmont Triangle – is actually only a small part of the neighborhood. Much of Bethesda proper is devoted to residential developments including Woodburn, Whitehall Manor, and Woodhaven. Bethesda is bounded on the north by I-495 and on the south by the District/Maryland line at Western Avenue. Generally speaking, the western boundaries of the neighborhood follow the curve of I-495 and Cabin John Parkway, Massachusetts Avenue, and Sagamore Road. The eastern side of the neighborhood is a bit more jagged, with boundaries following I-495 and Rockville Pike (excluding Chevy Chase).

Moving on Up
Throughout its history, Bethesda's development has been inextricably linked with transportation. Up through the 19th century, the neighborhood was little more than a small way station, named in 1871 in honor of the nearby Bethesda Meeting House. All that changed in the last 10 years of the century, when the new electric trolley began to connect Bethesda with other parts of Maryland and downtown DC. Fast forward another few decades and the dawn of the automobile age helped extend Bethesda further west, planting the seeds for more suburban developments outside the main business corridor. While the neighborhood continued to grow and develop (becoming home to the National Institutes of Health and the Walter Reed National Military Medical Center complex in the 1930s), 1984 was a major year for the neighborhood. It was then that the Bethesda Metro station opened, bringing with it the spark for new development in the form of entertainment districts like Bethesda Row and Woodmont Triangle.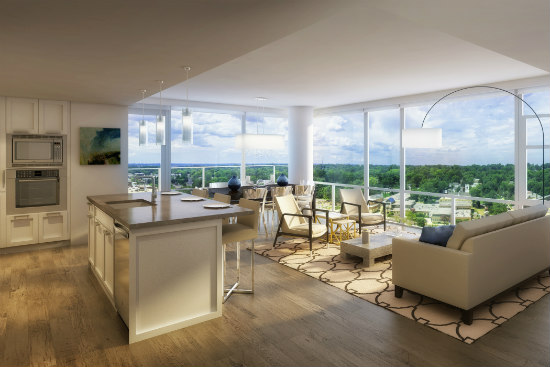 A rendering of the living room space at
Cheval.

Changing Demographics
Much of Bethesda is home to winding streets lined with grand manors and single-family homes in developments noted for their good schools (such as Bethesda Chevy-Chase High School and Walt Whitman High School). Whether you live in east or west Bethesda, however, home prices are skyrocketing, which may impact some residents' future plans. "In the last year alone, four houses on our block have been torn down and replaced with new builds selling for between $1.7 and $2 million," says Hess. "On the one hand, I guess that's good for our property value, but we worry that we don't be able to stay in the neighborhood when we need a bigger house." Local real estate agent Jane Fairweather chalks it up to changing demographics. "The more you provide a lifestyle that young people and old people want with limited supply, the more prices are going to go up," she told UrbanTurf. "If you want to live on the edge of the central business district, the west side is extremely expensive. You can spend up to $2 million just for the dirt. On the east side of the downtown market, you can get in between $700,000 and $1 million." What's big now in Bethesda: multifamily rentals. "In 2013, we started to see the multifamily buildings coming online," Fairweather said. "Since then, I think we've filled almost 1,900 multifamily rental units." The median rent for Class A buildings in Bethesda currently is about $2,640 a month. The slew of rentals doesn't mean that high-end condos aren't on the boards as well. When completed early next year, Cheval will feature 71 luxury residences in what will be the tallest condo building in Bethesda at 7006 Woodmont Avenue. Stonehall Bethesda will deliver 46 high-end residences at the corner of Battery Lane and Woodmont Avenue this summer.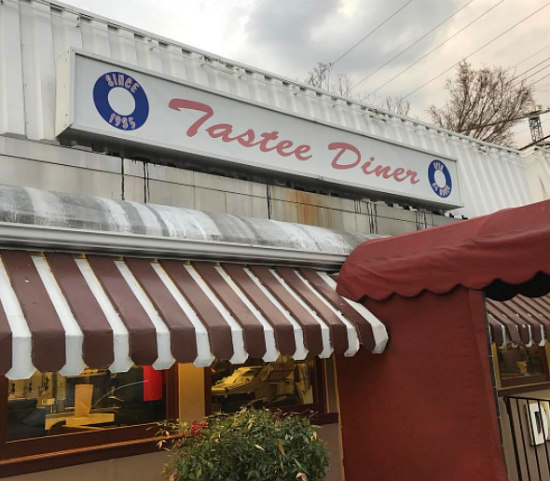 Tastee Diner

Five Things to Do
Hang out at Woodmont Triangle. One of the neighborhood's two entertainment areas, Woodmont Triangle is home to family-friendly theater at Imagination Stage, Big Planet Comics, as well as an assortment of hip bars and restaurants.
Don't forget about Bethesda Row. The more familiar entertainment district in the neighborhood's downtown, Bethesda Row highlights include the Apple Store, the ever-popular Bethesda Bagels, and independent film haven Bethesda Row Cinema.
See a show at Strathmore. If the variety of shows put on at this north Bethesda venue isn't enough to get you excited, come just to check out the majestic wood-paneled concert hall, one of the more beautiful structures in the Metro area.
Stroll along the Capital Crescent. As dense as downtown Bethesda is (and will continue to get), it's also a quick walk to the Capital Crescent Trail, where you can find a pleasant path along which to jog, walk, or bike.
Grab a bite at the Tastee Diner. Open 24 hours, seven days a week, Tastee Diner has been operating in Montgomery County since 1935. With its staying power, it is well worth a visit for breakfast at any time of the day.

Walkable East, Drivable West
Bethesda has not one but two Metro stations to call its own. The first is the eponymous station at the intersection of Wisconsin Avenue, East-West Highway, and Old Georgetown Road. The second, Medical Center, is the next stop north. Both are dedicated Red Line stops. If you don't live on the eastern side of the neighborhood, you're more likely to need a car to get around. Parking shouldn't be a problem unless you're visiting Bethesda Row or Woodmont Triangle, in which case you'll be best served by the area's many parking garages. Metrobus routes, including the T2, the 32, and the 39, carry people into the neighborhood's residential quadrants along main thruways like River Road, Whittier Boulevard, and Wilson Lane. And if you're the outdoorsy type of D.C. commuter, you can pick up the Capital Crescent Trail and bike all the way down to Georgetown.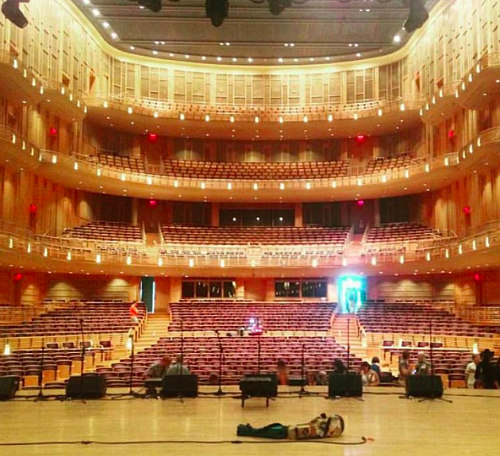 Concert hall at Strathmore. Photo by
Strathmore
.

The Bottom Line
When it comes to Bethesda's future potential, Dyer asks people to think about a traveling businessperson. "Going around the Outer Loop of the Beltway through Bethesda, that person will see a hotel, a couple of retirement homes, and a lot of trees," he says. "Minutes later, passing through Tysons, that same businessperson will see the most impressive skyline in the DC region." While Bethesda may be a while away from becoming the region's next Tysons Corner, all skylines have to start somewhere. Here, it might just start with Marriott's new headquarters and the building plans on the Apex site. And in a few years, Dyer's hypothetical businessperson, along with a new wave of urbanites and professionals, may be more inclined to stop and stay.
Zak M. Salih is a freelance writer based in Washington, D.C. His work has appeared in publications including Washington City Paper, the Richmond Times Dispatch, Baltimore City Paper, the Chicago Tribune, and the Christian Science Monitor.
Recent Neighborhood Profiles:
This article originally published at https://dc.urbanturf.com/articles/blog/bethesda_soon_brought_to_you_by_the_letter_m/12613.
DC Real Estate Guides
Short guides to navigating the DC-area real estate market
We've collected all our helpful guides for buying, selling and renting in and around Washington, DC in one place. Start browsing below!
First-Timer Primers
Intro guides for first-time home buyers