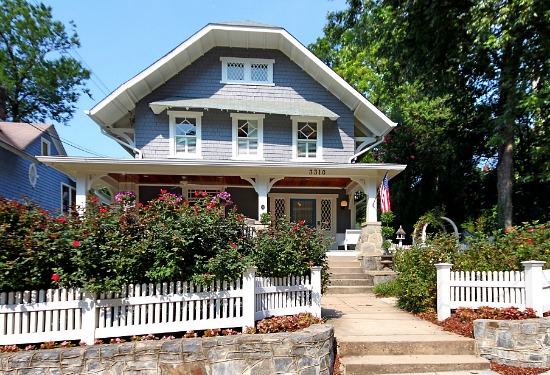 A home in Cleveland Park.
UrbanTurf has profiled more than 50 neighborhoods in the DC area. We are now revisiting each of those neighborhoods to update our profiles and see how they've changed over the years.
---
There are the stories of flower thieves and lost turtles. The complaints about parking restrictions and noisy leaf blowers. The requests for dog trainers, comfortable lap desks, and treatment plans for worm-eaten Tibetan chests.
While the wide variety of posts that dot the Cleveland Park listserv — the largest neighborhood mailing list in the nation — are good for a chuckle, they overshadow what's plainly obvious when you speak to the residents themselves: that the tony upper Northwest neighborhood is unabashedly proud of its roots and reputation.
With this love of history comes a delicate balancing act between the past and the future. As more and more neighborhoods in DC embrace tidal waves of development (and redevelopment), the question remains: How much is Cleveland Park willing to evolve, and at what cost?
"Cleveland Park has a reputation for NIMBYism that is sadly well earned," says Bob Ward, who moved with his wife to a house on Macomb Street to raise a family in the city. "Many long-time residents feel our historic district means we should be living in the model of a quiet suburb as it was developed more than 100 years ago. Fortunately, it's a viewpoint not widely shared by many of the families moving in."
Preservationists abound in Cleveland Park, according to Carin Ruff, executive director of the Cleveland Park Historical Society. "Some are reluctant to see much of anything new built," Ruff told UrbanTurf. "But the more prevalent view is that people are interested in high-quality design that doesn't destroy or obscure the neighborhood's architectural and landscape legacy."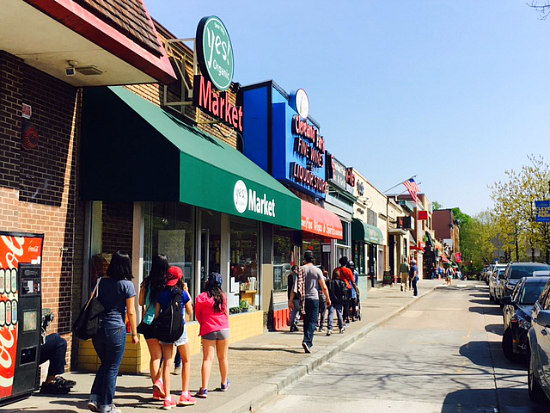 Connecticut Avenue commercial strip in Cleveland Park.
In 2014, Cathedral Commons, a mix of townhomes, apartments, and ground-floor retail like CVS, Barcelona Restaurant and Wine Bar, and a Giant grocery store, opened at the intersection of Wisconsin Avenue and Newark Street. This happened, however, only after a ten-year conflict between neighborhood residents over plans to renovate the old Giant grocery store as part of the development. There was a lawsuit. There were battles over the general direction of the neighborhood's citizens' association.
And the results, now that the dust has settled? Pretty positive.
"I think most people are happy with it," says Peggy Robin, who, along with her husband, runs the Cleveland Park listserv and has lived in the neighborhood since 1977, when she moved into a group house on Macomb Street with some friends. "I don't think a lot of the dire things people were expecting [such as traffic and parking issues] came to pass."
It was a little too much for Robin. "The pendulum swung too far when people started fighting against grocery stores and school additions – things I think contribute to our neighborhood," she says.
"I wish people wouldn't see preservation as a zero-sum game," Ruff adds. "If people could take a longer view of both the past and the future, maybe they'd be able to see that change has always been a feature of very old, well-preserved places."

Commercial Laboratories
Wisconsin Avenue, along with 37th Street, marks the western boundaries of this old and well-preserved neighborhood. Cleveland Park continues to the east, past Connecticut Avenue to its boundary along the curves of Rock Creek Park. North, the neighborhood extends from Tilden and Upton Streets down to its southern terminus along Woodley Road and Courtland Place.
Central to Cleveland Park's geography are the two major commercial strips running through the neighborhood on Connecticut and Wisconsin Avenues.
"The Connecticut Avenue strip is in our historic district, but the west side of Wisconsin Avenue isn't," says Ruff. "Having one strip historically designated and the other not gives us a kind of laboratory to compare how the commercial zones evolve."
This laboratory is especially important given the perceived problems some people feel still exist along Connecticut Avenue, currently home to a smattering of older businesses and newer spots that are largely concentrated in a single block strip.
"Many people feel the commercial area could be solved by building a lot of new residential here in a way that mimics Cathedral Commons," Ruff says. "Others hate the thought of any new tall building."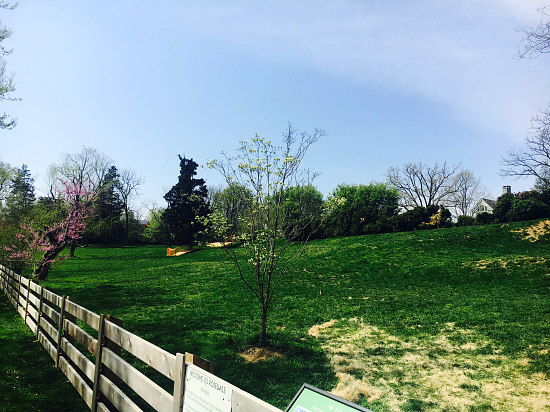 Rosedale Conservancy.
Old Estates, New Estates
What was originally rural territory occupied by grand estates began, in the late 1800s, to capitalize on the streetcar lines that ran along Wisconsin and Connecticut Avenues.
Between 1895 and 1904, several major architects were hired to build the large houses that line Cleveland Park's residential streets. To walk or drive through the neighborhood is to see a breathtaking timeline of architectural styles and fancies, from wedding cake Victorians and Tudor Revivals to Sherman cottages and Dutch Colonials. Not to mention, of course, the William M. Slayton House on Ordway Street, one of only three houses designed by I.M. Pei.
Then there are the neighborhood streets themselves. According to the D.C. Historic Preservation Office, Cleveland Park blends both the grid pattern typical of downtown (those streets west of 34th Street) with more winding, land-conforming streets inspired by Frederick Law Olmstead's firm (those streets east of 34th Street and north of Newark Street).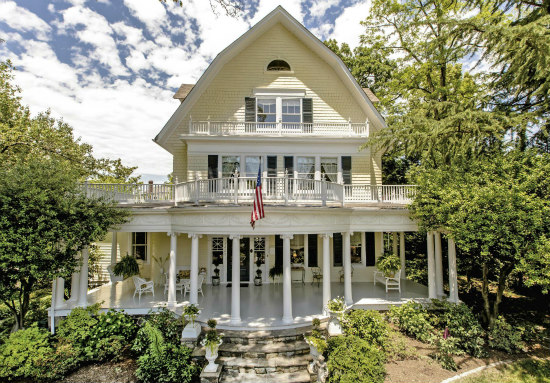 The Wedding Cake house on Highland Place NW.
Money Matters
Cleveland Park is home to hundreds of condos and co-ops for which the entry point can be $350,000, as well as some of the city's most jaw-dropping and expensive homes.
"Since January 1, 2016, 55 houses sold ranging from $860,000 to $5,050,000," Anne Hatfield Weir of Washington Fine Properties told UrbanTurf. "The average price was $1,891,722."
In contract, the median price for a condo unit in the neighborhood last year was $369,000. As for rentals, a one-bedroom apartment in Cleveland Park, depending on the building, ranges anywhere from $1,500/month to $2,355/month.
Like many upper Northwest neighborhoods, housing prices in Cleveland Park are tied to the quality of schools in the area, which include popular options like John Eaton Elementary, Sidwell Friends, Washington International School, and National Cathedral School.
A New Battle
While the dust has now settled over the Cathedral Commons debate, there's a new battle in the neighborhood: the proposed Ward 3 homeless shelter on the site of the Second District Police Station on Idaho Avenue NW. The shelter will have 50 units of emergency, short-term housing for families.
"This is the big fight now," Robin says. "There are people who just don't want it. I think there's a lot of resistance to change, although there has been some very valid criticism raised about how the building was bid."
Some residents were upset the local ANC wasn't properly consulted from the beginning. There are also concerns about the safety and security of the surrounding neighborhood, the height of the shelter (six stories) relative to surrounding buildings, overcrowded schools, and the loss of valuable parking spaces for law enforcement.
There's also the price of the project. "The temporary family rooms are going to cost as much as some private condos," Robin says.
Despite these concerns and objections, D.C.'s Board of Zoning Adjustment approved the proposal for the shelter in early April.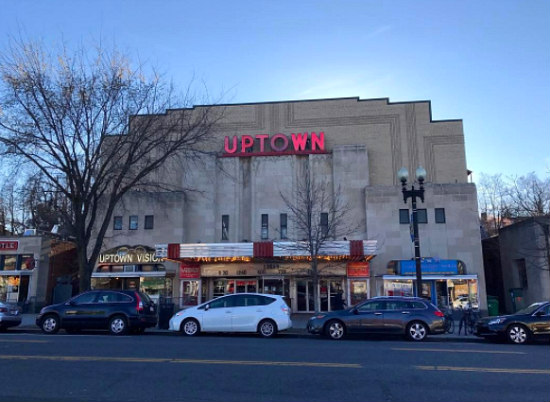 Uptown Theater
Five Things to Do
Head to see a movie at the Uptown. — Built in 1936, the Lowes Uptown offers a singular, and historic, movie-going experience. (Fun fact: It hosted the world premiere of "Jurassic Park.")
Grab a bite at 2 Amys. — D.C.'s first pizzeria to be certified as authentically Neapolitan, 2 Amys remains one of the city's most popular. Pro tip: The small plates are even better than the pizza.
Take the kids to Macomb Playground. — From climbing and swinging to stepping and sliding, this playground continues to keep the neighborhood's little ones entertained – and their parents happy.
Enjoy nature at Rosedale Conservancy. — These 18th-century terraced lawns (protected from development) are Cleveland Park's de facto public green, and also play host to community events.
Grab an Italian sub at Vace Italian Delicatessen — Dating back to 1976, this authentic Italian deli is perfect for picking up sandwiches before hitting some of Cleveland Park's public spaces for a picnic.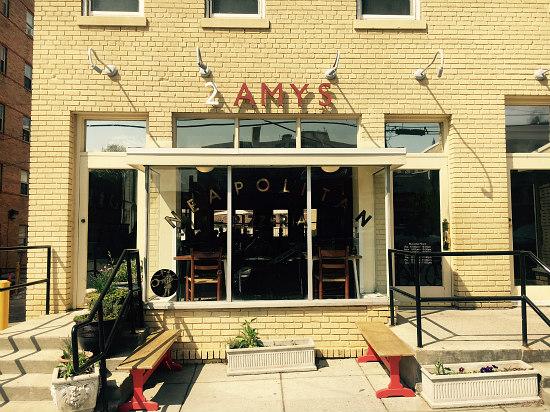 2 Amys
Getting Around the Corridor
Cleveland Park is served by its own designated Metro stop on the Red Line at Connecticut Avenue, between Ordway and Porter Streets. If you live on the western side of the neighborhood, you'll have to endure an uphill walk to get home (then again, you'll also have an amazing walking tour of some of D.C.'s best homes).
You can also take advantage of major bus routes on Connecticut and Wisconsin Avenues (L1, L2, 30N, 30S). There's also the 96 bus, which cuts across Woodley Road, and the H3 and H4 routes, which run along Porter Street.
The Bottom Line
"There's a growing sense that zoning rules set 30 years ago that encased Cleveland Park in amber are working against us," says Ward, who is concerned that the D.C. renaissance has leapfrogged Cleveland Park in favor of newer developments in other parts of the city.
But he, and others, have hope that Cleveland Park can maintain its love of the past while still opening itself up to the future.
"The business community, new ANC commissioners, newer homeowners, and the throngs of millennials that populate the local apartment buildings are now working together to make sure Cleveland Park will be saying yes instead of no when entrepreneurs and opportunities come knocking."
Which means the Cleveland Park listserv, now at well over 16,800 members, will have plenty to talk about for the foreseeable future.
---
Zak M. Salih is a freelance writer based in Washington, D.C. His work has appeared in publications including Washington City Paper, the Richmond Times Dispatch, Baltimore City Paper, the Chicago Tribune, and the Christian Science Monitor.
Recent Neighborhood Profiles:
This article originally published at https://dc.urbanturf.com/articles/blog/cleveland_park_respecting_the_past_debating_the_future/12447.
DC Real Estate Guides
Short guides to navigating the DC-area real estate market
We've collected all our helpful guides for buying, selling and renting in and around Washington, DC in one place. Visit guides.urbanturf.com or start browsing below!
First-Timer Primers
Intro guides for first-time home buyers