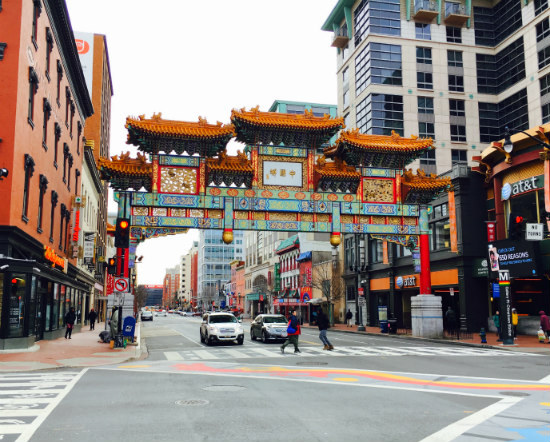 The Friendship Archway at 7th and H Street NW
UrbanTurf has profiled more than 50 neighborhoods in the DC area. We are now revisiting each of those neighborhoods to update our profiles and see how they've changed over the years.
---
Want an idea of what it's like to live in Penn Quarter today? Consider the noodle. At Chinatown Express at 6th Street and H Street you can enjoy a giant bowl of steaming broth crowded with fresh-made noodles for $7.95. Walk several blocks west through the glass-and-steel canyons of CityCenterDC and, for $17.00, you can indulge in a bowl of pork ramen at New York-import Momofuku. Inside these two very different – but equally delicious – bowls of noodles are the stories of Penn Quarter's two commercial poles. One having been around for decades and on the decline, the other recently born and trying to make a lasting impression. Opened in 2015, CityCenter is ten acres of luxury living space, office buildings, and high-end shopping (Kate Spade New York, Gucci) and dining (DBGB Bar and Kitchen, Del Frisco's Double Eagle Steak House) on the western edge of the neighborhood. "I personally had some doubts about how it would turn out," Mark, 48, a long-time resident of Penn Quarter, says of CityCenter, which stands over the site of the old convention center where he used to go to auto shows with his father in the 1980s. "But it's actually turned out well, I believe. Certainly, property values have been pulled up by it. And while you don't see many people in the stores themselves, you see people patronizing the restaurants quite a bit." In the shadow of CityCenter's high-class shopping and fine dining is a former neighborhood nexus that's dwindling more and more: Chinatown. In recent years, a number of Chinese-owned businesses have left due to the increasingly high rents the area now demands. And a unique area institution that was a lure for many neighborhood residents is fast disappearing. "When I'd visit Chinatown in college, it had a film-noir quality to it," says Mark. "Interesting characters, unique markets, record stores, artist galleries. There was a performance space where you could see avant-garde music. It's now a Starbucks."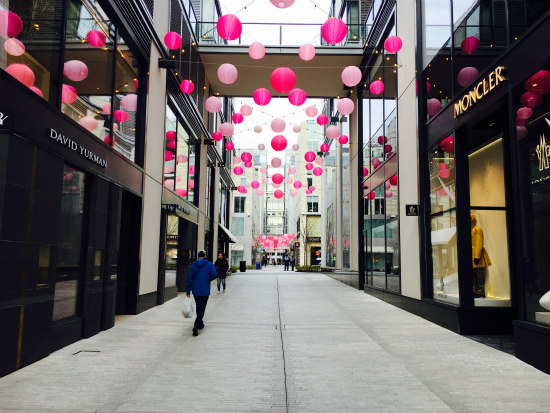 CityCenter
Nazhin Beiramee, who lives in a one-bedroom apartment in the neighborhood, agrees. "Chinese restaurants and businesses are being taken over by chain retail stores," she says of places like Walgreens and Bed Bath & Beyond. "The non-Chinese venues just enhance the touristy feel of the neighborhood." Nevertheless, there's a pulse and vibrancy to the neighborhood that continues to keep residents like Jay Bauer, a real estate agent who first moved to a one-bedroom in Penn Quarter in 2004, excited about living here. "I'm shocked that I still live here," Bauer told UrbanTurf. "I imagined myself in a rowhome by now. But I've got everything I need right at my fingertips. Plus, I've got some of the best sightlines to the Capitol in the city." Despite the predominance of condo and apartment living, there remains a powerful sense of community among the residents of Penn Quarter. Neighbors meet and commingle inside their condo or apartment buildings. They also participate in monthly community breakfasts hosted by the Penn Quarter Neighborhood Association to encourage greater community awareness between residents, workers, and businesses owners. One point that residents are certainly aware of: the delicate relationship between Chinatown and CityCenter, between older Penn Quarter and newer Penn Quarter, and between an affordable past and an increasingly pricey future.

Penn Quarter or Chinatown?
As the Penn Quarter Neighborhood Association has it, the neighborhood is bounded by New York Avenue, Mt. Vernon Square, and Massachusetts Avenue (to the north); Pennsylvania Avenue (to the south), 3rd Street NW (to the east), and 15th Street NW (to the west).
Despite the neighborhood's relatively agreed-upon borders, its name can be a sticking point for some residents, who long for the days when Chinatown was a more defining presence. "I guess I think of myself as a Chinatown resident, rather than a Penn Quarter resident," says Nazhin. "That may just be because I grew up in the area."
In the Thick of History
Originally, Chinatown was located on Pennsylvania Avenue between 3rd and 7th Streets NW. In the wake of city development, the cultural center shifted to a new location along H Street NW in the 1930s. Many of the area's Chinese residents left the city in the wake of the 1968 riots. The neighborhood's revitalization owes much to the hard work of the Pennsylvania Avenue Development Corporation, created in 1972 by Congress to oversee a massive development plan focused on housing, retail, and historic preservation. Development continued into the 1990s and the collapse of the dot-com bubble. In December 1997, the original MCI Center (now the Verizon Center) opened in the neighborhood, bringing in a host of new visitors and sports fans, and providing an additional boost of rejuvenation that continues to this day.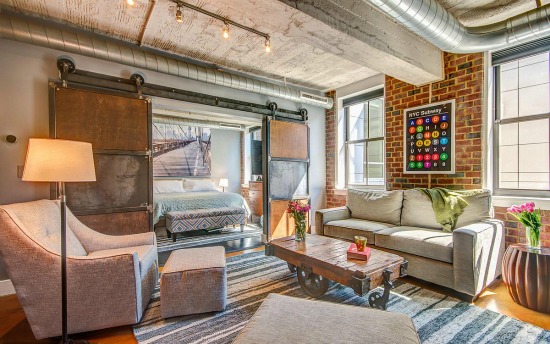 Inside a unit on G Street in Penn Quarter.
Sounds of Dollar Signs
Living in the heart of downtown D.C. comes, as one would expect, with a price tag. One-bedroom condos go for above $400,000 and the median sales price for condos in the neighborhood was $510,000 in 2016. The average monthly rental for a one-bedroom runs around $2,500. While much of the neighborhood's central area is already developed, there's a flurry of activity happening along its fringes – a cacophony of noise that's expected to continue for several years to come. While some residents find the noise a bit oppressive, others have a more positive outlook. "When you hear those jackhammers, those are actually dollar signs you're hearing," Bauer says about the impossible-to-miss Capitol Crossing project at the neighborhood's southeastern edge. Spanning three city blocks, the massive project will cover parts of I-395 to make way for office buildings and ground-floor retail. In the process, Capitol Crossing will also accomplish something else: re-connecting the long-separated G and F Streets NW where they meet with 2nd and 3rd Streets NW. There are several smaller, but still exciting, developments peppered around the neighborhood. One of these: the long-awaited modernization of D.C.'s Martin Luther King Jr. Memorial Library. The library is already closed in preparation for the project, leaving residents of Penn Quarter – and the city – without its main library branch (and, some critics argue, the homeless without a popular refuge). The new library, with roomier interiors, a dramatic staircase, creative production spaces, and a rooftop terrace and event space, is expected to show off its brand-new look and feel in 2020. Even CityCenter isn't done with its development. The next big project on the scene is a Conrad Hotel at New York Avenue and 10th Street NW, expected to open in 2019. It remains to be seen if everyone will get on board with the Penn Quarter that waits on the horizon. Some residents, like Nazhin, haven't take too well to newer developments – like CityCenter. "I've gone to maybe two restaurants there, and I definitely do not shop there."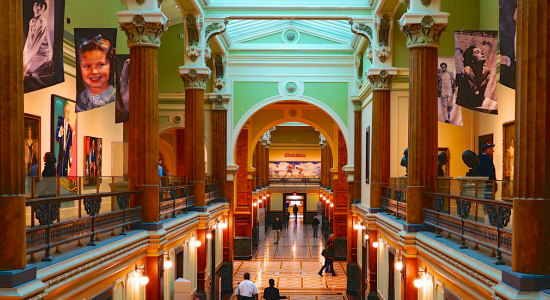 The National Portrait Gallery. Photo by Ted Eytan.
Five Things to Do
Verizon Center -- Whether it's the Wizards, the Caps, or Fleetwood Mac, the largest arena in the city hosts hundreds of events a year that cater to a wide variety of tastes.
Sixth and I Synagogue -- From concerts to readings to lectures, this historic building hosts a variety of cultural and intellectual events open to the public, and offers a different Penn Quarter experience than the rush and noise happening one block south near the Verizon Center.
National Portrait Gallery/Smithsonian American Art Museum -- You could spend all day looking at art, but your best bet is to park yourself in the building's Kogod Courtyard, where you can enjoy a book or a coffee underneath an undulating sculpted roof.
National Building Museum -- While it lives in the shadow of the surrounding Smithsonian museums, the National Building Museum is sure to give you a new appreciation for architecture, with frequent special exhibits and a jaw-dropping great hall.
E Street Cinema -- One of the city's best places to see limited-run releases, foreign and independent flicks, old classics and cult favorites, this theater is a film-lovers' paradise, complete with cocktails and gourmet snacks.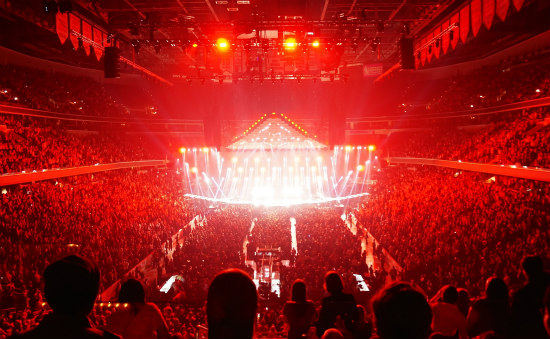 Justin Timberlake concert at Verizon Center. Photo by
Ted Eytan
.
The Best Benefit
Befitting a downtown neighborhood, Penn Quarter's centralized location makes it perfect for access to almost any other part of the city. There are bike lanes (and Capital Bikeshare stations); the Gallery Place-Chinatown, Archives-Navy Memorial-Penn Quarter, Judiciary Square, and Metro Center stations for Metro commuters; and several major bus routes – including the DC Circulator.
The Bottom Line
For all its money and expense, Penn Quarter isn't a playground only for the wealthy. Or, as Mark puts it, "you don't have to be a gazillionaire to enjoy it." Nevertheless, with some of the highest rents in the city, a future filled with more massive development projects, the permanent footprint of CityCenter, and the continued shrinking of Chinatown, how long that accessibility (and affordability) will last remains to be seen. Which means, even if you're craving high-class ramen, you should probably grab that bowl of cheap noodles while you still can.
---
Zak M. Salih is a freelance writer based in Washington, D.C. His work has appeared in publications including Washington City Paper, the Richmond Times Dispatch, Baltimore City Paper, the Chicago Tribune, and the Christian Science Monitor.
Recent Neighborhood Profiles:
This article originally published at https://dc.urbanturf.com/articles/blog/penn_quarter_chinatown_falling_citycenter_rising/12332.
DC Real Estate Guides
Short guides to navigating the DC-area real estate market
We've collected all our helpful guides for buying, selling and renting in and around Washington, DC in one place. Visit guides.urbanturf.com or start browsing below!
First-Timer Primers
Intro guides for first-time home buyers