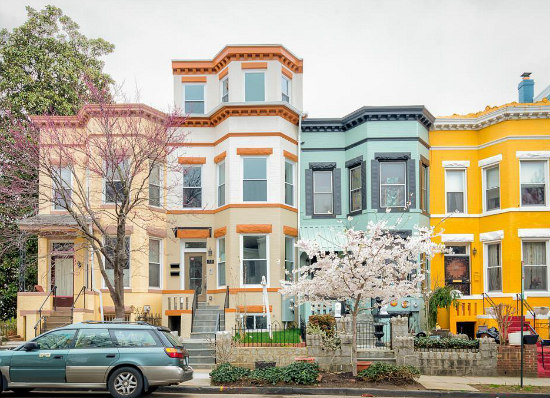 UrbanTurf has profiled more than 50 neighborhoods in the DC area. We are now revisiting each of those neighborhoods to update our profiles and see how they've changed over the years.
---
In late 2004, when Robert Boyer moved to DC's Eckington neighborhood with his husband, Rich Holcomb, it was something of a return to familiar territory.
While a student at The George Washington University in the early 1980s, Boyer lived a block away from his current rowhome among streets he described as "the central hub of the crack epidemic."
So why come back?
"At the time, Eckington wasn't on anybody's radar, which worked in our favor," Boyer recalled. "It just didn't have the hype of other neighborhoods, so there weren't a lot of people here to beat down the door to make an offer on the place we wanted."
In the years after they moved, crime in Eckington continued to be an ongoing issue. Boyer noted that many long-time residents were afraid to go outside after dark. But the climate has since changed in the neighborhood off North Capitol Street.
"Crime's just not the concern now that it was for a lot of older residents," Boyer said.
William McKelvey, who moved to the area in 2009, was constantly being told how dangerous it was. He moved into a shared house in the lower half of Eckington after falling in love with the neighborhood's industrial vibe.
"I like how it's one of the few parts of DC that looks like it could be in Baltimore or Philadelphia," he said.
As more and more people like Boyer, Holcomb, and McKelvey are drawn to Eckington, concerns about crime have been replaced with concerns that many Northwest neighborhoods now face: development and congestion.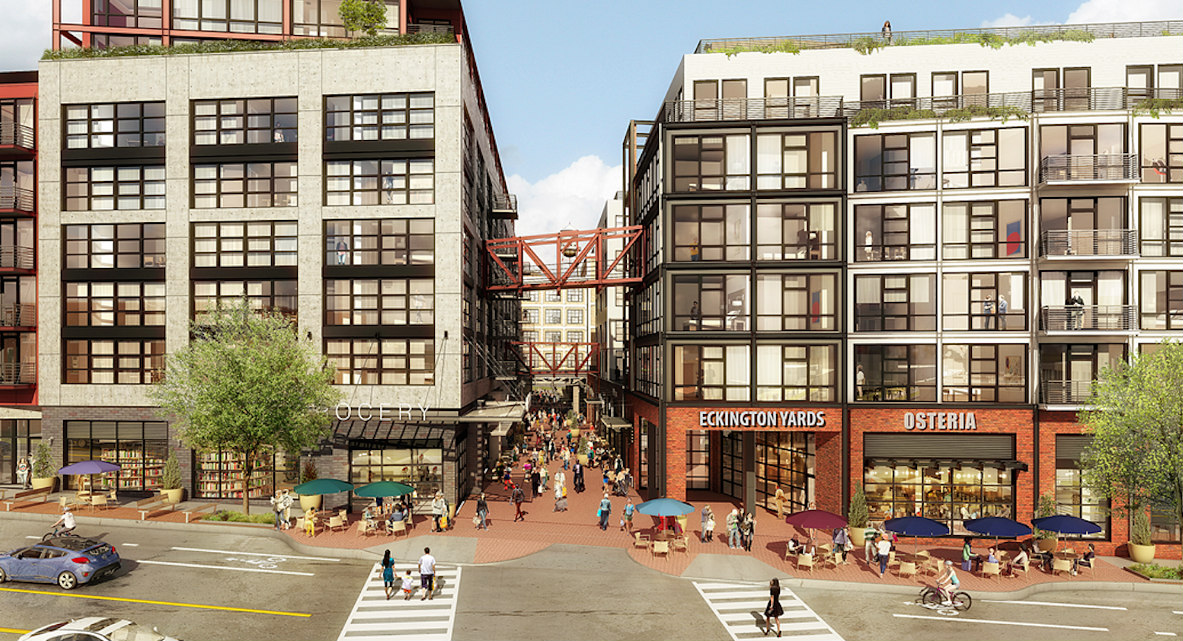 In the coming years, Eckington's borders will become home to several large new developments. The lower half of the neighborhood will host a massive community called Eckington Yards, a 700-unit project from JBG Smith and Boundary Companies that will span four connected buildings and over 77,000 square feet of retail space. It's the kind of expansive, eye-catching development that can change the character of a neighborhood.
Katrina Velasquez, president of the Eckington Civic Association, says that there is excitement around this new development, as well as other improvements to the neighborhood, including a new public park, a pentagonal apartment complex adjacent to the Metropolitan Branch Trail, and rumors of a pedestrian bridge over the tracks to Union Market.
Then there's the traffic which, for many Eckington residents, has overtaken crime as the main concern for those who walk, drive, or bike through the neighborhood. The congestion is epitomized by the infamous traffic circle at Florida and New York Avenues NE known by residents (and others) as "Dave Thomas Circle" for the Wendy's that squats in its center.
"Dave Thomas Circle is a choke point," said McKelvey, who was hit by a car on New York Avenue NE while riding his bike a few years ago. "There aren't many east-west routes across downtown, and the city hasn't seemed to realize this, so there are always cars and busses backed up."
Velasquez agrees.
"It's actually the third most dangerous intersection in the city and takes residents an average of 10 to 20 minutes to just leave Eckington via car during rush-hour and lunch-hour traffic, as there are only a handful of exits out of the neighborhood." The Eckington Civic Association and several residents have submitted requests to the DC Council, DDOT and Councilman Kenyan McDuffie to fix the circle. So far, nothing has been solved.
Traffic woes aside, Eckington's transformation from little-known neighborhood to one of the city's latest brand-name locations is something that most residents welcome.
"One common sentiment is that people are proud of themselves for recognizing what a great location this is," said Holcomb. "We're now actually on the map."
Wrapped in Commercial Potential
Eckington is sandwiched between Edgewood, Bloomingdale, and NoMA. The neighborhood's boundaries are Rhode Island Avenue (to the north), the railroad tracks and the Metropolitan Branch Trail (to the east), North Capitol Street (to the west), and Florida Avenue (to the south).
"I like the fact that most of what's going on in Eckington happens on the fringes," said McKelvey. "It keeps the neighborhood quieter."
Boyer agrees. "Eckington is about 90 percent residential, and the commercial properties wrap around us, so we don't have a commercial strip," he said. "I like it that way."
Depending on which side of McKinley Technology High School you live on can influence where you spend a lot of your free time.
"You don't feel like you're just in the one neighborhood when you're down here," McKelvey says. "Where I live, we're very much integrated with Bloomingdale. Upper Eckington, I feel, is getting more developed as they build more on the other side of the Rhode Island Avenue Metro station in Edgewood."
For Boyer and Holcomb, the geographic differences are mostly found in the neighborhood's properties. The couple say their area has bigger property lots and better off-street parking. The south, however, has longer houses and more iconic turrets.
An Old Center of Industry
One of DC's oldest neighborhoods, Eckington still shows signs of its industrial roots, including railroad tracks and warehouses. The name derives from the English village of Joseph Gales, Jr., a newspaper editor and Washington mayor who had a summer estate in the area.
In the 19th and 20th centuries, the B&O Railroad tracks and a streetcar line ran through Eckington, and a wealth of factories, warehouses, and plants (including one for biscuits and one for Schlitz beer) were located in the neighborhood. It was civil engineer George Truesdell who first joined the neighborhood to the city's existing grid and developed its first row homes and apartment buildings.
While the hustle and bustle of industry isn't what it used to be, you can still feel it walking the streets along Eckington's eastern half, and are reminded of it when you hear the trains roaring by.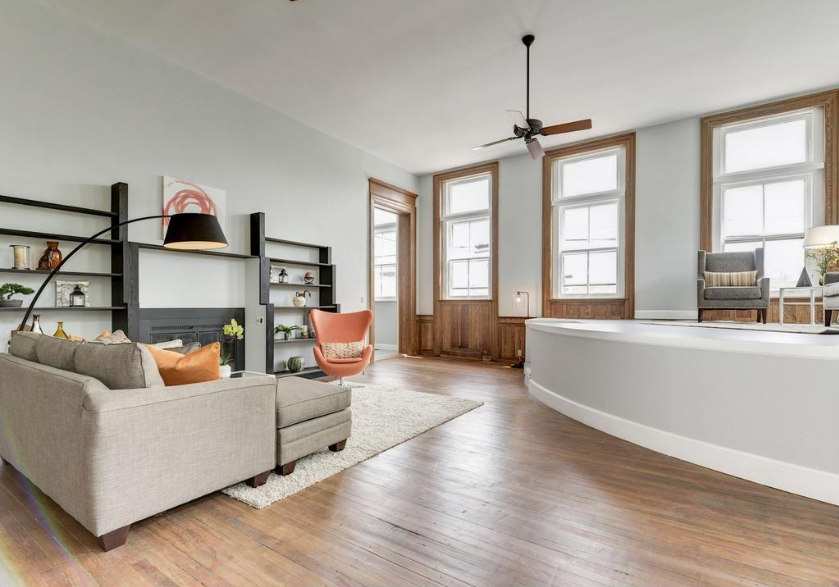 Not as Cheap as It Used to Be
One powerful example of how the real estate scene has changed in the years since Boyer, Holcomb, and others came to Eckington lured by relative obscurity and lower home prices can be found at the former Eckington School, transformed in the 1970s into four artist lofts. For the first time in 30 years, one of these two-bedroom, 3,800-square-foot lofts is up for sale for $1.5 million.
While it's an extreme example, home prices have nevertheless been on the rise.
"We're seeing similar development to what Bloomingdale experienced a few years back," said Mattia D'Affuso of The Rob and Brent Group. "In May 2018, the average sales price in Eckington was $771,297," he told UrbanTurf. "That's an increase of almost 20 percent from last year."
As more businesses have grown up around the neighborhood, she's also noticed an increase in rental buildings and condo conversions.
Rental prices are comparable with those in nearby neighborhoods. Studios at The Gale Eckington, for example, start at $1,600/month. The Lexicon, a new luxury condo building in the neighborhood, has started sales with prices beginning in the low $400,000s.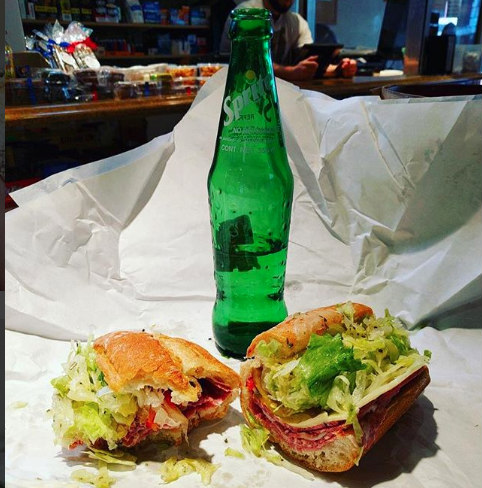 Four Things to Do
Yang Market -- This neighborhood market is home to some impressive subs and sandwiches that make popular meals for Eckington residents and visitors. (Velasquez recommends ordering the "Jerry Gallo.")
The Metropolitan Branch Trail -- Run, walk, bike—however you choose to enjoy Eckington's stretch of this popular city trail, make sure to pay attention to the industrial buildings and graffiti art.
Qualia Coffee -- Eckington's newest coffee haunt opened in July 2017 and offers the same curated coffee drinks as the flagship location in Petworth—plus a sleek vibe made to please teleworkers and coffee-breakers alike.
STABLE -- Likened by McKelvey to Alexandria's Torpedo Factory, these new studios and gallery spaces opening in late 2018 will both support local artists and help them engage with the community through special exhibits and programs.
In the Middle
Despite its traffic woes, Eckington is an extremely walkable neighborhood that offers immediate connection to other parts of the city.
"A lot of our neighbors bike to work," said Holcomb. "We drive maybe at the most three or four times a month. On a day-to-day basis, our cars stay parked."
"It's close to everything," added Velasquez. "A 10-minute walk to Union Market, a 10-minute Metro ride to downtown, and a 30-minute walk to the Senate-side of Congress."
The neighborhood's primary Metro stations are Rhode Island Avenue and NoMA-Gallaudet U-New York Avenue stations, both serving the Red Line. Bus lines along the city's boundaries and through several of its major streets include the 80, the P6, the G8, the 90, and the X3.
The Bottom Line
To come back to Eckington and to have planted roots just a block from where his first apartment was, Robert Boyer is thrilled to be able to watch his neighborhood grow as successfully as the front gardens outside his home.
"We've been able to sit on our front porch or wander through the neighborhood and watch this, in my view, not rushed development," Boyer said. "It's amazing when someone asks where we live and we say, 'Eckington,' and they say, 'You're so lucky.' It's a gratifying feeling."
Zak M. Salih is a freelance writer based in Washington, D.C. His work has appeared in publications including Washington City Paper, the Richmond Times Dispatch, Baltimore City Paper, the Chicago Tribune, and the Christian Science Monitor.
Recent Neighborhood Profiles:
This article originally published at https://dc.urbanturf.com/articles/blog/eckington_industrial_past_commercial_future/14212.
DC Real Estate Guides
Short guides to navigating the DC-area real estate market
We've collected all our helpful guides for buying, selling and renting in and around Washington, DC in one place. Start browsing below!
First-Timer Primers
Intro guides for first-time home buyers