UrbanTurf has profiled more than 50 neighborhoods in the DC area. We are now revisiting each of those neighborhoods to update our profiles and see how they've changed over the years.
---
It was a card-sized development ad, passed along by a friend, that first drew Kenyattah Robinson to Mount Vernon Triangle. And when he came to the neighborhood in the spring of 2006 to check out the mixed-use site advertised as City Vista, he couldn't help but notice the range of parking lots and trailers set up to sell yet-to-be-built residential properties.
"There were inklings of things starting to happen here," Robinson recalled. "I felt the city was going to grow north and east, so to me, the value proposition was there."
Today, nearly a decade later, the City Vista development is the lynchpin of a high-density neighborhood that has transformed from a place where people come to work to a place where people stay to live.
In recent years, prominent organizations like DC Bar and the Association of American Medical Colleges have moved their headquarters to the downtown DC neighborhood (with the Advisory Board Company soon to follow in their footsteps). Restaurants and bars—Alba Osteria and A Baked Joint among them—are popping up on the ground floors of office and condo buildings.
And the people, lured by these changes, are coming to stay.
"I've lived in DC long enough to remember when the neighborhood was less than desirable," Jenny Martin, who lives in one of the neighborhood's high-rise buildings, told UrbanTurf. "Now there's a lot of life and still room for growth. Nearly every block has signs up for new development."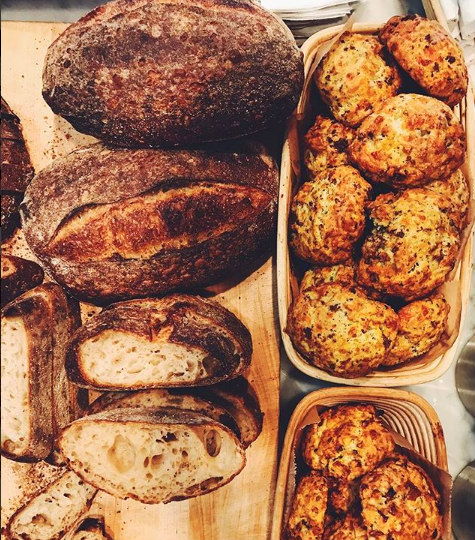 Jan Bösche, who has lived in Mount Vernon Triangle since 2014, describes the area as a growing neighborhood—but one that's still looking for its identity.
"For years, all the blocks were just parking lots," he said. "Now a modern neighborhood is being built from scratch. Of course, everything is new, so it lacks the charm of traditional neighborhoods."
With a central location, easy access to public transportation, a grocery store, banks, gyms, a hardware store, coffee shops, and fast-casual and fine-dining options, what more could Mount Vernon Triangle need?
Green space, according to Robinson, who is now president and CEO of the Mount Vernon Triangle Community Improvement District.
"Green space is a huge emphasis for us," Robinson says. "The few parcels we have left for development are already spoken for. Cobb Park is the only significant piece of unrestricted open space in our community."
Located at the neighborhood's southeast corner, Cobb Park was created more than 40 years ago as a public park space. Currently, it's a construction staging area for the city's massive Capitol Crossing project. Robinson's hope is that after construction is finished, the site can be re-imagined as Mount Vernon Triangle's own iconic green space, akin to Capitol Hill's Lincoln Park.
When asked if green space would help with the charm,Bösche said, "I guess that depends on the answer to a fundamental question: What shall this neighborhood be? A residential area with parks, or a lively downtown area with more shops and restaurants?"
"A Good Home Base"
As far as DC neighborhoods go, Mount Vernon Triangle is a relatively small swatch of land; more Rhode Island than Texas. And if you want to get technical about it, the neighborhood's very name is something of a misnomer.
Chart the boundaries of Mount Vernon Triangle on a map and you'll see the shape of the neighborhood is actually more of a trapezoid than a triangle. To the west, the neighborhood is bounded by a block-long strip of 7th Street next to Mount Vernon Square. The boundaries continue north along New York Avenue NW and south along Massachusetts Avenue NW until they both meet at the neighborhood's eastern edge, New Jersey Avenue NW.
Within that small space, however, is a veritable self-sustaining urban village whose location at the nexus of several other neighborhoods – including Chinatown and Shaw – make it ideal for residents like Martin.
"I view this as a good home base in the city," she said. "My main reason for moving into DC was walkability, and Mount Vernon Triangle has everything I need on a daily basis."
The Neighborhood's Soul
Underneath and in-between the 21st-century buildings and hot spots is a deep, pervasive history that stretches back to the dawn of the District of Columbia.
Centuries before A Baked Joint and Busboys & Poets, Mount Vernon Triangle began as a tobacco plantation and then, throughout the 1800s and early 1900s, something of a mercantile hub. City Vista now sits over the bones of Northern Liberty Market, one of the city's large public markets and a major factor in transforming the area into a working-class neighborhood.
Just as central to Mount Vernon Triangle's past is its rich connections with African-American history. Befitting a triangular neighborhood, Mount Vernon Triangle is home to three historic black churches: Second Baptist Church (established in 1848 as the second oldest African Baptist Church in Washington), Mount Carmel Baptist Church (first organized in 1876), and Bible Way Church (responsible for much of the surrounding area's affordable housing).
A large chunk of this past gave way eventually to urban renewal efforts in the second half of the 20th century. Subsequently, both the riots in April 1968 and the construction of I-395 in the neighborhood's east end played a part in bringing down historic areas. What remains is now protected within the boundaries of the Mount Vernon Triangle Historic District around Prather's Alley.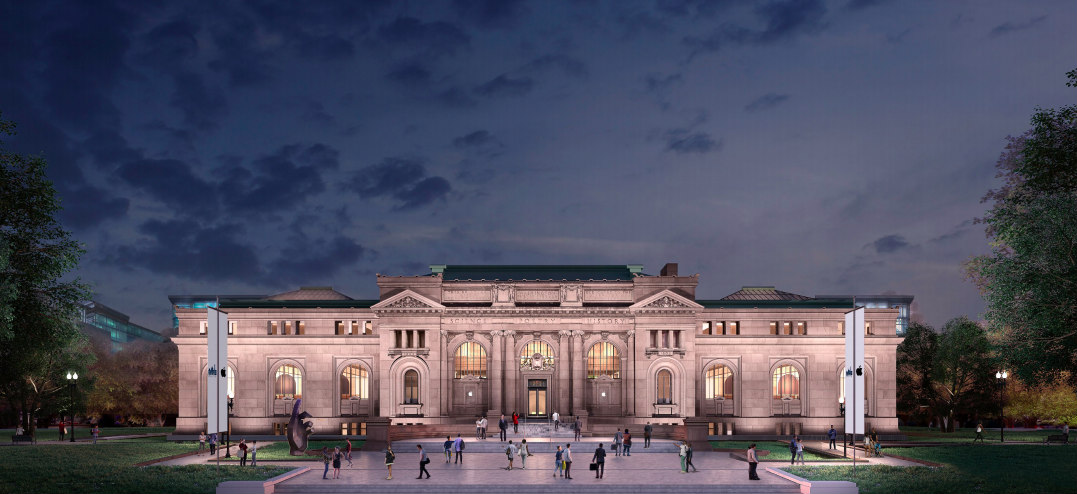 Apple is Coming
Much has changed in the decade since UrbanTurf last profiled Mount Vernon Triangle, and the momentum that started all those years ago with City Vista is still going strong. In addition to the proposed plans for Cobb Park, there are several other upcoming development projects aiming to define the neighborhood's future.
Perhaps the most talked-about of these is the Apple Store coming in late 2018 to the Carnegie Library (where it will share space with The Historical Society of Washington, DC).
"There's an excitement building about the Carnegie Library development because retailers and building owners know it's going to add a lot more foot traffic to the neighborhood," Robinson said.
Also on the horizon: The Lydian (sister building to the Lyric Residences), a 14-story building at 400 K Street NW with 324 apartments and over 13,000 square feet of ground-floor retail; Plaza West at 307 K Street NW, an intergenerational building of 223 affordable housing units, with 50 of those units devoted to grandparents raising grandchildren; and new dining spot Prather's on the Alley at 455 I Street NW.
Amid the whirlwind of development, some residents like Martin remain excited—but also a little cautious.
"If there's one thing I'm worried about, it's that the neighborhood will fall victim to overly large projects that take away from a neighborhood feel," she said. "It could end up as one series of huge glass, generic buildings. I'd love for it to retain some character."
Nothing if Not High-Density
Given its accessible and strategic location, it's no surprise that property values (and home prices) have risen consistently since the recession.
"With all the new development still coming into the neighborhood and lack of overall inventory, I see this trend continuing," says real estate agent Jay Bauer of Compass.
If you're looking for a one-bedroom condo home, be prepared to spend at least $400,000. For a two-bedroom/two-bathroom condo, you're looking at a starting price of over $600,000.
Mount Vernon Triangle is nothing if not high-density, which makes it something of a problem if you're looking for a lot of space. Sizing of condo units and housing affordability, according to a recent survey by the neighborhood's CID, are cited as top reasons why some residents plan to move out within the next three years.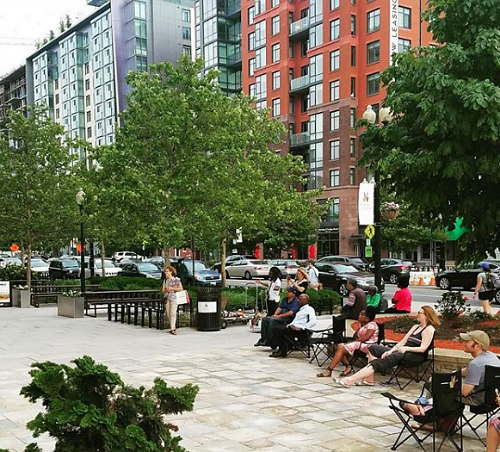 Four Things to Do
A Baked Joint -- Brought to you by the carb wizards of Georgetown's Baked & Wired, this sister store is home to a plethora of baked goods. It's become a popular (and sometimes crowded) breakfast and lunch spot for residents and commuters.
Farmers Market -- On Saturdays from early May to late October, 499 I Street NW plays host to the FRESHFARM Mount Vernon Triangle Market, where neighbors can shop for baked goods, produce, and more in an al-fresco setting.
Historical Society of Washington, DC -- While currently located at 555 Pennsylvania Avenue, when the Carnegie Library building reopens, it will also be home to exhibit spaces that explore the city's expansive, rich past.
Silo -- This bar and restaurant serves up craft beers and cocktails and generous portions of American cuisine in a trendy setting filled with wood, exposed brick, and artwork.
Better Off Walking
Mount Vernon Triangle is perhaps the epitome of accessibility when it comes to public transportation.
Within just a few blocks, residents can hop on the Red Line at the Union Station and Judiciary Square Metro stations; the Yellow and Green Lines at the Gallery Place-Chinatown station; and (just a little farther west), the Blue, Orange, and Silver Lines at Metro Center. Popular bus lines in the neighborhood include the D4, P6, 80, and 96, as well as the DC Circulator.
While the neighborhood's location puts you within shouting distance of I-395, you're likely to have to park your car in one of the many residential garages if you'd like to keep your sanity instead of hunting for street parking.
The Bottom Line
When Robinson arrived in Mount Vernon Triangle, he was a single man. Now, he's married and with a new child. And he has no plans to leave if his family can avoid it.
"We're at the point where we're saying, we love living in this community. What would it be like if there were some other types of housing here locally, like townhomes, that we could have access to?"
More spacious homes, public green spaces—despite the glamor of an Apple Store and rooftop views of the National Mall, sometimes it's the simplest things that are the most essential to a growing neighborhood's soul. And perhaps those are the things that Mount Vernon Triangle needs.
Zak M. Salih is a freelance writer based in Washington, D.C. His work has appeared in publications including Washington City Paper, the Richmond Times Dispatch, Baltimore City Paper, the Chicago Tribune, and the Christian Science Monitor.
This article originally published at https://dc.urbanturf.com/articles/blog/mount-vernon-triangle-a-nexus-neighborhood-in-need-of-green/13830.
DC Real Estate Guides
Short guides to navigating the DC-area real estate market
We've collected all our helpful guides for buying, selling and renting in and around Washington, DC in one place. Start browsing below!
First-Timer Primers
Intro guides for first-time home buyers