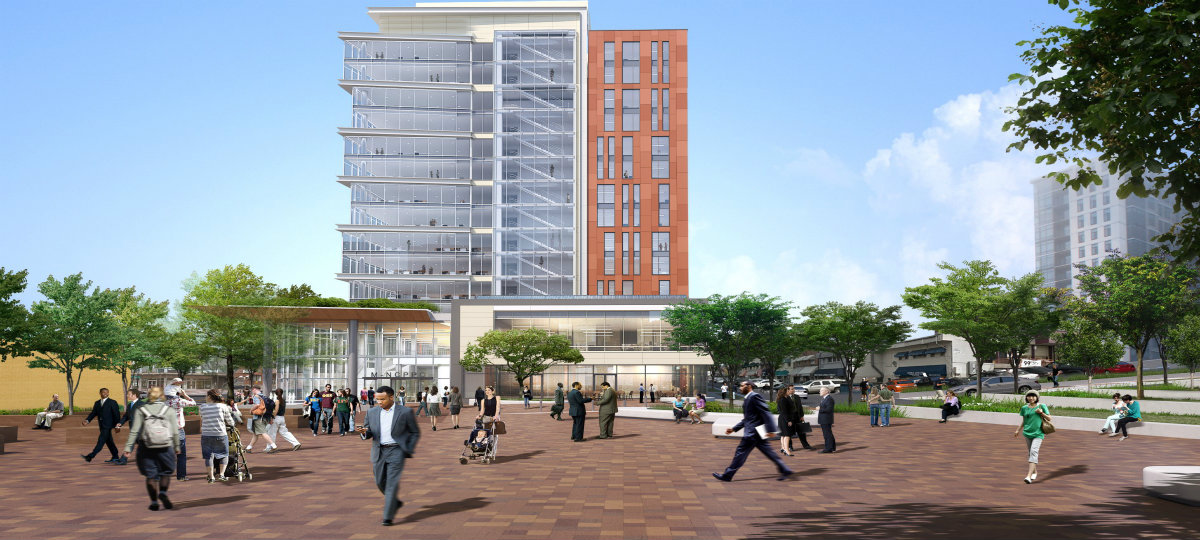 UrbanTurf has profiled more than 50 neighborhoods in the DC area. We are now revisiting each of those neighborhoods to update our profiles and see how they've changed over the years.
---
The intersection of Georgia Avenue and Veirs Mill Road is not much to look at right now. Just sky-high cranes and a deep pit walled in wood. But for residents of Wheaton, the massive construction site—which will be the location of a new town center—symbolizes the revitalized future of this Montgomery County neighborhood.
For Randall Spadoni, who has watched Wheaton change since he moved there with his family in 2010, that future can't come soon enough.
Like other Wheaton residents, Spadoni left the rush of the city—in this case, a basement apartment in Columbia Heights—for the promise of more space. In the backyard of his 1.5-story house, he raised chickens, installed a trampoline, and built a tree house for his three kids and their friends.
When Spadoni first moved in, it was about space and affordability. Now that he's settled, the focus has shifted to strengthening community bonds.
"One surprise I had in moving to Wheaton was the lack of a unified sense of community identity and association," he said. "I hope our new town center can help to draw Wheatonites together."
The new Wheaton town center isn't scheduled to deliver until 2020, but will be the future home of the Maryland National Capital Park and Planning Commission. (It's also expected to be the largest county building in Montgomery County and will potentially run on a geothermal energy system.) But what is around the building will be the real draw: a public square and possibly an outdoor performance space.
And there's much more coming Wheaton's way, including a new library and a recreation center with an adjacent park, and the possible overhaul of the area's biking network to relieve the traffic stress that makes cycling somewhat hazardous in Wheaton's more congested areas.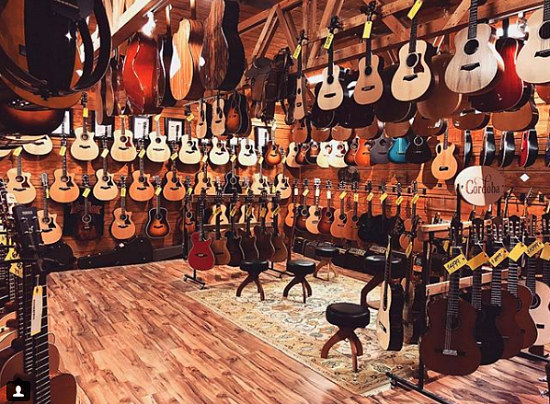 Adam Levin of Chuck Levin's Washington Music Center, a Wheaton institution for decades, is eager to see what happens next.
"You're seeing Wheaton push to make its vision of an arts district a reality," Levin told UrbanTurf. "Some of the new developments show a vision of what's to come, and it's exciting."
For a precursor of things to come, look across the street from the town center site at the Exchange at Wheaton Station. Just an idea when UrbanTurf last profiled the neighborhood in 2012, the tall luxury apartment building now looms over the single-level strip malls of restaurants and shops in downtown Wheaton.
And while the size and heft of the Exchange at Wheaton Station seems out of place now, one imagines it'll look different when joined by the Wheaton town center's 14-story office building in a few years.
In the past, it was the massive Westfield Wheaton shopping center (recently anchored by a Costco, Target, and Dick's Sporting Goods) that was the neighborhood's urban claim to fame. Now, however, Wheaton's eyes are focused on that busy construction pit just across Veirs Mill Road—and all the transformative potential it contains.
Urban Core and Suburban Edges
Wheaton's exact boundaries vary depending on who you ask and where they live.
Generally speaking, the neighborhood is bounded on the east by Sligo Creek Parkway (and the creek itself), a network of neighborhood roads along Connecticut Avenue to the west, and Randolph Road to the north. Suburban streets above 1-495 mark the neighborhood's southern edges.
Smaller neighborhoods inside Wheaton's general boundaries include Wheaton Crest, Wheaton Hills, Homewood, and Glenview. The downtown area is formed by the triangle of Georgia Avenue, University Boulevard, and Veirs Mill Road.
Wheaton's roots go back to the mid-19th century when it was a small, rural business district known as Leesborough and then Mitchell's Crossroads. The neighborhood's current name comes from military officer Frank Wheaton, a major-general who served during the Civil War and American-Indian Wars.
Many of the sprawling ranch homes, townhomes, split-level homes, and Cape Cods in the neighborhood date back to the years after the Second World War, when they were built for returning GIs and their families.
A Melting Pot
The growth on Wheaton's horizon seems well-deserved given the neighborhood's reputation as one of the most diverse in Maryland—a reputation that lured Spadoni and his family all those years ago.
"Our Greek-American neighbors were the first to welcome us to the neighborhood," Spadoni recalled. "Our Portuguese-American neighbors inspired us to start raising chickens."
There's perhaps no better symbol of this diversity than Wheaton's fame as a mecca of world cuisine. Downtown's busy streets are packed with restaurants ranging from Salvadoran to Italian to Vietnamese.
Another appealing characteristic, typical of the region's larger, more suburban neighborhoods: nature. North of downtown, you can get lost in two of the neighborhood's iconic locations, Wheaton Regional Park and Brookside Gardens Conservatory.
"Parks and playgrounds are all over," Spadoni said. "Our entire family bikes on the many trails in Montgomery County."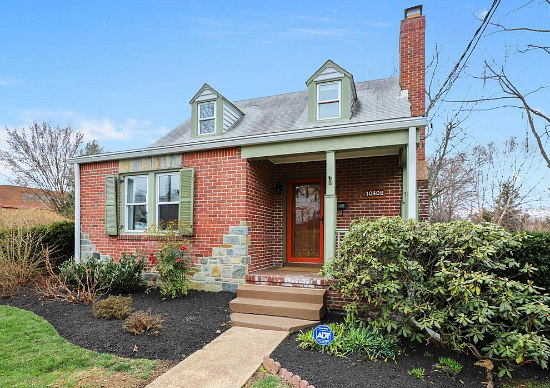 Booming Real Estate
The post-war residents of Wheaton (let alone their rural ancestors) would be amazed at the current real estate landscape.
"In the 20902 zip code, the median home price is up more than 6 percent year over year and the average sold price is up 9 percent," said real estate agent Lisa Coutts with Compass. "The average price per square foot is up over 11 percent." Most of the listings that sold last year in Wheaton were townhomes with a median sales price of $420,000.
The slew of recent high-end apartment buildings in Wheaton offer a variety of options for renters. A studio in the Solaire Wheaton starts at $1,448 a month. A two-bedroom apartment in the Exchange at Wheaton Station will run you anywhere from $1,800 to $2,300.
Five Things to Do
Westfield Wheaton --

Offering a traditional suburban mall experience, Westfield Wheaton has been enhanced in recent years by shopping and entertainment options including a Costco and AMC Theatres.

Pho & Banh Mi Saigonese --

This particularly delicious (and highly affordable) gem—one of the many culinary delights in downtown Wheaton—offers super-sized bowls of Vietnamese noodle soup and, for just $4.00, crispy Vietnamese sandwiches.

Wheaton Regional Park -- A

popular green space that has everything you need for outdoor entertainment, whether it's picnics, train rides, tennis games, hiking trails, or even horseback riding lessons.

Chuck Levin's Washington Music Center --

The musically inclined won't want to miss this massive music emporium, which has been in business since 1958 (later destroyed during the DC riots and reopened shortly thereafter in Wheaton).

Brookside Gardens --

Established in 1969, Brookside Gardens is home to fifty acres of cultivated, restorative garden landscapes, as well as two conservatories and a host of special events throughout the year.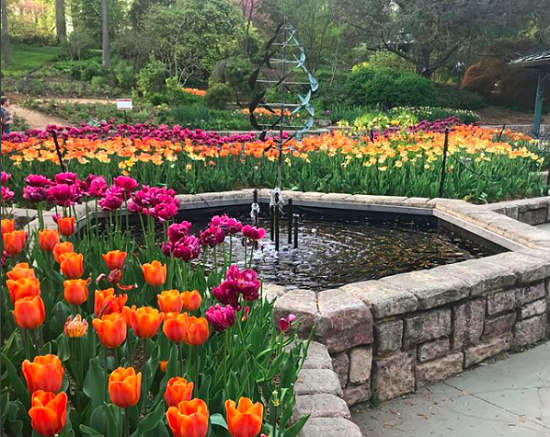 Walk Downtown, Drive Everywhere Else
For those who plan to stay downtown, you don't necessarily need a car to get around. In fact, given the traffic in the area, it might be a better idea to walk around instead of drive.
The Wheaton Metro station on the Red Line is located just across the street from the Exchange at Wheaton Station. "I can't bike to work like I used to in Columbia Heights, but the Metro works well enough," says Spadoni.
Popular Metrobus routes that run along the neighborhood's major arteries— Veirs Mill Road, University Boulevard, Georgia Avenue— include buses from the Y series, the C2 and C4, and the Q series.
If you're tucked away in the more suburban sections of the neighborhood, you'll likely have to rely on your car. While revitalization is sweeping central Wheaton, the neighborhood is too large to be entirely walkable. However, it is centrally located to I-495 and is a short drive to other Maryland downtown centers, including Bethesda and, of course, Silver Spring.
The Bottom Line
Will all this coming change be a threat to local businesses? Adam Levin doesn't think so.
"Representatives of Wheaton have been very cognizant of change," he said. "They're making the rounds and trying to involve the community in what's going down, asking us about our hopes for the town center and how we might find uses for it, which is nice to see."
For Spadoni, the coming revitalization is as much about civic pride as anything.
"We don't have a local newspaper," he said. "The only mention in regional newspapers of our extraordinary community is usually related to crime."
The impending town center, and everything else that happens in its wake, might just give those publications a whole lot more to talk about.
Zak M. Salih is a freelance writer based in Washington, D.C. His work has appeared in publications including Washington City Paper, the Richmond Times Dispatch, Baltimore City Paper, the Chicago Tribune, and the Christian Science Monitor.
This article originally published at https://dc.urbanturf.com/articles/blog/wheaton-a-vital-neighborhood-revitalizing/13964.
DC Real Estate Guides
Short guides to navigating the DC-area real estate market
We've collected all our helpful guides for buying, selling and renting in and around Washington, DC in one place. Start browsing below!
First-Timer Primers
Intro guides for first-time home buyers