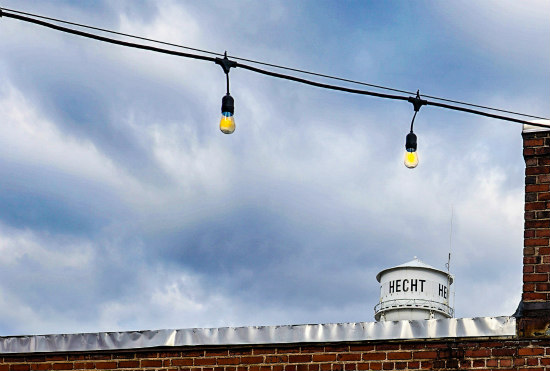 UrbanTurf has profiled more than 50 neighborhoods in the DC area. We are now revisiting each of those neighborhoods to update our profiles and see how they've changed over the years.
---
Some DC neighborhoods you know by their landmarks. Dupont Circle has its eponymous public fountain; Chinatown its Friendship Archway. Ivy City, however, has a warehouse.
To be fair, it's no longer just a warehouse but an art moderne project of rounded brick and glass and a striking, star-shaped cupola that dates back to 1937, when the warehouse was the property of the Hecht Company.
Step inside now and you won't find home furnishings but luxury apartments, courtesy of Douglas Development, as well as a Nike Factory Store, a Planet Fitness, a Mom's Organic Market, a T.J. Maxx, and several bars and restaurants. The building is now the nexus of a new approach to development that in recent years has become a defining characteristic of Ivy City.
It was not new development, however, that drew Ryan Linehan and his wife to the neighborhood three years ago.
"When we first looked around Ivy City, we noticed there were a lot of kids playing around," Linehan said. "It was the sense of community that led us to invest in the neighborhood."
The Linehans did more than just invest in a home (a two-unit property in which they live on one side and rent out the other side). Ryan, a football coach at McKinley Tech, noticed that neighborhood children were interested in a basketball court.
"So we decided to cement our court and put up a basketball court and water fountain," Linehan said of what's officially known as Ivy City Basketball Court (there's a Facebook page). "After having kids over, you get to know their parents."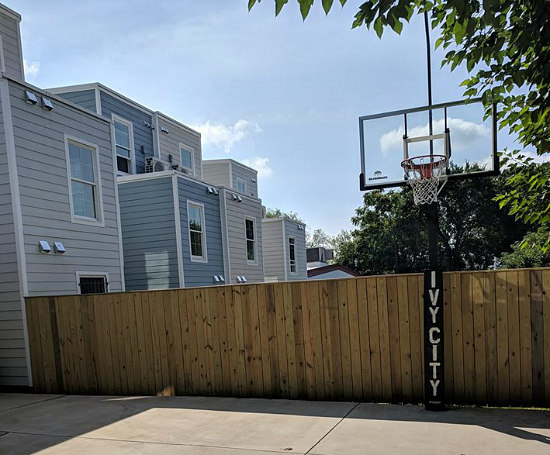 It's a side of Ivy City that get much less attention than the hip retail and residences that have attracted so much interest in the area in the past few years. And it's led to something of a divide between the neighborhood's lower-income residents and the new arrivals.
"I would say that people in the Hecht building are pretty secluded," Linehan told UrbanTurf. "They have a personal shuttle to take them downtown, so they don't have to use public transit. Much of the investment in the neighborhood seems to be directed toward the residents there."
Amid all the construction and excitement happening in Ivy City, there's another building that, while less visually striking than the neighborhood's warehouse, is at the center of Ivy City's past—and its future.
The Alexander Crummell School was shuttered in 1972, after which it was placed on the National Register of Historic Places. Despite the prestigious placement, the site remains abandoned, fenced off and overgrown with vines and at the heart of a struggle between urban development and the needs of the area's residents.
Should the site be given over to more new homes and retail? Or should the school and its campus instead turn into community areas—including playgrounds, job-training centers, and green spaces—sorely needed in a neighborhood that lacks them?
"The Crummell School has been the heart of the community for over 100 years," said Parisa Norouzi, executive director of EmpowerDC, a group of community organizers whose Friends of Crummell School project is devoted to restoring the landmark in a way that benefits the needs of lower-income residents.
"Most of the development that's being done now is in the image of young people without children," she said. "It's not tailored toward people with families, and Ivy City is a family-oriented place."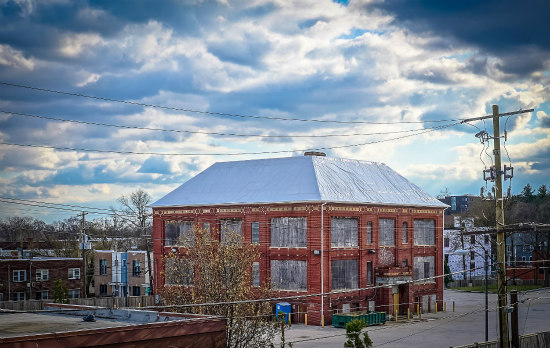 The school is, in some ways, a symbol of the stark economic differences reflected in such a relatively small stretch of space. It's a contrast Carol Green, who's lived in the neighborhood for a little over a year, sees every day.
"There's a lot of transition going on," she said. "On one block, you'll see a guy washing his clothes outside in the yard. Then, on another block, young people are hanging out at restaurants drinking wine."
Popular but a Bit Remote
Sandwiched between Brentwood and Trinidad, Ivy City is bounded by New York Avenue NE, Mount Olivet Road NE, and West Virginia Avenue NE. Recent years have seen the commercial potential of this wedge-shaped neighborhood expand, but the neighborhood still isn't as strong a magnet as you'd expect from the bars and restaurants sprouting up around Ivy City's northern streets.
A lack of accessibility could be to blame. Ivy City is, in many respects, somewhat disconnected. There isn't a Metro station nearby, and to get there one is reliant on either a personal car, bicycle, one of the many bus routes that goes through the area, or a ride share service like Uber.
It's a factor that, according to Bola Williams of Frankly Real Estate, could lead to slower growth.
"When it comes to younger professionals, they want to walk everywhere and not have a car," he told UrbanTurf. "You can still manage that in Ivy City, but the neighborhood doesn't have the same infrastructure like you see in neighborhoods like Trinidad or Petworth or Columbia Heights."
From Industrial to Industrial Chic
Before the development of the Hecht Warehouse, the neighborhood was more industry—without the chic. Established in 1873 by Georgetown lawyer Frederick W. Jones, the neighborhood's name derived from one resident's love of ivy.
Over the subsequent decades, Ivy City was home to the National Fair Grounds' Ivy City Track, noted for horse races and shooting exhibitions. Residents were primarily working-class African Americans employed at the track, a nearby brick company, and the Baltimore & Ohio Railroad.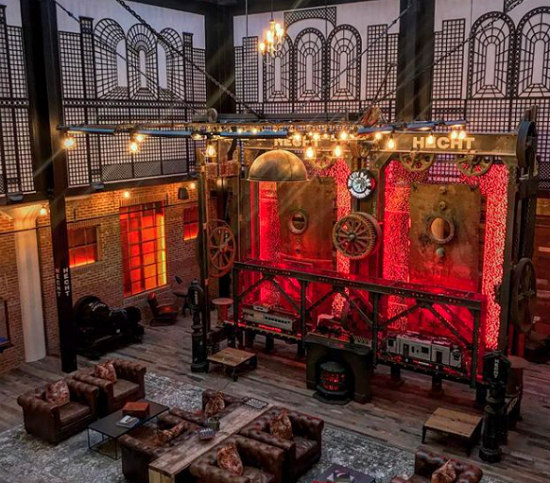 Zoning rules in the first half of the 20th century helped transform Ivy City into a center of industry whose establishments included a bottling plant, a hardware company, an industrial cleaning firm, a coffin manufacturer, and, in 1937, the Hecht Company's massive warehouse.
Declining industry over the subsequent decades transformed Ivy City into something of an economic backwater, home to proliferating crime and unemployment, and largely neglected by city officials.
If you can put a date on the shift toward a more revitalized Ivy City, it would probably be in 2012, when Douglas Development purchased the Hecht Warehouse and transformed it into a mixed-used residential and commercial project.
Throughout much of the neighborhood's streets, the shells of older buildings have been repurposed and transformed into distilleries like One Eight Distilling and Republic Restoratives, high-end restaurants like Gravitas, and bars like Big Chief and Dock FC, with more developments on the way. Among these are the city's next Target at the corner of New York Avenue NE and 16th Street NE (on the site of old warehouse space), and a new brewery, coffeeshop and axe-throwing bar across from the Hecht Warehouse.
It All Comes Down to Price
Ivy City, according to Williams, is one of the last "affordable" places to buy property in the city. The result of the neighborhood's recent growth is attributed, in part, to people being priced out of Trinidad.
"When it comes to buyers looking in Ivy City specifically, it really does come down to price and being able to stay in DC," he told UrbanTurf. But it's also about potential. Many buyers come to the neighborhood under the assumption the area will continue to expand.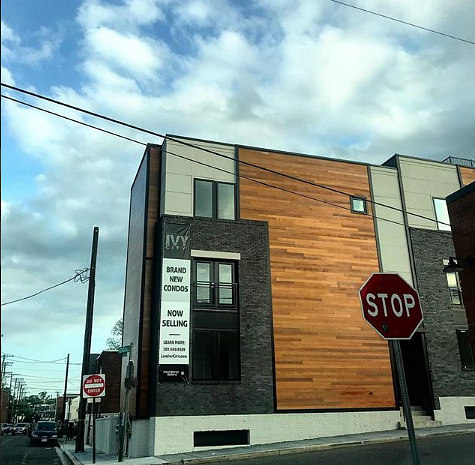 The current price point for one of the multi-unit properties in Ivy City is between $800,000 and $900,000. Renovated single-family rowhomes are selling in the $600,000 range, while smaller rowhomes can go for $400,000 to $500,000.
Rental prices for a spot in the Hecht Warehouse at Ivy City are slightly more affordable than luxury apartments in other parts of DC—but only slightly. A 355 square foot studio apartment starts from $1,500 a month, while a 945 square foot two-bedroom apartment can cost up to $3,000 a month.
"The market over here has seen substantial growth," Williams said. "I don't think you're going to see the same boom as in places like Trinidad, primarily because Ivy City doesn't have the same infrastructure. But you will see growth."
Five Things to Do
Gravitas: The neighborhood's first tasting menu restaurant (whose chef brings culinary cred from spots like Brasserie Beck and Minibar) offerings flexible, globally inspired, vegetarian-friendly dishes to choose from in a chic setting.
Atlas Brew Works: Chances are, you've already enjoyed one of their flagship beers somewhere in the city—but here, you can make a boozy afternoon of touring their brewery, hanging out (with kids and dogs) in the tap room, and getting your growlers filled.
Ivy City Smokehouse: Part tavern, part entertainment venue, part market, and part smokehouse, this neighborhood staple is a seafood heaven and a fun place for drinks or dinner (our suggestion: the $25 Smokehouse Fish Board, which lets you sample all of their in-house smoked fish).
One Eight Distilling: One of several distilleries that have sprouted throughout the neighborhood, One Eight Distilling is home to small-batch vodka, whiskey (white, rye, bourbon, single malt), and gin—all of which you can purchase, try in flights, or taste in one of their craft cocktails
Mount Olivet Cemetery: Walk off all that artisanal food and drink with a quiet, contemplative, dog-free stroll through this historic cemetery located right across West Virginia Avenue NE, which dates back to the 1850s and is the largest Catholic cemetery in the entire city.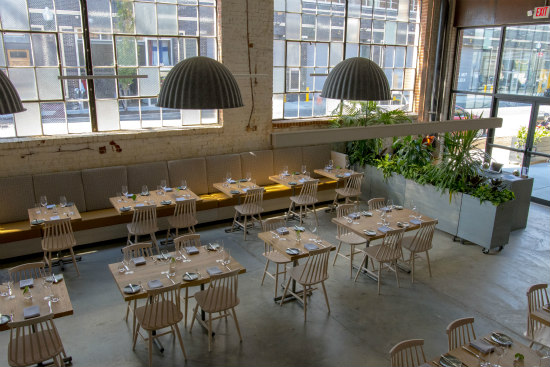 Weekday, Weekend Traffic
The traffic situation in Ivy City depends, in large part, on the time of day you're visiting. Bounded on one side by New York Avenue NE, the neighborhood is easily accessible by car, though if you're traveling during weekday rush hour, plan on a lot of stopping and going. And if you're coming to hang out on a weekend evening, you might have to hunt for parking on the residential streets (though the garage on Okie Street NE provides up to 1.5 hours of free parking).
Bus routes running along the neighborhood's main streets offer the best options for public transportation. There are multiple locations along Ivy City's borders where you can hop on the D4, the D8, the E2, and the S41 lines.
The closest Metro station— NoMa-Gallaudet U-New York Ave—is located on the other side of Gallaudet University. Serving the Red Line, it's a bit of a walk for evening explorers or everyday commuters, but it does afford the opportunity for a stop at Union Market along the way.
The Bottom Line
Visitors and renters and buyers are discovering the possibilities of Ivy City for the first time. But the truth is that the neighborhood isn't new.
What remains to be seen is whether or not the evident gap in Ivy City—between old guard and vanguard, low income and high income, past and future—can be bridged. Surely, residents like Ryan Linehan hope, there can be room for both craft cocktails and pick-up games of basketball.
Zak M. Salih is a freelance writer based in Washington, D.C. His work has appeared in publications including Washington City Paper, the Richmond Times Dispatch, Baltimore City Paper, the Chicago Tribune, and the Christian Science Monitor.
Recent Neighborhood Profiles:
This article originally published at https://dc.urbanturf.com/articles/blog/ivy-city-industrial-to-industrial-chic/14583.
DC Real Estate Guides
Short guides to navigating the DC-area real estate market
We've collected all our helpful guides for buying, selling and renting in and around Washington, DC in one place. Start browsing below!
First-Timer Primers
Intro guides for first-time home buyers