Between planned unit development appeals and other hiccups and shelvings, it has been nearly three years since UrbanTurf last updated the large residential developments approximately northeast of North Capitol Street and Rhode Island Avenue and south of Taylor Street. Some developers for long delayed projects (like 901 Monroe Street NE) are opting to wait until the Comprehensive Plan is amended, while others are going the by-right route.
Although some projects are still shrouded in mystery, below, we revisit the area to see what seemingly remains on the boards.
In case you missed them, here are other neighborhoods we have covered this year:
---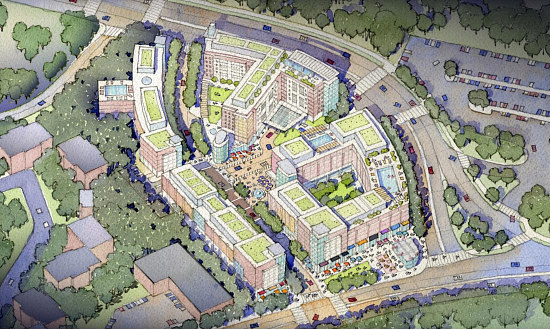 Last May, the Zoning Commission (ZC) approved a map amendment applying the MU-5-B zoning designation to the federally-owned 5.5 acres bound by Irving Street, Michigan Avenue and the North Capitol Street cloverleaf interchange (map). MIRV Holdings, comprised of Buchanan Partners and Pinkard Group, has plans for a four-building development that will contain residential, hotel, office, restaurant, retail and conference center uses.
Perkins Eastman is the designer of the project, and the first development phase was expected to break ground this year to deliver a dual-branded Marriott Hotel; however, the development team is currently sparring with the General Services Administration to move forward with a development on the site.
---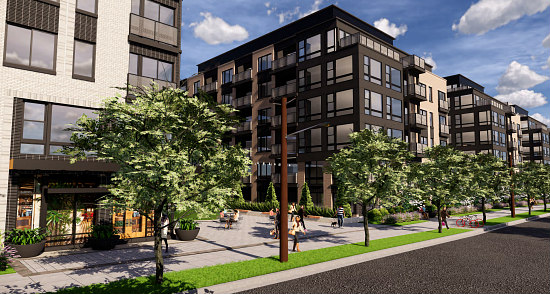 The Commission approved a two building planned unit development (PUD) in June which would deliver a total of 375 apartments to 3201 and 3135 8th Street NE (map). The Hanover Company-led development team will replace the single-story industrial buildings on the site with residential buildings on either side of a public landscaped plaza at the terminus of Jackson Street. 12 percent of the residential space will be inclusionary zoning for households at the 30, 50, 60 and 80 percent median family income (MFI) levels, including two three-bedroom units.
Some of the units along 8th Street will be garden-style with lawns, and there will also be a below-grade parking garage with 186 vehicular spaces and storage for 125 bicycles. Amenities will include a shared outdoor pool and a few courtyards. The project is designed by KTGY Architecture + Planning.
---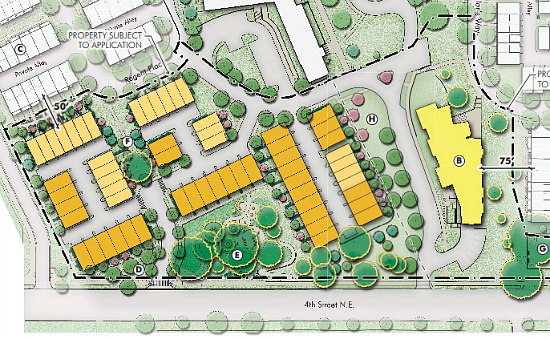 St. Paul's College Redevelopment
In July 2018, the Board of Zoning Adjustment (BZA) approved a 60 townhouse development on the northwest side of the 4.5 acre former site of St. Paul's College at 3015 4th Street NE (map). Nine of the townhouses will be inclusionary zoning, with three each for households earning up to 50, 60 and 80 percent MFI. Boundary Companies is helming the development, which will also include publicly accessible open space.
---

In another development with deep ties to Brookland's Catholic roots, landowner Holy Redeemer and Madison Homes are delivering 22 four story, three bedroom townhouses at 3112 7th St NE (map). The townhouses range from 1,800 to 2,100 square feet, each with one- or two-car interior garages, and three of the houses are set aside as inclusionary zoning. The houses are priced starting at $839,900 with sales administered by Smith Schnider, and furnished models are already open.
---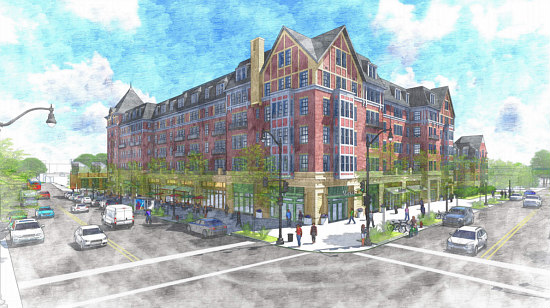 Block E at Monroe Street Market
Construction began last December on the final building in the Monroe Street Market, which will deliver 156 apartments above retail — potentially including a grocery store — to the southwest corner of 7th and Monroe Streets NE (map). The building will house studios to three bedrooms, along with a below-grade parking level with 99 spaces (39 of which will be for retail use). Pritzker Realty Group is leading development of this particular building, designed by Maurice Walters Architects. The project could deliver next summer.
---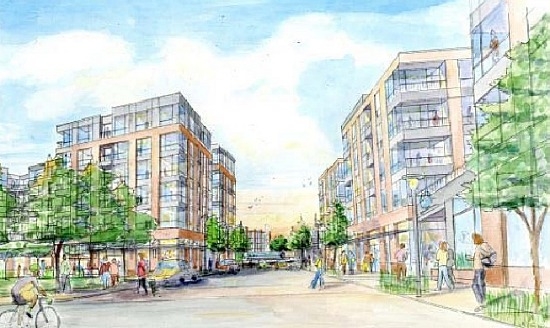 Brookland/CUA Metro Development
A transit oriented development planned to abut Brookland Metro is currently in limbo. While WMATA granted development rights to the 1.8 acres (and current Kiss and Ride parking lot) at 10th and Monroe Streets NE (map) in 2015, the project still requires Metro Board of Directors approval, execution of a ground lease, and a PUD application. MRP Realty and CAS Riegler's winning proposal includes 280 residential units across two buildings with 9,000 square feet of ground floor retail and a new Kiss and Ride lot. It is unclear whether the ground lease will be complete by the end of this year, as was previously expected.
---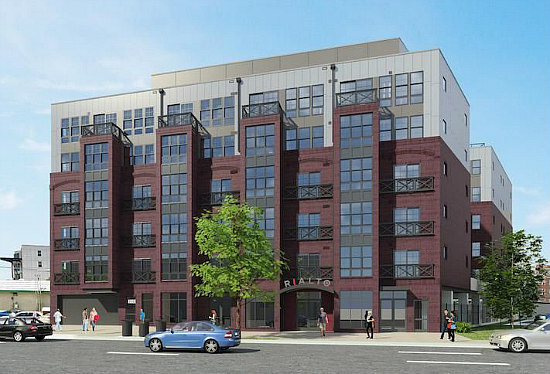 Capital City Real Estate broke ground this spring on a seven-story, 74-unit condominium building at 410 Rhode Island Avenue NE (map). The one and two bedroom units will range from 685 to 1,320 square feet, and there will be a shared roof deck, as well as private roof decks with the penthouse units.The building will also have over 3,000 square feet of ground floor retail, and is expected to deliver next summer. MTFA Architecture is the designer.
---
Rhode Island Avenue Shopping Center Redevelopment
Just steps away, construction began late last year (with a formal groundbreaking in July) on the first phase of a former PUD on the 13 acre site of the Rhode Island Avenue Shopping Center (map). MRP Realty and shopping center owner/developer MBR Investment Partners opted not to wait for a lengthy appeal to resolve itself and instead went for a slightly smaller by-right project via the large tract review process. As designed by SK+I Architecture, the current phased development will span six blocks, delivering over 1,650 apartments and 272,000 square feet of commercial space across nine buildings. The phases are as follows: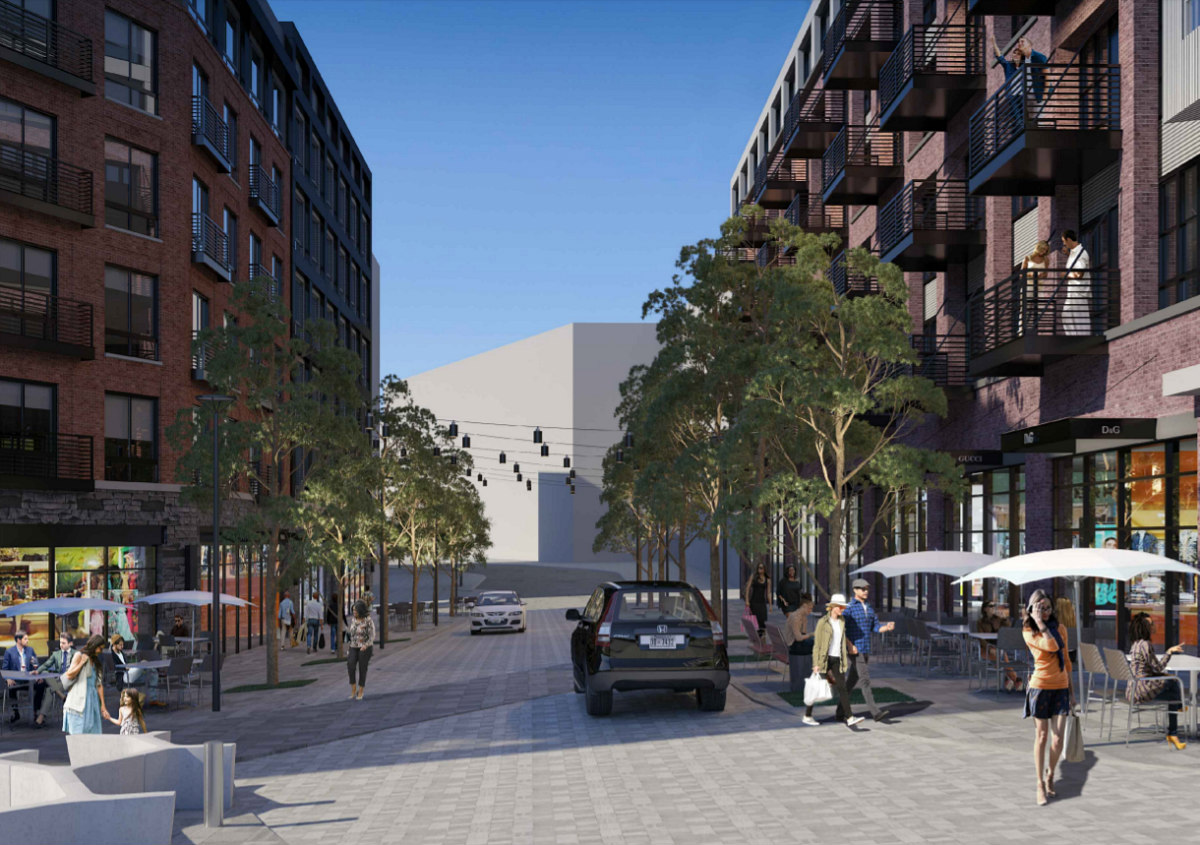 Blocks 1A, 1B and 5B are currently underway. Block 1A will deliver a 65 foot-tall building with 214 apartments above 9,500 square feet of retail. Block 1B will deliver another 65 foot-tall building with 152 apartments above retail. Eight percent of the apartments in both the Block 1 buildings will be affordable, and the two will share a 333-space parking garage.
Block 5B fronts Rhode Island Avenue, creating the main entrance to the shopping center, delivering 155 apartments above 8,750 square feet of retail. Along with a nine-screen Alamo Drafthouse Cinema fronting Bryant Street, this phase will deliver in 2021-2022. An outdoor plaza will simultaneously deliver at the mouth of Bryant Street, connecting the site to the Metropolitan Branch Trail. FRP Development Corp is an equity partner for this phase.
Block 2A will host surface parking for the movie theater fronting Bryant Street, and will eventually be improved with a 65 foot-tall building delivering 282 apartments above 13,650 square feet of retail. Completion of this building will also deliver a shared parking garage for both this building and the theater. This portion could break ground in 2023.
Block 3, fronting 4th Street, will deliver 355 apartments (8 percent of which will be affordable) above 90,000 square feet of retail, including a full-service grocery store. This phase would break ground in 2025.
Block 4 also fronts 4th Street, with 193 apartments above 19,600 square feet of retail. Eight percent of the residential units will be affordable, and the building will also include 118 parking spaces. This could break ground in 2027.
Block 5A will contain a 149-unit apartment building with 17,685 square feet of ground-floor retail and 108 below-grade parking spaces. Both this building and Block 6 will flank the Greater Mt. Calvary Holy Church on Rhode Island Avenue and are expected to break ground in 2029. The latter will deliver 101 apartments above 10,000 square feet of retail and 88 parking spaces.
---
While details about this development remain elusive, demolition work began last month at 2607 Reed Street NE (map), where Trammell Crow's High Street Residential plans a by-right nine-story development with 353 apartments and 88 parking spaces. As the project may have been able to achieve its proposed density by merging record lots with an adjacent Douglas Development owned site fronting Rhode Island Avenue, many in the neighborhood have a lot of questions.
---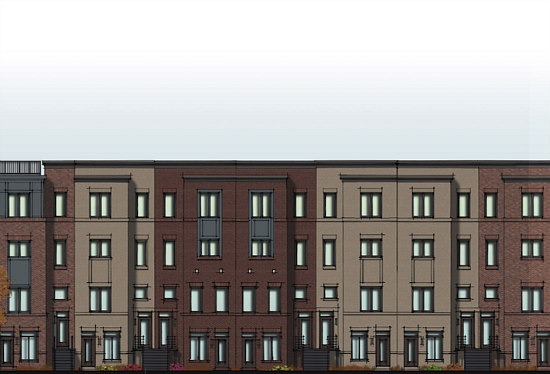 Another slightly less elusive by-right development is happening a few blocks away at 13th Street and Rhode Island Avenue NE (map). District Growth is planning a 300 unit rental and for-sale project on the two acre site, spread across four phases. The first phase, anticipated to break ground next February, will deliver 60 condos. Lessard Design is the architect.
---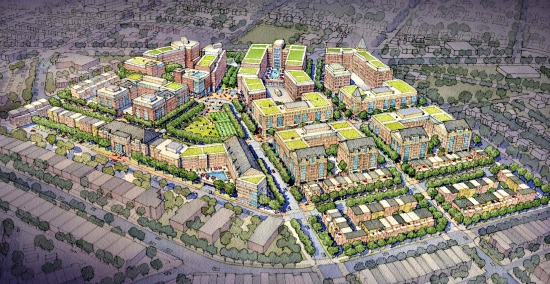 MidCity's eight-block redevelopment of Brookland Manor remains embroiled in controversy and jammed up in appellate court, after first being appealed last May. Sited between Rhode Island Avenue and Bryant Street from Montana Avenue to Downing Street (map), the overall development will include 181,000 square feet of retail, including a 56,000 square foot grocer, and 1,760 rental and for-sale residential units.
Roughly 24 percent of the residential units will be affordable, including 373 units which MidCity is voluntarily renewing as Section 8. The development team is hoping to break ground in 2020 and received a boost when the DC Council unanimously approved tax increment financing for the project. The first phase will include a 200-unit affordable senior building and another building with 131 replacement units for the current households.
Another appellate hearing will be held later this month.
The share of affordable units for this project has been clarified since the article was first published.
---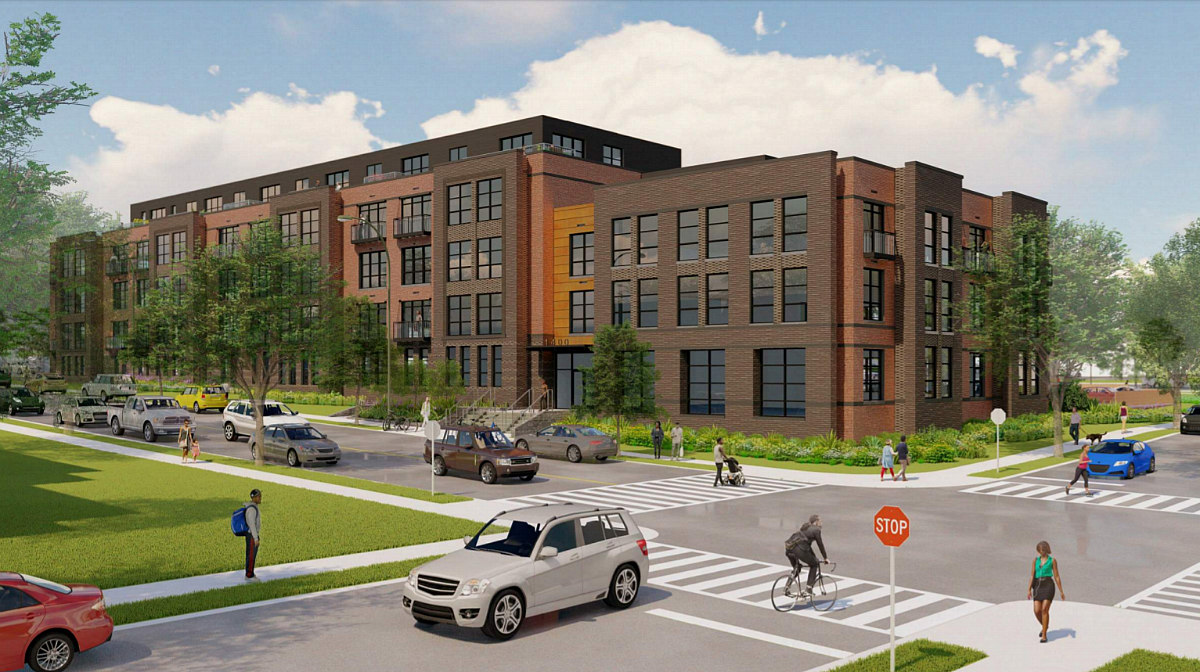 Historic Berean Baptist Redevelopment
Across the street, MidCity received BZA approval in May to replace the Historic Berean Baptist Church at 1400 Montana Avenue NE (map) with up to 108 apartments.
The Maurice Walters Architect-designed development will include 32 surface parking spaces, 36 bicycle spaces, a fitness center and a rooftop terrace. Eleven of the units will be for households up to 60 percent MFI, and the project has also been able to leverage Opportunity Zone financing. The project could be completed in summer 2021.
---
District Growth also recently secured building permits to replace the Flip-It Bakery & Deli at 1544 Rhode Island Avenue NE (map) with a by-right 50-foot tall building with 47 apartments.
---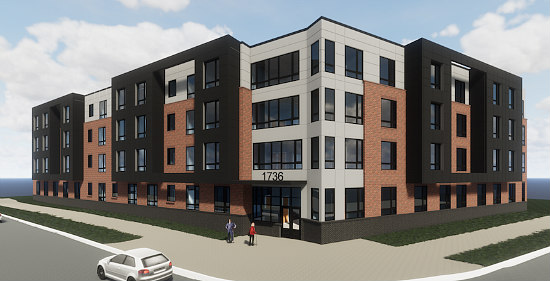 This affordable development at 1736 Rhode Island Avenue NE (map) was the city's first to receive financing from the National Housing Trust Fund. The project will deliver 61 units, 13 of which will be for households earning up to 30 percent MFI and the remainder for households earning up to 50 percent MFI. Lock7 Development is helming the project, and it could deliver next year.
---
In November, BZA will consider a Dilan Investments application to replace the detached single family house at 1818 Rhode Island Avenue NE (map) with a four story, 10-unit residential building. Cole Group is the architect.
---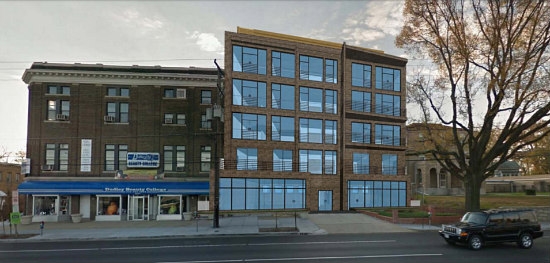 Salem Development just had building permit approvals extended to break ground by the end of this year on a mixed-use building at 2027 Rhode Island Avenue NE (map). As previously approved, the existing building on the 10,780 square-foot site will be partially demolished and retrofit into a 50 foot-tall, H-shaped building with 43 residential units atop two bi-level retail spaces. Rich Markus Architects is the designer.
This article originally published at https://dc.urbanturf.com/articles/blog/the-nearly-5300-residential-units-which-may-or-may-not-be-built-in-brooklan/15892.
DC Real Estate Guides
Short guides to navigating the DC-area real estate market
We've collected all our helpful guides for buying, selling and renting in and around Washington, DC in one place. Start browsing below!
First-Timer Primers
Intro guides for first-time home buyers