Last year, several developments in Union Market were in a holding pattern following a handful of planned-unit development (PUD) appeals. Now, most of those developments are back on track (or are expected to soon be). Here's a renewed look at what residential projects are in the pipeline for this formerly industrial Northeast neighborhood.
In case you missed them, here are other neighborhoods we have covered this year:
---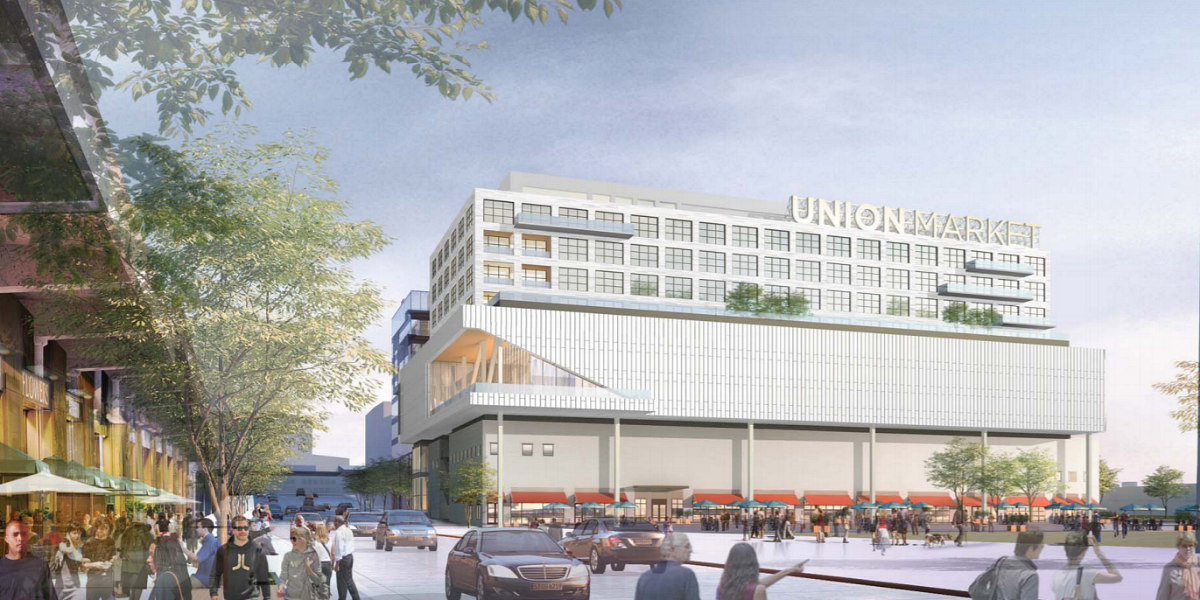 Over the next few months, Edens is expected to file a second-stage PUD for a sister building to the Union Market ("South") building at 1309 5th Street NE (map). The Market has become an epicenter and catalyst of development in the neighborhood since it was restored and reopened in 2012.
Following the pull-out of development partner Great Gulf last August, plans to add loft office, a home for the Angelika Film Center and retail space to the South building and construct a 240-unit North building next door were temporarily shelved.
Now, as the team prepares to file the second-stage PUD, Edens is exploring the idea of using the roof of the South building as an elevated park for the community. In the meantime, the development team shared with ANC 5D recently hopes that the Washington Kastles Tennis team will play on the roof of the Union Market building this summer.
---
Edens is also a development partner on a two-phase project around the corner, designed by Shalom Baranes Associates. The project is envisioned to create roughly 566 residential units and 41,000 square feet of retail with 400-430 vehicular spaces across three below-grade levels.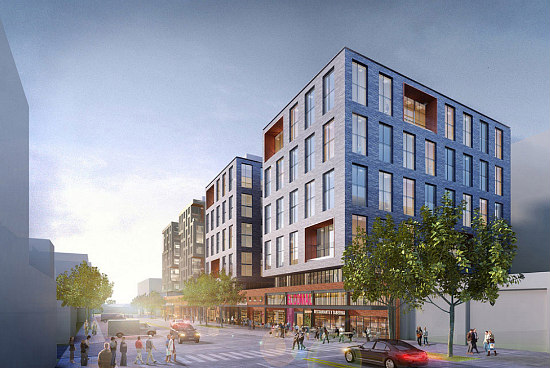 In partnership with Level 2 Development and Trammell Crow Residential, The Batley at 1270 4th Street NE (map) is scheduled to begin delivering next month. The original façade of a warehouse on the site was incorporated into this 11-story building with 432 apartments above retail.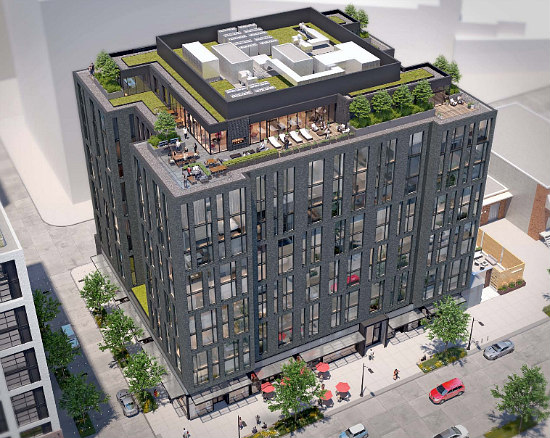 Great Gulf remains a development partner on the 134-unit building at 1300 4th Street NE (map), which just broke ground in November. The building will also have 10,750 square feet of ground-floor retail.
---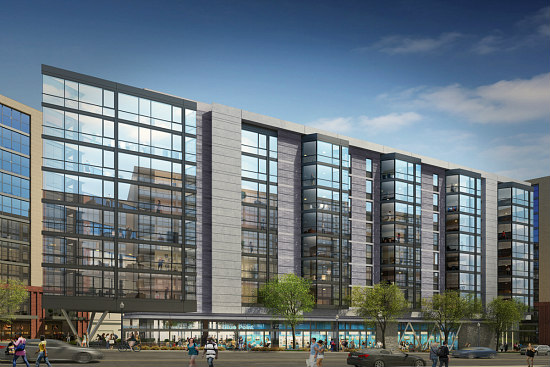 Work has begun on a 56-unit project that Ditto Residential and Zusin Development are leading at 301 Florida Avenue NE (map). The eight-story development, for which an appeal was dismissed in 2017, will deliver studios and three- and four-bedroom units above retail. Dep Designs is the architect, and the building is expected to be complete next year.
---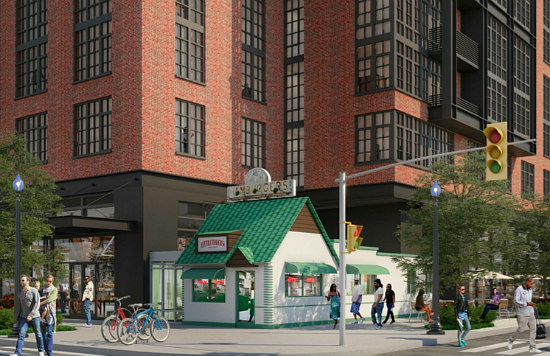 Developer LCOR will incorporate the historic Little Tavern (currently a Subway restaurant) at 500-530 Morse Street NE (map) into a 120 foot-tall building with 280 apartments atop 20,290 square feet of commercial space and 160-245 below-grade parking spaces. The project will also deliver 2,000 square feet of makerspace. Some site work has begun after an appeal was dismissed last year. SK + I Architectural Design Group is the architect.
---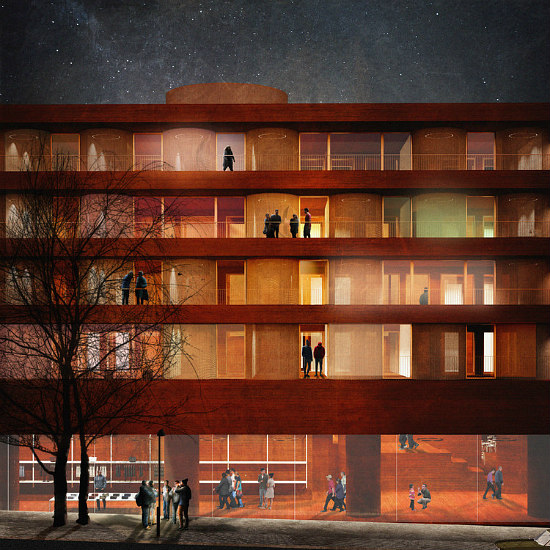 An appeal is still pending on the million-plus square-foot development Gallaudet University and JBG Smith have planned for six acres of university-owned land straddling 6th Street NE (map). The overall development has been approved to include 129,000 square feet of retail, 449,000-483,000 square feet of office and administrative space, over 1,000 parking spaces, and 1,136-1,769 residential units. Hall McKnight will be one of the development architects on the project, which will also adhere to DeafSpace design principles.
---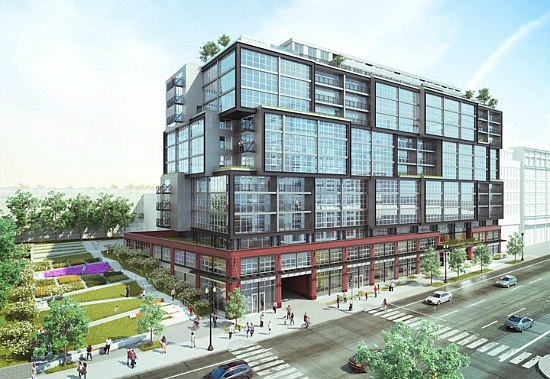 Construction is in the final stages for the 318 residential units at Highline at Union Market that are expected to deliver within the next month or two. Level 2 Development and FCP are helming the development, which is designed by Eric Colbert and Associates. The 12-story building at 320 Florida Avenue NE (map) will include 9,880 square feet of retail, 105 bicycle spaces and 143 vehicular spaces. The development will also include delivery of a public park, as well as 13 affordable three-bedroom townhouses in ANC 5B in partnership with Habitat for Humanity.
Correction: Federal Capital Partners has been rebranded as FCP.
---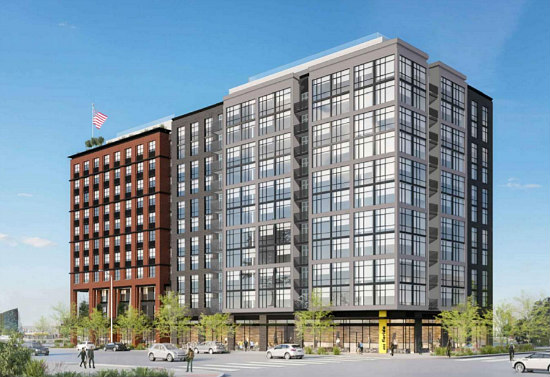 Ranger Properties will soon begin constructing the residential portion of a hotel/condo development at 400 Florida Avenue NE (map). The 11-story building, designed by SK+I Architectural Design Group, will have a wing with 110 two-, three- and four-bedroom units fronting 5th Street and a 155-room MOB Hotel above retail fronting 4th Street.
Fourteen of the condos will be set aside as affordable. The development team is currently seeking to amend the conditions of acquiring a Certificate of Occupancy that are more aligned with the residential and hotel component being on two different timelines. A zoning hearing has not yet been scheduled.
---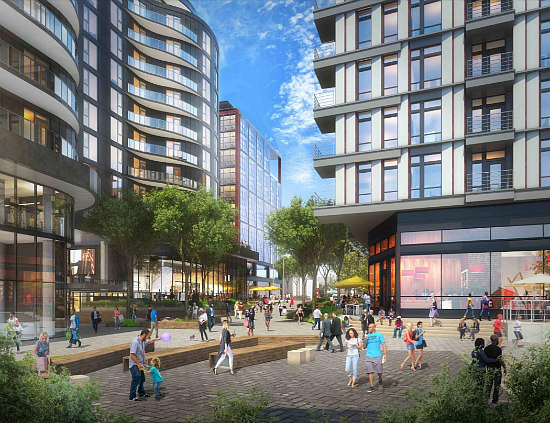 After an appeal was withdrawn last year on the six-building Market Terminal project (map), construction has begun on the first phase. The development team includes Kettler, Carr Properties, Grosvenor USA and Carmel Partners; the architectural team includes Brininstool-Lynch, SHoP, SmithGroup, Eric Colbert and Associates, R2L:Architects and Oculus.
Three buildings will be completed in the first phase: an office-over-retail building, a building with 453 apartments above 16,495 square feet of retail, and a five-story building with 105 apartments above 9,000 square feet of retail. There will also be 682 spaces of below-grade parking for vehicles.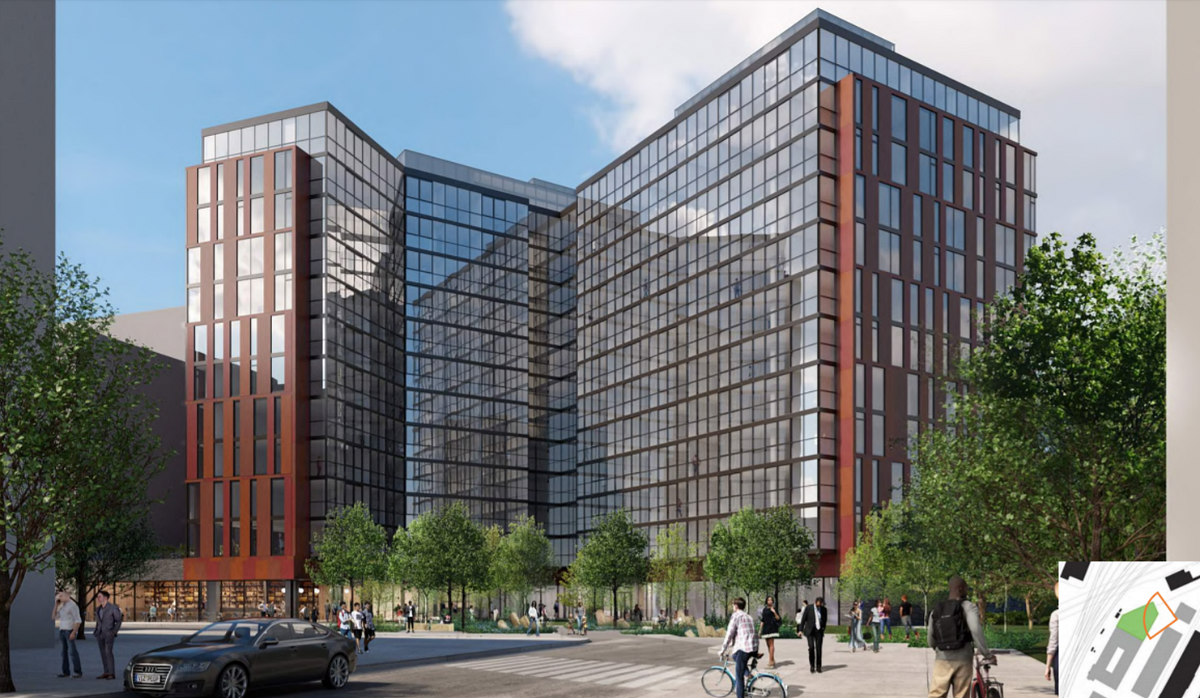 A second-stage PUD application was filed at the top of the year for the second phase of the project. Building A2 is currently envisioned as 260 condos above 6,700 square feet of retail with 165 below-grade parking spaces. The oyster-referencing building will overlook the 11,500 square-foot Neal Place Park. Twenty of the condos would be inclusionary zoning (IZ) units for households earning up to 80 percent of area median income (AMI).
Building C2 is currently proposed as a 218,000 square-foot office building with 9,500 square feet of retail and makerspace and a greenhouse-like penthouse. Meanwhile, Building D would deliver 256 apartments above retail and makerspace. Twenty-eight of the units will be IZ for households earning up to 50 and 80 percent of AMI.
---
Maurice Electric Redevelopment
The Zoning Commission approved a PUD for the Maurice Electric warehouse site at 500 Penn Street NE (map) last September. The UDR and Edens development would incorporate the two-story façade of the Maurice Electric showroom into a 12-story building delivering 299 apartments above 22,714 square feet of commercial space. At least 20,000 square feet of that commercial space would remain for PDR or maker uses through February 2023 in order to allow the existing tenants to remain.
The unit mix will include studios to three-bedrooms and 12 percent of the residential gross floor area will be affordable to households earning up to 60 and 50 percent of AMI, including at least one three-bedroom unit. There will also be 203 parking spaces across three below-grade levels. Eric Colbert and Associates is the architect.
This article originally published at https://dc.urbanturf.com/articles/blog/rooftop-tennis-and-deafspace-design-the-union-market-rundown/15028.
DC Real Estate Guides
Short guides to navigating the DC-area real estate market
We've collected all our helpful guides for buying, selling and renting in and around Washington, DC in one place. Start browsing below!
First-Timer Primers
Intro guides for first-time home buyers