While many projects remain stalled due to various hiccups, NoMa's residential pipeline has seen a burst of action this year, primarily on its prominent D-5-zoned sites. This zoning enables high-density mixed-use development without Inclusionary Zoning (IZ) requirements.
Along with an abundance of market-rate development, the neighborhood may also look a little different after plans to redesign Dave Thomas Circle get underway following DC's pending purchase of the site.
Below, UrbanTurf takes a look at the sizable (and growing) residential pipeline southeast of Florida Avenue and North Capitol Street up to the railroad tracks.
In case you missed them, here are the other neighborhoods we have covered so far this year:
---
Building permits are concurrently under review for a by-right development (in a D-5 zone), starting at the Exxon site at 1 Florida Avenue NE (map). Aria Development seems to be working on a 13-story-plus-penthouse building with 388 units and a swimming pool at this site. Next door at 22 P Street NE (map), permits are pending for a 14-story building with 172 additional units.
---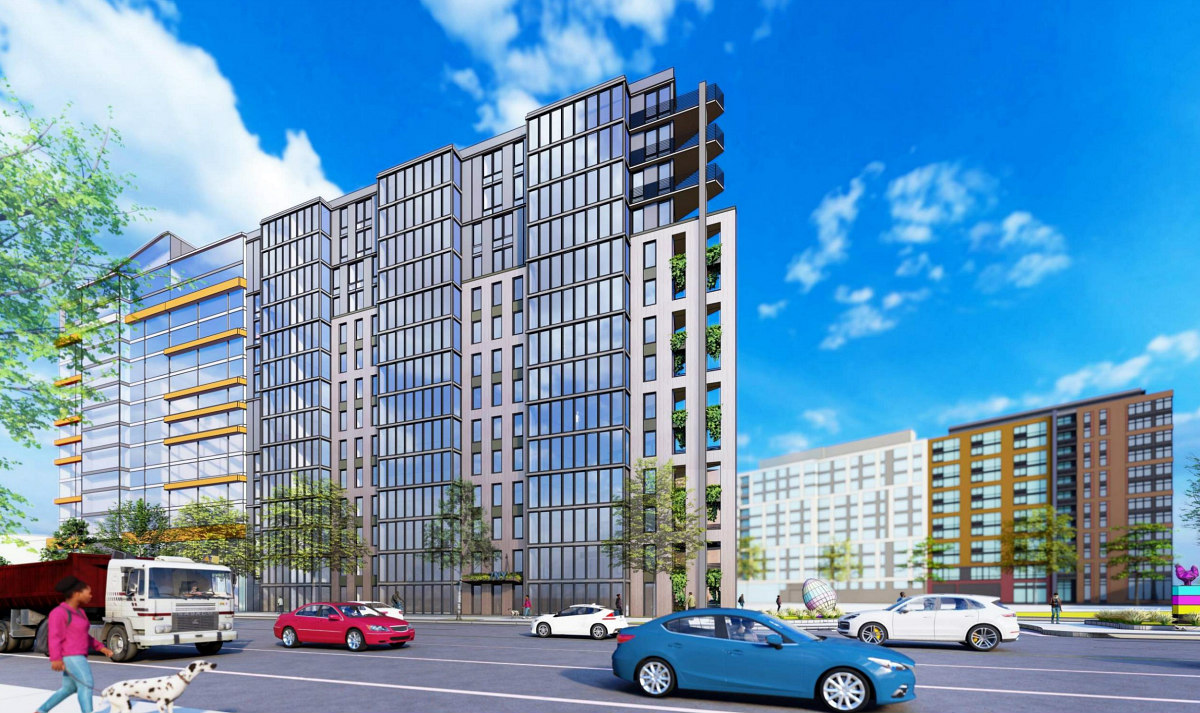 In April, a zoning application was filed at 7 New York Avenue NE (map) proposing a 14-story, 116-unit residential building in the D-5 zone. The unit mix will include 66 "microunits" averaging 410 square feet, 12 "urban one bedrooms" averaging 519 square feet, 26 slightly smaller one-bedrooms, and one-bedrooms with dens as the remainder.
The development will forgo vehicular parking and provide a ground-floor bicycle storage room. Eric Colbert & Associates is the architect. A zoning hearing has been scheduled for September.
---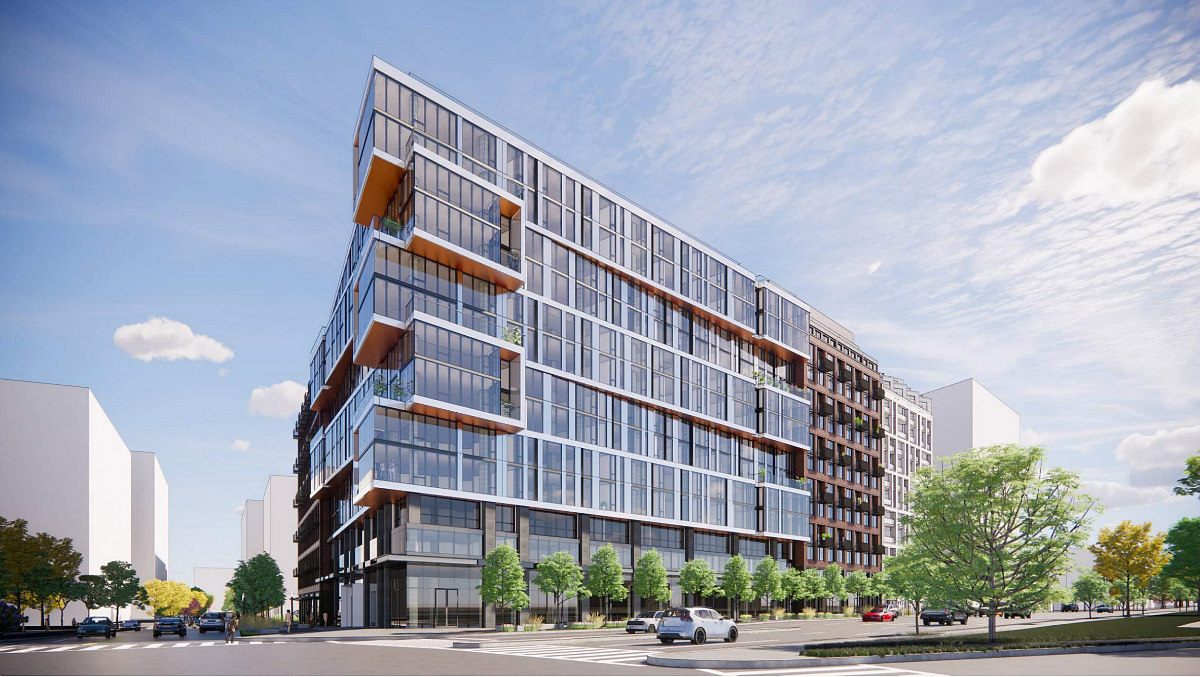 Another zoning application filed in April looked to move ahead on a two-phase development at the McDonald's at 55 and 75 New York Avenue NE (map). The first phase of the JBG SMITH development would deliver 500 apartments above 13,130 square feet of ground-floor retail and a 5,250 square-foot rooftop bar/restaurant; amenities will include a rooftop pool deck and six small clubrooms on the second floor.
The second phase would deliver 305 apartments above 9,125 square feet of retail, a 4,000 square-foot fast food restaurant, and pet boarding. The first phase would also provide 273 below-grade parking spaces and up to 220 long-term bicycle spaces for residents. Hord Coplan Macht is the architect.
Due to the D-5 zoning, there will be no IZ, and the developers would make a monetary contribution to the Housing Production Trust Fund (HPTF) for using habitable penthouse space. A zoning hearing is scheduled for October.
---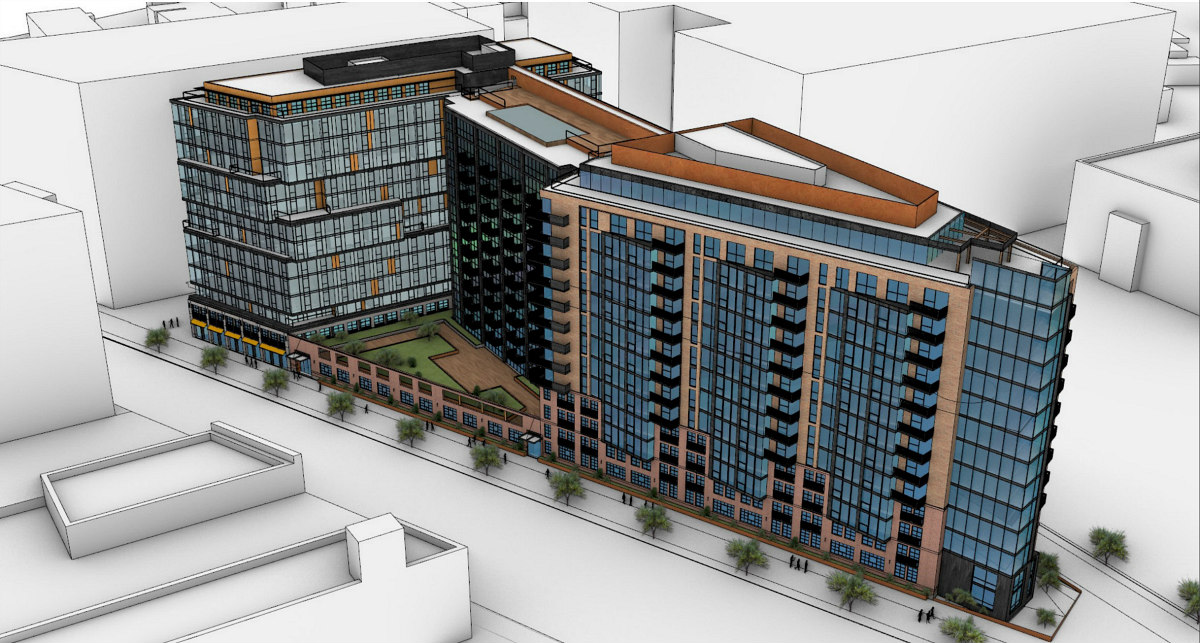 In January, Douglas Development filed plans for a new development across the street from Dave Thomas Circle, on the triangular parking lot at First Street and New York Avenue NE (map). The proposed project would deliver 557 units across a 13-story building, along with 10,550 square feet of ground-floor retail and a publicly-accessible restaurant/bar, with outdoor seating, on the penthouse level.
The latter feature required a special zoning exception for an otherwise by-right, market-rate development in a D-5 zone; the Board of Zoning Adjustment granted approval in May. The project would also provide 264 parking and 120 bicycle storage spaces on two below-grade levels, and amenities would include a rooftop infinity pool. The developer would also contribute to the HPTF in exchange for penthouse residential units. HOK Architects is the designer.
---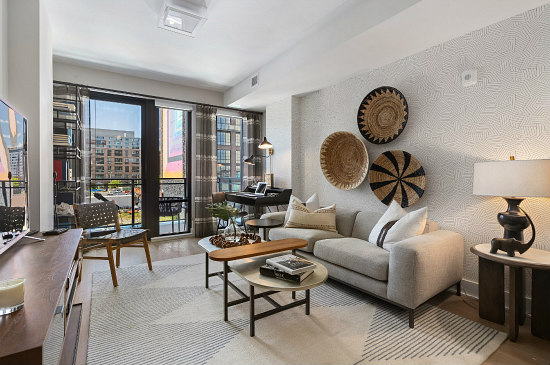 Move-ins are beginning this summer for the 99 condos at 40 N Street NE (map), where unit prices start in the upper $400s. The unit mix includes one- and two-bedroom units, and the development will include a Tesla Share amenity and a "sky lounge" with wet bar and outdoor fire pit.
Urban Investment Partners (UIP), Kadida Development, United Investments and Alliance Real Estate Development are helming the project, and Torti Gallas is the architect. Urban Pace is administering sales.
---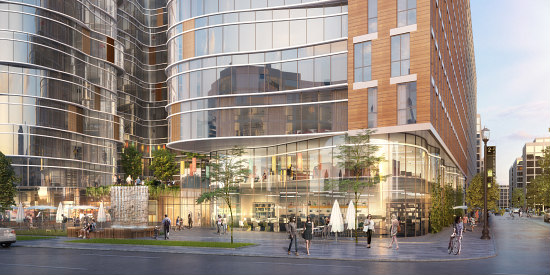 Two years after DC awarded development rights for 2 Patterson Street NE (map), negotiations are still underway behind the scenes. The winning development team, led by Monument Realty, was approved for a 13-story building delivering 577 studio to four-bedroom apartments above 12,000 square feet of retail and 4,500 square feet of community space.
The development will also include a new public park, and there will also be 48 units for households earning up to 30% of area median income (AMI), 147 units for households earning up to 50% of AMI, 130 for households earning up to 80% of AMI, and 217 for households earning up to 120% of AMI. Morningstar Community Development, The May Firm, and Community Housing Partners are also on the development team, and KGD Architecture is the designer. Construction is expected to begin as early as 2024.
---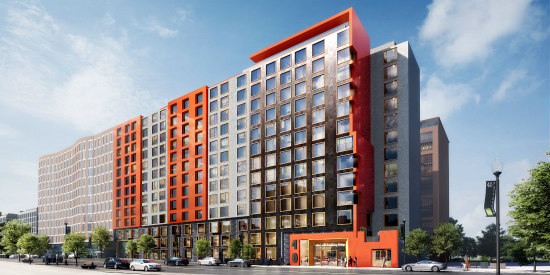 Monument Realty secured financing last October for another 13-story-plus-penthouse building next door at 40 Patterson Street NE (map). The KGD Architecture-designed project would deliver up to 321 residential units to the former Unity Health Care clinic location.
Amenities will include work pods and an infinity-edge rooftop pool with a heated terrace, and there will also be below-grade parking. The development could deliver as soon as fall 2022.
---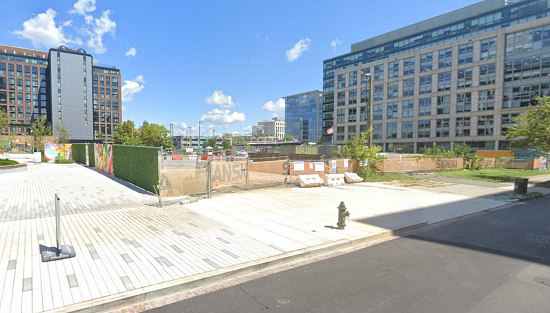 News broke Monday that Skanska is pivoting from office to residential for one of its sites at Tyber Place, at 44 M Street NE (map). Under-review building permits indicate that the by-right, D-5-zoned development will be 275 units above retail, along with below-grade parking.
---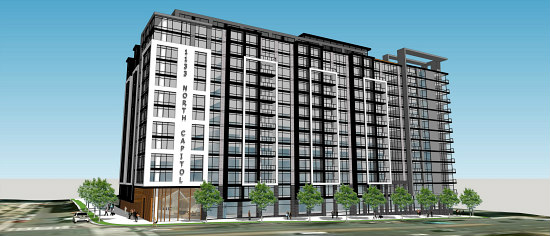 DCHA Headquarters Redevelopment
Across the street, a ground lease negotiation is underway for the headquarters of the DC Housing Authority, at 1133 North Capitol Street NE (map). MRP Realty, CSG Urban Partners, and Taylor Adams Associates were granted redevelopment rights for a three-phase development that is expected to eventually deliver up to 1,100 residential units.
Up to 244 of the units would be set aside for households earning up to 30% and 60% of AMI, prioritizing public housing residents displaced by nearby New Communities Initiatives developments (like Temple Courts). After the deal is executed, DCHA may lease the building back while a new headquarters is constructed elsewhere; it is unclear whether the departure of DCHA executive director Tyrone Garrett will lead to a change in plans.
---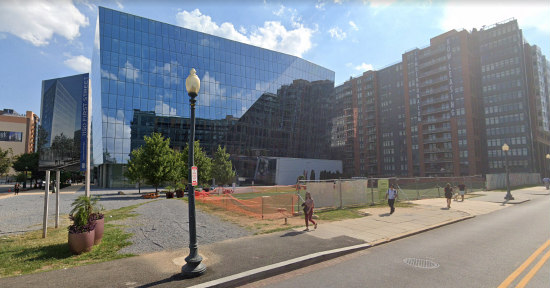 Carmel Partners is working on a by-right development on the D-5-zoned site at 1150 First Street NE (map). Plans seem to be for a 14-story development with 500 units above 12,649 square feet of retail, with 172 below-grade parking spaces and a rooftop pool.
---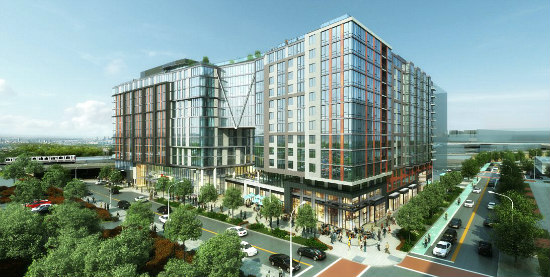 At the former site of the Greyhound bus terminal at 1005 First Street NE (map), an under-construction development will deliver 500 units, 235 Marriott-managed hotel rooms, and above 40,000 square feet of retail and restaurant space. Corporate housing company Churchill Living has signed a ten-year lease for 104 of the residential units, and the development will also include 295 below-grade parking spaces.
The building is designed by HKS Architects, and Perseus TDC, Four Points, and Sunwater Capital are the developers with Buccini Pollin partnering on the hotel portion. The project could deliver in late 2022.
---
After the first phase completed seven years ago, the second phase at Washington Gateway is nearing completion (after an appeal-induced delay) and the third phase is around the corner. MRP Realty is the lead developer.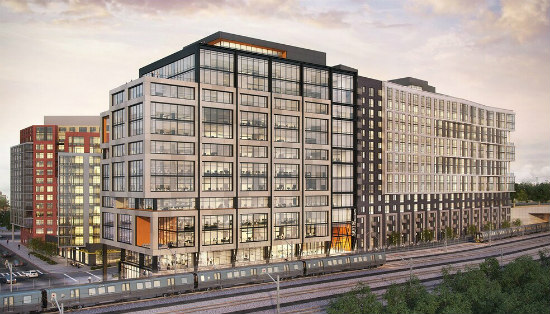 Construction is ongoing on the 15-story second phase at the intersection of the Metropolitan Branch Trail meets Florida Avenue NE (map), which will deliver 372 units and a publicly-accessible lobby, complete with bike ramps, maps, bike elevators, water fountains, an emergency call box, and a bike repair area. Thirty-one of the apartments will be affordable for households making up to 60% of AMI. Barings is a co-developer and SK&I Architecture is the designer; the building could deliver next year.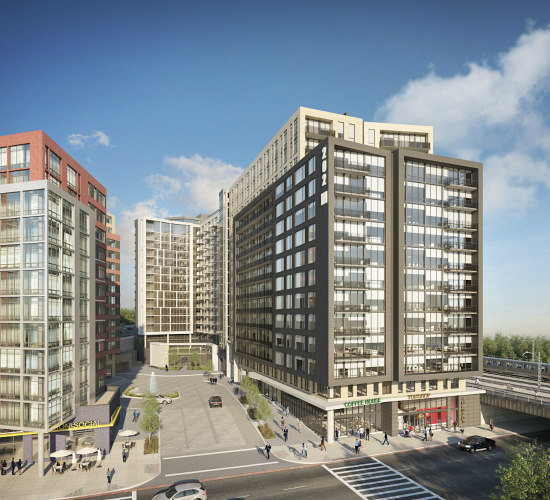 A future third phase, the "South Tower" at Florida Avenue and the railroad tracks (map), will deliver a 15-story building with 254 apartments and 2,984 square feet of retail. Twenty-three of the units would be affordable for residents making up to 60% of AMI, and there would also be 41 residential and 3 retail below-grade parking spaces.
In April, the development team got approval from the Zoning Commission to extend the required construction commencement date of May 2021 to May 2023 to enable them to secure construction financing. Concurrently, the team sought zoning approval for interim activation of the site with uses like a farmer's market or beer garden, including construction of temporary restrooms, pavilions, kiosks and the like.
---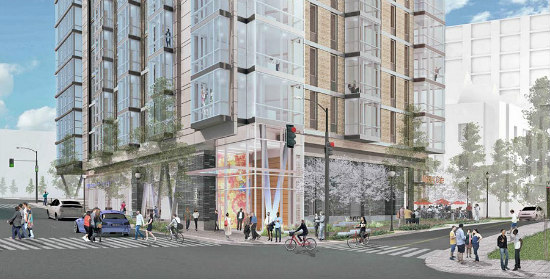 Last November, the Zoning Commission approved a two-year extension for the 56-unit project approved at 301 Florida Avenue NE (map), another post-appeal development that is in need of construction financing. The eight-story development will include 4,837 square feet of ground-floor retail and IZ units at 50% and 80% of AMI; the unit mix will span from studios to four-bedrooms. Zusin Development and Sivan Properties are the developers; Dep Designs is the architect.
---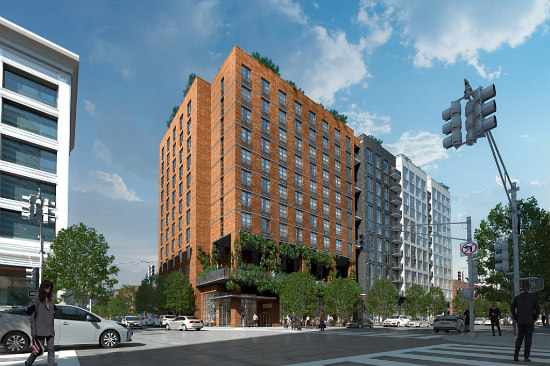 Interior work is underway on 110 residential units at 400 Florida Avenue NE (map), 14 of which will be IZ. Originally envisioned as condos, the Ranger Properties development will also include a 144-key MOB Hotel wing, the brand's first entry into the U.S. market. The hotel will include a rooftop bar/restaurant and 3,612 square feet of retail fronting 4th Street; it could be complete by the end of the year. SK+I Architectural Design Group is the architect.
---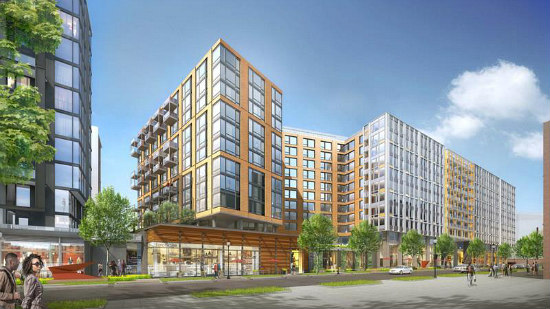 The 2.5-acre Central Armature Works development at 1200 3rd Street NE (map) is well under construction. News broke earlier this month that a 225-room hotel portion, previously to be managed by The James, would instead be managed by Hilton's Curio Collection brand. There will also be two residential volumes, respectively delivering 468 and 172 rental apartments, and a total of 62,000 square feet of retail.
This project will also have a rooftop bar and a retail-lined tunnel leading to an additional entrance to the NoMa-Gallaudet Metro station. There will also be 350 vehicular and 250 bicycle parking spaces. High Street Residential is developing the project in partnership with the Dorr family; Shalom Baranes is the architect. The development is expected to be complete in 2022.
---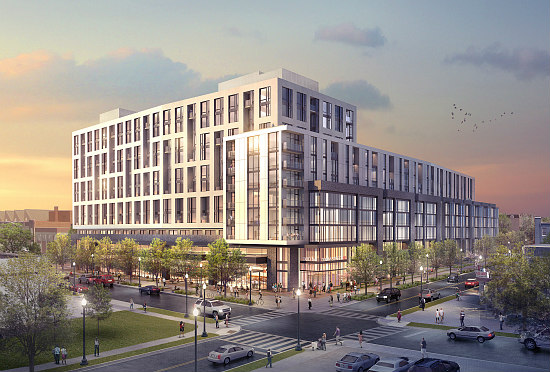 Last summer, LCOR purchased 300 M Street NE (map) from The Wilkes Company after contamination-associated delays from the gas station previously on the site. Since then, site work has begun for an 11-story, 457-unit building with 12,000 square feet of retail. Hickok Cole Architects is the design architect while WDG Architecture is the architect of record and interior designer.
---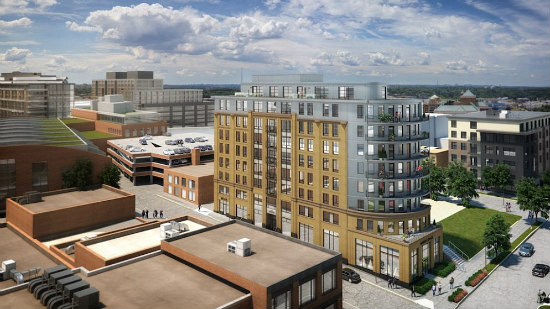 In June, developer Virginia Investment Properties filed a two-year extension application for a PUD that would replace the warehouse and office buildings at 1109 Congress Street NE and 220 L Street NE (map). The plans are for an eight-story, 62-condo development with roughly 3,800 square feet of PDR ("production, distribution and repair") space on the lower two floors. Previous developer J Street Development Company was unable to get construction financing last year.
Twelve percent of the residential area would be affordable to households earning up to 50% and 80% of AMI, and one-third of that affordable space would be built off-site in partnership with Habitat for Humanity. Nelson Architects is the designer.
---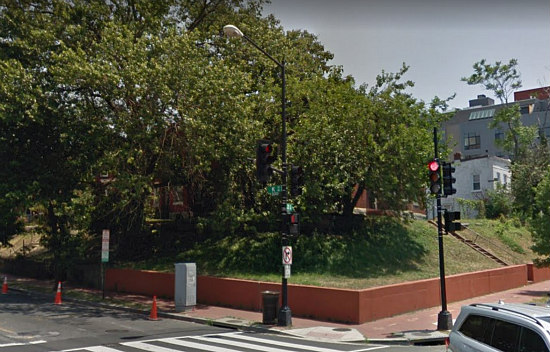 While it remains unclear what is planned for the site, raze permits were issued in May for the rowhouses from 917-929 2nd Street NE (map). The Zoning Commission approved a map amendment for the lots in March 2019 to enable by-right moderate density mixed-use development. SGA Companies previously floated the idea of delivering roughly 40 units in a building incorporating the existing rowhouse façades along K Street.
---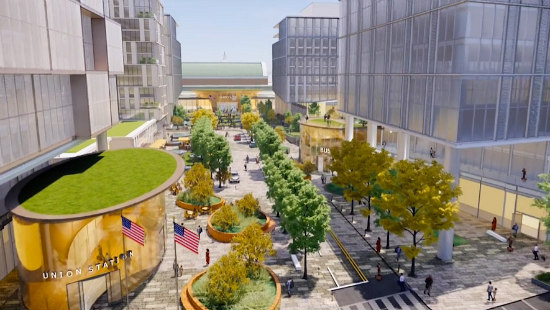 Although it is unclear the extent to which the Federal Railway Administration (FRA) will heed outcry against over-parking a redevelopment of the Union Station renovation, the plans the agency is expected to release by the end of the year will have major implications for an adjacent air rights development.
The best case scenario for developer Akridge would result in three million square feet of mixed-use above the station's railyard, delivering over 1,300 residential units, up to 2.5 million square feet of office space, 100,000 square feet of retail, 500 hotel rooms, and public plazas and green space between First Street and G Place NE (map) and the historic Railway Express Building at 900 2nd Street NE (map).
A more detailed and realistic proposal for Burnham Place could begin to take form 6-9 months after the FRA issues its final decision, however. Shalom Baranes is the project architect.
This article originally published at https://dc.urbanturf.com/articles/blog/dcs-busiest-development-neighborhood-20-projects-noma/18535.
DC Real Estate Guides
Short guides to navigating the DC-area real estate market
We've collected all our helpful guides for buying, selling and renting in and around Washington, DC in one place. Start browsing below!
First-Timer Primers
Intro guides for first-time home buyers