While Arlington County is less interested in the gondola to Georgetown than DC is, if the system is ever constructed, its prospective terminus in Rosslyn would join a neighborhood with an already-abundant residential pipeline.
Several large projects are in progress or approved, many on some of Rosslyn's more prominent office and hotel sites. The developments also give the county a chance to scrap a few of its older pedestrian bridges — and give the neighborhood its first new mixed-income high-rise (of sorts).
Today, UrbanTurf catches up on the residential development in the works in the Northern Virginia neighborhood.
In case you missed them, here are this year's other residential development rundowns thus far:
---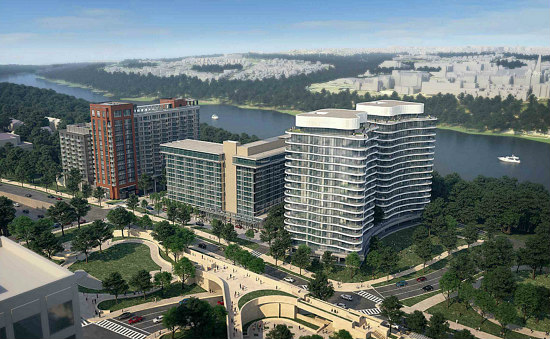 Key Bridge Marriott Redevelopment
Last March, the Arlington County Board approved a redevelopment application for the 5.5-acre site of the Key Bridge Marriott at 1401 Route 29 (map). The 12-story, 60-year-old hotel will be partially demolished and renovated, and the development will also add 451 residential units. Of those, 300 rental apartments would be in a 16-story building with sawtooth balconies, and 151 condominiums would be across two curvilinear 16-story structures atop a two-story shared podium.
All of the residences would be market-rate (courtesy of a contribution to the Affordable Housing Investment Fund), and the buildings would share 419 below-grade parking spaces. The hotel would also add a port cochere, a café, a restaurant, and new public open space that will connect with the Custis and Mount Vernon Trails; the pedestrian bridge spanning the highway from Gateway Park will also be dismantled.
Woodridge KB, LLC and Duball Development Services are the developers, Maurice Walters Architects is the master architect and the architect for the west residential building, Handel Architects is the east residential building architect, and Cooper Carry is the hotel architect.
---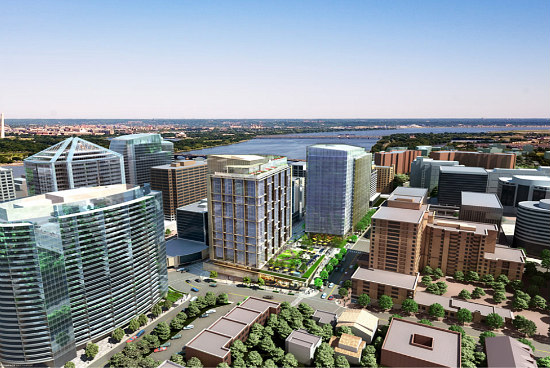 Last March, the Arlington County Board approved a three-year extension for the two-phase development planned for 1400 Key Boulevard and 1401 Wilson Boulevard (map). The resulting development would deliver a 28-story building with 274 residential units above 44,000 square feet of retail fronting Key Boulevard and a 24-story building with 513,000 square feet of office space and over 11,000 square feet of retail fronting Wilson.
The buildings would share a single-story podium base and over 750 spaces across five below-grade parking levels. The development would also deliver a new 1.25-acre public park and would also replace the skywalk spanning Nash Street. Work may be in its early stages, as a permit for repairs of and a connection between the existing garages on the site is currently under review. Monday Properties is the developer.
---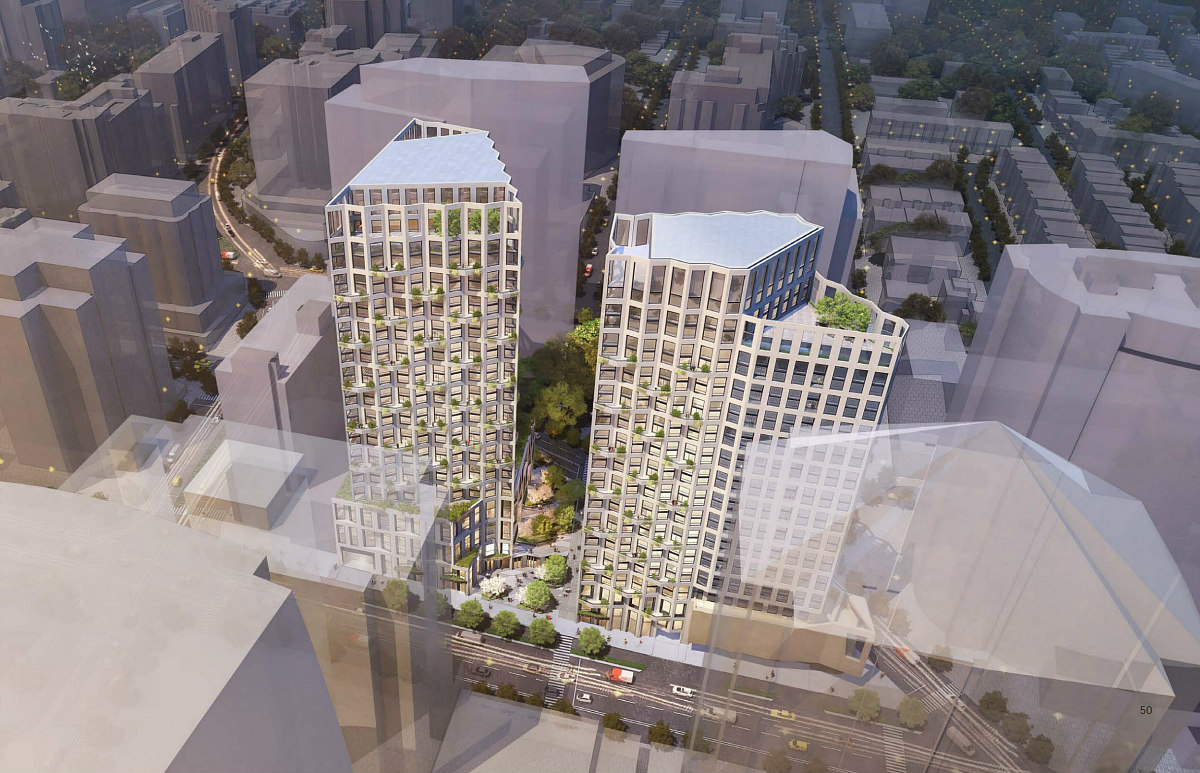 In January, the Arlington County Board approved a redevelopment of the Ames Center office building that will deliver the neighborhood's first high-rise that will include affordable units. Two buildings, 30 and 31 stories tall, will deliver 740 apartments, retail and flex office space to 1820 and 1830 N Fort Myer Drive (map) in two phases, also rebuilding the new Arlington Temple United Methodist Church and Sunoco gas station currently on the site.
Up to 225 of the apartments could be short-term rentals for the first 2-5 years after delivery, and the 24 on-site affordable units will be for households earning up to 80% area median income. On top of the 10,150 square feet of ground-floor retail, another nearly 8,300 square feet will either be office or retail space, and there will also be 574 below- and above-grade parking spaces. Snell Properties is the developer, Shalom Baranes is the design architect and Gustafson Guthrie Nichol is the landscape architect.
---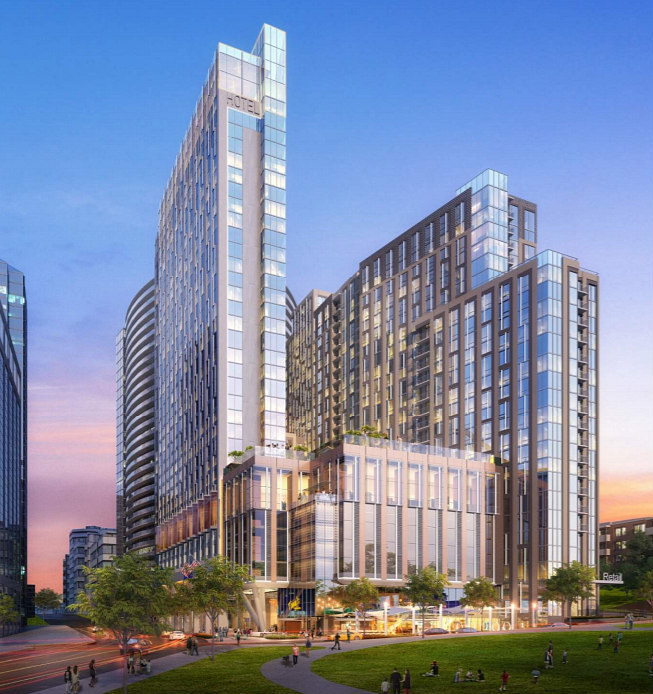 After December's spectacle of a demolition, the development team that will redevelop the Holiday Inn at 1900 N. Fort Myer Drive (map) applied for a building permit. Dittmar-affiliate Rosslyn Syndicate secured an approval last year for a pandemic-compelled amended plan for the site, which will now deliver a 38-story tower fronting N. Fort Myer with 326 hotel rooms (down from 344 rooms), and a 25-story residential tower fronting Nash Street with up to 536 studio-to-three-bedroom units (up from 500 units).
Beneath both would be a ten-story shared base with a 47,450 square-foot conference center and 8,000 square-foot ballroom, along with nearly 14,000 square feet of retail and restaurant space and a pedestrian walkway from N. Fort Myer to Nash Street. The project would also be served by 818 regular and 79 tandem parking spaces. MTFA Design + Preservation is the project architect.
---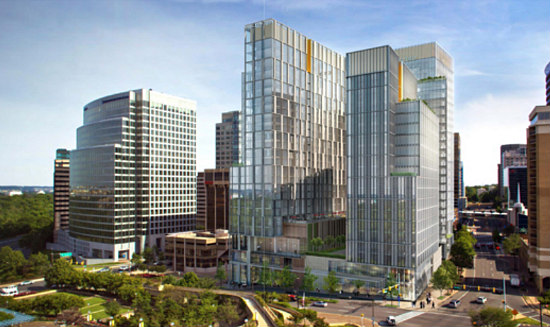 Last March, the County Board also granted another three-year extension to this JBG Smith development, which would flank the Rosslyn Gateway North office building at 1911 N Fort Myer Drive (map) with office, residential, retail, and hotel uses. On one side, a 25-story building would deliver 490,000 square feet of office space above 8,688 square feet of retail, and on the other, another 25-story building would deliver 133 apartments, 148 hotel rooms and 10,000 square feet of retail.
There may also be a later development phase delivering an additional 140 apartments above 7,687 square feet of retail. The development would share 875 parking spaces across three below-grade levels. Kohn Pedersen Fox is the architect.
---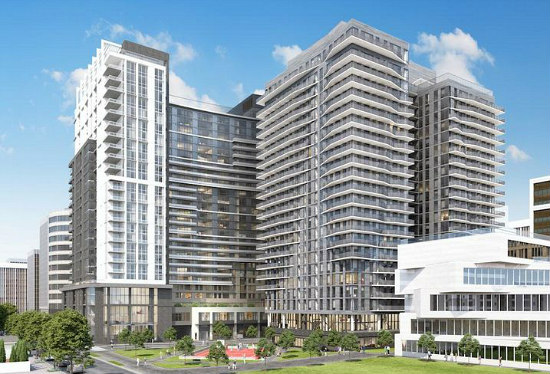 This three-building public/private development replacing the old Wilson School at 1555-1559 Wilson Boulevard (map) is in its final stages, with at least two of the buildings set to deliver within the next few months. The project will include over 800 residential units, nearly 40,000 square feet of retail, a redeveloped public park, a new fire station and Wilson School, and over 1,000 parking spaces on four below-grade levels. Penzance is leading the development team, and Hickok Cole Architects and Studios Architecture are the designers.
The residential buildings are as follows: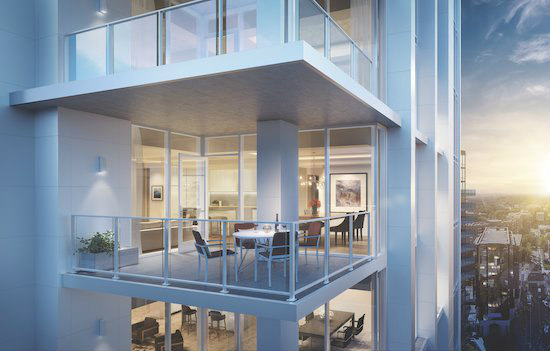 Pierce is a 27-story building with 104 condominiums, anticipated to deliver this summer. The units will be 1,100 to 2,400 square feet in size, some with balconies and/or direct elevator access. The building will also provide 24-hour "white glove concierge services" and each unit includes a reserved parking space. Pricing is from $1 million to over $3 million, with The Mayhood Company handling sales.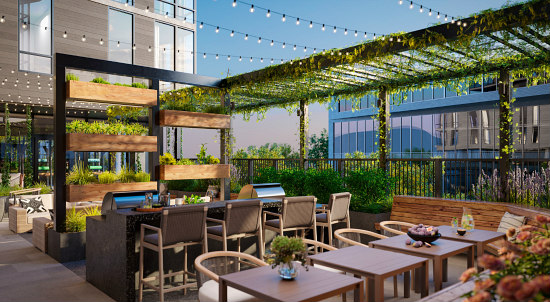 Move-ins will begin in early June at the Aubrey, a 23-story building with 331 studios to three-bedroom apartments. Some of the units will be two stories, and amenities will include a rooftop pool, library, co-working space, fitness center, and exhibition kitchen. There will also be a CVS Pharmacy on the ground floor.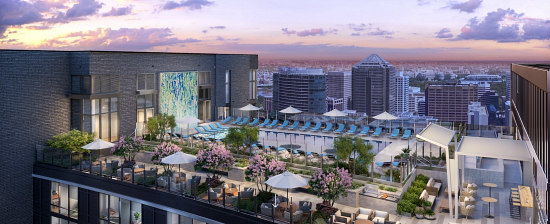 Construction work is currently in-progress on the rooftop pool at the Evo, another 27-story building with 449 studio to three-bedroom apartments. This building also counts co-working space among its amenities.
---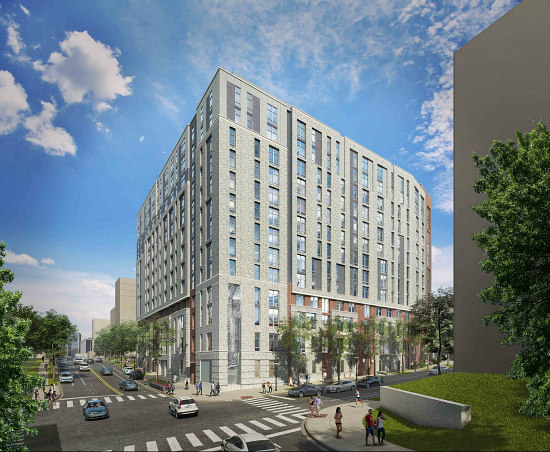 Across the street at 1801 N Quinn Street (map), the Arlington Partnership for Affordable Housing is redeveloping Queen's Court with a 12-story building delivering 249 affordable studio to three-bedroom apartments. The project includes 175 below-grade parking spaces across two levels and will dedicate 9,000 square feet for part of Rosslyn Highlands Park. KGD Architecture designed the building, which is anticipated to start delivering later this year.
---
Almost two years ago to the date, the County Board voted in favor of a proposal to replace the 1950s-era Iwo Jima Best Western hotel at 1501 Arlington Boulevard (map) and the Ellis Arms Apartments at 1523 Fairfax Drive (map) with a 12-story, 160-room hotel and a 10-story, 64-unit residential building. It has been pretty quiet for the project since. Witness Hospitality and Grant Investment Properties are the development partners; the architect is Cooper Carry.
---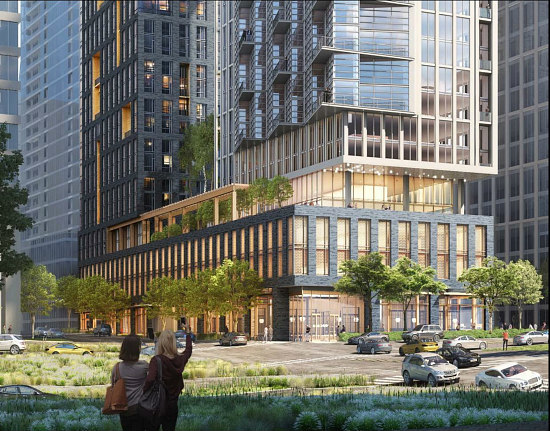 After approved plans were shelved in 2018, contract purchaser Jefferson Apartment Group filed plans last spring to replace the 13-story RCA office building at 1901 N. Moore Street (map) with 424 residential units above 11,355 square feet of ground-floor retail.
The 26-story project would consist of two volumes atop a retail podium, connected by a penthouse amenity bridge; the development would also remove the skywalk that currently spans North Moore Street. The unit mix will span from studios to three-bedrooms, with the development team paying into the county's affordable housing fund rather than providing affordable units on-site.
There would also be 265 residential (and 15 retail, and 10 visitor) parking spaces below- and above-grade, as well as 169 secured bicycle spaces. The above-grade portion of the parking will be above the retail and below the apartments, and will have decorative screening that could incorporate an art element. Shalom Baranes Associates is the architect.
The county's Planning Commission and the County Board are anticipated to review the project some time in the next few months.
This article originally published at https://dc.urbanturf.com/articles/blog/the-nine-developments-expected-to-redefine-rosslyn/18154.
DC Real Estate Guides
Short guides to navigating the DC-area real estate market
We've collected all our helpful guides for buying, selling and renting in and around Washington, DC in one place. Start browsing below!
First-Timer Primers
Intro guides for first-time home buyers