Outside of The Wharf and the recently-opened Southwest Library, there hasn't been much construction action in Southwest DC lately. However, a handful of recent approvals and a couple of building permits will soon put cranes in motion.
Below, UrbanTurf offers an updated look at the residential projects that are moving forward, as well as the rest of the projects on the boards in Southwest.
In case you missed them, here are the other neighborhoods we have covered thus far this year:
---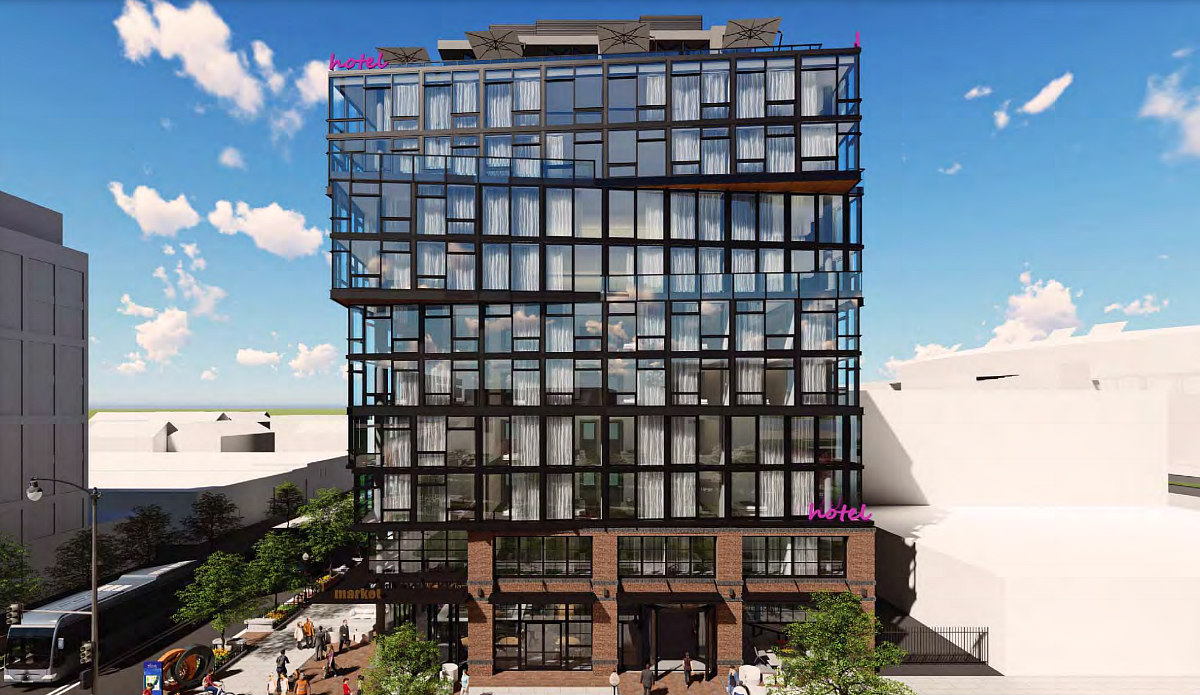 This hotel-residential project a block from Nationals Park received a favorable vote from the Zoning Commission at the end of April. D.B. Lee Development plans to replace the auto repair shop at 45 Q Street SW (map) with a 100 foot-tall building, delivering 60 apartments, 190 hotel rooms, and a 3,700 square-foot market and café.
Five floors of hotel rooms, likely under the Moxy brand or something similar, would sit beneath the apartments, expected to be a mix of studios to two-bedrooms with dens. Ten of the units would be inclusionary zoning (IZ) affordable to households earning up to 60% of median family income (MFI), and the building would also have a rooftop restaurant/bar and separate event space.
The market would feature folding garage-style window walls open to outdoor seating areas, and the north façade of the building will host one or more murals. The development would provide 41 long-term bicycle spaces and valet-serviced space for at least 55 vehicles below-grade. Fillat + Architecture is the designer.
---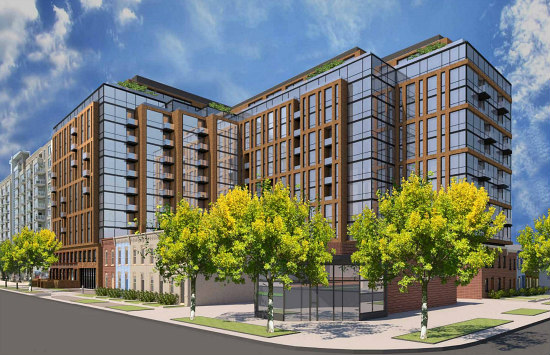 The Zoning Commission took final action in December for this proposed 11-story, 310-unit development at 1319 South Capitol Street SW (map), designed by Beyer Blinder Belle.
Jefferson Apartment Group and Fortis filed a design review application last summer for the development, which will also restore four rowhouses on N Street as residences and three rowhouses on South Capitol for either residential or commercial use. The unit mix will span studios to three-bedrooms, and an additional three townhouse units will be constructed on South Capitol, potentially as live/work space.
Many units will have balconies or walk-out patios, and penthouse units will have private terraces. Twenty-four of the units will be IZ for households earning up to 60% of MFI, and another one will be for a household earning up to 50% of MFI. The development will also include 180 below-grade vehicular parking spaces and up to 107 cycle spaces. A building permit application was filed last month.
---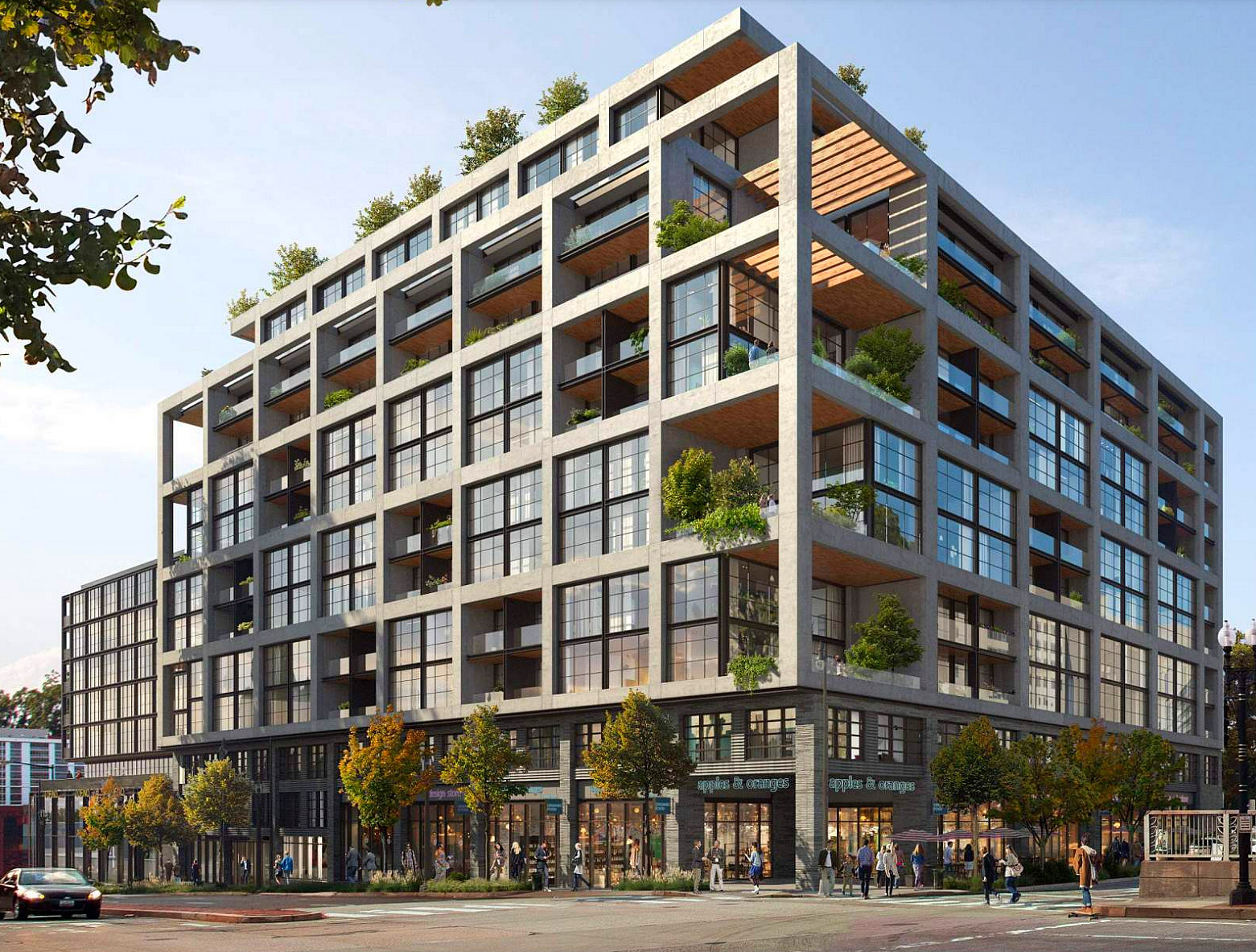 In January, the Zoning Commission took final action to approve the redevelopment proposed for the 7-Eleven site at the northwest corner of M and South Capitol Street (map). After extensive negotiating with the community, the development team revised the design somewhat and agreed to provide 19 affordable units (zoning doesn't require any), including a three-bedroom, among the 615 units planned.
The two-phase development would deliver its south portion first, with 249 units above over 23,000 square feet of retail. The north portion would deliver 366 units.
The unit mix will span studios to three-bedrooms, and the development would also include 299 below-grade parking spaces (down from 403) and 130 long-term bicycle spaces (down from 160). JBG Smith is the developer and Gensler is the architect.
---

Greenleaf Gardens Redevelopment
Last November, the DC Housing Authority (DCHA) selected a co-development team (comprised of Pennrose, EYA, and Bozzuto) to redevelop the 493-unit Greenleaf Gardens public housing community. The redevelopment is envisioned to deliver over 1,800 mixed-income units to the 15 acres from First to Third Streets between Eye and N Streets (map).
While a changing of the guard is underway at the DCHA and a lot of things remain up in the air, the agency is continuing negotiations with the selected team. The public could get an idea of what the first phases of development may entail in September.
---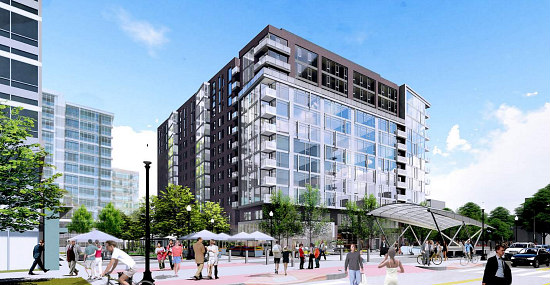 Almost three years after the Zoning Commission approved a two-building planned unit development (PUD) above Waterfront Metro, an appeal filed over two years ago is still pending.
The PUD proposes a total of 598 residential units, 32,456 square feet of office space, 40,172 square feet of ground-floor retail, and a 6,000 square-foot community center on either side of 4th Street, north of M Street (map). Eight percent of the residential square footage, plus an additional three-bedroom unit, will be affordable for households earning up to 60% MFI. Brookfield Properties is the lead developer and Perkins Eastman is the architect.
---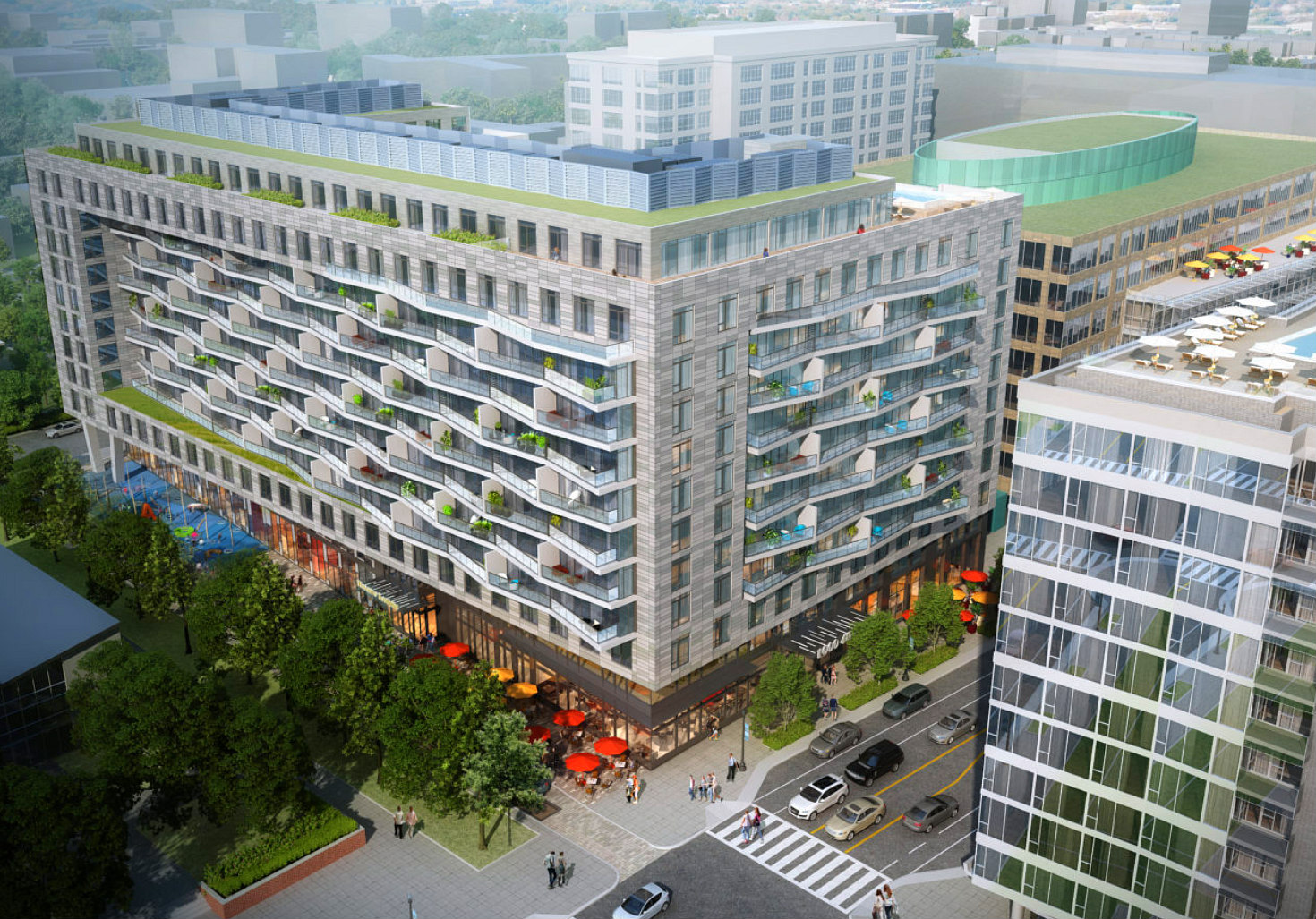 A building permit may be issued soon for the vacant parcel around the corner at 1000 4th Street SW (map), another parcel associated with the Waterfront Station development. The planned 12-story building is meant to deliver 456 apartments, 137 of which will be affordable to households earning up to 50% MFI.
The development will also have a 1,200 square-foot diner, a 9,000 square-foot black box theater, an AppleTree Early Learning pre-K, and 220 below-grade parking spaces. The development team includes PN Hoffman, CityPartners, AHC Inc., ER Bacon Development, Paramount Development, and CulturalDC; the architect is Torti Gallas Urban.
---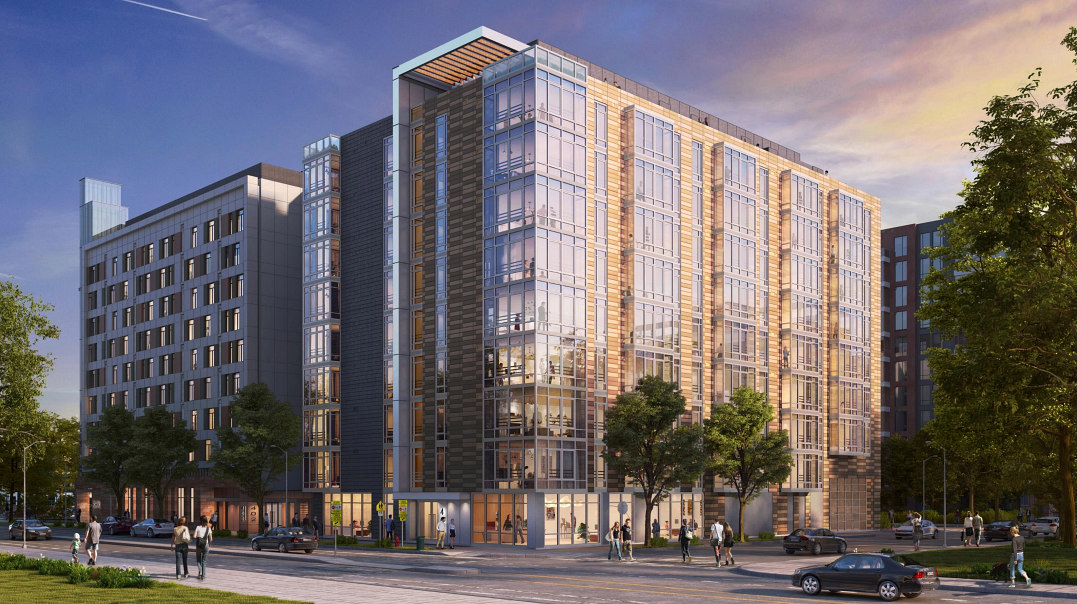 A zoning hearing is scheduled next month to consider a proposed redevelopment of Westminster Presbyterian Church at 400 Eye Street SW (map). A map amendment and PUD application was filed last spring, aiming to deliver a 90 foot-tall building with 99 market-rate condos, 123 senior affordable units, and 18,500 square feet of ground-floor space for the church. The building would also include a below-grade parking level with 60 vehicular and 76 long-term bicycle spaces.
The Greenleaf Gardens redevelopment team previously identified the senior apartments here as replacement units for Greenleaf Senior, but per the ANC's request, those units will instead serve households earning up to 50 and 60% of MFI until affordability covenants expire, at which point up to 20 units would remain affordable per IZ. Development partners include Bozzuto; KGD Architecture is the designer.
---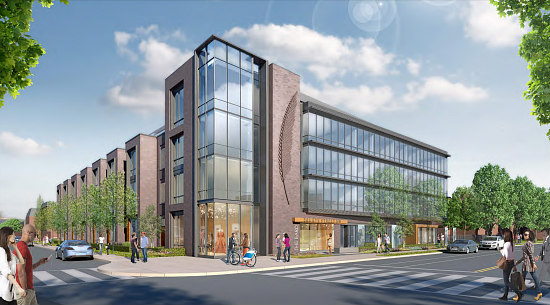 Although the Shakespeare Theatre Company (STC) announced last summer that pandemic-induced financial concerns led to this project being shelved, its zoning approval was hard-won and remains valid. With partner Erkiletian Development Company, STC is hoping to develop a mix of condos and STC-related housing, office, and programming space on the former site of Southeastern University at 501 I Street SW (map).
There would be a four-story building with 64 condos, and a 4.5-story annex building would house 18 actors' apartments, 18 beds for STC fellows, and 13,860 square feet of administrative, performance and rehearsal space for STC. Five of the condos would be for households earning up to 80% of MFI, and the project would also include 38 below-grade vehicular and 67 long-term bicycle spaces, two surface parking spaces, and 15 off-site parking spaces. Shalom Baranes is the design architect.
---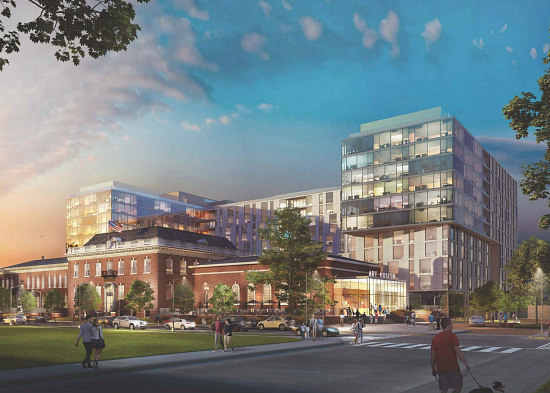 While interior demolition began last year, construction officially started in April at the Randall School at 65 I Street SW (map), whose historic fabric will be retrofit into a new two-phase development. The 12-story building will deliver 492 units, 18,600 square feet of creative office/institutional/arts space, and a 31,389 square-foot museum (free to DC residents) hosting the Rubell Family Collection.
The unit mix will include studio to three-bedroom units. Nearly 100 of the units will be for households earning up to 80% MFI, and there will also be 249 below-grade parking spaces. Lowe Enterprises is the developer in partnership with Mitsui Fudosan America; Beyer Blinder Belle is the building architect and Oehme, van Sweden is the landscape architect.
---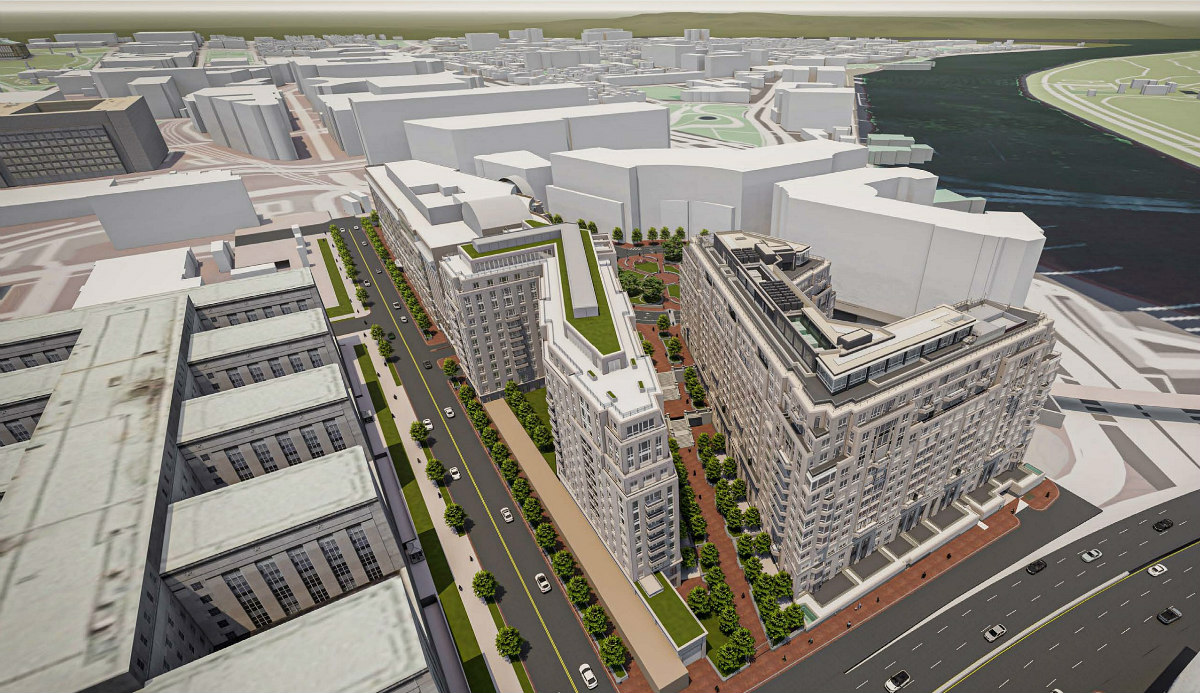 Southwest is also seeing some action north of the highway, as Republic Properties Corporation is looking to replace the surface parking lot beside the Bureau of Engraving & Printing's coal shaker facility at Maryland Avenue and D Street SW (map) with a 13-story, 353-unit building. The fourth Portals building would include a 2,500 square-foot public rooftop restaurant/bar, 237 parking spaces, and an indoor pool amenity. The development received zoning approval last month. WDG Architecture is the designer.
---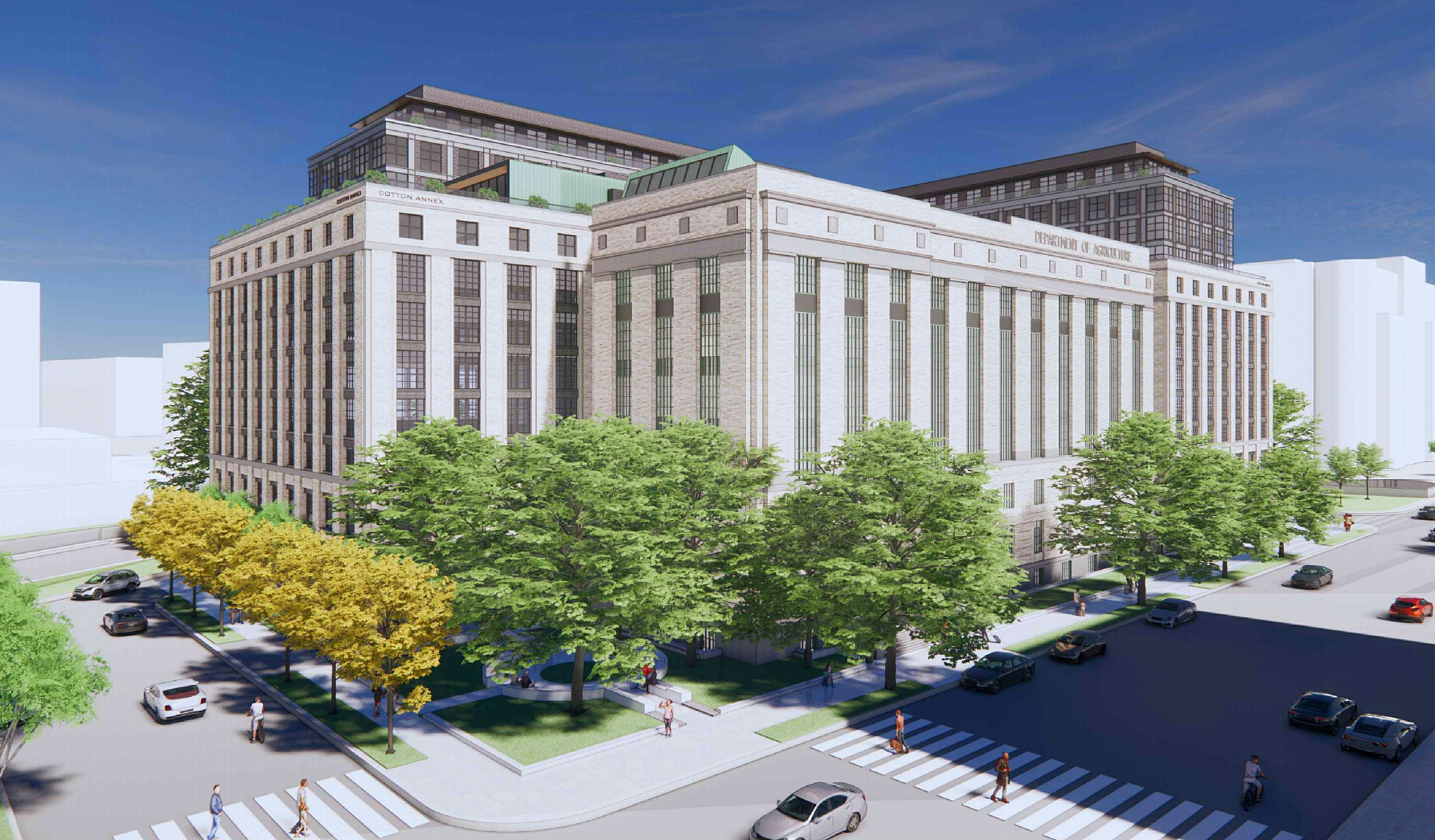 In March, the Zoning Commission approved a plan by Douglas Development to redevelop the historic, long-vacant Cotton Annex building at 300 12th Street SW (map). The development would reuse the existing building for a 12-story, 610-unit development with 1,368 square feet of retail, 93 parking spaces, and a pocket park. BKV Group is the architect.
This article originally published at https://dc.urbanturf.com/articles/blog/the-nearly-2000-units-just-approved-in-southwest/18332.
DC Real Estate Guides
Short guides to navigating the DC-area real estate market
We've collected all our helpful guides for buying, selling and renting in and around Washington, DC in one place. Start browsing below!
First-Timer Primers
Intro guides for first-time home buyers