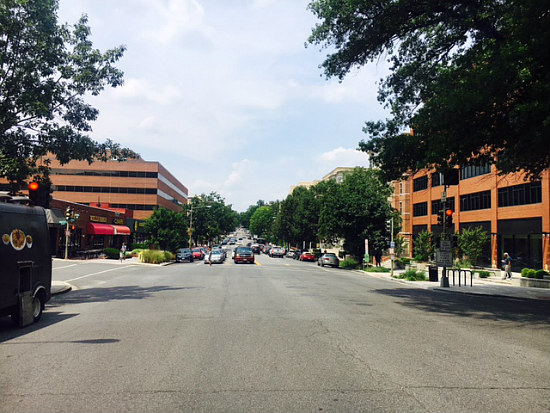 Looking north on Connecticut Avenue in Van Ness.
UrbanTurf has profiled more than 50 neighborhoods in the DC area. We are now revisiting each of those neighborhoods to update our profiles and see how they've changed over the years.
---
In October 2012, more than two decades after first moving to Forest Hills, Marlene Berlin took a walk down the Connecticut Avenue corridor of Van Ness.
But this wasn't just a casual stroll.
Accompanying Berlin were nearly 100 neighbors and community decision makers, looking for new ways to transform a Van Ness commercial strip that had seen better days.
"It really bothered me that we had all these people in the area, and you had such a lousy commercial strip with not very much activity and no places to gather," she recalled.
What started with that walk has turned, five years later, into a slow but steady push to redevelop this stretch of Connecticut Avenue to fit the needs of both the residents in nearby Forest Hills and those in the massive residential buildings that line what's known as main street Van Ness, as well as perhaps attract residents from other parts of the city in the process.
To be clear, there is already change happening along the strip. There's the massive new apartment building Park Van Ness. There's Soapstone Market, an upscale grocery and community gathering space. There's an acclaimed bakery (Bread Furst) and a new Italian restaurant (Sfoglina) from the team behind Fiola and Fiola Mare.
But while the last decade has seen the blooming of popular business corridors along 14th Street and other thoroughfares further east, the redevelopment happening here has a different, more community-oriented focus.
"I don't see places like the 14th Street Corridor as the direction that we want to go," Berlin, who runs the community blog Forest Hills Connection, told UrbanTurf. "I just feel we haven't done a good job of attracting people who are already here. We have density. I just want to get people out of the apartment buildings."
In short, current and future attempts to transform main street Van Ness won't be about keeping up with the Joneses so much as striking the perfect balance between business potential and the surrounding community's needs.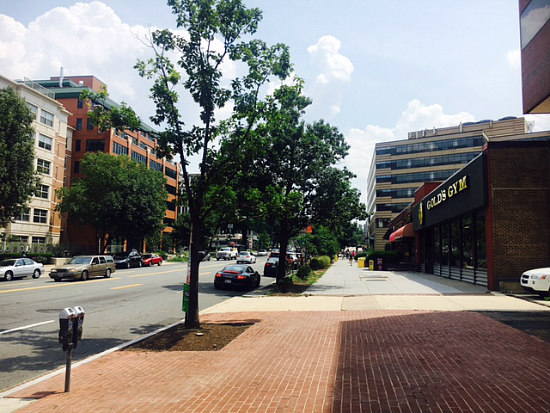 Life on Main Street
"Letting the market do its thing has not worked here," Berlin pointedly noted. "That's why we need community organizations to help manage the future of the neighborhood."
Enter Van Ness Main Street, the organization that's taking the insights of that 2012 walk and transforming them into growth and action. Emphasizing sustainability, walkability, and economic viability, Van Ness Main Street's aim is to fill in the gaps left by businesses that have vacated the area in recent years.
"In light of what's happening in retail nationally, we need to know what's trending and what will work here in Van Ness," said Theresa Cameron, the organization's executive director. "We've hired a restaurant consultant to help our restaurants, because that's our main business here."
Studying and experimenting are a big part of the work going into the area's transformation. Some of these experiments include space for popups to test potential ideas, an in-depth retail study, a new urban landscaping plan, and possible collaborations with nearby institutions including UDC, the Levine School of Music, and Hillwood Estate.

From Albemarle to Van Ness
As Van Ness Main Street has it, the boundaries for the commercial corridor extend from Albemarle Street NW down to Van Ness Street NW. Real estate agent Susan Van Nostrand considers the area as including everything between Upton Street NW and Davenport Street NW.
The strip is something of a valley that lies north of Cleveland Park. On either side of Connecticut Avenue one can see massive brick apartment, condo, and co-op buildings that stand in stark contrast to the more upscale luxury apartments at Park Van Ness and Park Connecticut.
What draws people to the area – whose side streets contain houses, embassy buildings, educational institutions, and the wilds of Rock Creek Park – is its relative calm. And, perhaps more important, its affordability relative to other parts of the city.
Josh Shelter, who rents an apartment at the corner of Connecticut Avenue and Albemarle Street NW, enjoys life in a rent-controlled, 750-square-foot one-bedroom apartment. "I kind of like that the area is not too crazy," he said. "But the more places that pop up, the more expensive it'll get."
Shelter, who moved to the area when Soapstone Market was a construction site, thinks the one change the Van Ness corridor could benefit from most is a higher variety of restaurants.
"If anyone's interest in opening a good Mexican restaurant, we don't have one over here," he told UrbanTurf.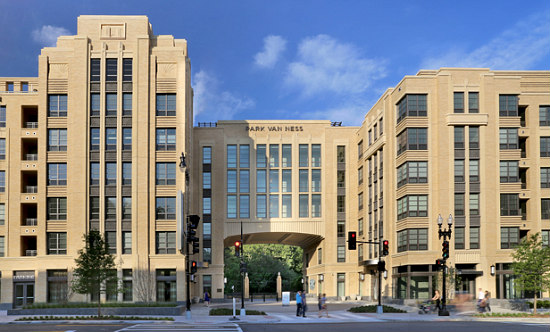 Park Van Ness

A Retail Exodus
When did the Van Ness corridor's downward trend start? The 1980s, according to Berlin.
"This was a really very vibrant street," she recalled. "There was an ice staking rink. Retail was much better. We had a kitchen store, a furniture store, and a Casual Corner."
She says it was competition with malls outside of DC like White Flint and Tysons Corner that started the end. One icon of this lost retail is Van Ness Centre Mall, DC's first indoor mall, which occupied the space adjacent to the Van Ness-UDC Metro exit and used to house everything from a barber and bank to a salon and book shop. In 1983, the building was turned into office space.
And when the offices started leaving the area, so too did potential business opportunities.



Rentals, Rentals, Rentals and a Few Condos
Van Ness has far more renters than condo or co-op owners and how much you pay a month depends on where you live.
There's a price for living at Park Van Ness, the newer, flashier apartment building on the block. A one-bedroom apartment at Park Van Ness starts at $2,200 a month, and a two-bedroom apartment can cost up to $4,000 a month depending on the floorplan.
At some of the older buildings, the rents run a little less. For between $1,500 and $2,000 a month, you can rent a one-bedroom apartment in a building like Avalon The Albemarle or Connecticut House.
"In Van Ness, you get a lot of space for the money," Van Nostrand says. "The relatively low price per square foot continues to make this area relatively affordable if you're looking for the 'suburban urban' experience."
Van Nostrand said that, as of July 2017, there have been more closings on condos in that area than in all of 2016 (closing prices range from $199,000 for a studio and up to $627,000 for a two-bedroom unit).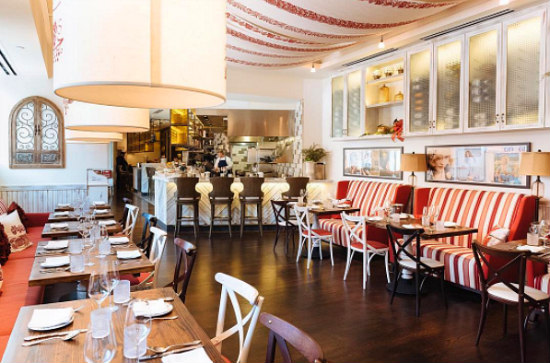 Inside Sfoglina.
Four Things to Do
Hang out at Soapstone Market. Berlin sees this shopping and socializing space as a potential community center for the neighborhood. Sit here with a coffee or beer, shop for groceries or come for events like trivia nights.
Discover Soapstone Valley Trail. More than one area resident recommended this natural trail as a hidden gem. Pick up the trail at Albemarle Street NW and follow it down for two miles that, like the best urban green spaces, will make you forget you live in a city.
Treat Yourself at Bread Furst Mark Furstenberg's neighborhood bakery opened in 2014 and is noted across the city for its baked breads and treats. This year, Furstenberg was named outstanding baker by the James Beard Foundation, so expect lines on Saturday and Sunday morning to only get longer.
Peruse the Bottles at Calvert Woodley A liquor shop can be a neighborhood institution when it's Calvert Woodley. You don't come here just to grab a bottle and leave. You come to learn more about your palette thanks to the store's renowned wine experts.
On Top of the Red Line
Getting to and from the Van Ness business corridor by Metro is easy. The strip starts right at the entrance to the Red Line Van Ness-UDC station at Connecticut Avenue and Veazey Terrace. Its location, right on the Red Line, makes it easy for residents to get downtown to work.
Also readily available are the Metrobus lines that run up and down Connecticut Avenue NW, including L1, L2, and D31. And one great benefit of the neighborhood for car owners like Shelter is that the side streets are a lot less congested than downtown commercial corridors.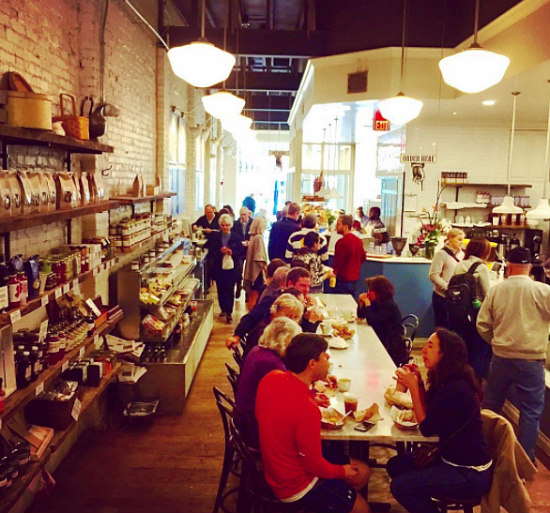 Breadfurst

The Bottom Line
Relax, U Street. Relax, 14th Street. The Van Ness commercial corridor's efforts to grow and mature isn't about you.
The goal isn't to become the city's next hip commercial strip. Rather, as Berlin stresses, it's about changing with the times. It's not about creating new demand but catering to the demand that already exists.
"There's all this potential already here," she said. "And I think we'll eventually be able to build on it and make this a very different but vibrant area for the community."
Zak M. Salih is a freelance writer based in Washington, D.C. His work has appeared in publications including Washington City Paper, the Richmond Times Dispatch, Baltimore City Paper, the Chicago Tribune, and the Christian Science Monitor.
Recent Neighborhood Profiles:
This article originally published at https://dc.urbanturf.com/articles/blog/van_ness_main_street_on_a_mission/12820.
DC Real Estate Guides
Short guides to navigating the DC-area real estate market
We've collected all our helpful guides for buying, selling and renting in and around Washington, DC in one place. Visit guides.urbanturf.com or start browsing below!
First-Timer Primers
Intro guides for first-time home buyers