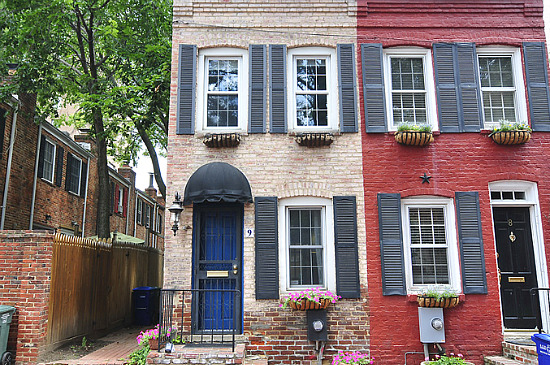 Walter Woods' home.
Back in 2010, Walter Woods, a 49-year old executive at a local non-profit, came to two conclusions: his home was too big and he had too much stuff. The five-bedroom he owned in Crestwood had closets full of clothes, cabinets full of kitchenware, and rooms full of furniture.
"Why do I have so many clothes?," Woods remembers thinking. "Why do I have so many pots and pans? Then it went to chairs, sofas, beds — I had a lot of stuff!"
Deciding that he could downsize both the size of his home and all his belongings, Woods started looking at condos in neighborhoods like Logan Circle, Dupont Circle, and Foggy Bottom, but everything still felt too big; perhaps neither Woods nor his agent realized quite how much downsizing he wanted to do.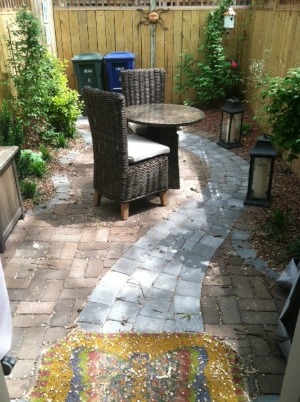 Woods' back patio
So, in addition to browsing new listings, Woods began walking around neighborhoods he liked with his eyes open for available homes. On a spring day, he was wandering around Foggy Bottom when he saw a dwelling squeezed into Snows Court, an alley between K, I, 24th and 25th Streets NW (map). One of the 28 residences tucked in the alley had a for-sale sign in the window, so Woods went inside.
The location and history of Snows Court intrigued Woods. Early Washingtonian C.A. Snow built four simple frame dwellings there in 1850, creating some of DC's first alley residences. The next century saw a roller coaster of activity: during the Civil War, the homes were used as army barracks, and in the 1880s sturdier brick structures went up to house the growing population. However, an 1892 prohibition halted the growth of alley residences as city residents feared squalor. Many were destroyed in the decades that followed.
These days, alley dwellings are coming back into style, and an upcoming revision of the zoning code may make it easier to construct homes from the garages and carriages houses in alleys. As for Snows Court, it is now in the National Register of Historic Places.
If Woods wanted to downsize, a home in Snow's Court would certainly do the trick. After being outbid on one renovated dwelling, he took a look at the next available home, a 480-square foot unit right next door. This building needed a fair amount of work, but while it would take an additional investment to make the home liveable, Woods moved ahead with the purchase.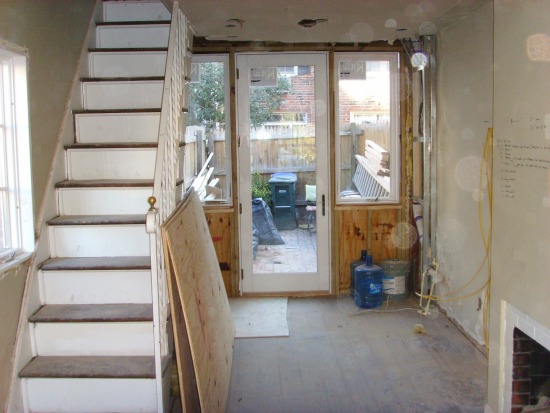 Woods' first floor, before the renovation.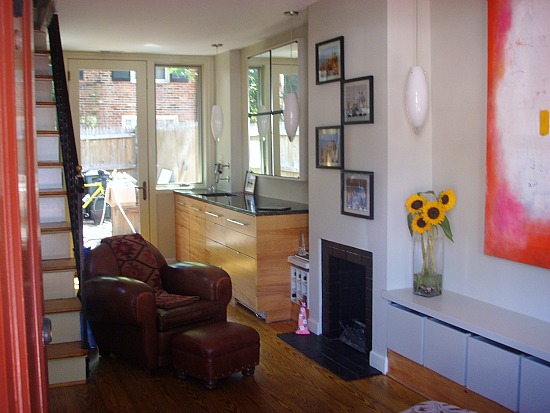 Wood's home, post-renovation.
He closed on the home, starting selling the belongings that wouldn't fit, and hired an architect. He put about $100,000 into a renovation that transformed the relatively simple structure into a comfortable home.
"My architect, James Cummings, said we really need to treat it like it's a ship," recalled Woods. "[So] the refrigerator is under the counter, a bathroom converts into a shower, and a Murphy bed folds up into the wall."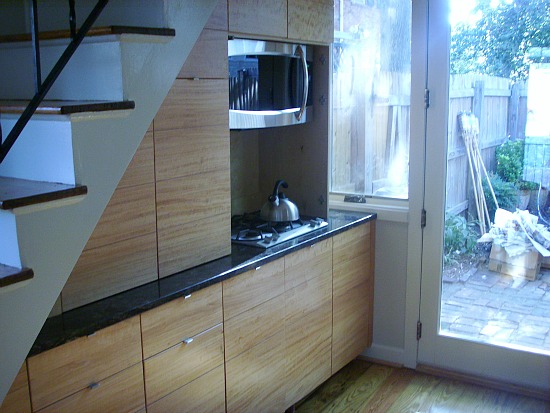 The renovated, compact kitchen.
Woods' home is two stories tall, with the living area, dining room and kitchen on the ground floor, and a bathroom, closet and bedroom upstairs. Eager for a bit more breathing room in the sometimes-claustrophobic space, he created a patio in the backyard. Finishing touches include refinished floors, and adding a high-efficiency HVAC system, a new electrical system and new windows.
Despite it being much smaller than his previous home, Woods new place fits his lifestyle. He travels often for work, and appreciates coming home to a place that doesn't need too much upkeep. The small size also encourages more interaction with his neighbors. "I think the smaller the house, the more it helps you create community because you don't isolate yourself," he said. "You get out and connect with people, because you only have so much space."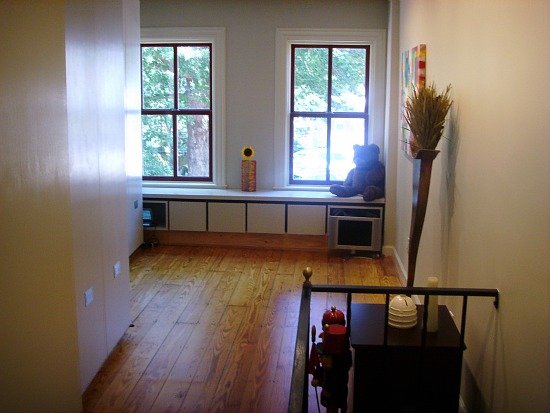 Bedroom upstairs.
As for his initial goal, Woods is happy with his move from spacious to spare. With much less closet space and square footage, he has shed many of his belongings. In fact, the purging became quite addicting.
"I still have too many clothes," Woods muses. "I still think 'What can I purge? What do I really need?'."
Similar Posts:
This article originally published at https://dc.urbanturf.com/articles/blog/the_pursuit_downsizing_into_an_alley_dwelling/6177.
DC Real Estate Guides
Short guides to navigating the DC-area real estate market
We've collected all our helpful guides for buying, selling and renting in and around Washington, DC in one place. Start browsing below!
First-Timer Primers
Intro guides for first-time home buyers