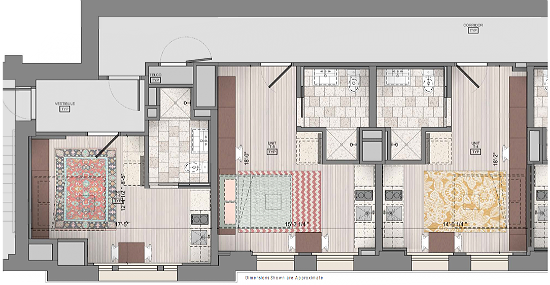 Three micro-studios. Image courtesy of R2L Architects. Click to enlarge.
Micro-units, or residences that are under 300 square feet, have been a hot topic on this site and around the web in recent months. New York's Mayor Bloomberg famously requested proposals for a 60-unit micro-studio building this summer, and San Francisco is considering dropping the minimum size requirement for apartments in the city from 290 square feet to 220.
In DC, micro-studios almost made it to Chinatown, and unlike New York and San Francisco, the city already has a very low minimum living area requirement that even the smallest micro-units would probably not reach: the city's Department of Consumer and Regulatory Affairs (DCRA) tells UrbanTurf that residential units can go as small as 220 square feet.
So, is DC ready for micro-units? A poll that UrbanTurf conducted a few months ago revealed that 61 percent of respondents would be willing to live in units measuring out at just 275 square feet.
The market certainly has a few demographics that may be interested. Young professionals just starting out in their careers seem like natural candidates, whether the units are rental or condo. Barry Madani of Madison Investments also sees a few other potential buyers, like wealthier suburbanites who want a place to land in the city. Another potential client base may be corporations, who could keep the units for out-of-town employees as an alternative to renting out pricey corporate apartments. While the conversation around micro-units generally involves apartments, Madani has been exploring the possibility of micro-condos that would sell for less than $250,000.
Some additional planning may be necessary to make what would be extremely small units feel livable. Proximity to a variety of public transit options would help, and as for layout, high ceilings will keep the space from feeling too claustrophobic, thinks Madani, especially if the height would allow for a loftable bed.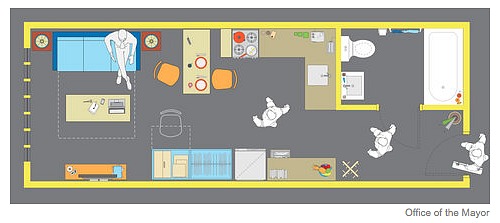 Layout of a micro-apartment. From the office of Mayor Michael Bloomberg.
Tom Lenar of R2L:Architects believes that planning is essential to a successful micro-unit. Built-ins and foldable features to help open up floor space are important, and a thoughtful orientation of the unit in relation to the windows can keep the space feeling lighter.
"Most of the micro-loft plans that I've seen are long, skinny shoe boxes, with a window on the shorter wall, which limits its size," said Lenar. "It's a recipe to make a small space feel smaller and cluttered. And potentially a dark one, with the limited area for windows. This can be avoided by limiting the overall depth of the building so the architect doesn't force him or herself into designing the apartment this way."
Lenar knows from experience. His firm was responsible for drawing up the plans for the Chinatown micro-studios mentioned above, before the developers — Douglas Development — decided to fill the building with office tenants instead. That project would have brought DC its first micro-units.
The first developer who does bring such small units to the city would likely have to spend some time not only figuring out a comfortable design, but also possibly wading through DCRA to find out how to acquire Certificates of Occupancy and other paperwork for the units.
And, they would have to sell the idea to skeptics. Some community members worry about the type of resident who would be drawn to these units, imagining a dorm-like environment with young revelers filling the halls.
Madani acknowledges that these small abodes are likely to attract more transient tenants. This may complicate condo codes that restrict the percentage of renters in a particular building, as well as disrupt peaceful atmospheres. The way to mitigate any tension may be to keep the units separated from more permanent communities, he thought.
"Owners of one- and two-bedroom units are usually stable homeowners who like to know their neighbors," noted Madani. "It would probably work better if the building was entirely filled with small units."
Other cities exploring this possibility have encountered opposition. San Francisco's recent plan to vote on legislation that would lower the minimum size of apartments was postponed due to fierce debate. Critics are worried that the apartments would attract wealthy techies rather than those in need of a more affordable housing option. Some were also just put off by the small size, which felt inhumane. Defenders argued that allowing developers to create small apartments would help bring down San Francisco's rapidly rising rents. The vote has been rescheduled for November.
While DC doesn't have the regulatory restrictions, developers still haven't jumped on the idea…yet. "Someone needs to take the first step and figure it out," said Madani. "Then you'll see buildings getting carved up into smaller and smaller units."
This article originally published at https://dc.urbanturf.com/articles/blog/is_dcs_housing_market_ready_for_microunits/6104.
DC Real Estate Guides
Short guides to navigating the DC-area real estate market
We've collected all our helpful guides for buying, selling and renting in and around Washington, DC in one place. Visit guides.urbanturf.com or start browsing below!
First-Timer Primers
Intro guides for first-time home buyers