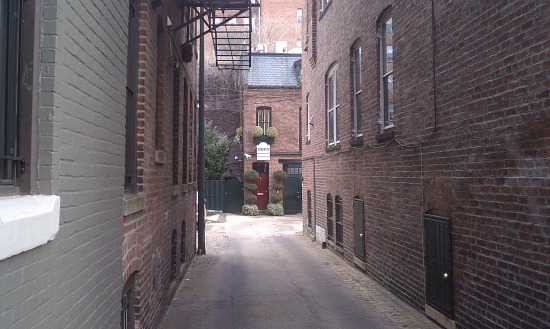 Alley dwelling may become more popular with the changes.
Over the past five years, Office of Planning (OP) has been working on a complete rewrite of the current zoning code. Last Friday, the Committee of the Whole, led by Councilmember Phil Mendelson, sat for a five-hour roundtable about all the proposed updates. OP Director Harriet Tregoning spoke first to outline the proposal. She was followed by about 40 residents, and then spoke again at the end to respond to questions and concerns.
As the name suggests, zoning is an urban planning mechanism that became popular in the early 20th century to keep different "zones" separate from each other. Every major city except Houston has some form of zoning code. Many cities have updated their codes over the years; DC apparently has almost the oldest code yet to be updated, second only to Philadelphia.
One big takeaway from the roundtable was that residents feel shut out of the process. While Tregoning stated that more than 200 community meetings have occurred in the past five years, residents felt that their concerns were being ignored by the OP despite being brought up at meetings. They also complained about the difficulty in understanding the differences between the old code and the new. (The proposed zoning updates can be found here.) Officials from the OP reiterated that the document is a draft and still in flux.
To help DC residents feel more engaged in the zoning changes, we wanted to put together a general primer on the new proposal, taken from Tregoning's opening statement. As the process moves through the final stages and the proposal goes to the Zoning Commission (ZC), residents will have more opportunities to make suggestions over the next few months. At least one meeting will be held in every ward, with ward-specific information, and the ZC hearings will be public.
Easier to Understand
Tregoning joked that the current code, which has more than 1,000 amendments attached to it, should be called the "Land Use Lawyers Full Employment Act." The proposed regulations would be reorganized and made more user-friendly so that residents will be able to easily sift through it and learn what is allowed in their zone without the help of a lawyer.
Less Car Oriented
As many like to reiterate, the current code was written in 1958, when cars were ascendant. The new code is generally supportive of a DC with usable public transit and car-sharing programs. Currently, developers putting up new residential buildings must build a certain number of parking spaces. The new code would eliminate the parking minimum in certain parts of DC, like high-density residential areas near public transit; cities like Seattle have similar policies. The number of parking spaces would thus be determined by the market in that area, rather than by the code. "We have buildings that are over parked — they have parking that is not being utilized," noted Tregoning, suggesting that developers could instead share parking. Tregoning also remarked that the high housing prices in new buildings are often exacerbated by the additional cost of building parking spaces.
Greener
In order to create a greener DC, certain zones will have a mandated percentage of pervious surfaces.
Supportive of Corner Stores
In the new code, corner stores would be encouraged in areas that will be zoned R-3 and R-4. Limitations would protect existing commercial zones and the residential quality of the neighborhood: no more than four stores would be allowed per block, hours of operations and size will be limited, and stores cannot open up within 500 feet of a commercial zone. These numbers may be adjusted on a neighborhood-to-neighborhood basis.
Differentiated Neighborhoods, Preserved Character
The existing zoning rules "take a cookie-cutter approach and fail to recognize the diversity of neighborhoods," said Tregoning. The new code would have customized zones in different neighborhoods to preserve community character and historic building patterns. Additionally, the code will try to reign in "pop-ups" — the addition of a new floor on an existing rowhouse — by establishing measuring points that are low and uniform in certain neighborhoods, and will eliminate incentives to fill in narrow courts and side yards in rowhouse zones.
Accessory Dwelling Units
There will be a few changes to the current rules regarding accessory dwelling units, with the general goal of encouraging them in some areas, particularly those with garages and carriages houses that could be turned into income properties. Accessory dwelling would help to accommodate the growing population and to allow aging residents to supplement their incomes without leaving their homes. In some cases, said Tregoning, the new code will tighten up regulations, while in others, accessory dwellings will be allowed "by right", meaning they can be constructed without special permission from Zoning, as is required now.
Similar Posts:
This article originally published at https://dc.urbanturf.com/articles/blog/proposed_zoning_update_key_changes/6128.
DC Real Estate Guides
Short guides to navigating the DC-area real estate market
We've collected all our helpful guides for buying, selling and renting in and around Washington, DC in one place. Visit guides.urbanturf.com or start browsing below!
First-Timer Primers
Intro guides for first-time home buyers