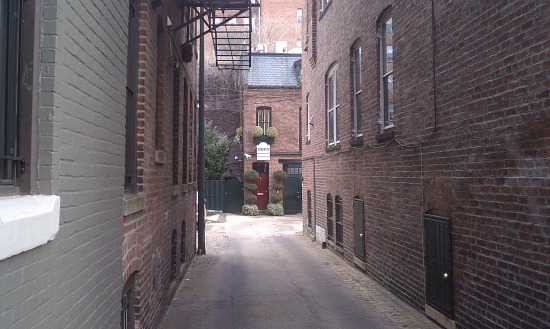 Fraser Court in Dupont Circle
The collective perception of alleys in DC is in the midst of a sea change.
Between initiatives from the city's Office of Planning and essays and articles that have highlighted alley attributes, idea light bulbs seem to be going off simultaneously all over town:
Alleys are historically appealing and right in the middle of many hot neighborhoods.
Smaller lots behind bigger ones are ready-made mixed-income housing.
Retail can mix with residences in an extremely walkable environment.
All these ideas beg the question: Are the city's "other" streets the perfect place for new development?
DC may get an answer to that question sooner rather than later. As was reported in a comprehensive piece from the blog Greater Greater Washington earlier this month, the Office of Planning is in the process of rethinking the out-of-date zoning regulations that limit alley development and accessory dwellings.
Under current zoning rules, alley residences must be on lots that are 400 square feet or greater and they need to be on alleys that are at least 30 feet wide. The proposed code would at the very least remove the 30-foot wide rule.
Historic Preservation Officer David Maloney told UrbanTurf that the city is in the 'information gathering' stage, but is looking at how they can be more flexible when it comes to alley dwellings. "The city has been rather strict about regulation," he said.
David R. Salter, who lives in an old stable in Blagden Alley near 9th Street NW with his wife and authors the blog Preserving DC Stables, told UrbanTurf that things have changed drastically since the old regulations were put in place, and revisions are overdue.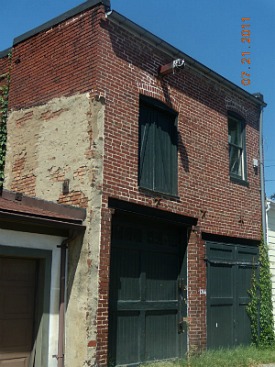 A Logan Circle alley structure.
"A lot of the bylaws were written at a time when you couldn't get a firetruck through a 15 foot alley, therefore it would be unwise to have someone living in an alley 15 feet wide. Trash collection and management, and even the way that wires come into residences are now very different."
Part of the hold-up is due to a lack of information. Are there dwellings worth saving? What exactly has deteriorated? How much space is left to develop?
To answer these questions, the Office of Planning has embarked on a survey of all the alleys in DC's historic districts. Volunteers and interns walk through the back boulevards diagnosing which buildings are more than 50 years old, documenting everything about them, from condition to use to alterations that may have been made. They record whether or not buildings are being used as residences, and take note of properties that are deteriorating or vacant. All the information will go into a database that the zoning team can use as they consider the new regulations.
"We are finding stables, carriage houses, artist studios, industrial buildings and private and commercial garages," Kimberly Williams, the architectural historian in charge of the alley survey, said. "We see a lot of old advertising on the walls that you don't find on main city streets anymore."
Alleys were first developed in DC after the Civil War, when freed slaves came to the city and needed cheap dwellings to start their lives. Percentage-wise, the population growth from back then puts our current influx to shame; according to the book "Alley Life in Washington," Washington's population grew from 60,000 to 110,000 within a decade of the Civil War, and nearly half of the new residents were African-American. During that growth spurt, developers created both street-facing residences and alley dwellings.
In 1892, new legislation made it impossible to create dwellings in alleys less than 30 feet wide, and by the 1920s and 30s, alleys were considered to be dirty, crime-ridden and disease-infested; a lack of light and attention from the city kept the areas in a state of blight.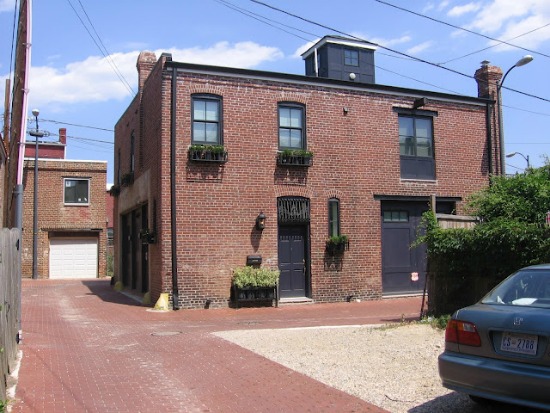 Kyle Kreutzberg's carriage house
Kyle Kreutzberg, who has lived in a renovated alley unit in DC for eight years, says that when he moved in the atmosphere was less than hospitable.
"Our carriage house was a former chop-shop, crack- and whore-house," he told UrbanTurf. "Following decades of consuming blight, trash pickup was only restored following a surprise visit by William Howland, the Director of Public Works at the time."
Because they are out of the general line of sight and off many police routes, alleys are thought of as dangerous, a perception that Salter said can be managed. "It's the Jane Jacobs notion of 'eyes on the street'," he told us. "If you walk through, you're more likely to pick up the garbage, keep it a little cleaner. If there's less opportunity for crime to occur, then it won't happen."
Kreutzberg and his neighbors have been keeping a close watch on their alley. "Growing stewardship makes us look like less of a back-street condom dumpster," he said bluntly, noting that an increase in alley lighting can do wonders for "taming determined menace."
Change can already be seen. For years, Cady's Alley in Georgetown has been lined with posh furniture stores and cafes, and Fraser Court in Dupont Circle is home to one of the higher priced homes on the market in the city right now. Blagden Alley and Naylor Court are on their way with active community engagement; a recent meeting of the Blagden Alley-Naylor Court Association (BANCA) attracted representatives from developers putting up buildings on nearby 9th Street.
As for the dwellings that currently exist in alleys across the city, they are often creative and raw. Salter's stable is a "rustic" two-story loft, with large open spaces that stay cooler than cozier row houses. From the outside, Kreutzberg's carriage house is boxy and brick-heavy, however the interior is about as posh as any luxury loft-like condo in the city, with a spiral staircase, shiny counter tops and several rooms. (New condos with these types of features might be going into carriage homes in Naylor Court soon.)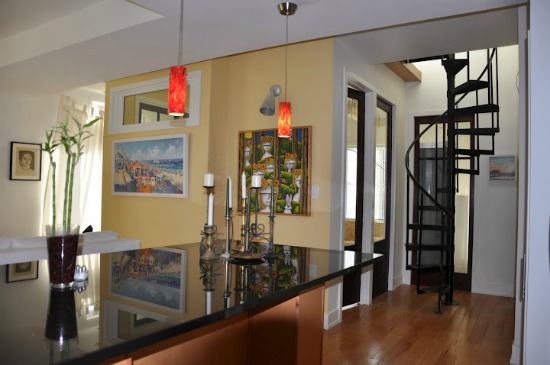 Inside Kyle Kreutzberg's carriage house
Brown's Court in Capitol Hill and Bloomingdale Court in Bloomingdale have homes that sell at about market price, with a recent two-bedroom selling for $500,000. Unfortunately, the properties haven't been protected like on-street historic homes, and potentially cool houses have deteriorated or been torn down. Though Blagden Alley-Naylor Court are protected by DC Historic Preservation Law, Salter believes that it's often up to residents to protect the historic integrity of the alleys.
As a result, there is a grassroots activism in the community. The District has the DC Alley Dweller's Association (DADA) whose mission reads: "Citizens living in DC's alley areas have suffered from neglect and stigmatization by both the city government and street dwelling neighbors. This shameful history must come to an end." BANCA members managed to change the design direction of a condo project near a neighborhood alley by showing up en masse at a recent ANC meeting.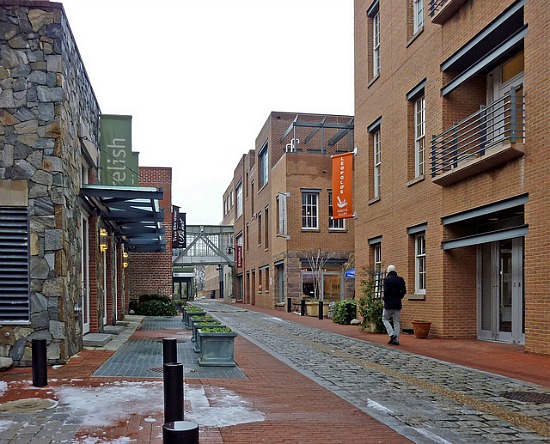 Cady's Alley. Courtesy of
Peyton Chung
.
The city is several steps away from any zoning changes and years out from full-on development that would bring dwellings, retail, art galleries and a lively atmosphere to alleys across the city. It's also currently unclear how exactly the data from the city's alley study will play into the new regulations. But the general feeling from the Office of Planning is positive.
"When you talk about increasing density in the District, we've still got some places to move into," Kimberly Williams said. "You don't necessarily have to build anew."
Decades ago, alleys had a lot of life coursing through them, lined by blacksmiths, cobblers, bakeries, furniture upholstery places, and bicycle repair shops. If the new regulations are approved, the city could see this from-another-era-feel return.
This article originally published at https://dc.urbanturf.com/articles/blog/alleys_dcs_other_streets_are_attracting_attention/5182.
DC Real Estate Guides
Short guides to navigating the DC-area real estate market
We've collected all our helpful guides for buying, selling and renting in and around Washington, DC in one place. Visit guides.urbanturf.com or start browsing below!
First-Timer Primers
Intro guides for first-time home buyers