This week, UrbanTurf continues its 2016 update on what is in the residential development pipeline throughout the DC area by turning our attention east of the Anacostia River, where development may be more contentious and slow-going, but certainly seems inevitable.
In case you missed them, here are other neighborhoods we have covered thus far:
East of the River Development
---
Four Points, LLC and Curtis Investment Group partnered up to redevelop the 7.8-acre swath of land at Martin Luther King Jr. Avenue and W Street SE. Upon completion, the multi-phase development will deliver nine buildings with approximately 855,000 square feet of office space, 165,000 square feet of retail, including a movie theater and grocery store, and up to 500 residential units. Marshall Moya Design is the architect on the development.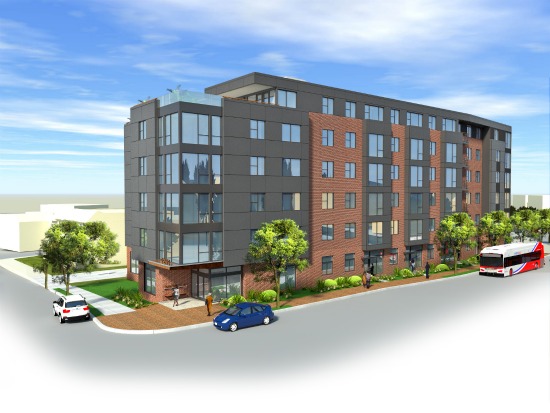 A six-story, 68,000 square-foot multi-use building is currently under construction at 2255 Martin Luther King Jr Avenue SE (map). There will be 71 residential units: 14 at market-rate and the remainder going to households earning up to 60 percent of area median income (AMI). While incorporating workforce housing for area teachers is a primary goal, six of the units will also be permanent live/work spaces with an emphasis on the arts.
Several ground-floor units will open onto a sidewalk garden and have barn doors separating the public workshop-retail component from the artists' private space. An underground parking level will provide 26 vehicular and 37 bicycle parking spaces, and amenities will include a multi-purpose room and business center. A roof deck will also be made available occasionally for community events.
2204-2206 Martin Luther King Jr. Avenue
The one-story Martha's Outfitters building at 2204 Martin Luther King Jr. Avenue SE (map) will be paired with the adjacent vacant lot and converted into a three-story mixed-use building. The ground floor will be occupied by two retail tenants, with two commercial office spaces on the second floor. Three market-rate apartments will be on the top floor.
2001-2027 Martin Luther King Jr. Avenue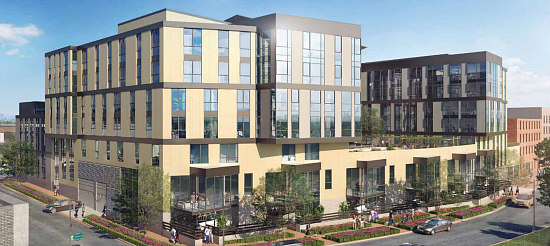 The row of historic commercial buildings at 2001-2027 Martin Luther King Jr. Avenue SE (map) will be restored, infilled and redeveloped into a H-shaped, two-building project. One building will contain a 15,000 square-foot, four-story portion housing the Anacostia Playhouse, which will be displaced by the redevelopment, as well as some office space; an attached two-story portion will contain a mix of office and retail uses.
The second building will also be mixed-use, containing 131 residential units along with office and retail. The building will be as high as seven stories when factoring in the grade change between Martin Luther King and Shannon Place, and will include one 2,679 square-foot penthouse unit. The remaining unit mix will deliver 12 studios, 76 one-bedrooms, 36 two-bedrooms, and six townhomes fronting Shannon Place. An underground parking level will contain 69 parking spaces. There will also be two courtyard terraces on the second floor.
---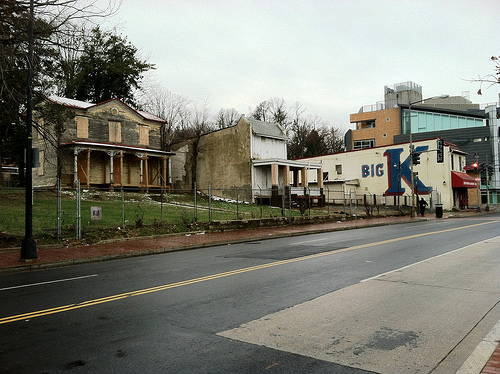 Photo courtesy of Flickr
After several years in the city's Property Acquisition and Disposition Division, a disposition agreement is on the table with Chapman Development for the "Big K" liquor store site at 2252 Martin Luther King Jr. Avenue SE (map). Plans call for the building and adjacent lots at 2228, 2234 and 2238 Martin Luther King Jr. Avenue, SE to be developed into a five-story, U-shaped building containing 114 apartments atop 16,500 square feet of ground-floor retail.
The apartments (82 one-bedrooms, 24 two-bedrooms and 8 three-bedrooms) will be affordable to households earning up to 60 percent AMI; there will also be 106 below-grade parking spaces. Two vacant and blighted houses on the site will be relocated this fall to a city-owned parcel in the 1300 block of W Street SE.
---
2100 Martin Luther King Jr. Avenue SE
As part of their deal to bring a high-end hotel to the Mount Vernon Square neighborhood, Peebles Corporation is constructing a seven-story building with workforce housing at a site adjacent to 2100 Martin Luther King Jr. Avenue SE (map). Details are still forthcoming.
---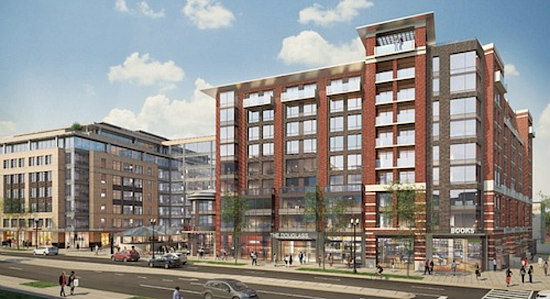 Across the street from the Congress Heights Metro station, four apartment buildings at Alabama Avenue SE and 13th Street SE (map) may soon be demolished and redeveloped into a planned-unit development, to which the current residents will theoretically be allowed to return.
City Partners, Sanford Capital and Maurice Walters Architects plan to build an 8-story, 236,000-square foot office building and a 9-story, 200-unit apartment building, both atop 26,000 square feet of ground-floor retail and a below-grade level of parking. Although the PUD was approved, when and how this development unfolds is under question, as current residents of the apartment buildings are campaigning to exercise their Tenant Opportunity to Purchase Act (TOPA) rights. Scrutiny over the subpar living conditions at the site have led the DC Attorney General's office to file a complaint against Sanford Capital.
---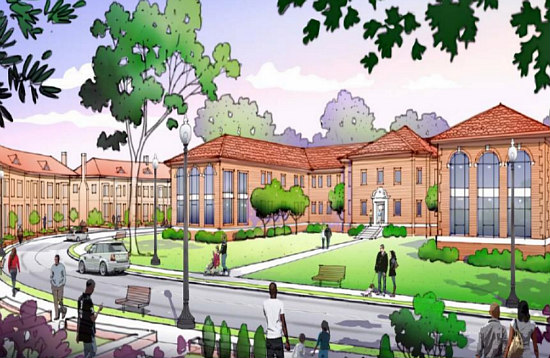 Redbrick LMD and Gragg Cardona Partners are partnering with the city to lead the redevelopment of the sprawling, 183-acre historic St. Elizabeth's Hospital campus at 1100 Alabama Avenue SE (map). The site, more recently known for hosting an array of festivals and community events, will eventually house a town center with over 700,000 square feet of commercial space, 450,000 square feet of "innovation" space, approximately 1,300 residential units, and a sports and entertainment complex for Washington's professional basketball teams.
The historic buildings on the site will be repurposed into office space to accommodate the headquarters of the Department of Homeland Security, and an entrepreneurial Innovation Hub will also be furnished at the site. The fifteen acres nearest to the Congress Heights Metro will be developed first, with 60 townhomes, 250 apartments, a 171,000 square-foot mixed-use building with 47,000 square feet of retail, and 100 underground parking spaces. The development team also includes CIM Group, JBGR, LandMatters LLC, Capital E, Perkins Eastman, and Cunningham Quill, among others.
---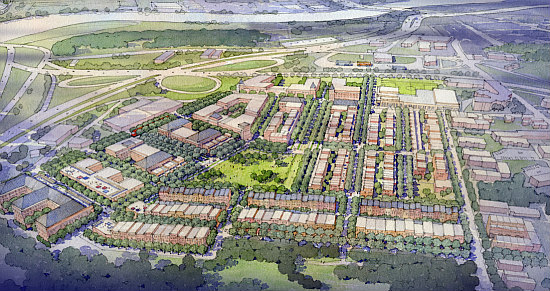 The decade-long debacle over the future of the historic 34-acre Barry Farm community, which runs roughly from the St. Elizabeth's campus to Firth Sterling Avenue and Sumner Road SE (map) continues as the redevelopment team is currently endeavoring to secure approval to move forward at the site.
The plan is to demolish the 432 apartments on the site and the twelve units at Wade Apartments and replace them with up to 1,400 mixed-income residential units, 55,000 square feet of retail and commercial space, and potentially add a central park. The residences will be a mixture of apartments, condominiums and townhomes; the DC Housing Authority, A&R Development, and the nonprofit Preservation of Affordable Housing Inc. are working to secure funds and approval from the Department of Housing and Urban Development. Some of the families have already relocated to public housing units in developments off-site, which leaves current residents skeptical about whether they will have the right to return after redevelopment.
---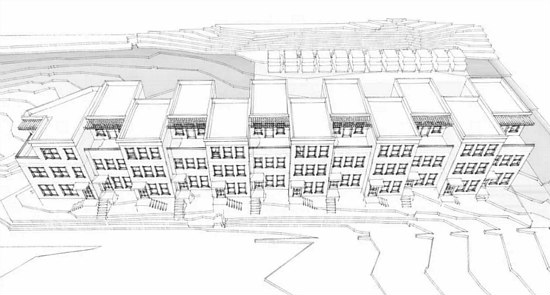 Manna has filed a development application with the Board of Zoning Adjustment for the District-owned vacant lots at 2200-2210 Hunter Place SE (map) a short walk from Barry Farms. Plans are to bring a dozen three-bedroom, two-bathroom townhouses to the site; two of the units will be set aside for households earning up to 50 percent AMI, and eight will be for households earning up to 80 percent AMI.
---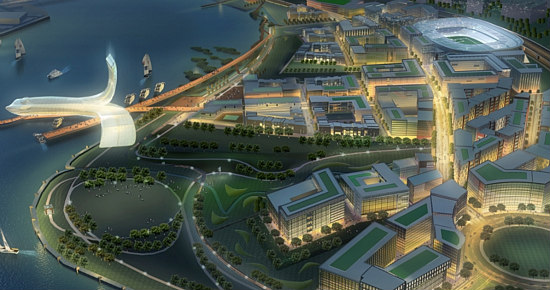 Forest City and Perkins+Will are leading the development of 130-acre Poplar Point, sandwiched between Howard Road SE and the Anacostia River (map) on the opposite bank from the Capitol Riverfront developments. A three-pronged 70-acre park will be interspersed with 4,100 residential units, 1.2 million square feet of office space, 465,000 square feet of retail, and two 300-room hotels. This will allow every residential unit to overlook public space. A pier, capped by a cultural and environmental facility, will extend to the river.
---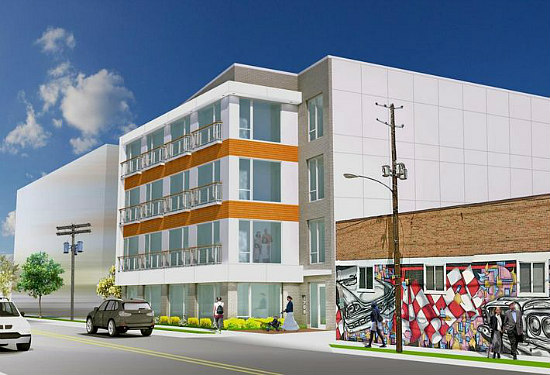 1708 Good Hope Road SE
First announced for development in 2011, Four Points is currently fleshing out a design to replace the auto body shop at 1708 Good Hope Road SE (map). The building will be age-restricted, with 62 units renting at 50 percent AMI and seven units at 30 percent AMI. Construction may start later this year; the District provided stop-gap funding as part of Mayor Bowser's affordable housing creation and preservation initiative.
---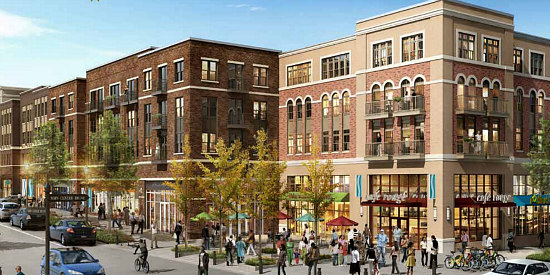 Development of the 18.5-acre site where Naylor and Good Hope Roads intersect with Alabama Avenue SE (map) stalled a bit after Wal-Mart pulled out of their agreement to construct a location there earlier this year. However, the plan to construct approximately 340,000 square feet of retail and 476 residential units surrounding a public square is still on the boards. The plan also includes 823 parking spaces; the Skyland Development Team includes the Rappaport Companies, W.C. Smith, Torti Gallas and Partners and Michael Marshall Architecture.
---
Ainger Place Apartments
The District released funds earlier this year to pave the way for development of the two-acre site at 2412 Ainger Place SE (map). New construction will replace an existing, partially-occupied apartment building with 74 one- to three-bedroom apartments — 18 for households making up to 30 percent AMI and 53 for households earning up to 50 percent AMI. Eight of the units will be transitional housing for homeless women; the development is also in partnership with the adjacent Emmanuel Baptist Church. Amenities will include a gym, club room and courtyard, as well as 65 parking spaces underground.
---
1713 28th Place SE
The city is also subsidizing Habitat for Humanity's construction of 14 townhouses at 1713 28th Place SE (map). Five of the units will be for 50 percent AMI-earning households and the remainder will be for those earning 80 percent of AMI.
---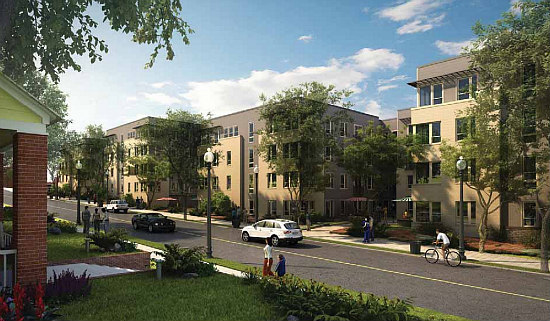 As part of the continued effort to replace the public housing units at Lincoln Heights and Richardson Dwellings, Pennrose Properties and the Warrenton Group are constructing 150 units of affordable housing. The former trash transfer site at 5201 Hayes Street NE (map) comprises two acres of city-owned land, and construction is currently underway.
Fifty of the units will be set aside for former residents of the aforementioned communities, while the remainder will be set aside to households earning up to 60 percent AMI. The unit mix in the four-story Torti Gallas Urban-designed project is skewed more toward three- and four-bedrooms. Amenities will include a gym, playground, and game room; 75 surface parking spaces will also be furnished for residents.
Correction: An earlier version of this article identified the Big K project as "Cedar Hill Flats"; the name has been changed to Maple View Flats. The acreage of and plans for the Barry Farm redevelopment have also been updated.
See other articles related to: anacostia, barry farms, big k, chapman development, congress heights, curtis investment group, deanwood, development rundown, east of the river, four points, four points llc, marshall moya design, padd, rappaport companies, reunion square, skyland, st. elizabeth's, torti gallas, torti gallas urban
This article originally published at https://dc.urbanturf.com/articles/blog/the_east_of_the_river_rundown/11490.
DC Real Estate Guides
Short guides to navigating the DC-area real estate market
We've collected all our helpful guides for buying, selling and renting in and around Washington, DC in one place. Visit guides.urbanturf.com or start browsing below!
First-Timer Primers
Intro guides for first-time home buyers