The residential development pipeline northeast of North Capitol Street and Rhode Island Avenue, spanning from Brookland to Langdon, remains active despite delays and legal wrangling. Some projects, like 901 Monroe Street NE, are still awaiting Comprehensive Plan amendments, others have to wait for a third party to take their foot off the brakes, and many are in the earliest stages of conception.
Below, UrbanTurf takes a look at what is on the boards.
In case you missed them, here are other neighborhoods we have covered this year:
---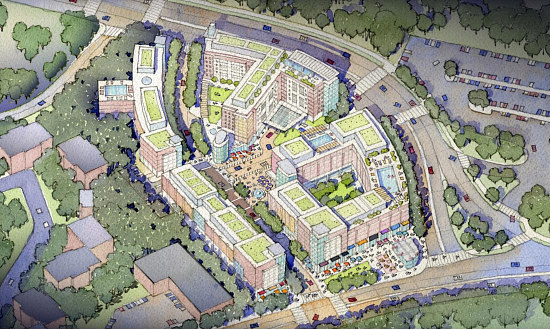 Over a decade after a map amendment was approved for the federally-owned 5.5 acres bound by Irving Street, Michigan Avenue and the North Capitol Street cloverleaf interchange (map), development on the site remains on hold. MIRV Holdings, comprised of Buchanan Partners and Pinkard Group, filed suit against the General Services Administration this spring to get the ball rolling. Plans were for a four-building development that will contain residential, hotel, office, restaurant, retail and conference center uses, designed by Perkins Eastman.
---

St. Paul's College Redevelopment
The Board of Zoning Adjustment (BZA) granted final approval in January 2019 for development on a portion of the former site of St. Paul's College at 3015 4th Street NE (map). Along with a new chapel and residences for the Paulist Fathers, the project will deliver 60 townhouses and publicly-accessible open space. Nine of the townhouses will be set aside for households earning up to 50, 60 and 80 percent of median family income (MFI). Construction work is expected to begin early 2021; Boundary Companies is helming the development.
---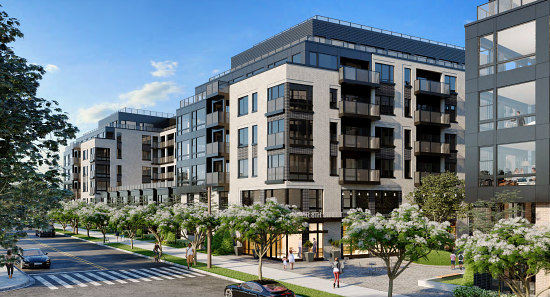 The developers of the two-building planned unit development (PUD) approved at 3201 and 3135 8th Street NE (map) acquired a raze permit for warehouses on the site this spring and preliminary site work is underway. The PUD is expected to deliver a total of 330 market-rate and 47 affordable apartments, with the latter set aside for households earning up to 30%, 50%, 60% and 80% of MFI, including two three-bedroom units and one of the townhouse-style units on 8th Street.
The project will also include a public landscaped plaza at the terminus of Jackson Street and a below-grade parking garage with 186 vehicular and storage for 125 bicycles. Amenities will include a shared outdoor pool and a few courtyards. The Hanover Company is leading the development and KTGY Architecture + Planning is the designer. The development is expected to be completed in 2022.
---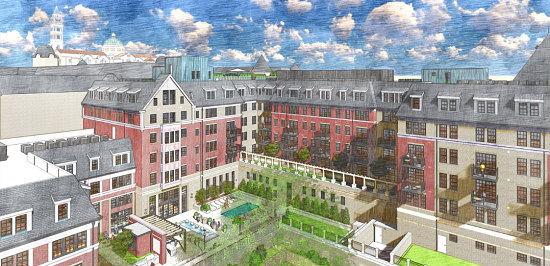 Construction is nearly complete on the final building at Monroe Street Market, which will deliver 158 apartments above retail to the southwest corner of 7th and Monroe Streets NE (map). The unit mix will range from studios to two bedrooms with dens, and there will also be seven retail spaces, including 11,435 square feet preferred for a small grocer.
Amenities will include a courtyard with a pool, grills, and fire pit; a dog run; and a roof deck with views of the Basilica. Renters will also have the option of purchasing WiFi through the building as an add-on to their rent, and there will be a below-grade parking level with 99 spaces (39 of which will be for retail use). Pritzker Realty Group is the developer and Maurice Walters Architects is the designer. Leasing will begin this fall.
---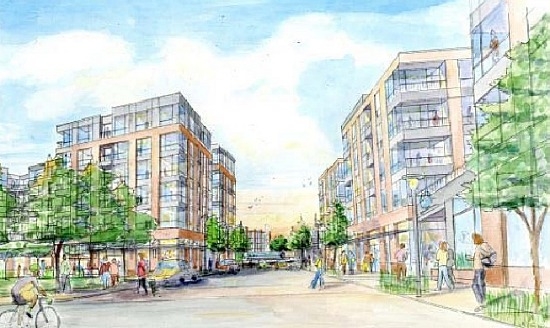 Brookland/CUA Metro Development
Five years after WMATA awarded development rights for the 1.8 acres at 10th and Monroe Streets NE (map), a ground lease has yet to be executed. MRP Realty and May Riegler proposed 280 residential units across two buildings with 9,000 square feet of ground-floor retail.
---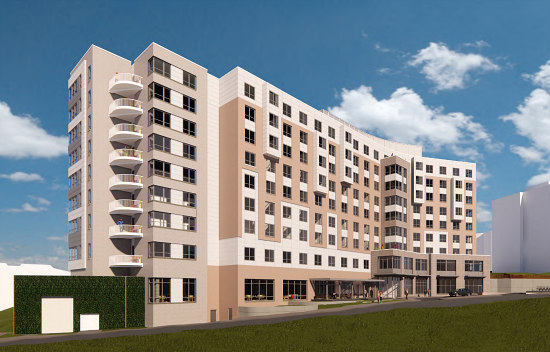 Senior Units at Edgewood Commons
The design of this 151-unit affordable senior project has been tweaked slightly in response to comments from the ZC after Enterprise Community Development filed a zoning application this spring. Slated for the southwest corner of the 792-unit Edgewood Commons community on Edgewood Street between 4th and 7th Streets NE (map), the units would be available to people aged 60 and older who earn up to 60% of MFI.
The project would include a 7,000 square-foot "adult daycare center" operated by Iona Senior Services; 9,600 square feet of amenities including a library, a café, a fitness center, a solarium, and access to medical services; and communal balconies on each floor. Wiencek + Associates is the architect; a new zoning hearing has not yet been scheduled.
---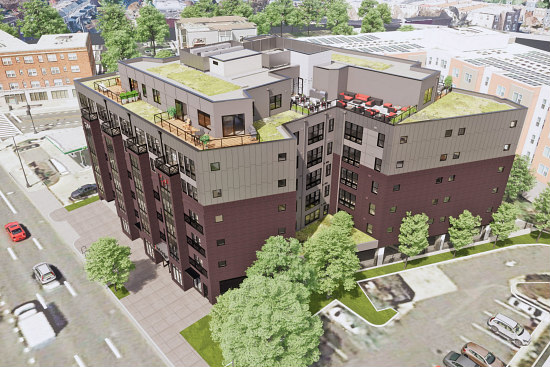 Pre-sales are underway for the 74 one- and two-bedroom condominium units under construction at 410 Rhode Island Avenue NE (map). The seven-story Capital City Real Estate development Rialto will include over 3,000 square feet of ground-floor retail, a shared roof deck, and private terraces for the penthouse units. Prices range from the low $400,000s into the $900,000 range. MTFA Architecture is the designer.
---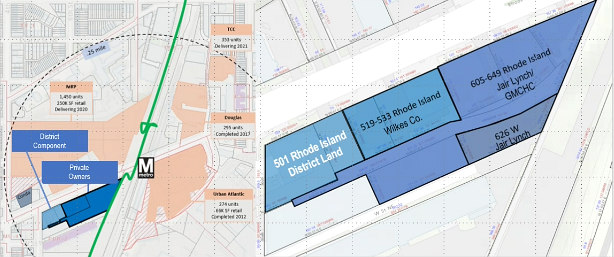 500-600 Blocks of Rhode Island Avenue
While this development remains in the speculative phase, a map amendment could be on the way to deliver at least 150 units to the south side of the 500-600 blocks of Rhode Island Avenue NE (map). The rezoning, proposed by Jair Lynch Development Partners, would change the strip's designation from PDR-2 (production, distribution, and repair) to MU-10 (medium-density commercial and high-density residential).
Although the owners of most of these properties, including Greater Mt. Calvary Church (moving to a new home across the street), would support such a map amendment, several stars would have to align, mainly the city's expected release of an RFP (request for proposals) for the firehouse at 501 Rhode Island Avenue NE (map). In either case, the project along this strip would entail multiple buildings, 15% of the retail space set aside for local businesses, affordable units, and a curbless "public outdoor living room" with an Art Walk.
---
Rhode Island Avenue Shopping Center Redevelopment
Construction on the first phase of a development on the 13-acre site of the Rhode Island Avenue Shopping Center (map) has been eventful thus far. MRP Realty and site owner MBR Investment Partners went by-right for the project following appeals and delays, and the SK+I Architecture-designed development will eventually span six blocks, delivering over 1,650 apartments and 272,000 square feet of commercial space across nine buildings.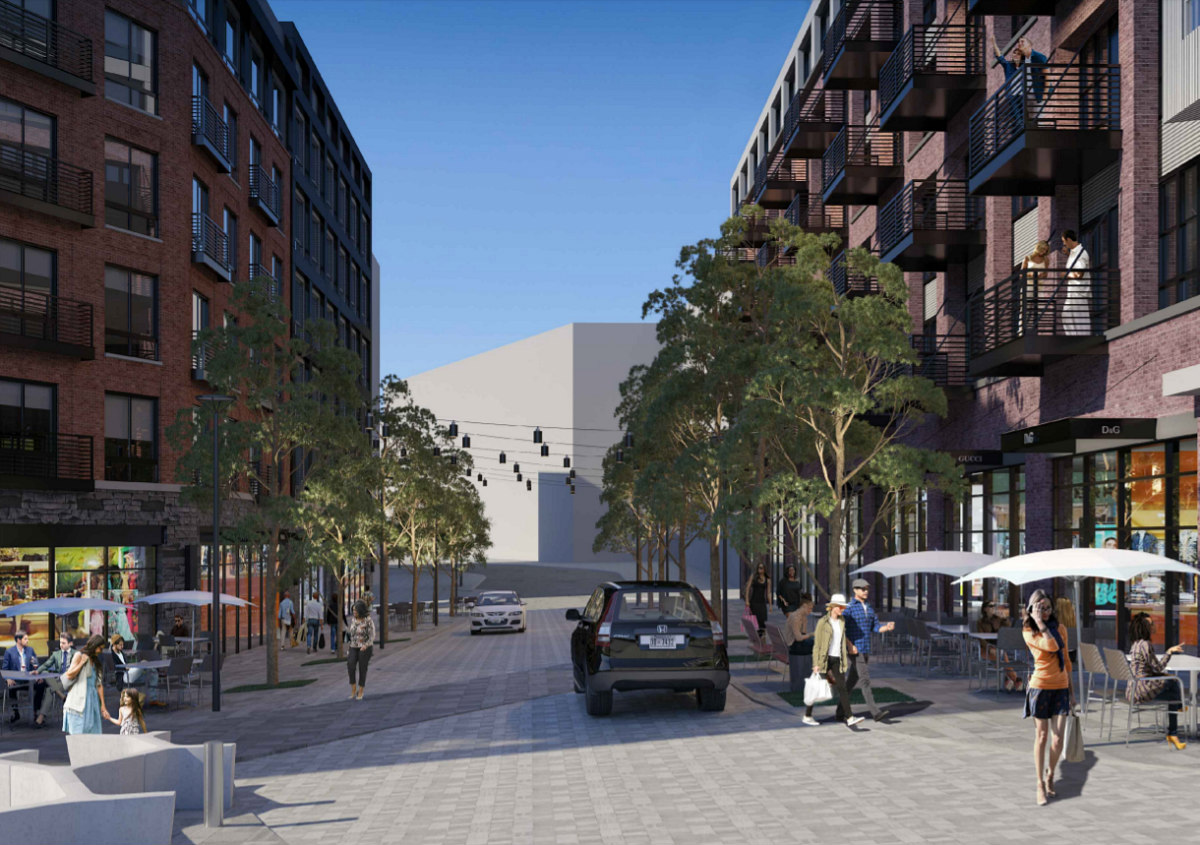 The first building shells are up on Blocks 1A, 1B and 5B, courtesy of some expedited permitting. Block 1A and Block 1B will each deliver a 65 foot-tall building, the former with 214 apartments above retail, and the latter with 152 apartments above retail. Eight percent of the apartments in both buildings will be affordable, and the two will share a 333-space parking garage.
Block 5B fronts Rhode Island Avenue and will deliver 155 apartments above 8,750 square feet of retail. This phase will include a nine-screen Alamo Drafthouse Cinema fronting Bryant Street and an outdoor plaza will simultaneously deliver at the mouth of Bryant Street, connecting the site to the Metropolitan Branch Trail. FRP Development Corp is an equity partner for this phase, which is expected to deliver as early as 2021.
Until 2023, Block 2A will host interim surface parking for the movie theater fronting Bryant Street before eventually delivering a 65 foot-tall building with 282 apartments above 13,650 square feet of retail and a shared parking garage for both this building and the theater.
Fronting 4th Street, Block 3 will deliver 355 apartments (8% of which will be affordable) above 90,000 square feet of retail, including a full-service grocery store. This phase would break ground in 2025.
Block 4 also fronts 4th Street and is slated to house 193 apartments above 19,600 square feet of retail. Eight percent of these residential units will be affordable, and the building will also include 118 parking spaces. This could break ground in 2027.
Both Block 5A and Block 6

will flank the new Greater Mt. Calvary Holy Church on Rhode Island Avenue and

are expected to break ground in 2029. The former will deliver a 149-unit apartment building with 17,685 square feet of ground-floor retail and 108 below-grade parking spaces, and the latter will deliver 101 apartments above 10,000 square feet of retail and 88 parking spaces.
---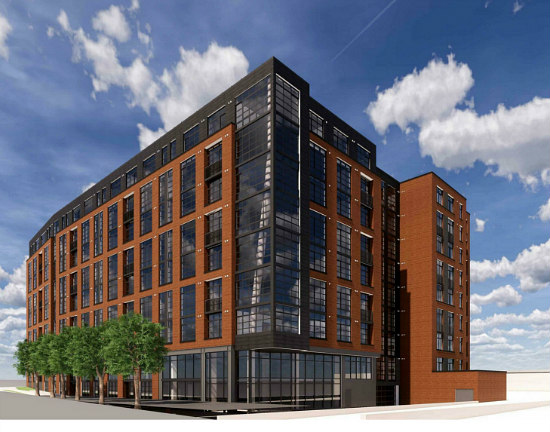 Despite questions about the zoning legality enabling this by-right project, construction is underway on a nine-story, 353-unit building at 2607 Reed Street NE (map). Designed by the SK+I Architectural Design Group, the project will include 27 affordable units and 85 below-grade parking spaces. High Street Residential is the developer.
Metropolis Capitol Advisors also shared with the Brookland Neighborhood Civic Association this summer that the developer is workshopping a PUD on four acres off Reed and Franklin Street NE; the project could deliver up to 800 units.
---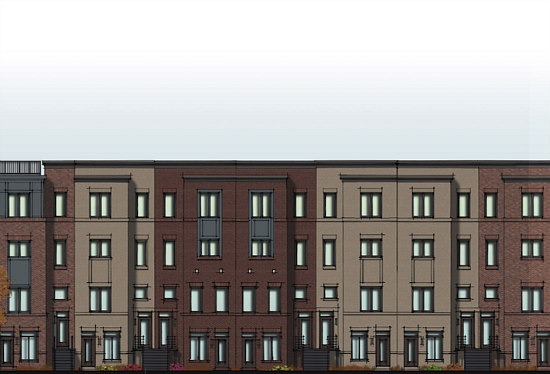 District Growth is working on a 300-unit development at 13th Street and Rhode Island Avenue NE (map), starting with 60 two-bedroom condos at The Audra. The four-phase development will also include rental units; Lessard Design is the architect.
---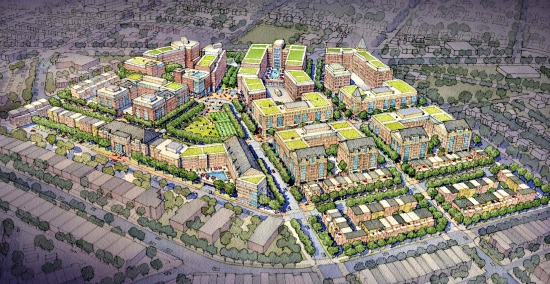 Although one appeal of the eight-block redevelopment of 22-acre Brookland Manor was dismissed this spring, a second remains ongoing. Located along Rhode Island Avenue and Bryant Street from Montana Avenue to Downing Street (map), the approved development would deliver 181,000 square feet of retail, including a 56,000 square foot grocer, and 1,760 rental and for-sale residential units.
About 24 percent of the residential units will be affordable, including 373 units which developer MidCity is voluntarily renewing as Section 8 as replacement units. However, current residents remain concerned about displacement, as there are fewer replacement units than the existing 535 units. If the second appeal is also dismissed, the first phase is expected to include a 200-unit affordable senior building and a second building with 131 of the replacement units.
---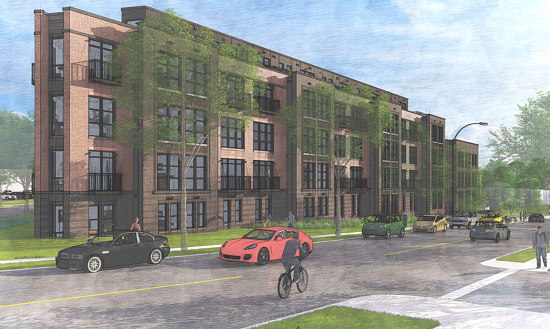 Historic Berean Baptist Redevelopment
MidCity is currently acquiring permits for a 108-unit project that would replace the Historic Berean Baptist Church at 1400 Montana Avenue NE (map). Designed by Maurice Walters Architects, the development will include 32 surface parking spaces, 36 bicycle spaces, a fitness center, and a rooftop terrace. Eleven of the units will be for households up to 60 percent MFI, and the project has also been able to leverage Opportunity Zone financing.
---

District Growth is also busy at the former site of the Flip-It Bakery & Deli at 1544 Rhode Island Avenue NE (map). The developer is seeking a special exception for parking requirements associated with a proposed four-story, 49-unit building. The unit mix forgoes studios and includes 33 two-bedrooms with and without dens, 10 three-bedrooms, and two five-bedrooms; some of the units will be set aside as inclusionary zoning. There will also be 24 bicycle spaces, a shared roof deck, and private terraces for the penthouse units.
The special exception will enable the project to provide seven parking spaces, including two for carshare, rather than the required 15; a zoning hearing is scheduled for December.
---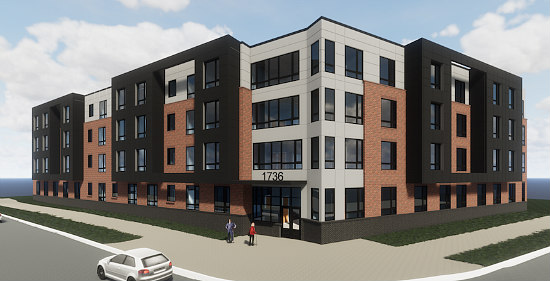 Over at 1736 Rhode Island Avenue NE (map), Lock7 Development has a 61-unit affordable development in the works. Thirteen of the units will be permanent supportive housing for households earning up to 30% MFI and the remainder will be for households earning up to 50% MFI, including 32 units for seniors. Amenities will include a clubroom and a library.
---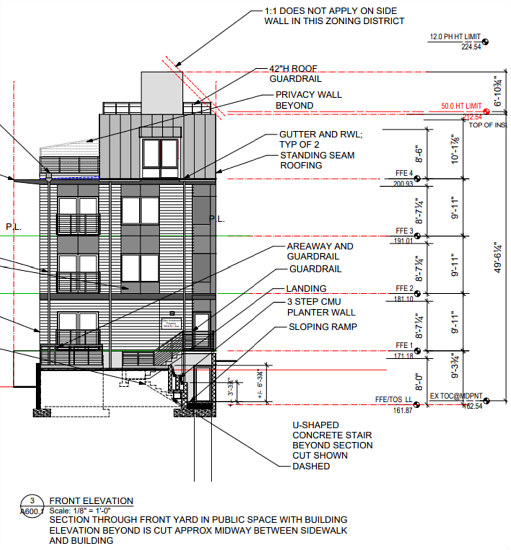 In February, the BZA granted conditional approval to Dilan Investments to replace the detached house at 1818 Rhode Island Avenue NE (map) with a four story, 10-unit residential building. Cole Group is the architect.
---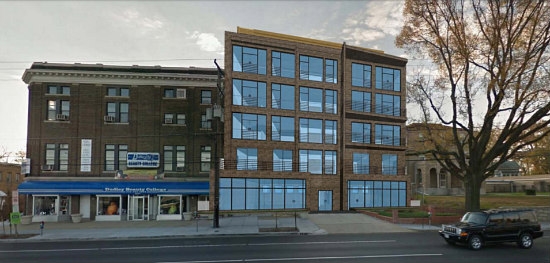 Whitecrest Real Estate Development just had building permit approvals extended for the 43-unit project at 2027 Rhode Island Avenue NE (map). The existing building will be partially demolished and retrofit into a 50 foot-tall building that will also include two bi-level retail spaces totaling 4,770 square feet. Rich Markus Architects is the designer, and a social media post from Blueprint Robotics last year implies that the project may be another mixed-use multifamily development using prefabrication or modular construction methods.
This article originally published at https://dc.urbanturf.com/articles/blog/the-6300-units-in-progress-or-on-hold-from-brookland-to-langdon/17284.
DC Real Estate Guides
Short guides to navigating the DC-area real estate market
We've collected all our helpful guides for buying, selling and renting in and around Washington, DC in one place. Start browsing below!
First-Timer Primers
Intro guides for first-time home buyers