Amazon continues leasing and planning for space in the "National Landing"-branded area of northern Virginia, which not only encompasses parts Crystal City, Pentagon City, and Potomac Yard, but also inspired a renaming for the Crystal City Business Improvement District.
Thousands of residential units have entered the pipeline in Amazon's wake, motivating the launch of a Pentagon City Planning Study and, in some cases, commanding a closer look courtesy of a new virtual planning engagement tool Arlington County is rolling out. Additional renamings could be in the works, as Virginia Tech seeks to add its name to the future Potomac Yard Metro station and JBG SMITH has proposed the Crystal City Metro station be renamed for National Landing.
In the meantime, UrbanTurf is taking another look at the thousands of units in the residential pipeline in the National Landing area.
In case you missed them, here are the other neighborhoods we have covered thus far this year:
---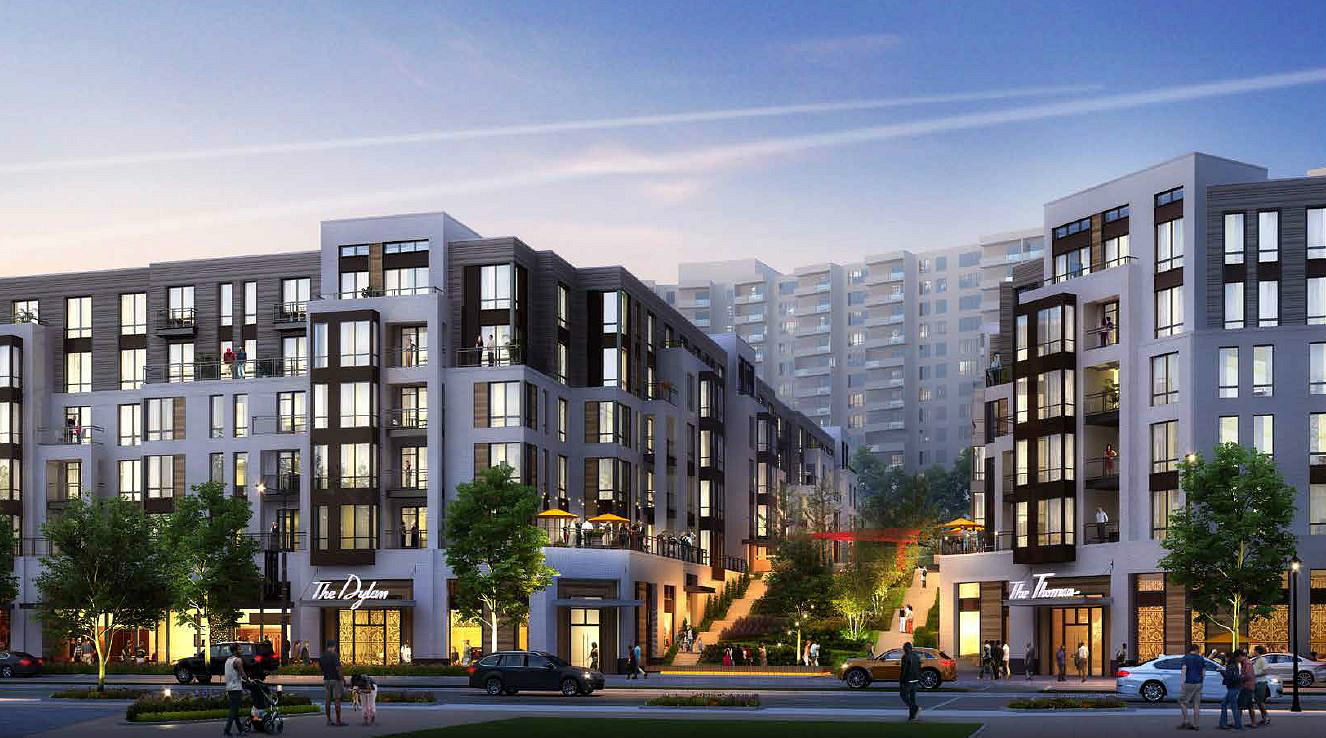 JBG SMITH filed plans with Arlington County a year ago to add almost 1,000 new residential units to RiverHouse, including over 200 townhouses and townhouse-style units and two six-story multifamily buildings with 750 units. The 36-acre site, bound by Army Navy Drive, South Joyce Street and South Lynn Street (map), already houses 1,670 units. The new buildings will also include 30,000 square feet of retail, and roughly 83,000 square feet of residential space will be affordable for 30 years to households earning up to 60% of area median income.
---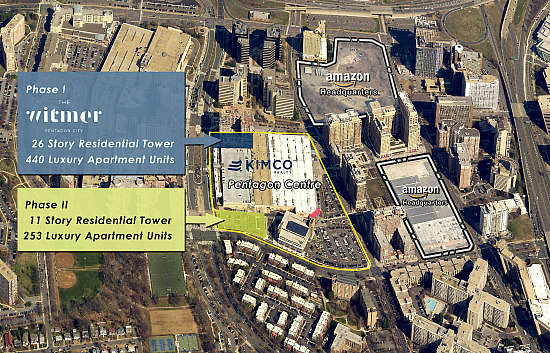 Pentagon Centre Redevelopment
Developer-owner Kimco Realty is still waiting before applying to redevelop the remaining phases on the 17 acres surrounding Pentagon City Metro station and the mall. In addition to the Witmer (delivered in 2018), previous plans included an 11-story residential building at the corner of S Hayes Street and 15th Street S (map), delivering 253 apartments above 16,000 square feet of retail and 253 parking spaces.
---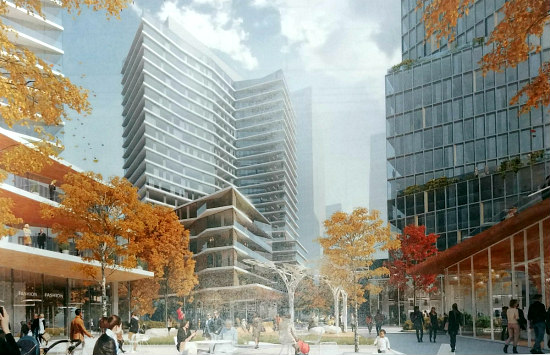 Not much has happened since Brookfield Properties submitted a preliminary development proposal last spring to replace two 12-story office buildings currently occupied by the Transportation Security Administration. As previously proposed, the phased development would deliver four buildings and two acres of open space to 601-701 S 12th Street (map), including creative office, retail, hotel and/or 840 residential units.
The buildings would be along a pedestrian walkway and a shared multi-modal street to a reopened Pentagon City Metro entrance, ranging in height from 14 to 26 stories. Snøhetta is the architect.
---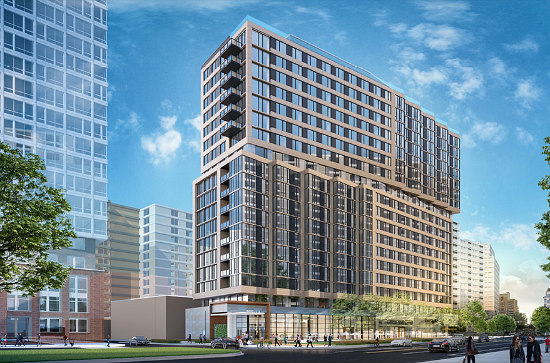 Last October, the Arlington County Board unanimously approved an application for a 19-story mixed-use building on the one-acre Verizon site at 400 11th Street South (map). The SK+I Architecture-designed building will deliver 306 residential units above 10,745 square feet of ground-floor retail; 12 of the units will be committed as affordable for 30 years.
Below-grade, the project will provide 149 vehicular and 123 bicycle parking spaces for residents. The LCOR-led development team applied for building permits in May in hopes of delivering in the second quarter of 2022.
---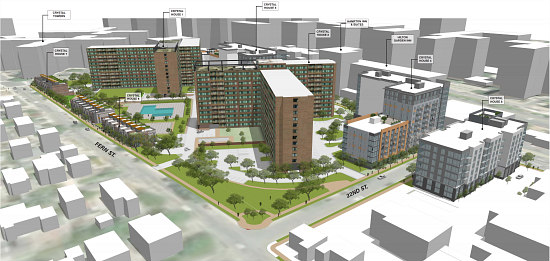 The expansion of Crystal Houses received county approval last year, enabling 819 more residential units at the 17-acre site surrounding the 828 existing units near the intersection of 18th and South Eads Street (map). The completed project would also deliver 1,234 parking spaces, a 31,456 square foot park at 20th and Eads Streets and a 23,986 square foot park at 22nd and Fern Streets.
Roseland Residential Trust is the owner and Lessard Design is the building architect.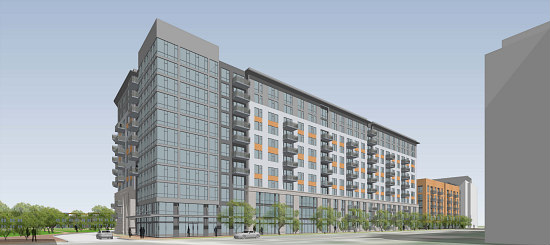 This building is slated for 432 units across 11 stories at the corner of 18th and South Eads Street.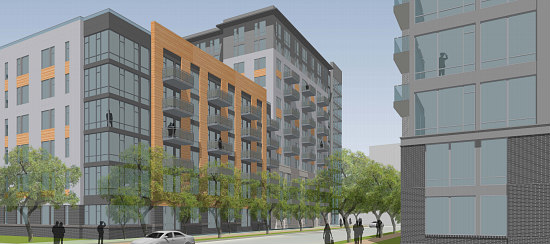 At the northwest corner of 22nd and Eads Street, building #4 is also expected to be 11 stories tall with 222 units.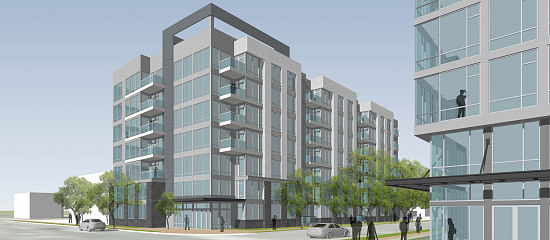 Building #5 will be 7 stories, delivering 81 units to the southwest corner of 22nd and Eads.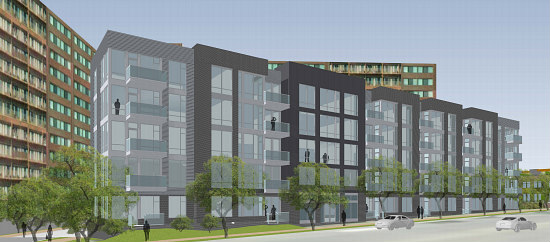 The 5 story building #6 will deliver 63 units mid-block on 18th Street.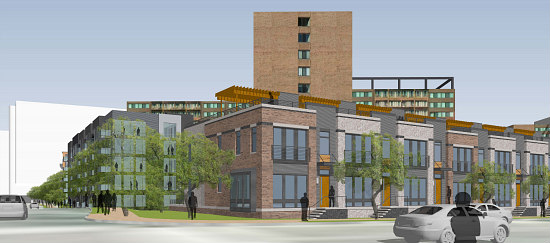 The two-story "building" #7 will deliver 7 townhouse-style units on Fern Street.
"Building" #8 is another two-story townhouse unit development with two clusters of 7 units each, mid-block down Fern Street.
---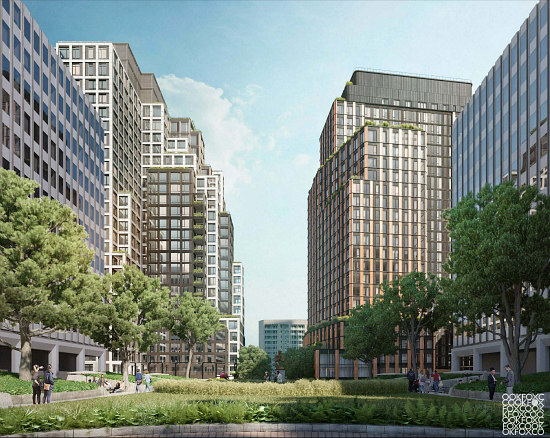 The two-building mixed-use development proposed to replace the vacant office building at 1851 S Bell Street (map) and 1900 Crystal Drive (map) (and introduce residential use to the Crystal Mall site) was approved by Arlington County in March. The JBG SMITH-led project could break ground this year and will deliver 811 studio to three-bedroom apartments above 40,352 square feet of retail. The development's affordable units will be built off-site in the aforementioned RiverHouse.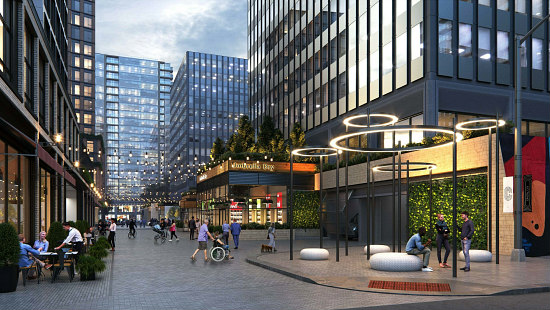 Courtesy of an additional 7,390 square feet of single-story retail along a North-South through-block, there would be a pedestrian-prioritizing woonerf from Crystal Drive, leading to a new park. The developer has described the activated retail as a Blagden Alley-style experience.
The below-grade Crystal Mall parking garage would be partially demolished to create a shared, 289-space garage for the residents with another 350 shared spaces and room for 811 bicycles. Cook Fox is the design architect and Torti Gallas is architect of record.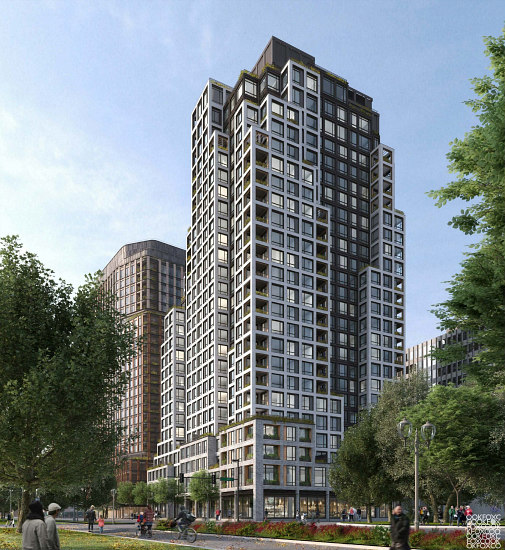 The 26-story north building will contain 339 residential units (down from 347) above 18,062 square feet of retail (down from 19,494), along with a pool atop the second floor.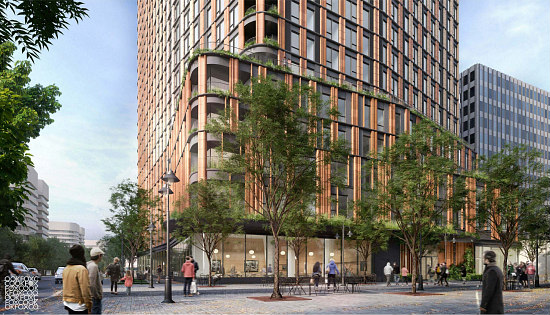 The 27-story south building will consist of 472 residential units (up from 443) above 14,438 square feet of retail (down from 16,458). Dozens of the units will be duplex-style, and this building will also include a roof terrace on the 21st floor and an indoor/outdoor amenity atop the 27th floor.
---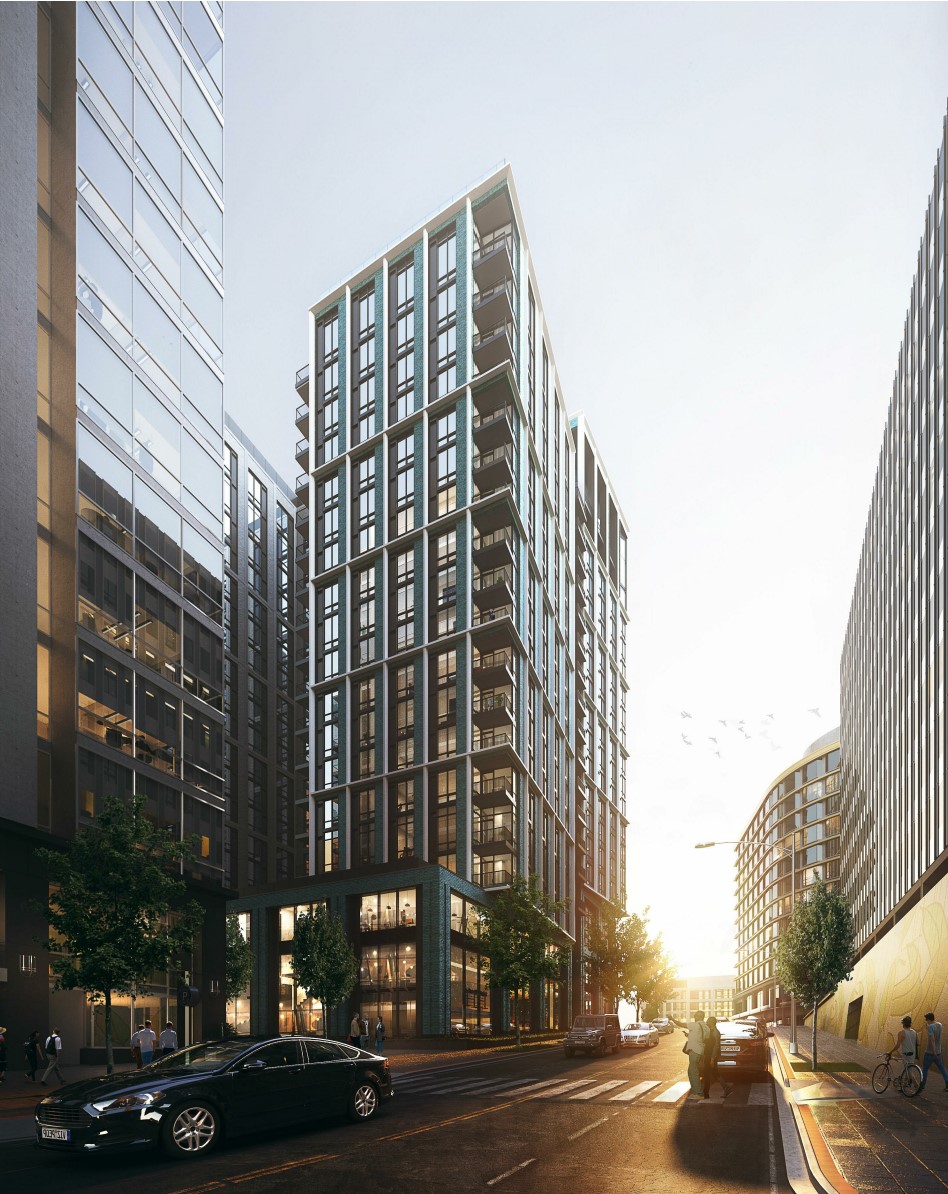 The Long Range Planning Committee is expected to hold a hearing next month on JBG SMITH's plans for Block M, which will rezone three sites to C-O Crystal City and deliver three residential and one office building. The development will also realign a portion of Clark-Bell Street eastward to help create a more linear grid, and will extend a portion of South Bell Street to create a retail plaza between the buildings. The development team will contribute to the Arlington County Affordable Housing Program, and the application also hints at a likely future redevelopment of 2100 and 2200 Crystal Drive.
Here's what each component of Block M would entail: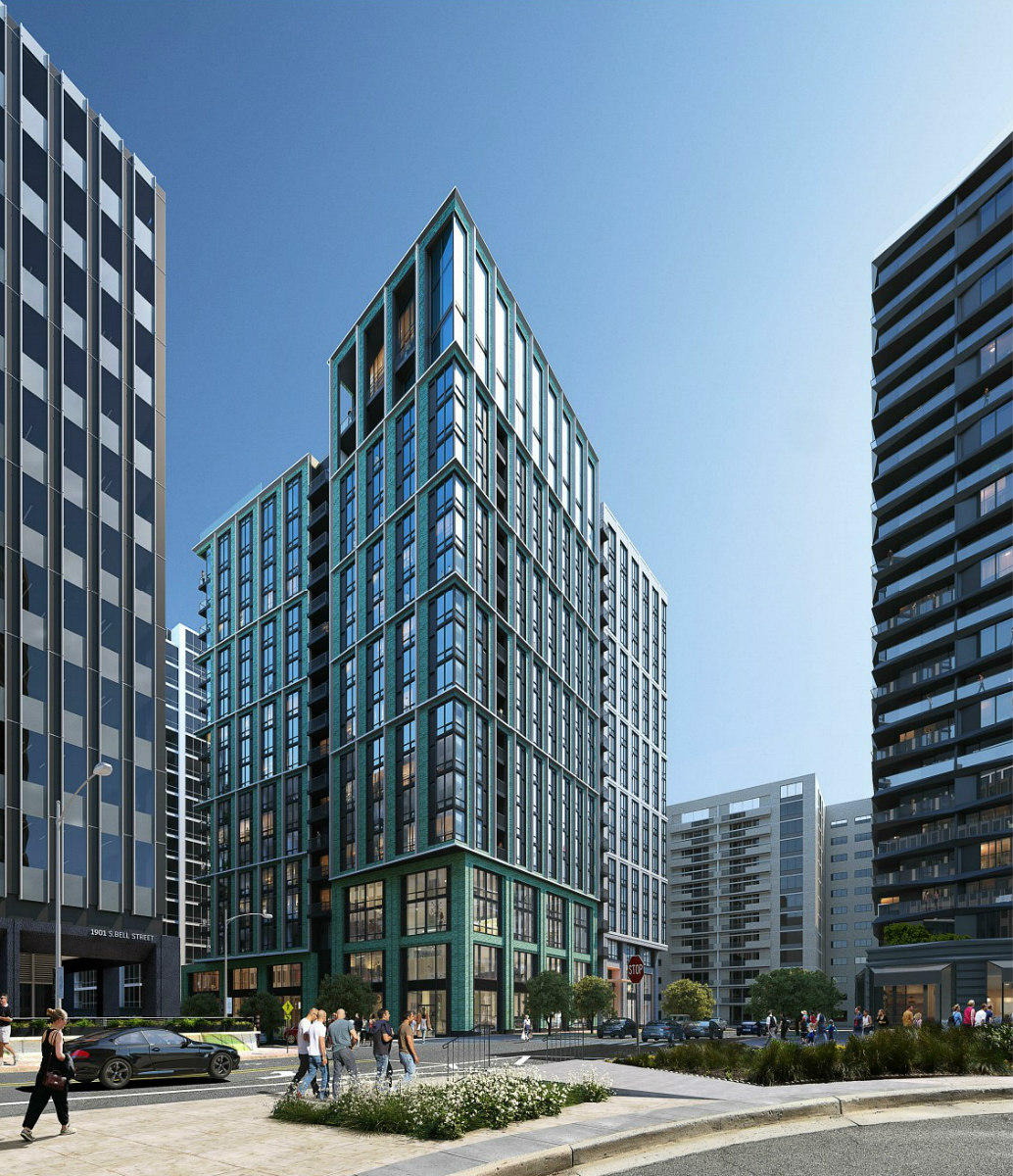 The 19-story East tower will deliver 421 residential units above 11,060 square feet of retail to the current site of the buildings at 2001 S Clark Street (map) and 2001 Richmond Highway (map). The new building would be addressed at 2001 South Bell Street (map); STUDIOS Architecture is the designer and SK+I Architectural Design Group is the architect of record. This building will also share 248 vehicular and 358 bicycle residential spaces of underground parking with...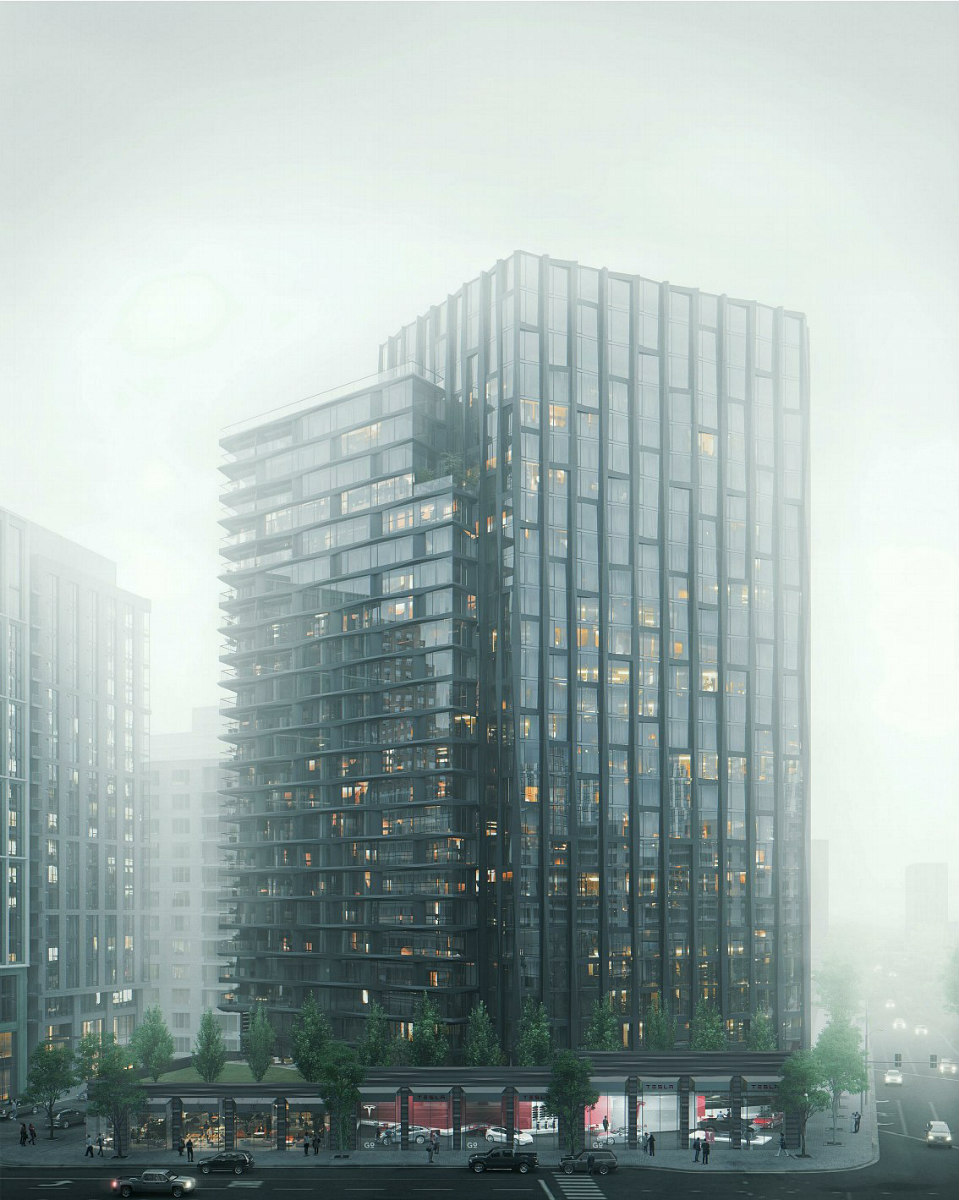 At the same site, the 25-story West tower would deliver 365 residential units above 18,510 square feet of retail. The new building would be addressed at 2000 South Bell Street (map); KPF is the architect and SK+I Architectural Design Group is the architect of record.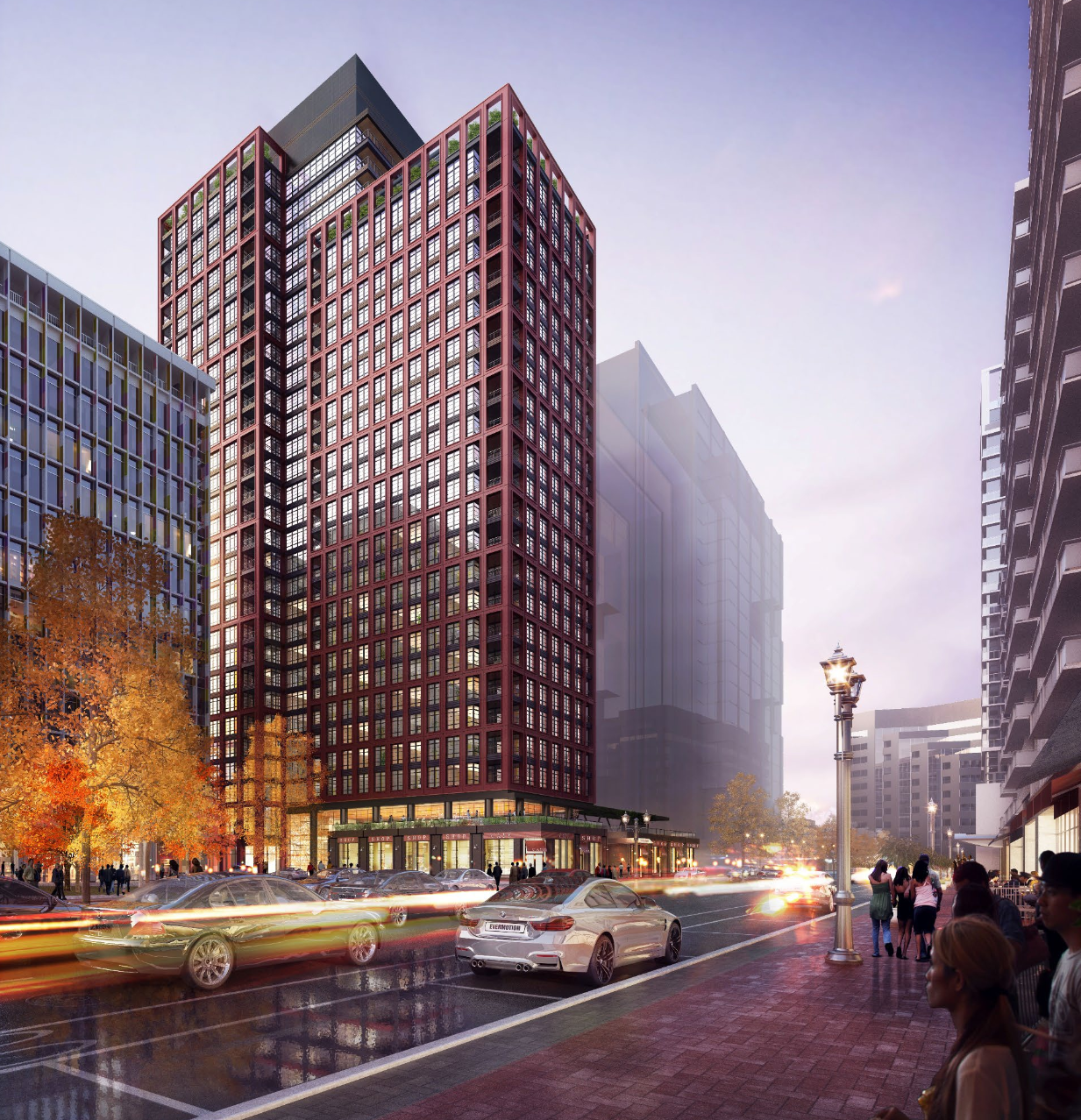 The building at 223 23rd Street (map) will be replaced with two mixed-use buildings: one residential and one office. The 24-story office building will include 15,000 square feet of retail and will be addressed at 2300 Crystal Drive; Pickard Chilton is the designer.
Designed by FX Collaborative, the 31-story west tower will deliver 645 residential units above 20,000 square feet of retail. A shared below-grade garage will provide 444 vehicular spaces.
---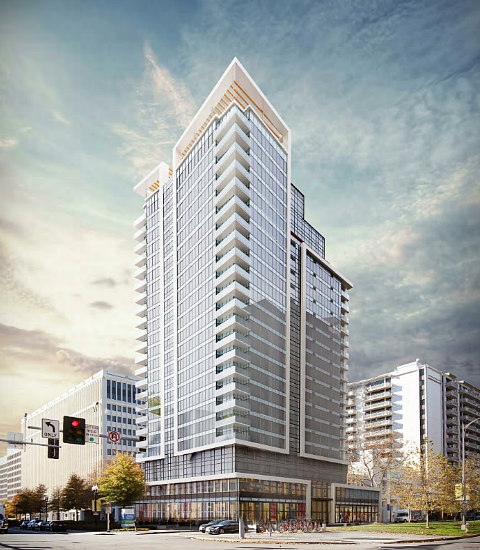 Construction has not yet begun on 22 new stories above the two-story retail structure at 2351 Richmond Highway (map). Approved in 2017, the development is expected to deliver 302 apartments; Lowe Enterprises is the lead developer and Cooper Carry is the architect.
---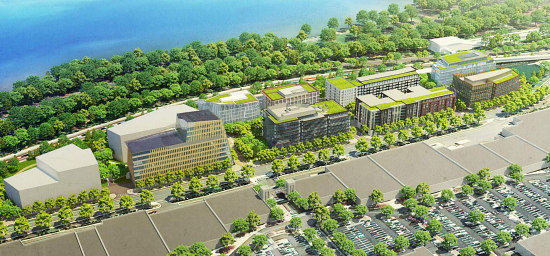 Although the JBG SMITH-led redevelopment of the 65-acre North and South Potomac Yard was approved by Alexandria in 2010, realization has been slow-going. So far, construction is underway for Potomac Yard Metro station, and planning is moving forward on the nearly 19-acre North Potomac Yard site, four acres of which have been dedicated to a new Virginia Tech Innovation Campus. Elkus Manfredi Architects is the master planner.
The first phase of North Potomac Yard, replacing the Regal Cinema and its surface parking at 3575 Richmond Highway (map), will include two office buildings, one office/residential building, and two residential buildings, delivering a total of 732 apartments, 290,800 square feet of retail and 115,000 square feet of office along with 1,923 below-grade parking spaces. The Potomac Yard Design Advisory Committee is holding a review of the project later this month. Here's a look at the residential-only buildings, designed by hord | coplan | macht.
North Potomac Yard Building 15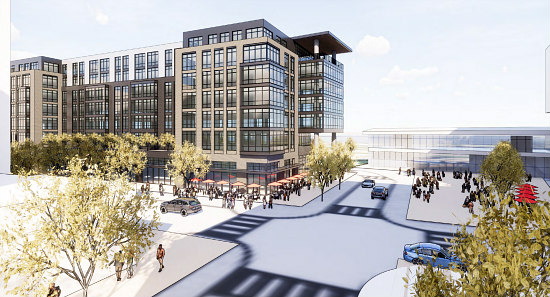 Building 15 will be seven stories tall off Evans Lane, north of the Metro plaza.
North Potomac Yard Building 19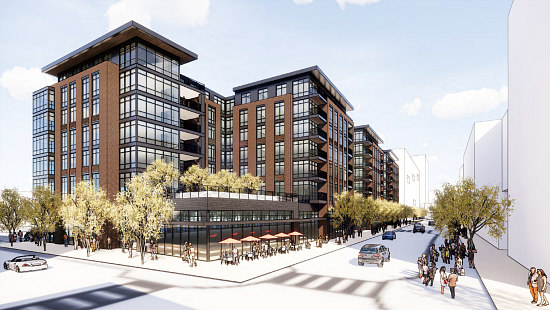 Building 19 would be at the northeast corner of the intersection of Evans Lane and Potomac Avenue.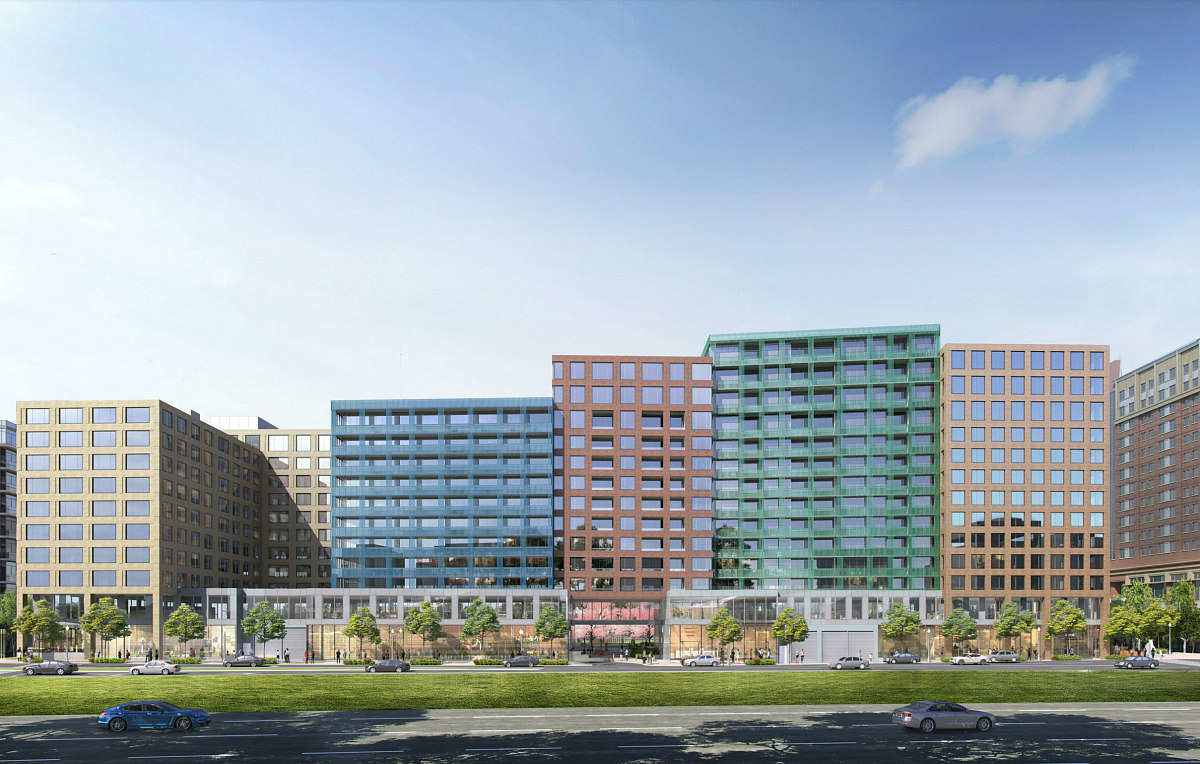 Another 6.2 million square feet of development, across 13 buildings, is expected to someday replace the big-box shopping center at South Potomac Yard. In April, ZMA Development filed an application to convert two of the planned office buildings into residential and/or hotel use, potentially delivering an additional 620 residential units to the two acres at Potomac Avenue between 29th and 33rd Streets S (map).
A 14-story building off 29th Street would deliver 345 residential units above 10,000 square feet. The unit mix would span studios to three-bedrooms, and will include eight two-story townhouse units. Amenities will include co-working, a dog run/spa space on the second floor and a roof terrace on the 12th floor.
Another building with up to 11 stories would deliver 275 residential units, or 265 hotel rooms, atop up to 5,000 square feet of retail. If this phase goes hotel, there would be a pool atop a two-story retail and loading structure, and an additional 2,871 square feet of space on the 11th floor could be either a hotel amenity or a restaurant with attached outdoor terrace space. The development would also include 435 vehicular and 177 long-term bicycle spaces below-grade; bKL Architecture is the designer.
This article originally published at https://dc.urbanturf.com/articles/blog/the-7000-unit-rundown-between-pentagon-city-and-potomac-yard/17178.
DC Real Estate Guides
Short guides to navigating the DC-area real estate market
We've collected all our helpful guides for buying, selling and renting in and around Washington, DC in one place. Visit guides.urbanturf.com or start browsing below!
First-Timer Primers
Intro guides for first-time home buyers