Construction has slowed a bit for new developments in Southwest DC outside of the Wharf, but the residential pipeline remains active. The neighborhood is awaiting completion of the Waterfront Station development, which has been nearly two decades in the making and continues to be subject to scrutiny and pending appeals. Elsewhere in the area, projects are also either inching along or in the earliest phases of conception.
Below, UrbanTurf gives an update on the residential projects on the boards in Southwest.
In case you missed them, here are the other neighborhoods we have covered thus far this year:
---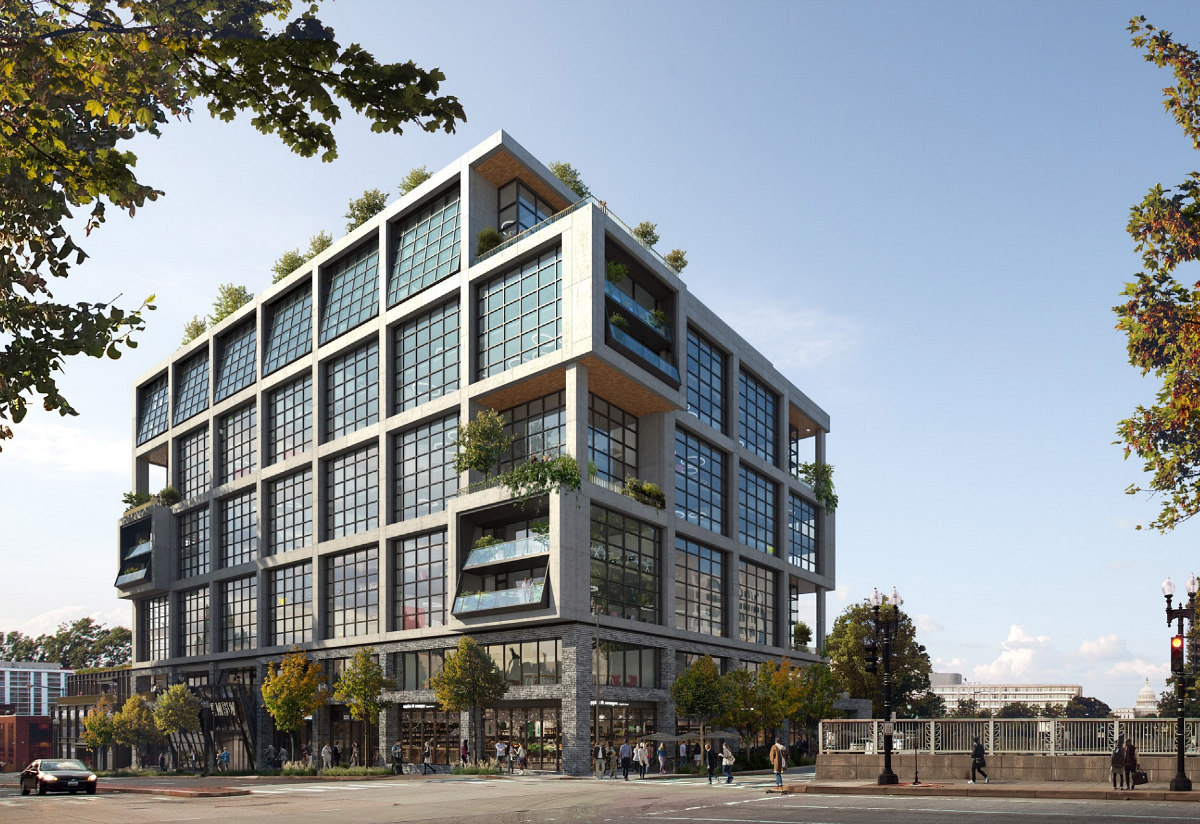 South Capitol Street 7-Eleven Redevelopment
In June, a JBG SMITH-led development team applied for design review of an office/residential/retail development proposed at the northwest corner of South Capitol and M Streets SW (map), replacing a 7-Eleven and surface parking. The first phase of the development would deliver 226,132 square feet of office space above 25,427 square feet of retail, while the second phase on the northern portion of the site would include 371 residential units, some with private entrances.
Because the site's D-5 zoning does not typically require Inclusionary Zoning, the development team will make a monetary contribution to the Housing Production Trust Fund (HPTF). The development would have 403 below-grade parking spaces and 160 long-term bicycle spaces, and the lobby will also serve as a public cut-through from M Street to a pick-up/drop-off area. Gensler is the architect.
The application also requests flexibility to convert the office use into residential, which would deliver a total of 688 units above 23,850 square feet of retail and reduce the parking to 311 vehicular and 142 long-term bicycle spaces. A zoning hearing is scheduled for October.
---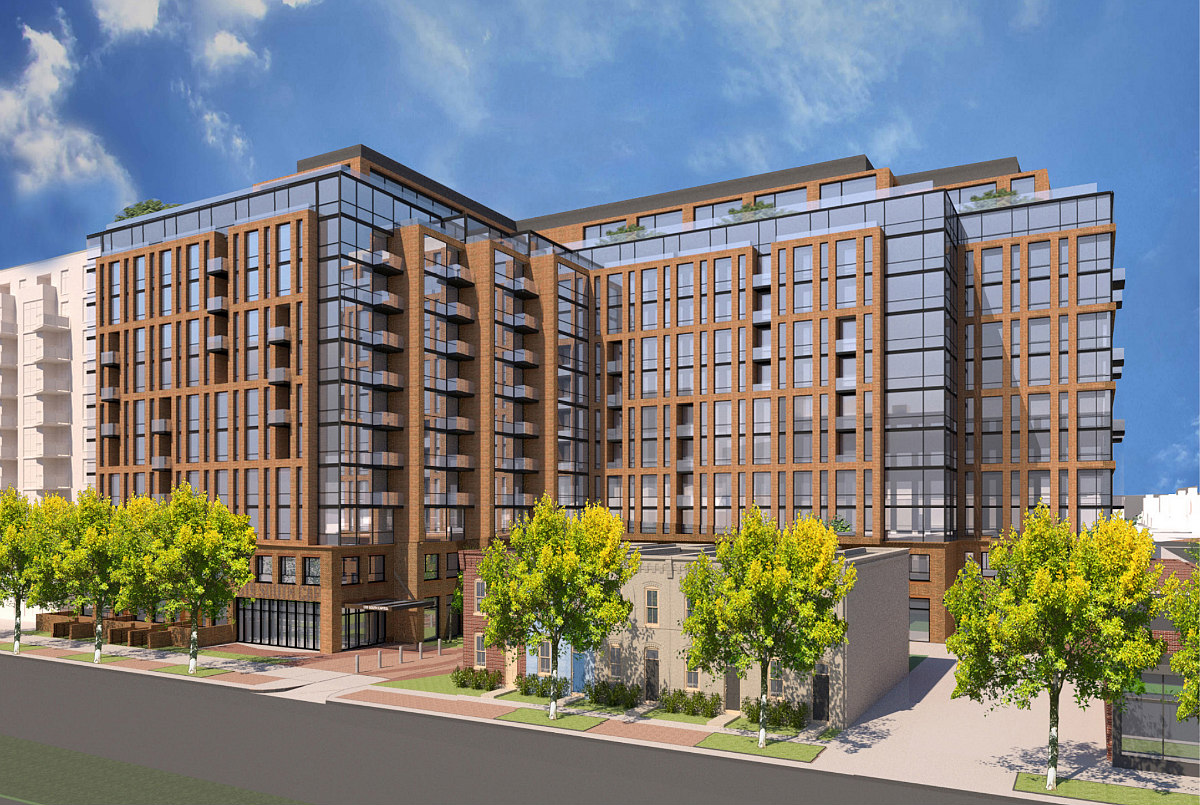 Last month, Jefferson Apartment Group and Fortis filed a design review application for an 11-story, 302-unit development at 1319 South Capitol Street SW (map). The unit mix will span studios to three-bedrooms, and many units will have balconies or walk-out patios, and penthouse units will have private terraces.
The development will incorporate rowhouses within the site on both South Capitol and N Streets: two of the three rowhouses on South Capitol will be restored for either commercial or residential use, and four of the five rowhouses on N Street will be restored to deliver three affordable units with interior access to the larger building. An additional three townhouse units will be constructed on South Capitol that will offer the option for live/work space.
While it remains to be seen whether the development will be for-sale or for-rental, there would be 24 units for households earning up to 80% of median family income (MFI) if it is a condo building, or for households earning up to 60% MFI if it is a rental apartment building. The development would also include 180 below-grade vehicular parking spaces and up to 107 cycle spaces. Beyer Blinder Belle is the architect.
---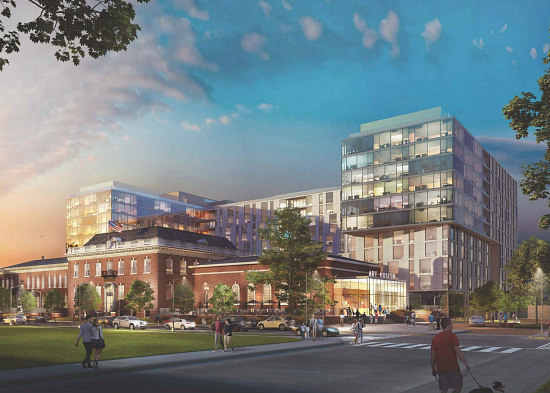 Interior demolition is underway on the Randall School at 65 I Street SW (map), making way for the historic portions of the building to be retrofit into a new two-phase development. The project is expected to deliver 489 apartments and/or condos, 18,600 square feet of office/institutional/arts space, and a 31,389 square-foot museum hosting the Rubell Family Collection.
The unit mix will include a minimum of 19 townhouse-style units, and 20% of the residential square footage will be for households earning up to 80% of median family income (MFI). There will also be 249 below-grade parking spaces. Lowe Enterprises is the developer; Beyer Blinder Belle is the building architect and Oehme, van Sweden is the landscape architect. The development may be completed in 2022.
---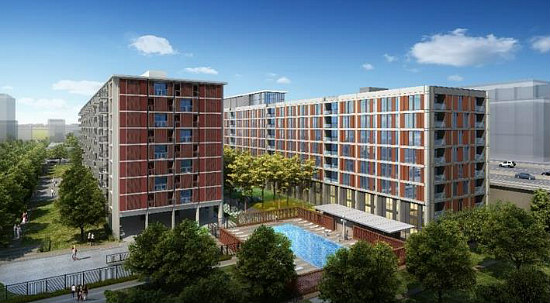 Construction is ongoing at 301 G Street SW (map) for an eight-story, 330-unit apartment building. The building will have a pool deck, fitness center, and library, and the unit mix will include 20 garden-style duplexes. Urban Investment Partners is the developer and WDG Architecture and Lee and Associates are the designers. The project is expected to deliver in February 2021.
---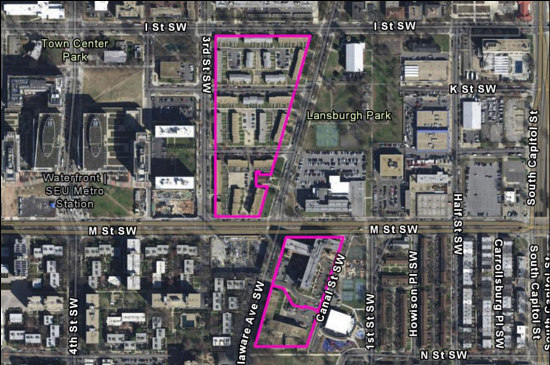 Greenleaf Gardens Redevelopment
The DC Housing Authority (DCHA) is moving forward on a Section 18 demolition-and-disposition application to redevelop the 493-unit Greenleaf Gardens public housing community. Greenleaf spans 15 acres from First to Third Streets between Eye and N Streets (map); the redevelopment is envisioned to eventually deliver over 1,800 mixed-income units.
DCHA released a request for proposals last April for a co-developer; the project is expected to include non-profit service providers, and one-for-one replacement units and a build-first approach for the existing households. DCHA anticipates selecting a development team out of four finalists this fall; the development is expected to require six phases over 15 years, and the first phase is expected to include 150 replacement units.
---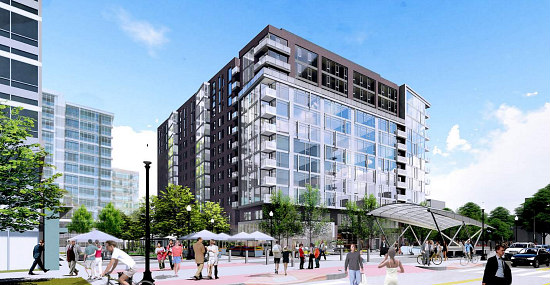 One build-first site proposed as part of the Greenleaf Gardens RFP would be on one of the remaining Waterfront Station sites. A PUD was approved nearly two years ago to deliver roughly 598 residential units, 32,456 square feet of office space, 40,172 square feet of ground-floor retail, and a 6,000 square-foot community center at 425 M Street SW (map) and 375 M Street SW (map). At least eight percent of the residential square footage, plus an additional three-bedroom unit, will be affordable for households earning up to 60% MFI.
However, an appeal was filed in February 2019 and the public is still awaiting a decision on that case. Brookfield Properties is the lead developer and Perkins Eastman is the architect.
---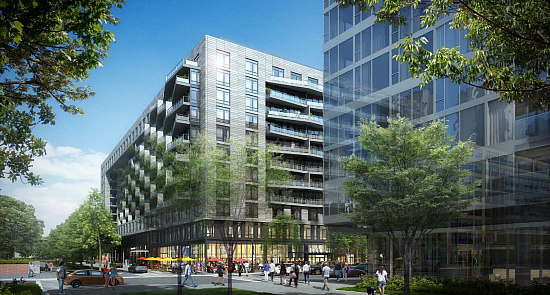 The development slated for another Waterfront Station parcel around the corner just landed some HPTF financing earlier this summer. Located at 1000 4th Street SW (map), the planned 11-story building will deliver 456 apartments above a 1,200 square-foot diner, a 9,000 square-foot black box theater, an AppleTree Early Learning pre-K, and 220 below-grade parking spaces. 137 of the residential units will be affordable to households earning up to 50% AMI.
The development team includes PN Hoffman, CityPartners, AHC Inc., ER Bacon Development, Paramount Development, and CulturalDC; the architect is Torti Gallas Urban. The project could break ground this year.
---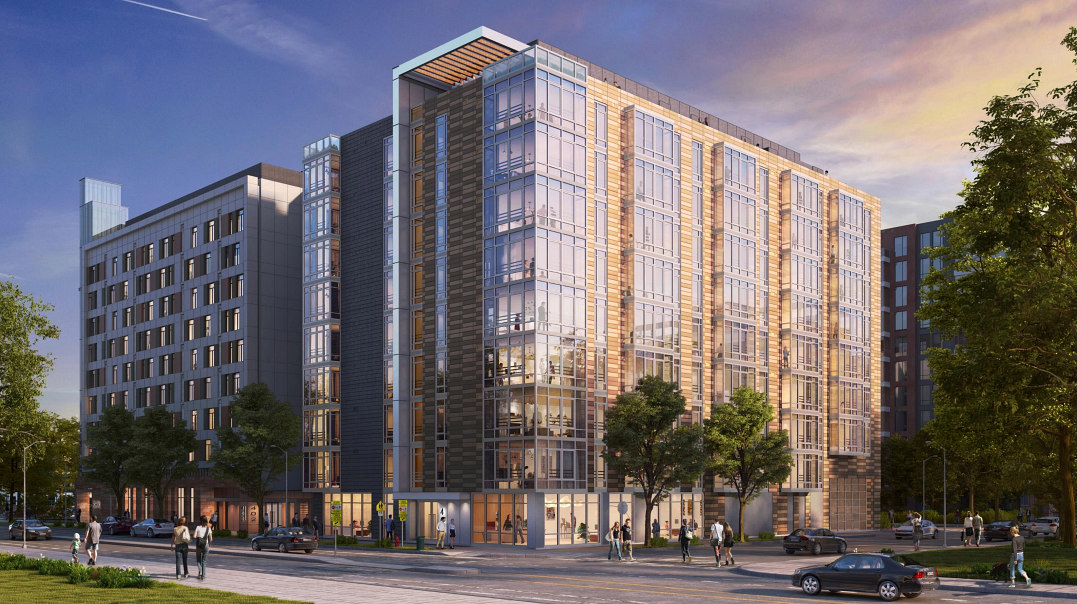 Westminster Presbyterian Church Redevelopment
This spring, Westminster Presbyterian Church applied for a map amendment and PUD to redevelop the church site at 400 Eye Street SW (map). The resulting 90 foot-tall mixed-use building would deliver 99 market-rate units, 123 senior affordable units, and 18,500 square feet of ground-floor space for the church's facilities. Development partners include Bozzuto Development, Bozzuto Homes, and Westminster Community Partners; KGD Architecture is the designer.
The senior units would be for households earning up to 50 and 60% of MFI. The building would also include a below-grade parking level with 60 vehicular and 76 long-term bicycle spaces. The map amendment would rezone the site from R-3 (rowhouse) zoning to MU-2 (transitional mixed-use).
The site was also posited as a build-first opportunity for Greenleaf Gardens. The Zoning Commission voted to set this project down for a hearing last month.
---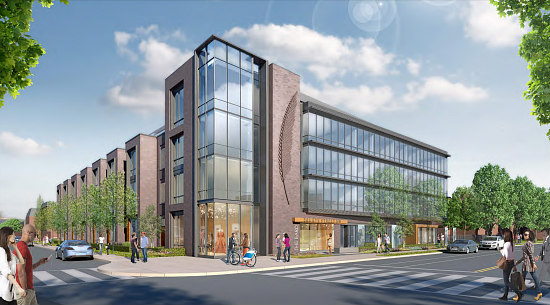 After years of community negotiations and a recent PUD approval, the Shakespeare Theatre Company (STC) and Erkiletian Development Company find their labour's lost. STC announced this summer that the redevelopment plans for the former site of Southeastern University at 501 I Street SW (map) are temporarily shelved due to financial concerns stemming from the pandemic. The approved development would deliver a four-story building with 64 condos and a 4.5-story annex building with 18 actors' apartments, 18 beds for STC fellows, and 13,860 square feet of office, administrative, performance and rehearsal space for STC.
Five of the condos would be set aside as affordable to households earning up to 80% AMI, and the project would also include 38 below-grade vehicular and 67 long-term bicycle spaces, two surface parking spaces, and 15 off-site parking spaces. Shalom Baranes is the design architect.
This article originally published at https://dc.urbanturf.com/articles/blog/the-over-4500-units-slated-for-southwest/17207.
DC Real Estate Guides
Short guides to navigating the DC-area real estate market
We've collected all our helpful guides for buying, selling and renting in and around Washington, DC in one place. Start browsing below!
First-Timer Primers
Intro guides for first-time home buyers