The Auburn Building Association's mid-century office building at 4915 Auburn Avenue (map) has been razed to make way for a pair of buildings delivering 144 market-rate and 31 affordable units and up to 12,500 square feet of commercial space. The buildings will have a public plaza between them and the commercial space will front a section of Norfolk Avenue expected to eventually become a shared street. The development would also include up to 100 residential parking spaces and 85 bike spaces. Shalom Baranes is the architect.
---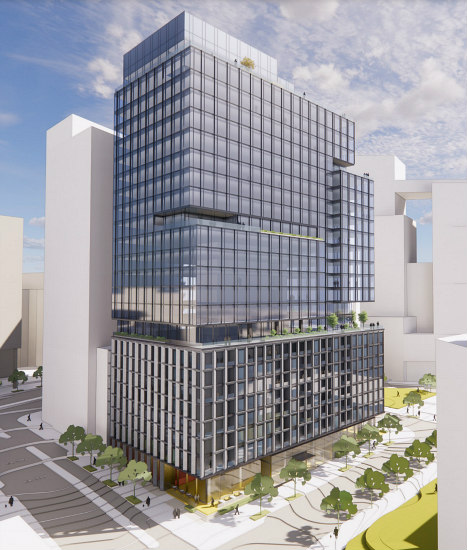 In July, the planning board approved a preliminary plan by Washington Property Company (WPC) and Douglas Development to replace the former's Bethesda headquarters at 4719 Hampden Lane (map) with a 262 foot-tall mixed-use building. The development would include 150 residential units (17.6% MPDUs) with 330,000 square feet of office above and up to 10,000 square feet of double-height retail below, potentially including an indoor/outdoor café at Hampden and East Lanes.
Deep setbacks between the residential and office floors would create outdoor amenity spaces, and the office tenants and residents would share a roof deck. There will also be up to 300 parking spaces on 3-4 below-grade levels. Shalom Baranes Associates is the architect.
---