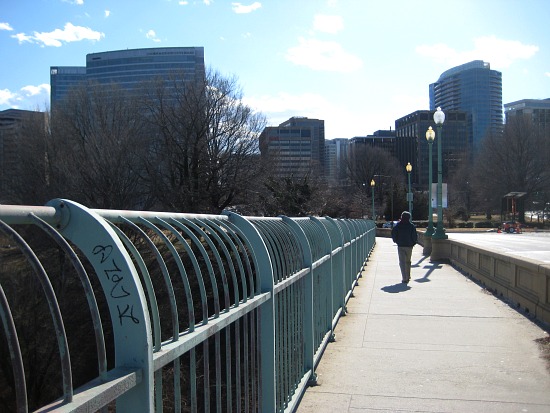 Rosslyn skyline from Key Bridge
To many, Rosslyn, the area of northern Virginia just across the Potomac River from Georgetown, is little more than a collection of high-rises that some of their friends or relatives may work or live in. But to real estate insiders, the community has a number of very strong advantages that are turning it into one of the region's booming residential markets. With several major construction projects underway, the Rosslyn that many people know is set to change considerably in the next few years.
The Upsides of Public Transportation and Location
Located in Arlington County, Rosslyn is bounded by Highway 110 and I-66 to the east; Lee Highway to the north; Rhodes Street to the west; and 12th Street and North Marshall Drive to the south.
The neighborhood is the eastern anchor of the R-B (that's Rosslyn-Ballston) Corridor, a three-plus mile stretch that's been noted for its economic resiliency and strong development potential. Its strengths are obvious: the area includes five Metro stations, is close to virtually all of northern Virginia's major highways, and has been intelligently planned by Arlington County officials as a string of pleasantly walkable communities. In Rosslyn's case, add to that list good proximity to central DC, plus an ability to build high -- up to three times taller than the District's height limits, which means more density and more room for growth. Whether or not these benefits seem significant to the average Washingtonian, developers have long taken note -- and so have many prospective homebuyers. "I think there's pent-up demand and a complete lack of product," Jim Abdo, who built two condo loft buildings in Rosslyn a few years ago and recently broke ground on a third, told UrbanTurf. He noted that at the company's first marketing event earlier this month for his firm's latest project, Gaslight Square, twice the number of people showed up as expected, and several bought units on the spot. "We feel very bullish on Rosslyn: there's a transformation to a very pedestrian-friendly experience [going on]."
Personal Elevators and Valet Parking
Wander around Rosslyn and it's hard to miss the construction sites. A planned office building and outdoor space across the street from the Gaslight Square site is currently a vast patch of earth, and just down the hill, JBG Companies recently broke ground on two large towers, the Sedona and the Slate. Together, the two will add 474 relatively high-end residential units to the area; they should be completed around the end of 2012.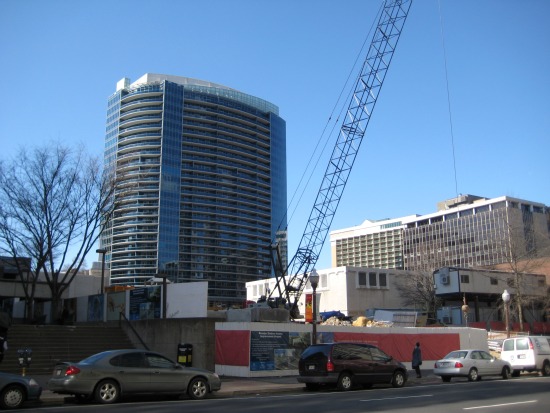 JBG Companies construction site with Turnberry Tower in background
Turnberry Tower, a 247-unit, 30-story luxury residential project near the Rosslyn Metro station was completed a couple years ago and includes amenities like a small screening theater, an indoor pool, and many of its units include elevators running straight down to complimentary valet parking. It sounds pretty fancy, but units at the project have been moving with $20 million in sales in January alone. In explaining the phenomenon, Turnberry Tower's Dan Riordan echoed Abdo: the area's supply of new units has remained low since credit markets tightened during the height of the economic crisis, but demand—particularly in the eastern Arlington area—is growing. That puts Rosslyn's new developments right in the bull's eye.
Building Styles Are All Over the Map
In addition to the newer devlopments, residential buildings in Rosslyn come in an odd hodgepodge of styles, from plain brick apartment units to shiny townhouses to towering high rises that were built several decades back. There are a few detached homes, mostly boxy colonials and duplexes, but most of the properties for sale are condos.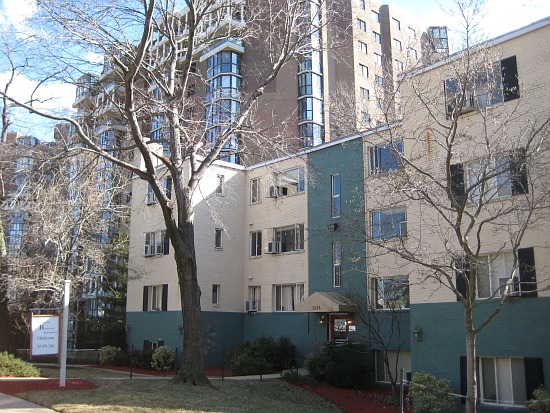 A typical mix of Rosslyn housing styles
Their variety makes determining average sales prices tricky, said John Mentis, an agent with Long & Foster. Over the last 90 days, studios sold at prices ranging from $109,000 to $146,000; one-bedroom units sold for between $162,000 and $531,000; and two-bedrooms went for anywhere from $430,000 to $2.25 million (the latter was a 2,267 square foot unit at Turnberry Tower). The monthly rent on a one-bedroom unit in Rosslyn ranges from $1,400 to $1,900; two-bedrooms go for between $1,700 and $2,200 a month.
Not As Stereotypical As You Might Think
The R-B Corridor is known for its healthy supply of young professional types, but Rosslyn isn't so easy to stereotype. While there are a lot of residents like 25-year-old Clifton Yin, a Georgetown grad student who lives in the area because it's convenient, but who still heads to downtown DC to hang out at night, there are also folks like seventy-something Bart Pakull, who's been in the area for 25 years. He knows the neighborhood's ins and outs, its highlights and downsides, and still loves it. "It's a wonderful neighborhood, a neighborhood of the present and future," gushed Pakull. "It's got everything." In between Yin and Pakull are a wide variety of residents, including lots of young families. Because Rosslyn doesn't have many detached homes, families often move away as they grow, but the area boasts a number of kid-friendly amenities, including good parks and access to Arlington's famously strong schools. To boot, like most of the county, the neighborhood has a very safe reputation, and all of the residents that UrbanTurf spoke with said they feel very secure; none have had a problem with crime in the area.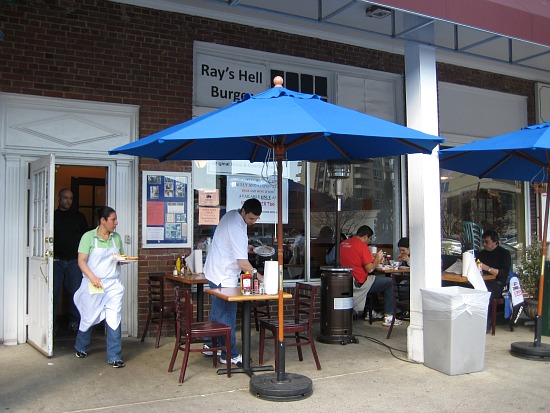 Tables outside Ray's Hell Burger
The Best Restaurants Are In A Strip Mall?
Rosslyn has a reputation as a place that shuts down after 6pm, and there is some truth to that as, so far, the neighborhood doesn't have a critical mass of restaurants or nightspots that would make it an evening destination. Currently, the most popular dining destination is a small strip mall that houses several establishments, including Pho 75, widely considered the best place to get a bowl of Vietnamese noodle soup in the DC area, and Ray's Hell Burger, a presidential favorite that seems to perpetually have a line out its door. Like the area's residential situation, Rosslyn's cultural and commercial scene is evolving. Artisphere, an all-purpose arts complex catering to the 20s and 30s set, opened last October and hosts a range of performances and exhibits. Additionally, a centrally-located block near the Metro is currently being redeveloped by JBG. Right now it's a construction site, but the final product should be a serious upgrade in the sophistication department: it'll include two of the region's tallest buildings (with a rooftop observation deck), an outdoor public plaza, and a renovated Metro entrance.
The Bottom Line
Developers like to say that retail and restaurants follow residential growth. If true, that bodes very well for Rosslyn, an area with a housing market that's hot and getting hotter, but that has a pretty lackluster commercial scene. In a few years, who knows? Rosslyn could become the dynamic, pedestrian-friendly, day-and-night destination that developers envision. Amanda Abrams is a Washington, DC-based journalist who has written feature stories for The Washington Post, Christian Science Monitor, and Washington City Paper.
More Info on Rosslyn:
Zip code: 22209
Schools: Key Elementary School, Williamsburg Middle School, Yorktown High School
Rosslyn real estate data and profile from Redfin
Rosslyn rental listings from Craigslist
This article originally published at https://dc.urbanturf.com/articles/blog/rosslyn_hitting_its_growth_spurt/3002.
DC Real Estate Guides
Short guides to navigating the DC-area real estate market
We've collected all our helpful guides for buying, selling and renting in and around Washington, DC in one place. Visit guides.urbanturf.com or start browsing below!
First-Timer Primers
Intro guides for first-time home buyers