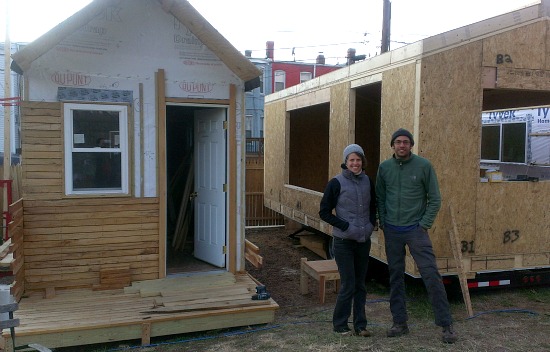 Lee Pera and Brian Levy with their tiny houses.
For this edition of One on One, UrbanTurf sat down with Brian Levy and Lee Pera, two local proponents of the tiny house movement.
On a small alley lot just above Bloomingdale, Levy, Pera and a few others have created Boneyard Studios, a showcase of mobile houses that max out at about 200 square feet. The unassuming area is barely visible from the street; once you start walking into the alley, the sound of activity leads to a fenced-in lot with three improbably tiny houses, on wheels, in varying stages of completion.
On weekends, a bevy of workers can be found putting up siding and insulation and tending to the community garden. Pera and Levy both started building their homes this year, partially in the hopes of prompting a larger discussion of affordable housing options in the city. Under current constraints and city code, the houses cannot be lived in full-time, so Boneyard Studios acts as a showcase for what could be. (The Washington Post published an article on Wednesday about the tiny house movement that largely focused on Boneyard Studios.)
We talked with Levy and Pera about the viability of tiny houses in DC, how these mobile homes compare to RVs, and how the city's impending zoning code changes will impact their future.
Let's talk about viability in DC. How possible are these homes?
Brian Levy: In regards to small dwellings behind row houses or in other open spaces, I think there is a lot of potential. Almost every row house in the city, especially those farther away from downtown, has space around it. If you take an aerial photo of Petworth, you're struck by the fact that about 50 percent of the land is open – it just happens to be alley and backyard space. You could easily construct an accessory dwelling in these areas, as has been done in the past.
Lee Pera: Even if the alley code changes [the code currently requires an alley residence must be on a lot that is 400 square feet or greater and needs to be on an alley that is at least 30 feet wide], they would probably be considered too small, because most cities have a minimum size for habitable structures: 400 square feet is about the smallest I've seen for individual units. The reason people build tiny houses over wheels is because it is then mobile – it is an "RV" rather than a house. There is really no code around that.
Describe the homes themselves. What materials do you use, how do you make them sustainable, and how did you design them?
LP: I bought Tumbleweed [one of the first company to make Tiny House blueprints] plans and bought a house that was already started. I hired a friend who is in construction to do the building and another, architect Matt Battin of Urban Density Lab, who has done a lot of small space and mobile design. In terms of sustainability, I've tried to not buy much from Home Depot. Because the homes are so tightly constructed and insulated, you can get a lot of offgassing, so it's important to use materials that are non-toxic. I bought all of my lumber from a mill in Virginia that takes lumber from downed trees and construction sites.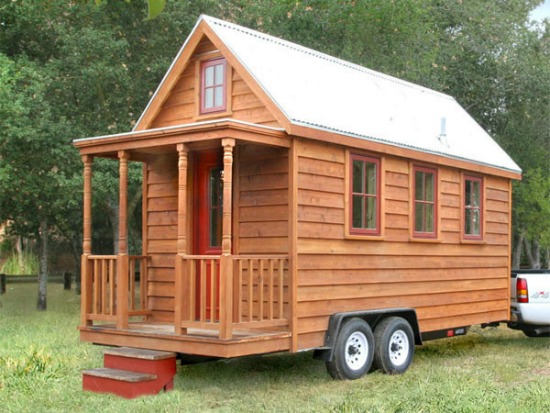 A 117-square foot home. Courtesy of Tumbleweed.
BL: I wasn't very compelled by some of the designs I was looking at because I didn't want to sleep in a loft and I wanted more window space. I started working with Foundry Architects to re-conceptualize what a tiny house can be. Mine is technically a wide load, and has more square footage.
How do utilities work?
BL: Typically, the plans on the Tumbleweed site are for structures that require a hook-up for electricity, water and sewer. On this lot, we have electric, but don't have a sewer connection or a water connection. Were we to live here, that would present problems. To get around that, we built it like an RV. Also, all the homes have water tanks on board, and we're doing rainwater catchment. On the sewage side, we looked into incinerator toilets. They are very quiet and turn everything into ash. We've done the full test, and it seems to be effective.
They do seem like modern day RVs. How do you respond to comparisons that they are like trailers in a trailer park?
LP: When you think about mobile living, that's really people's conception. What else do we have? This is a new model. People don't have a framework other than a trailer park or RVs.
BL: First, a trailer park single wide is typically 16×60 or 16×80. Tiny homes are 1/5 the size, with gabled roofs. It's about perspective. Look at row houses. You can look at a whole line of row houses in Dupont Circle and call them tenements. You can also look at tiny house parks and call them trailer parks. But these are small structures designed by professional architects and built by master builders.
Let's talk more about the general opposition to small house living. Many people see this type of home as a step backward rather than forward. How do you respond to that?
LP: We don't want everyone to live this way, it's just an option. Often the media portrays the people who would build these homes as west coast hippies, when in fact the group is quite diverse. Single moms, people in rural areas, people on the extreme right and extreme left and everyone in between. Some of the first people I met here building a tiny house were a single mom and her sixteen-year-old daughter.
We're not guaranteed anything anymore. My parents were able to buy a house on two teachers' salaries and pay that off within ten years. For many people, that's not feasible anymore.
What is the expense associated with building a Tiny Home in terms of time and money?
LP: It really varies greatly. According to Tumbleweed, if you buy standard stuff and build yourself, it should cost between $20,000 and $25,000. But you can find people who've spent just $5,000 to $10,000 in materials because they use all salvaged stuff. As for time, a guy who worked on one similar to mine built it in four months, working on it full-time.
BL: The cost for mine will be more in the mid-$40,000 range, but I'm also working with a builder. The key variable is labor.
The zoning code is currently undergoing a rewrite that may make these dwellings a reality in many places around DC. How involved are you with the discussions regarding this issue, and what is your ideal outcome?
BL: The new proposed zoning would allow backyard carriage house-type dwellings (which could be built as foundation-built tiny homes) in R-1 and R-2, by exception in R-3 and not at all in R-4. But many of these R-3 and R-4 lots could accommodate accessory dwelling units, just like they used to. We don't think the proposed revisions go far enough, and support changes that allow ADU's in R-1,2,3,4.
How do tiny houses impact the need for affordable housing?
LP: This is not affordable housing for most people. Who has $30,000? This is even a struggle for me and I make a good income, and I'm a single person with no kids. We need more affordable housing options for families. But these do represent a new model for people who are willing to live in small spaces and not be tied to a mortgage.
BL: I think that if financing were available these could be very affordable, though land and utility hookups are as important as the structure itself. Increasing the supply of affordable housing for 1 to 2 people could have consequences that benefit everyone. If I could live in my tiny house full time, I'd move out of my row house, and suddenly there would be a row house available for a family to move into. If you had fewer group houses in Columbia Heights, there would be more family housing. It's expensive, but tiny homes would alter the demand curve. It's not just about single people living in tiny homes, it's about freeing up space for families.
This interview has been edited and condensed.
This article originally published at https://dc.urbanturf.com/articles/blog/one_on_one_tiny_homes_on_wheels/6357.
DC Real Estate Guides
Short guides to navigating the DC-area real estate market
We've collected all our helpful guides for buying, selling and renting in and around Washington, DC in one place. Start browsing below!
First-Timer Primers
Intro guides for first-time home buyers