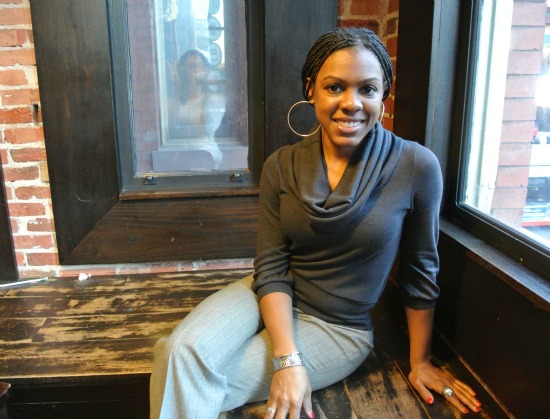 Teri Janine Quinn
In this edition of One on One, UrbanTurf sat down with Teri Janine Quinn, the president of the Bloomingdale Civic Association. Last fall, Quinn was also elected to be a commissioner for ANC 5E, representing a portion of Bloomingdale and Truxton Circle. By day, Quinn works as an attorney.
We talked about life as an ANC commissioner, bridging the gap between old residents and new, and the likelihood of decking North Capitol Street to create walkable green space (it's more likely than you might think).
How is it going so far?
It's going well. One of the big challenges was how to manage both responsibilities at the same time. Once I was able to delegate civic association responsibilities, it became more manageable.
As far as the ANC goes, I came to this on the heels of serving on the flooding task force, and had just finished working with the heads of nine DC agencies, the Mayor's office, and the Councilmembers' office for several months. As a result, I have a much better understanding of how things work, and who to call when things go wrong. In terms of my law practice, I have a regulatory background, so that's helpful, because many ANC issues are regulatory.
Many Bloomingdale homes were severely damaged by flooding during the summer storms, and now the city has a plan in place to mitigate the problem by 2016. Are people happy with the way things are going?
There's a mixture of emotions. The flooding brings up a multi-faceted set of questions and problems. How do I take care of this damage? How do I prevent it, and how did it happen?' All these questions need to be addressed.
In terms of coming up with a preventative measure, the plan that is now in place was a huge win. The difficult part is that between now and 2016, we are at a very high risk. If you don't have a back flow preventer [a device that keeps contaminated water from entering a home's clean water supply during a flood], you are going to be really concerned. I don't know that people really get that in the message.
So many people are now moving to Bloomingdale. How is the relationship between the older community and the new residents?
At the end of the day, everyone has the same needs. The easiest way to get people to work together is to identify similar interests and focus on those.
However, there are barriers to our path forward. Our preconceived notions of our neighbors can get in the way of progress, and there are a few issues that lead to heated judgements. For example, when a liquor license comes up and someone wants to have a critical discussion about a new business, those who support the business may immediately think "this lady just doesn't want to have new businesses." Once they've made that judgement, it is so hard to reel that perception back in.
The same goes in the opposite direction. When talking about the issue of churches and parking, parallel assumptions can be made about younger neighbors who have concerns about those issues: that they don't appreciate the old culture of the neighborhood.
How do you diffuse that? You're in this unique position, as you've said, where both sides feel comfortable talking to you.
I think being able to communicate well with both groups really helps. I can come into a conversation and understand how ideas get twisted, because I've seen the other side of it.
People often want you to be on one side or the other, want you to be Team Gentrify or Team Old School, but you don't really have to pick a team that way. You can be pro-neighborhood and do what I try to do, which is build a bridge between the two.
What are some other issues that need to be resolved?
I think a lot more needs to be done to engage longtime residents.
I'm really concerned about what happens when people aren't getting the message about stuff going on that affects them. At a recent r.e.e.l. event [discussing gentrification], a woman from Barry Farms stood up and said that residents are being told they they have to leave, and this came out of nowhere. [Barry Farms, a public housing project in Ward 8, is being redeveloped into a mixed-income, mixed-use neighborhood. Plans have been in the works for a few years.] I was sitting there thinking "This didn't come out of nowhere. There were meetings and conversations." The question becomes, how did you not know about them? If you know, the conversation has a very different tone. It's still difficult, but you have more time to prepare, and you know more about the process.
What is the most exciting thing/plan on the horizon for Bloomingdale?
The most exciting thing is the small area plan [the city's tentatively titled Mid City East Small Area Plan, which launched in 2013]. A few neighbors are really excited about the possibility of covering a section of North Capitol Street and turning it into green space. When I heard that, I thought it was out of the box, but when I presented it to one of the community outreach representatives from the Office of Planning, her eyes lit up.
What's happening with the McMillan redevelopment?
The developers are back to the drawing board. [The flood mitigation plans, which involve digging through McMillan] certainly will cause a significant delay. Not only do they have to come up with a new plan, but a new development timeline. I think they're doing that now, and we'll see where it goes. Given everything else going on — the special election, the small area plan, the zoning rules that are changing, and all the stuff going on with schools — it's going to be a very busy 2013.
This interview has been edited and condensed.
Similar Posts:
This article originally published at http://dc.urbanturf.com/articles/blog/one_on_one_the_scoop_from_bloomingdales_neighborhood_commissioner/6664
DC Real Estate Guides
Short guides to navigating the DC-area real estate market
We've collected all our helpful guides for buying, selling and renting in and around Washington, DC in one place. Visit guides.urbanturf.com or start browsing below!
First-Timer Primers
Intro guides for first-time home buyers