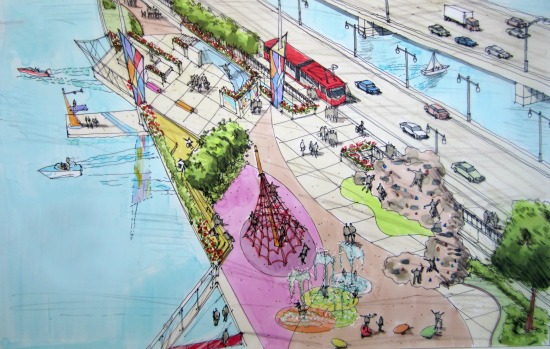 An early vision for the park. By Ed Estes.
For this edition of One on One, we talked to Scott Kratz, the hardworking volunteer who is working with the Office of Planning on the 11th Street Bridge Park project, a unique park that will sit on a former bridge spanning the Anacostia River, connecting Capitol Hill to Wards 7 and 8.
Soon, the Office of Planning will announce a design contest for the park with the hopes of finding a team to lead a plan by the end of 2013. We spoke with Kratz about the contest, the major goals of the park, and a few ideas that may be incorporated into the final design.
How did you get involved with the creation of the park, and what has been happening so far?
SK: I've known [Director of the Office of Planning] Harriet Tregoning for quite some time, and eighteen months ago I asked her what was happening with the 11th Street Bridge project. She said 'I have an idea to transform a portion into a park for active recreation, and I need some help. Are you interested?'
So far, we've received support from the city administrator, the mayor and DDOT. Harriet also reached out to other agencies that would be affected like the National Park Service, Navy Yard and so forth, and received green lights from everybody. I've been active in reaching out to members of the community, asking two questions: Is this something that you want and what do you want on the bridge?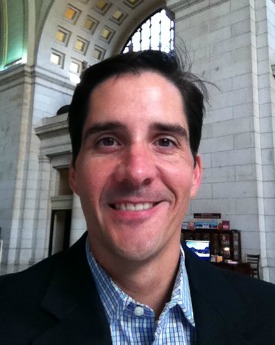 Scott Kratz
What are some of the ideas you've gathered so far?
SK: Urban agriculture comes up again and again, perhaps in the form of a fruit tree orchard. You could have an annual harvest festival or could send splices out into the community for people to plant. Kayak and canoe launches is another common idea. Right now, the closest place to rent a kayak or canoe on the Anacostia is Bladensburg, MD. Performance space is another idea, whether for the Anacostia High School marching band or local gospel groups. Another idea is an environmental classroom, where kids from DCPS and charter schools can come to learn during the week. Finally, people want a playground for moms and caregivers on both sides of the river to bring their kids and play.
These programming ideas help define the core goals of the park, which are:
Providing a healthy place for recreation. Public health is key — Ward 8 has the highest rates of obesity, hypertension, and the lowest accessibility to fresh fruits and vegetables.
Environmental education: to get people to care about the river, you first need to get them down to the river.
Using the bridge park as a physical and metaphorical bridge connecting community. The river has been a dividing line in the city for generations, and this can be a safe place for people on both sides of the river to come and gather.
Lastly, if it's successful, this becomes a destination for people not only in Wards 6,7, and 8 but in the greater Washington area, and can be an anchor for economic development for lower 8th Street and Historic Anacostia.
Is there any precedent for this sort of park?
SK: There certainly are other examples of re-purposed infrastructure. The obvious one is the High Line in New York City, but what we're talking about is much more active.
We have found one similar project, from a technical standpoint, in Providence, RI. They had an old thruway bridge that crossed the Providence River. They stripped off the top deck, saved the existing piers, which is what we're doing, and are connecting two communities who have long been separated by the river. They have picked a winning design, following a design competition. They are about two years ahead of us, and that will be very helpful as we continue to learn from them.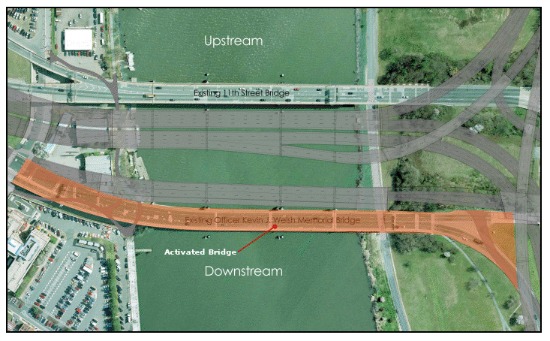 What is the timeline for this project, and how will it be funded?
It's a bit of an aggressive timeline. We'll go through the design competition and get a winning selection in 2013, start construction in late 2013/early 2014, and open in 2016.
Another thing I've been working on is finding a local non-profit to work with as a partner and a fiscal agent. We're looking at the bulk of the money for this project being raised from individuals, corporations and foundations through philanthropy efforts. We are working with THEARC in Ward 8, whose parent organization, appropriately enough, is called Building Bridges Across the River.
In thinking about the contest, what do you imagine the teams will look like?
SK: Looking at other similar design competitions, there's a real value in bringing together a team with different specialties. You will need a lead designer, perhaps an architect or landscape architect or a combination of the two. Since the deck of the bridge has been taken off entirely, it doesn't have to be flat anymore. It can cantilever out over the river. Structures and landscaping will be really key across the entire span, performance spaces will need to be designed, and engineering — we need to make sure that the plan utilizes the existing infrastructure and is structurally sound.
We're already getting phone calls. Given the unique nature of this project and given that it's in the nation's capital, people see this as a wonderful opportunity.
This article originally published at https://dc.urbanturf.com/articles/blog/one_on_one_the_man_behind_the_11th_street_bridge_park/6421.
DC Real Estate Guides
Short guides to navigating the DC-area real estate market
We've collected all our helpful guides for buying, selling and renting in and around Washington, DC in one place. Start browsing below!
First-Timer Primers
Intro guides for first-time home buyers