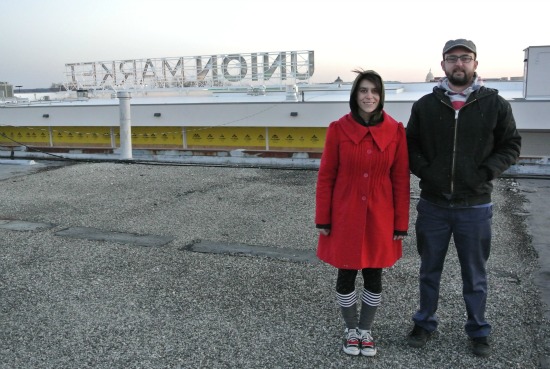 Alicia Cosnahan and Peter Krsko of Albus Cavus.
In this edition of One on One, UrbanTurf went to visit the DC outpost of Albus Cavus, a group of artists who are responsible for many of the murals that have been popping up around DC. By inviting local residents and children to work with artists on the murals, Albus Cavus is attempting to transform dreary public spaces into vibrant areas that will foster a sense of responsibility in residents.
Executive Director Peter Krsko, a biophysicist-turned-artist, invited UrbanTurf to their warehouse space behind Union Market. Albus Cavus shares the space, a controlled chaos of raw materials, tools, half-finished sculptures, and murals, with a handful of local artists. Besides creating murals, the group engages with the community by running educational programs at local schools and recreation centers, and inviting high school interns to work at the space.
We chatted about how public art can impact the social fabric of a community, the difference between working in established neighborhoods versus developing neighborhoods, and how toddlers paint like Jackson Pollock.
Can you point to a couple Albus Cavus murals that readers should look out for?
The first one we did in DC was "From Edgewood to the Edge of the World," which is behind the Rhode Island Avenue shopping center on 4th Street. About 300 feet of that wall was created by a collaboration of six artists in 2009. They spent three months working with about 45 kids from the city as a part of the summer youth employment project and they created a huge piece of work. The additional 700 feet is just open wall where anybody can come and paint.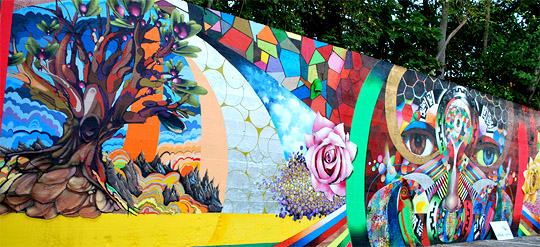 The Edgewood mural, courtesy of Albus Cavus.
There is another mural coming up in Garfield Park at 2nd Street and Virginia Avenue SE, underneath the SW highway. It's another open wall, and it's such a great space — the whole park was basically created by the users. It naturally grew from people skating there and playing basketball there to a very multi-faceted place full of murals.
How many murals does Albus Cavus have around DC?
It's hard to tell. Albus Cavus is a circle of artists who share the same mission. Officially commissioned by the city, we have probably 7 murals. Then we have 6 to 7 open walls.
How do you think public art can transform a community?
Public art can influence something as simple as how a street looks. You can have a street that is completely gray and sterile, full concrete, no trees, no benches. Then, you create a mural and the whole street looks completely different. You are exposed to a completely different set of colors, which help influence your mood.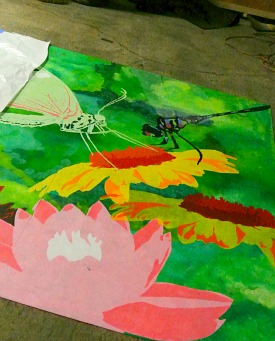 Part of a mural installed on Monday in Takoma Park.
The more interesting aspect is how it can influence the social fabric. The residents who live around the public space where the particular work of art is being installed, maybe they never met each other and they don't pay attention to the street they walk on. Then, they get an invitation to be a part of painting something on a wall. Something as simple as choosing a color or some other element gives them strong ownership over the artwork and, automatically, the whole public space. People meet each other, they learn something new, they get ownership over their own public space, and with the ownership, they realize they have a responsibility towards the space.
What about murals in particular? How do you turn it into something that's good for the community?
A good example is a piece that will be installed on Monday in Takoma Park. It was created in a local correctional facility. We go to jails and detention centers, and we try to teach them about the place where they live. When you live in a place and you really appreciate the history, the nature or the cultural heritage, you have a completely different relationship to the place then when you just ignore it. Murals are a good tool to get a lot of people engaged at the same time.
Does the subject matter of the mural play into that?
So, say we create a nature-based mural. It will be a composition of images and subjects and objects that are from here. So it's all local fauna and flora in these nature murals. We'll bring a lot of pictures and close-up images. They choose the images, the colors and the composition, project the images on the walls, and use large stencils and large sponges to tap the paint on.
Can you tell me more about your educational program, Albus Cavus Classrooms?
We tried to come up with very playful art-making projects that help students learn about things that otherwise would be very boring.
For example, Alicia [Cosnahan, pictured above] developed a program for toddlers. They learn who Jackson Pollock is, and they learn just by throwing paint around. Even if they just learn one word, or learn what abstract is, it's amazing.
With five-year olds, they are making sculptures that illustrate mathematical fractals by creating simple pyramids and building on top of each other. And at Ballou High School, we created a mural in a science lab that can be used as a teaching tool. It may look colorful and very abstract, but throughout the year they'll learn that it's cell division on the wall, and the teacher can use it as a teaching aid.
Are there any neighborhoods you have your eyes on?
All of them!
Do you look to developing neighborhoods, or established neighborhoods?
They are all wonderful in their own way. Established neighborhoods come with such a richness of culture and experience, and people have interesting and powerful memories associated with public space. Developing neighborhoods are a clean slate of sorts. You have new residents, and they have the power to influence where it's going to go from there. Our huge dream is to take the murals and open walls to the next level, to create whole art parks, 3D environments where people can play and create sculptures and create murals.
Similar Posts:
This article originally published at https://dc.urbanturf.com/articles/blog/one_on_one_making_murals_to_transform_a_city/6798.
DC Real Estate Guides
Short guides to navigating the DC-area real estate market
We've collected all our helpful guides for buying, selling and renting in and around Washington, DC in one place. Visit guides.urbanturf.com or start browsing below!
First-Timer Primers
Intro guides for first-time home buyers