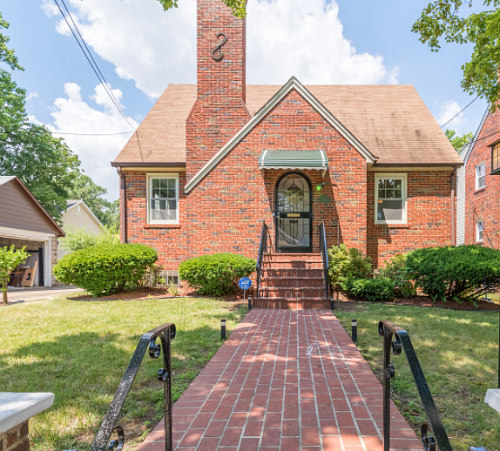 A home in Hillcrest.
UrbanTurf has profiled more than 50 neighborhoods in the DC area. We are now revisiting each of those neighborhoods to update our profiles and see how they've changed over the years.
---
Even back in 1928, Hillcrest lived in the shadow of northwest DC.
"People have become so accustomed to going Northwest that they have overlooked entirely one of the best sections of Washington from every point of view," a resident wrote in the inaugural issue of the Hillcrest Bulletin from that June.
Nearly 90 years later, residents are still waiting for people to start looking closer at a southeast neighborhood famous for its suburban charms and lack of development.
In 2006, it was the suburban charm that drew Cortez Johnson to a neighborhood he thought of as a secret. Now, the president of Fairfax Village Community Association, wants that to change.
"We're tired of it being a secret," he told UrbanTurf. "I think if we could draw in a younger demographic, it would help us get the exposure we need for economic development. The homes are gorgeous. It's the retail space, restaurants, and grocery stories we need to keep people here."
And yet the young professionals coming out to Hillcrest are drawn here for the neighborhood's lack of development – and the more affordable home prices that come with it.
Eliezer and Melissa Lee moved to Hillcrest in May after a long search for a home. "We couldn't find another neighborhood we could afford that had the same charm and appeal that Hillcrest offers," Melissa Lee told UrbanTurf. "We'd considered uprooting our lives from the area to be able to buy a home for our family, but finding a place in Hillcrest cemented our choice to stay."
Giz Andargeh agrees. "Most of the young professionals who move here are looking for more space to grow," he said. "You get more land, and you get a larger house."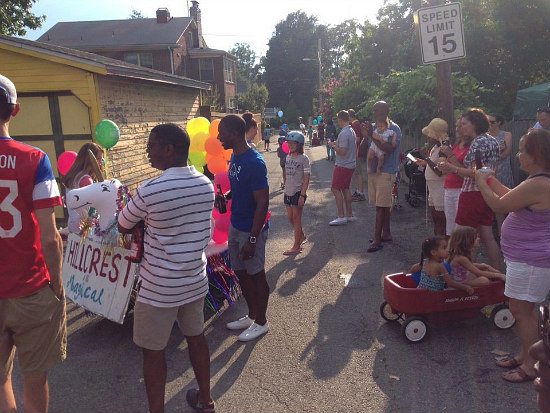 July 4th celebrations in Hillcrest.
Still, Hillcrest residents have to go elsewhere to get the same amenities you'd find in DC neighborhoods on the west side of the Anacostia River. There's no main street here with popular restaurants, watering holes, and boutique shops.
Some residents, however, like it that way. They stress that Hillcrest isn't as far removed from the rest of the city as it seems.
"I really don't consider it to be that far off," Andargeh said. "And if you think about it upper Wisconsin Avenue and other parts of northwest – they're more or less equidistant from downtown than Hillcrest."
Two big development projects have residents curious about the future of the neighborhood. Skyland Town Center, located at the intersection of Alabama Avenue SE, Naylor Road SE, and Good Hope Road SE, is a large project in the works that aims to provide the residential and mixed-retail similar to other parts of the city.
Then there's the Penn Branch Shopping Center, located at 3200 Pennsylvania Avenue SE. First opened in 1964, the strip mall's 89,000 square feet of retail space is expected to undergo a massive makeover that will bring with it apartments, new shops, office space, and a rebranded name: The Shoppes at Penn Hill.
"It's a very underdeveloped subdivision," Cortez Johnson notes. "It's prime real estate here. We're right on one of the main arteries of the southeast corridor. We shouldn't have such a hard fight."

300 Feet and 3 Miles
Geographically, Hillcrest (as its name suggests) sits on a hill. Early advertisements hoping to lure homebuyers to the neighborhood celebrated its location 300 feet above sea level and three miles from the Capitol.
But this height and distance, Johnson suggests, could be hindering chances for what some residents see as much-needed development.
"The challenge is the geographical makeup of the subdivisions," Johnson says. "It creates major development challenges."
The neighborhood is nestled on the edge of the city's southeastern border. According to the Hillcrest Community Citizens Association, the neighborhood is generally bounded by Pennsylvania Avenue SE, Southern Avenue SE, and Naylor Road SE. It consists of several smaller subdivisions, including Fairfax Village, Naylor Gardens, and West Over View.

Friends and Fire Pits
Majestic Tudor and colonial revivals. Craftsman bungalows. Cozy ramblers. Drive through the Hillcrest streets and you'll see a wide variety of eye-catching single-family homes that could stand shoulder-to-shoulder with those in upper Northwest neighborhoods.
"We're working on a new idea of trying to deem the neighborhood historic," Johnson told UrbanTurf. "Fairfax Village was built in the 1940s and was converted into condos in 1976. It's approaching that 100-year mark."
Then there are the neighbors. Hillcrest is noted for its warmth and friendliness, and for its civic-minded citizens who think of one another as not just neighbors but friends.
"When my wife and I moved here, the real great experience was just the neighborliness and how open and welcoming everyone is here," Andargeh said. "My neighbors host events at their house on quite a regular basis. A big community activity here is fire pits, and they can go into the early morning hours."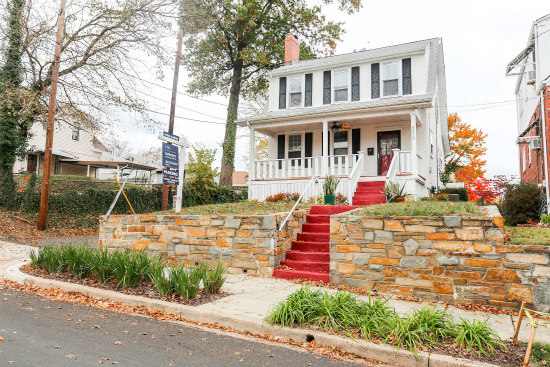 A home on the market on W Street SE.
Dollar Signs of Changing Times
For insight into the recent real estate climate in Hillcrest, consider a five-bedroom home on Westover Drive SE that recently sold for $925,000.
It's a price that wouldn't be unexpected in a neighborhood like Cleveland Park. Here it's a sign of changing times. It's also the highest price ever paid for a new house in a neighborhood east of the Anacostia River.
"I expect trends like that to get closer to the norm," said Darren D. Davis of Anacostia River Realty. "Who'd have thought you'd have half-a-million dollar houses in Hillcrest? That's pretty normal now." Home prices currently average around $650,000.
"Some of the houses, if they were in Petworth or Columbia Heights, would be more expensive still than what the prices are here," Davis told UrbanTurf. "If you're looking for a nice house that's less expensive than a neighborhood west of the river, Hillcrest would be a good place to start."
Three Things to Do
Stop by Francis Gregory Library. One of the city's most unique public libraries is located right in Hillcrest. Dating back to 1961, the building reopened in 2012 with a new design by David Frank Adjaye, designer of the National Museum of African American History and Culture.

Explore at Alger Park. Located in the relative center of the neighborhood, this sloping green space (complete with burbling stream) is great for leisurely hikes and outdoor adventures. "It beats traveling to Rock Creek Park," Andargeh says.

Take the Kids to Hillcrest Recreation Center. In addition to a great playground, the neighborhood rec center also has features like tennis courts, a putting green, a fitness center, a community garden, and a splash park.


Francis Gregory Library.

Come with Your Car

While future development and growth may lead to more investment in public transportation, it's easiest to get around Hillcrest by car. There are, however, a few mass transit options.

"Generally, my wife and I will drive in to downtown together," Andargeh says. "The bus is a half block from my house and it drops me off in front of my building." Johnson sings the praises of the V5 bus route, which goes directly to L'Enfant Plaza.

Several additional Metrobus routes run along Pennsylvania Avenue SE and Naylor Road SE. If you're looking to take the Metro, your best bet is the Naylor Road station, which serves the Green Line.


The Bottom Line

For some residents, like Andargeh and Lee, Hillcrest's remoteness from retail is a small price to pay for the comforts of single-family homes that are more affordable than many other areas in the city, as well as great neighbors who make it a point to show new arrivals they're part of a community.

For other residents, like Johnson, while Hillcrest is a wonderful place to live, development will be essential to its future.

"We're operating at somewhat of a desert in our area," he said. "The median income here is well over $50,000. The income's there – we've just been pushed back on the list for so long."

Zak M. Salih is a freelance writer based in Washington, D.C. His work has appeared in publications including Washington City Paper, the Richmond Times Dispatch, Baltimore City Paper, the Chicago Tribune, and the Christian Science Monitor.

Recent Neighborhood Profiles:
This article originally published at https://dc.urbanturf.com/articles/blog/hillcrest_the_secrets_getting_out/13036.
DC Real Estate Guides
Short guides to navigating the DC-area real estate market
We've collected all our helpful guides for buying, selling and renting in and around Washington, DC in one place. Start browsing below!
First-Timer Primers
Intro guides for first-time home buyers