We first published this article in January 2012, but thought our readers might appreciate a refresher on some of the most common architectural styles in the District.
Since we spend so much time highlighting properties across DC, UrbanTurf wanted to define a few of the most popular architectural styles found in the city's housing stock. Here is our amateur guide to the DC residential architectural world.
---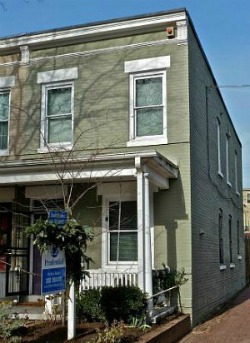 Federal-style row house in Capitol Hill
Federal
Flat and lacking ornamentation, these boxy properties started going up in the early 1800s, offering Washingtonians modest but comfortable homes close to the new capital city. Inspired by ancient Greek and Roman architecture (somewhat morbidly, the homes became popular after the unearthing of Pompeii), Federal-style row houses can be distinguished from their Victorian counterparts by low stoops and modest scale. The homes are usually two stories tall with two or three bedrooms.
---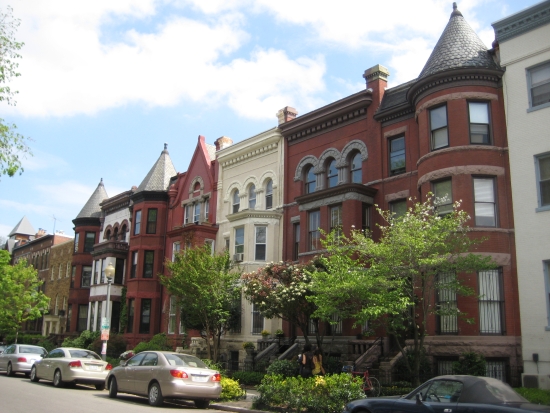 Classic Dupont Victorians
Victorian
Spot an imposing brick home with a turret in Columbia Heights or Dupont Circle? It's probably a Victorian. After Washingtonians amassed a bit of wealth, they started building homes in the ornamental Victorian style in the late 19th century. The homes pop out in all directions in comparison to Federal-style row houses; bay windows add dimension in the front, roofs peak and curvature can be spotted from time to time. Some of these homes come with carriage houses and have as many as five bedrooms.
---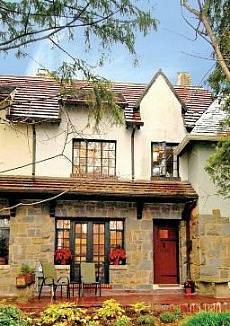 Mount Pleasant Tudor
Tudor
In the early 1900s, Tudor revival-style homes started popping up in DC. Walk around Mount Pleasant and you can find blocks of pointy roofed, European-looking homes with a vaguely "Hans Christian Andersen" feel; these are Tudors. They are often identifiable by decorative exposed dark wood that outlines windows and doors (which they call 'half-timbering'), asymmetrical facades, and a medieval playfulness (if that's possible).
---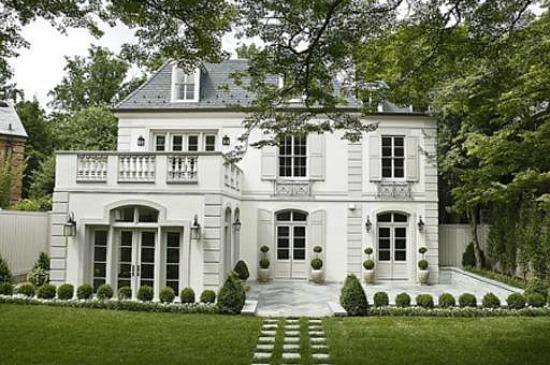 Beaux Arts home in Kalorama
Beaux Arts
At the same time that Tudors emerged, Beaux Arts architecture was becoming popular again in the U.S. Many of the more tony houses built between 1890 and the 1920's in DC are in this style, and have a jazzy, flapper-esque, Gilded-age feel. As the French name indicates, this style was popular with architects who studied in France, and the homes are ornate, with marble, granite, carved wood and intricate ironwork showing up and ornaments clustered around windows and doors. Many grand homes in Kalorama were designed in the Beaux Arts style.
---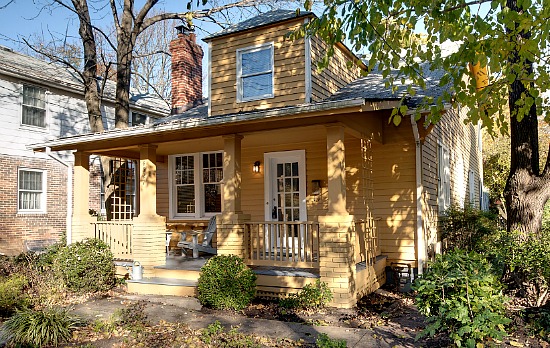 Bungalow in AU Park
Bungalow
Identifiable by their low-pitched roofs with significant overhang, bungalows started appearing in the 20th century. Bungalows get their name from the cottages found in the Indian state of Bengal (bungalow is British-speak for "house full of Bengalis"). Usually one or one and a half stories tall, with verandas all around under the shade of a hanging roof, bungalows are a popular property type in Takoma Park, Del Ray and some NW DC neighborhoods. While row houses and Victorians are skinny and tall, bungalows are low and rambling, with most of the living happening on the ground floor.
---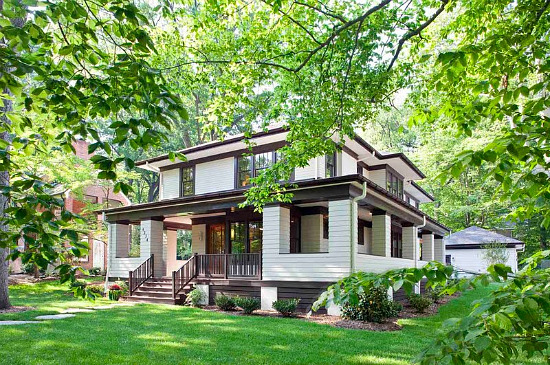 Arts and Crafts home in Kensington
Craftsman/Arts and Crafts
Sometimes overlapping with bungalows, Arts and Crafts is used to identify a simple design aesthetic that became popular in the early 20th century. Also called Craftsman, this style permeated down to furniture and is identifiable by facades and interiors that look less ornamented than previous styles. Materials are highlighted, design is secondary. The homes are often full of built-in cabinetry and shelving. As the name indicates, Arts and Crafts homes were part of a movement that sought to elevate the craftsman and downplay machinery.
---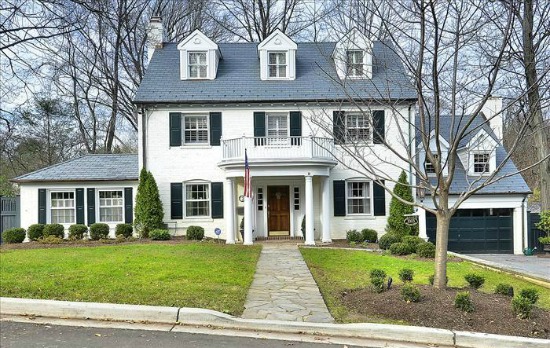 Chevy Chase colonial
Colonial
A common suburban style, these colonial homes can be found all throughout Bethesda, Alexandria, and other DC suburbs. A typical colonial has a symmetrical facade, with a front door in the center and windows with decorative shutters on either side and above. Our modern colonials are inspired by the homes of early American settlers. On the interior, colonials strive for an economical use of space, with sensibly divided floors and not too many nooks. These houses also emerged in the early 20th century, and were thought to be statelier than bungalows or cottages.
---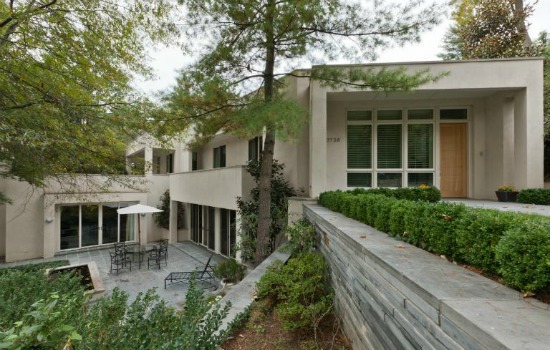 Contemporary home in NW DC
Contemporary
Most contemporary architecture is window-filled, clean-lined and open. As Craftsman homes highlighted the materials, contemporary designs often highlight the purpose, in a form-follows-function kind of way. Ornamentation is limited. Many contemporary designs lean heavily on crisp lines and angles inside and out, sometimes appearing cold. UrbanTurf often finds contemporary listings tucked away near Rock Creek Park.
This article originally published at https://dc.urbanturf.com/articles/blog/dcs_housing_stock_some_common_architectural_styles/4979.
DC Real Estate Guides
Short guides to navigating the DC-area real estate market
We've collected all our helpful guides for buying, selling and renting in and around Washington, DC in one place. Start browsing below!
First-Timer Primers
Intro guides for first-time home buyers