Please see our 2017 updated profile on Brookland here: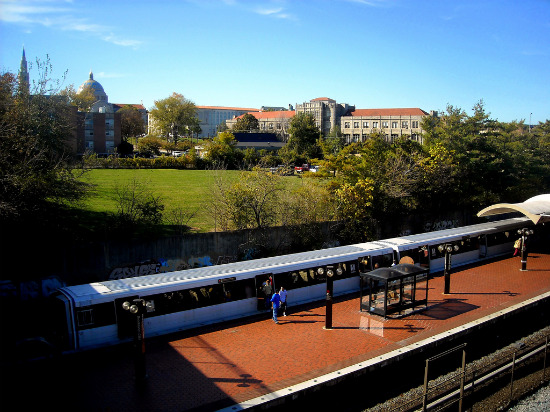 Brookland Metro at Catholic University. Photo by Josh Howell.
It's been dubbed "Little Rome," but don't confuse Brookland with the buzzing Little Italies in urban destinations like Manhattan.
The Italian moniker actually stems from the neighborhood's some 60 Catholic institutions, like the looming gilt-and-blue dome of the Basilica of the Immaculate Conception, the massive Catholic University (CUA) campus and the sprawling Franciscan Monastery.
Further distancing itself from the Little Italy of downtown New York is Brookland's vibe, which is that of a small Midwest town, with its wide, leafy residential streets, expansive front yards and minimal commercial presence.
"It's like being in the country here with all the land, grass and trees," says Rosie Guerreiro, who owns Loulé, a hair salon in Dupont Circle. "I can breathe when I come home from work."
That small town appeal, however, is one that may soon change.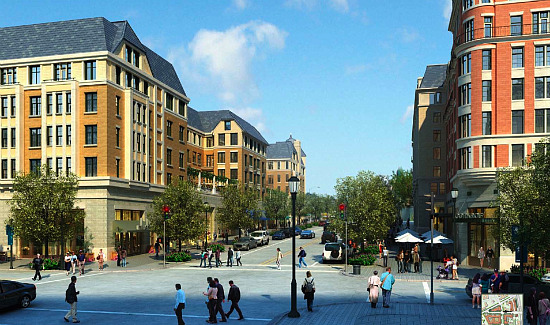 Rendering of Abdo's Arts Walk
Growth and Growing Pains
If you have been following the DC development scene even casually over the last year, you are likely well aware that there are some big plans in store for Brookland.
Three mixed-use developments will be built in and around a neighborhood where many residents have opted for cheaper housing and a quiet suburban lifestyle over urban bustle and amenities like shops and restaurants.
Über-developer Jim Abdo starts construction next year on Arts Walk, which will straddle Monroe Street on Catholic University's south campus, and have over 83,000 square feet of retail and could conceivably bring 825 condos and townhouses to the area. Ground has already been broken for the Artspace Lofts, a four-story, 57,000 square-foot arts campus to be built on 8th Street SE that will provide 41 live/work units for artists, along with galleries and a dance studio. Meanwhile, EYA has already started selling homes at Chancellor's Row, a town home community of 237 luxury units on 10 acres surrounding the Saint Paul's College campus.
Tyler Nelson, who runs the Brookland Avenue blog, is torn about all the change.
"It will bring a lot of new folks, which is good, as well as things we don't have right now," he says. "But with a small place like Brookland, it's really going to change the dynamics, and people are worried about traffic, noise and trash."
Location and History
For the purposes of this profile, we've put Brookland's boundaries at 8th Street to the west, Franklin Street and Rhode Island Avenue to the south, South Dakota Avenue to the east and Michigan Avenue to the north.
The neighborhood was named for Colonel Jehiel Brooks, who farmed the land in the mid-19th century and built the still-standing Greek Revival mansion on his Bellair estate.
The Roman Catholic Church bought up huge swaths of land in the late 1800s, bringing a wave of white Catholics and defining the local culture with the Catholic University and other academic spheres. The 42 acres of farmland surrounding the Mount St. Sepulchre Franciscan Monastery – which still cultivates flowers and honey – give the neighborhood its rural flavor. Their spectacular gardens, complete with catacombs and a grotto, are one of the city's unheralded treasures.
Educators, Artists, Writers Make Way For Newcomers
A "white flight" of Irish Catholics following World War II initially created a predominately African-American population, but Brookland became more racially and economically integrated during the latter half of the 20th century. Notable residents have included Marjorie Rawlings who wrote The Yearling and nobel laureate Ralph Bunche, as well as several prominent civil rights activists.
The new developments are likely to bring a good deal of newcomers, but Nelson says he already sees more recovering suburbanites moving to Brookland. Toby Millman, who heads up the Arts Walk development for Abdo, agrees.
"Young professionals have discovered it and the housing stock is similar to that of Cleveland Park. You're close in to the city, right on the Metro and have a number of cultural amenities."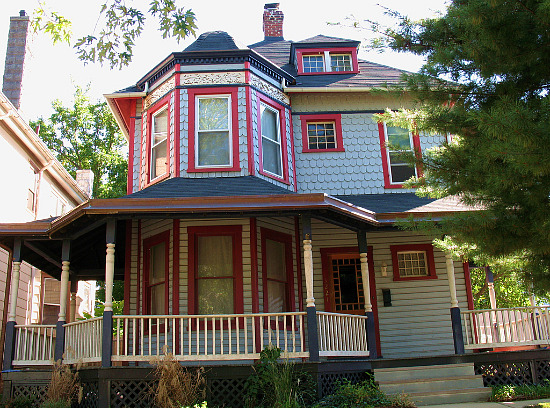 Marjorie Rawlings' former home
Housing — Deals of the City
The majority of the dwellings are single-family homes, styles ranging widely from stunningly rehabbed Victorians and Arts and Crafts bungalows to more mainstream Colonials, Tudors and Federals and modest row houses.
The one thing they all have in common is affordability. According to Long and Foster's Andi Fleming, the average price of a three-bedroom attached unrenovated home is $275,000 to $300,000 (renovated $375-400,000); four-bedroom attached homes run between $300,000 to $325,000 (renovated $400-425,000); three-bedroom detached homes $350,000 to $375,000 (renovated $400-425,000); and four-bedroom detached homes $400,000 to $425,000 (renovated $500-525,000).
Such low prices for such big spaces have reeled in people like Guerreiro, who says she wasn't even considering buying a house – especially here. But in 2001, she lost her Silver Spring apartment and went in search of a cheap rental. She changed her mind when a realtor showed her a four-bedroom house in Brookland with a big back yard, all within her purchasing means.
"I'd never pick anywhere else," Guerreiro says today.
Nelson was also seduced after seeing a large Victorian here in 2002. "I was kind of hesitant after living in Georgetown, and it took awhile to get used to the pace of the neighborhood," he says, noting that today he is happy just sitting in his backyard and hanging out with neighbors.
New Housing on the Way
In terms of condos, Brookland has just a handful of garden-style buildings converted from apartments, but that is about to change.
Most of the new condos going up are more upscale than existing options, many in the half-million-dollar range, but developers are keeping some affordable. The Art Space Lofts will provide 41 units for struggling artists (households earning less than 60 percent of the area's median). Abdo's Arts Walk will designate eight percent of its housing units as affordable. Millman says the plans include 45 townhouses, but the precise unit mix, sizes and pricing won't be determined until closer to next year's start on construction, which is expected to take five to seven years.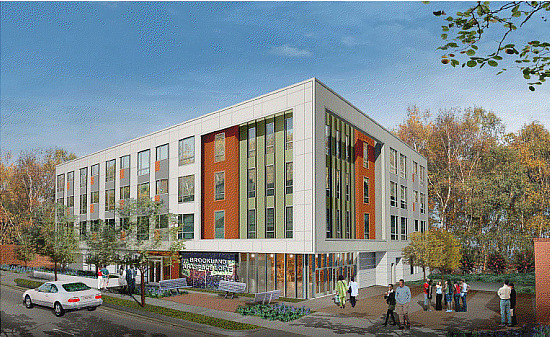 Rendering of Artspace Lofts in Brookland.
Home prices at Chancellor's Row at 7th and Franklin Streets NE, currently range from $471,900 to $589,900. EYA's Jennifer Hebert says all the new housing fills a serious gap in the market.
"Existing homes in the neighborhood are quaint, attractive and historic, but may require a significant amount of upkeep. Urban residents seeking low-maintenance lifestyles have little to no new home options in the area."
EYA has also been selected to design a plan for 25 acres around the nearby McMillan Reservoir that will include office and retail space, a large park, a boutique hotel and some 800 residential units.
Rentals Aplenty
Fleming says the universities and hospitals have made Brookland particularly renter-friendly. Most rentals are full houses or English basements, with just a handful of small apartment buildings. Houses rent for about $700 per bedroom, so a three bedroom house in good condition would run about $2,100 a month. A one-bedroom apartment costs up to $1,100 a month, according to Fleming.
Child Friendly?
Higher education is the draw here, led by the Catholic and Trinity universities, but for kids the options are just so-so. Neighborhood parents protested that they suffered disproportionately when the city shut down a number of public schools recently, but the area still has Bunker Hill Elementary School and Luke C. Moore High School. The neighborhood also has a number of charter school options, including Elsie Whitlow Stokes Community Freedom elementary, Hope Community middle school and William E. Doer high school. Millman says that the new development on the horizon has sparked talk that the schools will continue to improve.
In addition to the monastery's lush oasis, there are other outdoor options including the Taft Recreation Center, Bunker Hill Fort Park and Turkey Thicket Playground. Just south of Rhode Island Avenue, Langdon Park has sports fields and an outdoor swimming pool.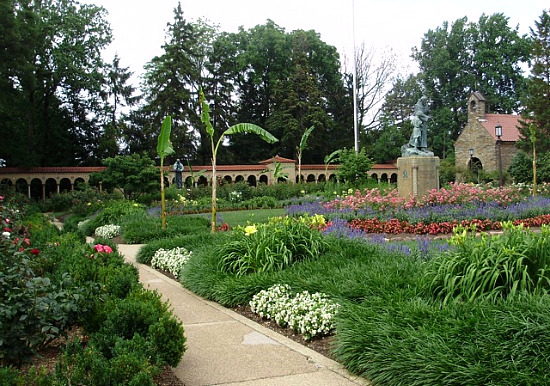 Gardens at the Franciscan Monastery
Transportation – Getting More Walkable-Bikable Everyday
The Brookland-CUA Red Line Metro is at Monroe and 9th Street near Michigan Avenue and ten bus lines serve the area: 80, G8, H1, H2, H3, H6, H8, H9 and R4. WalkScore gives the area a grade of 77 out of 100 for hoofing it, which suggests that some amenities are within walking distance but living here without a car could be a challenge.
The new developments should improve walkability; Abdo plans to make its development pedestrian-friendly with small retail like cafes and bike shops on the site. The new Metropolitan Branch bike path running through Brookland is an eight-mile trail that goes from Union Station to Silver Spring. Thoroughfares like Michigan and Rhode Island Avenues make for smooth shots to downtown. Rosie Guerreiro says it takes her just 15 minutes to drive to Dupont Circle.
Safe in Most Areas
Brookland sees its share of crime, and the sensational murder of three Colonel Brooks Tavern workers in 2003 still haunts some residents. Others say they generally feel safe in the residential areas.
"I'll water my flowers at 11:00 at night," says Guerriero, who believes that the crime is worse around the Metro. Indeed, the DC Metropolitan Police Department's crime map shows most muggings do occur around the Brookland-CUA station, as well as near the 12th Street commercial strip. Overall, total crime has fallen two percent over the past year, and violent crime specifically dropped nine percent. Property crime remained steady with 339 incidents. Catholic University students have complained about attacks, but a recent WUSA report shows the campus is safer than other area colleges and universities.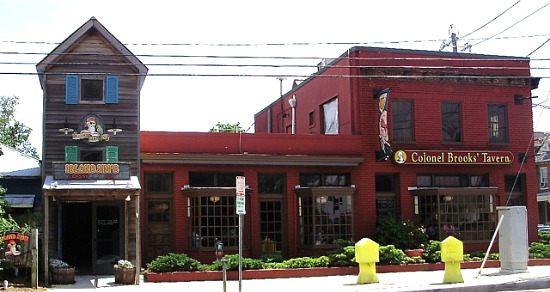 Colonel Brooks Tavern
Thin But Growing Retail
All the academic activity around Brookland hasn't spawned the rowdy pub life and Gap-style retail that campuses like Georgetown conjure. Long-time favorite Colonel Brooks Tavern, the new Cafe Sureia and the Tex-Mex San Antonio Bar and Grill are about it for serious eats in the area, which offers mostly take-out joints and a couple of greasy spoons. The two-block business district on 12th Street has a couple of art galleries, a dry cleaners, a corner grocery, a hardware store and several hair and nail outfits. Yes! Organic Grocery added some much-needed polish to the area with its goods as well as its beautifully refurbished Art Deco exterior. Yes! and the Tuesday farmer's market at 10th and Otis Streets NE have to be supplemented with trips to the newly revamped Giant in neighboring Brentwood. However, all the new housing raises hopes for more shopping opportunities.
Hopes for some, that is. Like Nelson and many other residents, Guerreiro worries that Brookland may no longer be a low-key refuge. "I get enough city when I go downtown for work," she says.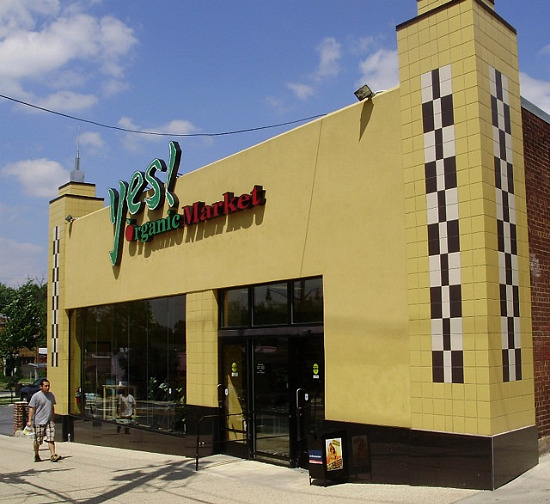 Yes! Organic Market
Diverse Attractions
While shopping, eating and nightlife options are few, there's still plenty to do. The Pope John Paul II Cultural Center is not just eye-candy for contemporary architecture lovers; inside lie fascinating interactive displays of intersection cultures and faiths. The monastery offers more than floral-filled strolls; a garden guild gives locals land to cultivate for all manner of enterprises, like beer brewer Nathan Zeender, who grows his hops there. The Dance Place, which is collaborating with the Artspace development, has been the go-to venue for some of the city's best dance performances since 1986. Catholic University also hosts the Hartke Theatre and the Salve Regina Gallery in the Basilica exhibits works by Catholic students and faculty as well as outside artists. Tyler Nelson also loves all the random discoveries he comes across on his rambles, like a priest's old crypt near a parking lot or the home of the neighborhood's first interracial couple that was pointed out to him by a cab driver.
The Bottom Line
The optimism and potential of Brookland can be seen in the intense competition to develop in the area. Millman says Abdo contended with some 40 other firms for the Arts Walk site. Buyers are flocking to the area: Eleven of the Chancellor's Row units have sold since they went on the market in May, according to Jennifer Hebert. She says real estate in Brookland outperforms other DC neighborhoods, with the number of days homes stay on market decreasing from 90 days last year to only 47 this year. Meanwhile, housing prices have remained relatively steady — within four percent year-over-year — versus an eight percent year-over-year decline in the District overall.
However, the impending growth will certainly change Brookland to a neighborhood that may no longer have the Midwest vibe that has drawn buyers for years. It will be interesting to re-examine the area in five years when much of the new development is complete.
Gretchen Cook is a Washington, DC-based journalist whose work has appeared in The New York Times, The Washington Post and Washingtonian Magazine.
More Stuff about Brookland
This article originally published at https://dc.urbanturf.com/articles/blog/brookland_new_development_could_shake_up_pastoral_peace/2251.
DC Real Estate Guides
Short guides to navigating the DC-area real estate market
We've collected all our helpful guides for buying, selling and renting in and around Washington, DC in one place. Start browsing below!
First-Timer Primers
Intro guides for first-time home buyers