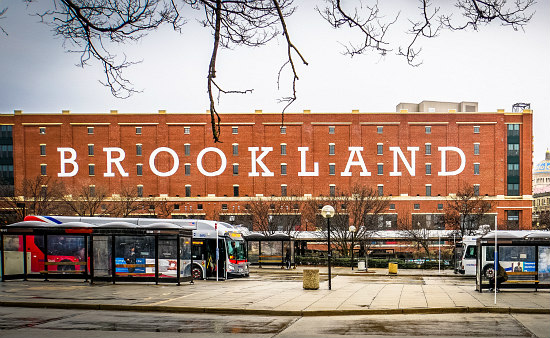 Brookland.
Photo by Ted Eytan
.
UrbanTurf has profiled more than 50 neighborhoods in the DC area. We are now revisiting each of those neighborhoods to update our profiles and see how they've changed over the years.
---
For over fifty years, the tower-and-dome façade of the Basilica of the National Shrine of the Immaculate Conception, the largest Roman Catholic church in North America, has been the defining icon of DC's Brookland neighborhood. While that remains the case, a new symbol is stealing the show: giant white letters painted on the eastern face of the Brookland Works building, stretching almost two floors high, that spell out the neighborhood's name for all to see. Bold and larger-than-life, the BROOKLAND sign is representative of the many changes this neighborhood has undergone in recent years, fed by growing development prospects and a blend of artistic flair, Catholic history, academic life, and strong community bonds. "It's clear the neighborhood is changing rapidly," said longtime resident Shani Hernandez-Jöhnk. A federal employee and local artist, Hernandez-Jöhnk also spearheads The Brookland Bridge, a local blog which keeps residents connected to community information, local events, and, of course, development news. She moved to the neighborhood in October 2009 with her wife, Astrid, at a time when Brookland's streets of bungalows, rowhomes, and detached single-family houses were more affordable than they are today. The couple purchased a 1,400-square-foot rowhome for $399,990. "We fell in love with the small-town feel of 12th Street," she told UrbanTurf. But in the near decade since the pair arrived to Brookland, there have been vast changes. Chief among those is Monroe Street Market: a multi-block development project that, while technically located in the Edgewood neighborhood, is commonly connected to Brookland due to its proximity to the Brookland-CUA Metro station. The development is home to new rental units, ground-floor retail, the Arts Walk (a short promenade of storefronts featuring local artists), the Catholic University of America's college bookstore, and the aforementioned giant white letters.
A street in Brookland.
Photo by Ted Eytan
.
Adding to the neighborhood's growing culture scene are institutions and developments for Brookland and Edgewood's community of artists, including the Brookland Artspace Lofts (which provide affordable living and studio spaces), the renovated and expanded Dance Place (which offers classes and performance space for the fleet-of-foot), and Alice's Jazz and Cultural Society, a non-profit jazz club that hosts local bands and musicians. "Most of the development in the neighborhood has been a welcome change," notes Jeremy Vera, an operations manager at a DC school who first moved to Brookland almost a decade ago as a renter. He now lives in a semi-detached, three-bedroom rowhome with his partner, Brian Stecker. "When we moved here, some of the city amenities, like dining and shopping options, were lacking," Vera said. "Now we have plenty of eating options and, with the Arts Walk studios and shops, a big increase in unique, local shopping as well." Now that Brookland has a well-known reputation not just as a college or Catholic neighborhood but as a distinct community in its own right, residents find themselves looking forward to change while worrying it may overwhelm the area's charm. "I welcome change, but when you see thirty apartments go up where there used to be an empty lot, you have to wonder how and if so many new neighbors will integrate into the established community," Hernandez-Jöhnk said.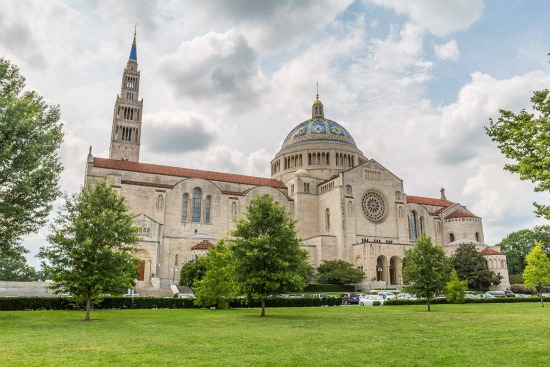 Basilica of the National Shrine of the Immaculate Conception

From Colonel Brooks to Pope Francis
Brookland is bounded on the south by Rhode Island Avenue, on the east by the diagonal slant of South Dakota Avenue, and to the north by Michigan Avenue. Brookland's western border runs along the Metro tracks and the Metropolitan Branch Trail.
Depending on whom you speak to, however, these borders are somewhat porous. Because Catholic University is so integral to the Brookland neighborhood, many students (and residents) consider the campus to be a part of the neighborhood, as well as the adjoining University Heights area.
It's a similar situation with Monroe Street Market and the Arts Walk. While zoned in Edgewood, the strip of art spaces – which also includes Brookland Pint, a Filter coffee and bike shop, and loft-style apartments for artists – draws numerous crowds from Brookland and has been central to the neighborhood's revitalization. Brookland began its modern iteration in the late 1880s, when 246 acres of land owned by Colonel Jehiel Brooks were sold and divided into a residential development that soon blossomed into tracts of middle-class homes. The neighborhood is home not only to The Catholic University of America (founded in 1887 by U.S. Catholic bishops) but the east campus of Howard University's Divinity School and the Franciscan Monastery of the Holy Land in America. Tucked away among the neighborhood streets are other convents and monasteries, including the Monastery of the Holy Cross and the Poor Clares of Perpetual Adoration. The neighborhood, rich with Catholic-inspired architecture and public spaces, was the site of a 2015 visit by Pope Francis.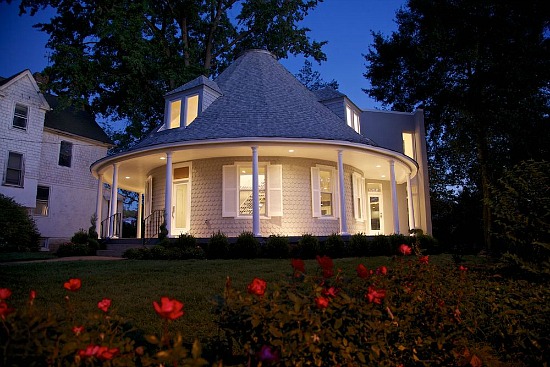 Brookland's
Round House
.
Welcome (and Unwelcome) Developments
In 2016, the median home price in Brookland was $526,000, a major increase from the comparatively low prices that residents like Vera and Hernandez-Jöhnk paid when they moved in years earlier. The neighborhood housing stock is primarily detached homes, but there are a number of new developments delivering condos as well. Befitting an area with college students and young professionals, there are several rental options that make Brookland a little easier on the wallet for those who can't afford pricier Northwest enclaves. For those looking to rent in the Monroe Street Market buildings, studios start at $1,500/month and one-bedrooms at $1,700/month. A major force shaping the real estate market here, according to 16-year Brookland resident Jake Abbott of Abbott Klar Real Estate Group, is the glut of new development projects in progress or on the horizon, many along 12th Street. Considered Brookland's "main street," 12th Street has become the site of new bars and restaurants over the past several years, including Brookland's Finest, Smith Public Trust, Steel Plate, and Askale Café, as well as an authentic Italian deli and market, Salumeria 2703. Additional development plans for 12th Street in the coming months and years include the proposed redevelopment of existing retail space between Monroe and Newton Streets, to include multi-story living spaces and ground-floor retail; and two 4-bedroom shipping container apartments at 1201 Franklin Street, on the site of a vacant medical building.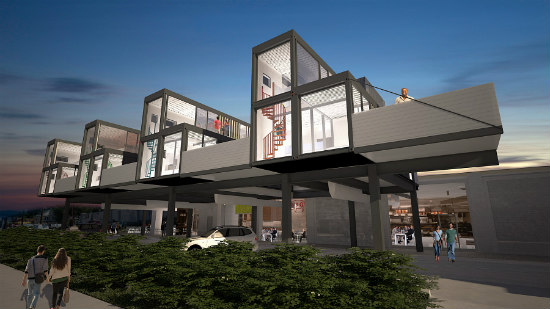 Renderings of the
shipping container condos
. Click to enlarge.
Not all the development is welcome, however. One example: the four-floor parking garage currently undergoing construction at 818 Michigan Avenue adjacent to the Brookland-CUA Metro station. Some residents are disappointed that the site isn't home to more housing and retail units. There's also concern that the parking garage – built primarily for use by commuters to Children's National Hospital – will add more traffic to a neighborhood that might not be equipped to handle it. "Major transportation arteries serving the community are already congested during rush hours," said Hernandez-Jöhnk. "I worry what the situation will be like in ten years or so. With all the large-scale developments on the horizon in and around Brookland, I don't feel like there's an overall plan for traffic and other issues that come with this kind of density." Then there's the still-empty lot at 901 Monroe Street, caught in development limbo for years and once home to a beloved neighborhood restaurant and bar, Colonel Brooks Tavern. Some of the residents who live within 200 feet of the development (known as "the 200-footers") continue to fight with developers in court over zoning and height restriction issues. As of May 2016, the project for apartment and retail space was rejected by the D.C. Court of Appeals.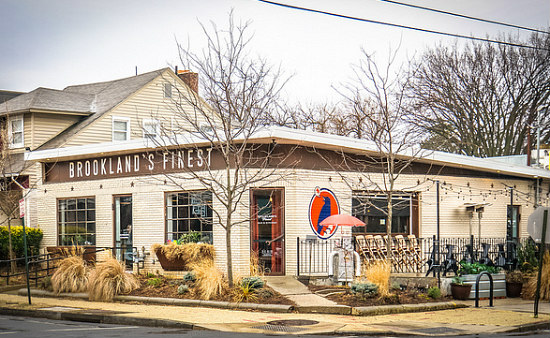 Brookland's Finest.
Five Things to Do
The Arts Walk -- Home to small shops and studios run by artists working in materials ranging from paint and clay to leather and old book covers, the Arts Walk is a nice place to stroll and shop for one-of-a-kind gifts, and to catch artists at work.
12th Street Dining -- Brookland's central hub is home to both hallowed institutions like Murray and Paul's (for diner-style breakfasts) and San Antonio Bar and Grill (for comforting Mexican), as well as newer spots like Menomale (for authentic Neapolitan pizza) and The Bakers' Lounge (for sweet treats).
Brookland Home and Garden Tour -- Sponsored by the Greater Brookland Garden Club, this annual summer event is a chance for residents and visitors to explore some of the neighborhood's architecturally unique houses, interiors, and garden spaces.
Right Proper Brewery -- Those Right Proper brews you enjoy around the city? They start here, at their tasting room and production house that opened in late 2015. Come for the beers and brewery tours; stay for the fascinating murals depicting all-out war between animals and their human overlords.
Franciscan Monastery and Gardens -- The quiet, reflective gardens and grounds of the Franciscan Monastery, which also include replicas of Holy Land shrines and catacombs, provide a nice quiet getaway.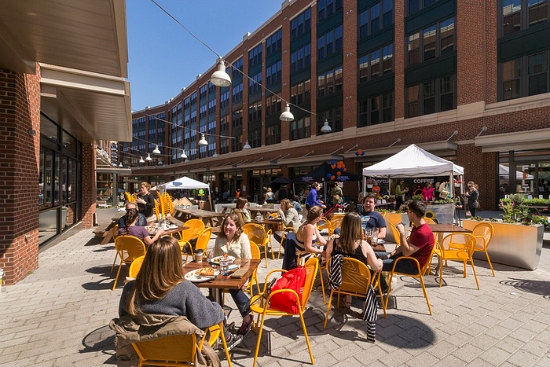 Monroe Street Market
Metro or Met Branch
Brookland is served by the Brookland-CUA Metro station, which also acts as a hub for several bus routes that carry commuters and residents throughout the city. Routes include the H1, H2, H8, G8, and 80. Another popular mode of transportation on nice days is the Metropolitan Branch Trail, a stretch of which runs along the western border of the neighborhood and takes Brookland bikers, joggers, and walkers all the way down to Union Station. There's already talk of expanding the trail northward, up to Fort Totten and, eventually, connecting to downtown Silver Spring.
The Bottom Line
Monroe Street Market on a typical Saturday provides a good picture of current-day Brookland. You'll see college students brunching beside families with children. You'll see local musicians at play while young professionals and older residents watch. You'll see local artists selling their latest projects, and bicyclists enjoying a tune up and a coffee at Filter before hitting the Metropolitan Branch Trail. The picture painted is a very comfortable one of old Brookland mixing with the new. The hope is that this picture doesn't change much as the neighborhood grows in the coming years.
---
Zak M. Salih is a freelance writer based in Washington, D.C. His work has appeared in publications including Washington City Paper, the Richmond Times Dispatch, Baltimore City Paper, the Chicago Tribune, and the Christian Science Monitor. Recent Neighborhood Profiles:
This article originally published at https://dc.urbanturf.com/articles/blog/brookland_where_change_and_charm_collide/12230.
DC Real Estate Guides
Short guides to navigating the DC-area real estate market
We've collected all our helpful guides for buying, selling and renting in and around Washington, DC in one place. Visit guides.urbanturf.com or start browsing below!
First-Timer Primers
Intro guides for first-time home buyers