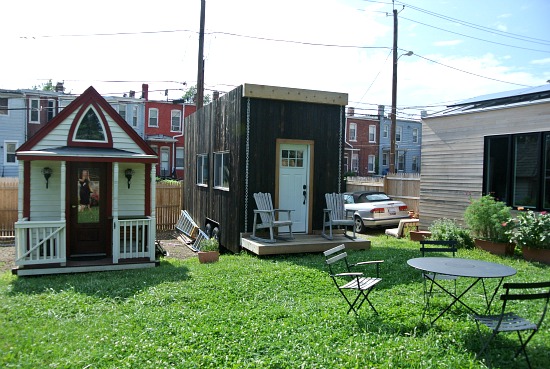 Boneyard Studios
There's a tiny drama playing out in Stronghold.
Brian Levy, the owner of the alley lot at 21 Evarts Street NE (map) where three tiny homes built on trailers now sit, is staying put on his lot. But Lee Pera and Jay Austin, each of whom own a tiny home currently parked on the site, say they're moving on.
" …The Pera House and the Matchbox … are hitching up and traveling to lands unknown (somewhere in DC; we're just not yet sure where) to repurpose another unused urban space, and to make it available for everyone to enjoy," Austin wrote on Boneyard Studios' blog this week. Austin, who owns the Matchbox, said Boneyard was "expanding" in the letter, which Levy did not sign.
The tiny homes, which are built on trailers to dodge minimum square footage requirements, have recently been targeted by the Office of Planning. A recommendation submitted to the Zoning Commission as part of an overarching zoning rewrite proposed limits on camping in alleys that would more explicitly control and potentially limit such development.
The recommendation relates to concerns about "health, safety and public hygiene," according to Jennifer Steingasser, Planning's deputy director of development review and historic preservation.
"Let's be clear: They're not homes. They're trailers," Steingasser told UrbanTurf. "Having people living in them could be an issue because they're not hooked up to city sewer and water."
When asked why that was a problem, she was direct.
"Well, where's the sewage going?" Steingasser asked.
She said the "public was concerned" about the homes, though she acknowledged the tiny structures of Stronghold weren't brought up as an issue during the extensive public review process that preceded the rewrite. She said that the camping in alleys provision was prompted by a Zoning Commission request, adding that the Commission wouldn't be available for comment on why they asked Planning to look into the tiny homes in the first place.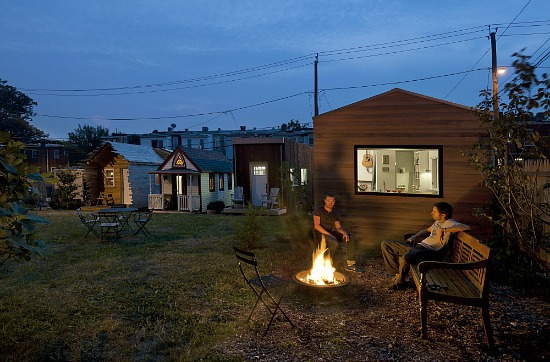 The tiny houses of Stronghold at night. Courtesy of Boneyard Studios.
For his part, Levy, whose Minim House has received design awards for its sustainability and architecture, said he does not need city hookups to sewer and water.
"When I am out on the lot working during the day in the Minim House, I use an electric incinerator toilet (Incinolet)," Levy told UrbanTurf in an email. "It is a waterless and wasteless system that completely burns all the waste, and with the high heat the system is likely more sanitary than the commode Ms. Steingasser uses at home. All that is left after a cycle is sterile ash."
His water, he said, is filtered rainwater.
But though Pera has used the same systems, she said the lack of water and sewer on the alley lot is a problem — and one of the reasons she and Austin are moving on.
"Jay and I are leaving the 21 Evarts Street lot and will be moving on to create more community space with Boneyard Studios in another part of the city," she told UrbanTurf in an email. "We have a few options we are exploring for locations, but one of the reasons we are moving on is that we are not comfortable with the agreement Brian made with the city and with his decision to not put in water and sewer on the lot (something we were originally going to do) — making it very difficult to spend considerable time out there without bathroom facilities."
Levy indicated he would continue to fight the proposed zoning changes.
"I just turned in 47 letters from folks in almost every Ward protesting the (Camping in Alleys proposal)," he said.
This article originally published at https://dc.urbanturf.com/articles/blog/two_boneyard_studios_tiny_homes_are_leaving_stronghold_for_greener_pastures/8908.
DC Real Estate Guides
Short guides to navigating the DC-area real estate market
We've collected all our helpful guides for buying, selling and renting in and around Washington, DC in one place. Visit guides.urbanturf.com or start browsing below!
First-Timer Primers
Intro guides for first-time home buyers