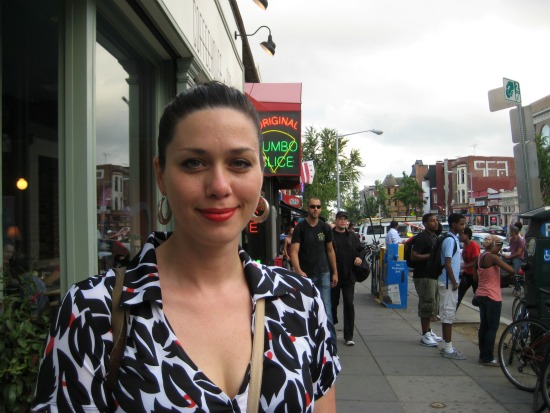 Adams Morgan resident Amanda Balderston will remain a renter.
In 2005, the country's real estate market was red hot. Homes appeared to be continually increasing in value, loans fell from trees, and young adults were diving into the homeownership world, expecting their investment to appreciate handsomely.
Six years later, the concept of homeownership as an investment with a guaranteed return has turned out to be a myth for many in the U.S. Around the country, average sale prices are stagnant or still falling, and millions of homeowners are stuck holding titles to houses worth less than they paid. Further exacerbating a tough scenario, financing has become distinctly tighter for many prospective buyers; before issuing a mortgage, some lenders are now asking for down payments of at least 20 percent, which is in contrast to the low down payment requirements buyers had grown accustomed to in the last decade.
Thanks to the federal government and a robust local economy, the DC area's housing market is doing relatively well. Numbers put out by RealEstate Business Intelligence in June showed that median home sale prices had reached their highest level in almost three years, and in May, June and July, pending sales (homes that went under contract) reached six-year highs.
So, with good news at home, bad news just about everywhere else, and potentially bigger hurdles to getting a mortgage, how are DC's would-be buyers viewing homeownership these days?
In Dupont Circle, Adams Morgan, Columbia Heights, and Bloomingdale, UrbanTurf spoke with professionals in their 20s and 30s to determine whether their attitudes towards owning a home have changed over the last 12 to 18 months. Those that we spoke to revealed that there is some genuine caution out there, but by and large, many still see buying a home as a solid investment and a leap that's worth taking—at some point in the future, if not now.
Gordon Fournier, who was about to have dinner with friends at 11th Street's Wonderland Ballroom recently, summed up the general sentiment.
"Based on the climate now, it's not as certain as it once was, but I think it's still better than renting," said Fournier, who is 27 and works in publishing. He added, though, that home prices—in his Columbia Heights neighborhood, at least—seem dauntingly high, and he's not sure he's ready to be completely tied down.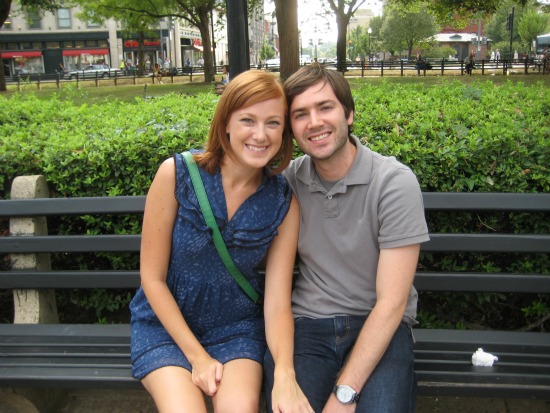 Betsy and Nick Warner recently closed on their first home.
Fournier's feelings echo the observations of Suzanne Des Marais, a real estate agent with Urban Pace and president of the Washington DC Association of Realtors, who frequently works with young prospective homeowners.
"I think people are being more conservative," she told UrbanTurf. "I think purchasing is a much more calculated and planned process than it has been in recent years." Still, many of her clients are remarkably well-educated on housing stats and savvy enough to separate the local market from the national one. "I think first-time buyers are aware that this is a particularly unusual market. They have the sense that there's healthy activity here."
Des Marais added that getting financing, which is proving to be more and more difficult in a national environment where credit can be particularly tight, isn't a huge problem in the area. The popularity of FHA loans and products like BB&T's no-down payment Community Homeownership Incentive Program loan means that most first-time homebuyers wind up putting down less than 20 percent.
But that's not enough for some. Amanda Balderston, a 34-year old government employee who lives in Adams Morgan, has no interest in buying a home.
"The boom's already passed," Balderston said, adding that even if she wanted to buy, she's pretty sure she couldn't afford a home in an area as dynamic as her current neighborhood of Adams Morgan. "I know people who have bought and they're paying double what they paid in rent."
But while the monthly costs associated with homeownership exceed renting a comparable property in most DC-area neighborhoods, that gap is shrinking. Due to a drop in the production of new apartment units over the past two years and thus a tighter supply, rental costs have actually been increasing in the area. According to a second quarter report from local research firm Delta Associates, rents in the DC area have risen 6.3 percent for Class A and B apartments over the past twelve months, while vacancy rates sit at 3.1 percent. Some residents say they've considered home ownership specifically in response to rising rents. Betsy and Nick Warner, both 26, closed on a home in Takoma Park this month.
"We were tired of paying upwards of $1,600 [in rent], and we thought it'd be better to put that towards a mortgage," Betsy Warner said. With Betsy working as a first grade teacher and Nick as an engineer with the Food and Drug Administration, they knew they'd be sticking around for at least a few years—long enough, hopefully, that the home will turn out to be a decent investment.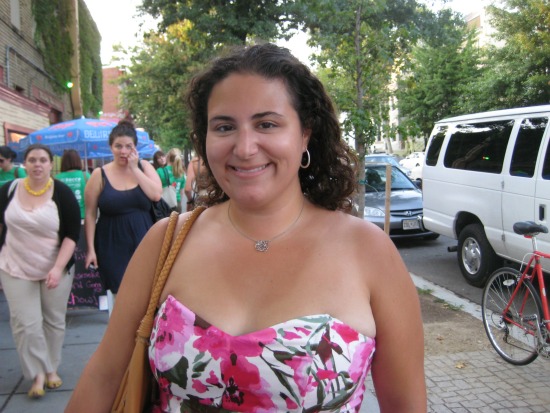 Genevieve Billia wants to eventually buy a home.
Craig Strent, CEO of Apex Home Loans in Bethesda, said that's the mentality he's been seeing in clients over the past few years.
"I don't think the idea that it's a great investment is there like it used to be. People were falling all over each other in '05, '06, to buy a house, and that's not the case anymore," he explained. "Now with increasing rents, people are thinking, 'I've got to live somewhere; if I can own at the same cost of renting, why not? And maybe there'll be some long-term upside.'"
But while prudence may rule the day, the "it's only going to get better" mentality of DC's boom years isn't totally gone. More than one renter described DC as an area of huge promise—one that they hope to eventually capitalize on. Like many her age, Genevieve Billia, 29, who works for the U.S. Mint and lives in Bloomingdale, has not reached the home-buying point yet, but it remains an ambition. "I don't want to put down roots quite yet," she said. "But if I was ready to buy, I'd be nervous, but I'd do it."
Amanda Abrams is a Washington, DC-based journalist who has written feature stories for The Washington Post, Christian Science Monitor, and Washington City Paper.
This article originally published at https://dc.urbanturf.com/articles/blog/the_psyche_of_dcs_young_homebuyers/4034.
DC Real Estate Guides
Short guides to navigating the DC-area real estate market
We've collected all our helpful guides for buying, selling and renting in and around Washington, DC in one place. Visit guides.urbanturf.com or start browsing below!
First-Timer Primers
Intro guides for first-time home buyers