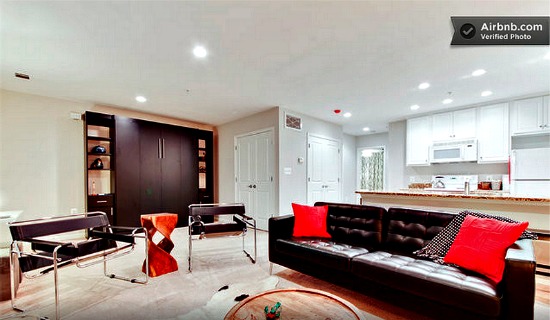 A DC rental that fetches $150 a night when cherry blossoms are in bloom.
If you host renters using Airbnb, the temporary room/apartment-renting website phenomenon, you're not alone. The site offered 3,300 listings to DC area travelers at the end of 2013, 1,240 more rentals than the year before.
Airbnb's rising popularity means entrepreneurial residents can make a killing using the site to host visitors. But as the service and others like it grow, budget-minded travelers aren't the only ones paying attention; regulatory agencies, condo associations and others are taking notice. And DC's Department of Consumer and Regulatory Affairs recently told UrbanTurf that while regulations are in place, they haven't really caught up to Airbnb, which is just one of many such services helping define the so-called sharing economy.
That's not news to those who have followed the service's international growth, but most of the legality issues in the U.S. have been focused on New York City.
Airbnb recently provided UrbanTurf with numbers that demonstrate the site's notable growth in the DC area: in 2013, listings increased 60 percent and the number of guests rose 130 percent. The spokeswoman wouldn't give raw numbers regarding the actual number of guests who booked stays last year, or provide context to compare those numbers to other cities. Airbnb is careful about press given the controversy surrounding the service's legality, among other issues.
But it's safe to say the past few years have been very good to the San Francisco-based service, which started in 2008 and moved into these fully renovated 72,000 square foot offices in 2013. In the company's most recent annual report, it notes that it began 2012 with 120,000 listings. At the end of that year, the number jumped to 300,000. Now the site claims it connects people to more than 500,000 rooms and apartments to rent all over the world.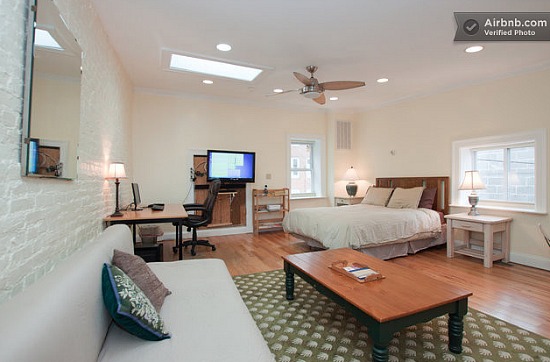 A Shaw carriage house that was one of DC's first Airbnb listings.
For hosts and budget travelers, Airbnb is a revelation. Instead of staying in a hotel and paying a premium to be in a great location (or else staying far from the city), the site offers attractive rentals in nice parts of town for a better rate. Plus, users often get access to a host who's knowledgable about the area in a way many hotels aren't.
And the arrangement works out even better for hosts. Take Charlotte Romero, who spent $12,000 at the beginning of 2013 to rent out her Capitol Hill home's English basement on Airbnb. The revamped lower level brings in much more income than if Romero rented it on a long-term basis, and and she now has the flexibility to black out dates when friends or relatives come to stay. In her first year, she hosted almost 60 different travelers for stays lasting an average of 3-4 days. Based on how much her unit typically rents for — between $99 and $135 a night, and $150 during cherry blossom season — UrbanTurf estimates Romero made a good return on her investment, bringing in anywhere from $20,000 to $50,000 last year. That figure is based on pure revenue and doesn't account for maintenance, cleaning, overhead costs or the 3 percent service fee Airbnb takes in on a rental. Still, it's the prospect of that significant chunk of money that prompted the influx of Airbnb rentals in the DC area over the last year.
By all accounts (including a perfect five-star review record), Romero takes great care of her guests. She's also confident she operates the short-term rental legally; for the basement unit, she obtained both a certificate of occupancy and a business license. She's the kind of host Airbnb likes to market to renters, but she's also unusually savvy to the legal requirements of operating a miniature bed-and-breakfast in her basement. Given the relative newness of Airbnb, it is tough to know who is operating legally and who isn't.
DCRA provided UrbanTurf with the typical requirements Airbnb hosts need to fulfill to be in the city's good graces, but admitted that the regulations currently governing short-term rentals are outdated.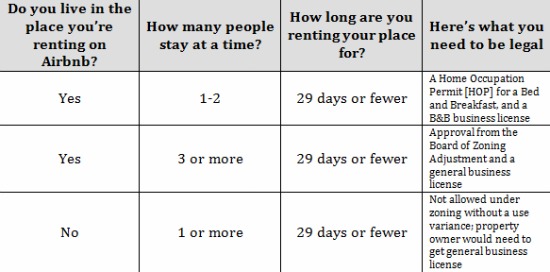 Chart is not comprehensive.
"The process was developed before the advent of services like Airbnb, so some updating to account for emerging business models may be warranted," said Matt Orlins, a DCRA spokesman, in a statement. "An individual who wishes to rent out a space using a service like Airbnb would need to comply with applicable zoning and licensing requirements."
The chart is not a full accounting of what hosts on the site might need to make sure their dwelling is licensed and legal. For example, the office's position "does not contemplate limitations from private agreements such as leases or condo rules. Those could, of course, impose additional obligations and/or restrictions upon individuals who would like to participate." UrbanTurf called a few condo associations in Dupont and Logan Circle, where many clearly illicit listings are located. Of those we spoke to, not all knew what Airbnb was, but once it was described, everybody knew it was against the regulations.
That's not stopping hosts: any search on the site will bring up dozens and dozens of city rentals clearly marked as "condos". At one, a reviewer gushed about the fancy exercise facility, but several others pointed out the "con" of being told to lie to the doorman about who they were and why they were there. Condos rarely allow for short-term rentals.
UrbanTurf talked to a person who found that out the hard way while renting out a place in Eckington last year using Airbnb. After a year of operating (without permits, needless to say) — and raking in $4,000 a month doing it — the building's condo association shut down the rental. The person complied under threat of legal action or eviction.
"There are certain rules in the condo bylaws in terms of minimum months on the lease," said the person, who asked to remain anonymous because the place wasn't properly permitted. "It rubbed people the wrong way in the building."
Similar Posts:
This article originally published at https://dc.urbanturf.com/articles/blog/the_growing_airbnb_economy_and_what_it_might_mean_for_dc/8069.
DC Real Estate Guides
Short guides to navigating the DC-area real estate market
We've collected all our helpful guides for buying, selling and renting in and around Washington, DC in one place. Visit guides.urbanturf.com or start browsing below!
First-Timer Primers
Intro guides for first-time home buyers