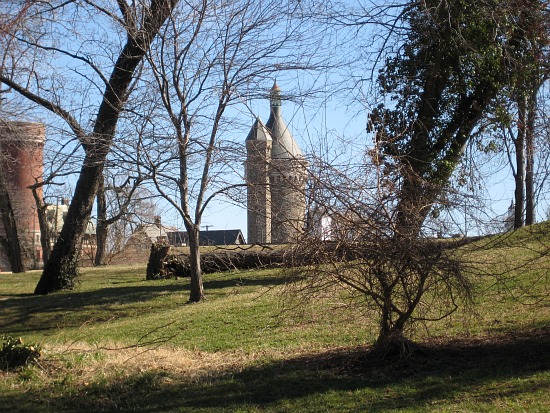 Fort Reno Park in Tenleytown
At first glance, Tenleytown appears to be very similar to its Red Line neighbors to the south (Cleveland Park) and to the north (Bethesda) with cute detached homes and small town retail dotting a major avenue.
But look a little closer, and some cracks appear in that image. Most glaringly, the area lacks an active citizens' association to unite residents in proactively improving their community. In fact, the only groups that seem to thrive are anti-development ones that form in opposition to various construction plans for the neighborhood. As a result, Tenleytown's commercial area lags behind that of its neighbors.
But that situation could be changing, and after years of representing an ultra-NIMBY crowd, the neighborhood's ANC has become more friendly to growth, which could mean that changes are on the way.
From Wisconsin to Reno
Tenleytown lies on and east of upper Wisconsin Avenue. Its borders are Upton Street to the south, Wisconsin Avenue to the west, Garrison Street to the north, and Reno Road to the east.
While the neighborhood Metro stop is named Tenleytown-AU, most of American University's campus is actually a half mile to the southwest of the station, though a small section of the university sits near Wisconsin Avenue.
Styles and Prices Across the Board
The homes in Tenleytown aren't quite as similar to those in neighboring communities as they initially appear. Many houses in Cleveland Park, for example, were built as summer homes for DC's elite at the end of the 19th century; Tenleytown didn't serve the same purpose, and so its homes are smaller and weren't constructed until the 1920s and '30s.
Architecturally, the housing stock is all over the map. The community has a few small-but-charming Victorians, particularly along Grant Road, a quiet street off of Nebraska Avenue that feels like it can't possibly be in the middle of the city. There are also a few duplexes and row houses, a number of bungalows, "and many center-hall Colonials, the Washington cliché house," Pat Kennedy, a real estate broker with Evers & Co, told UrbanTurf.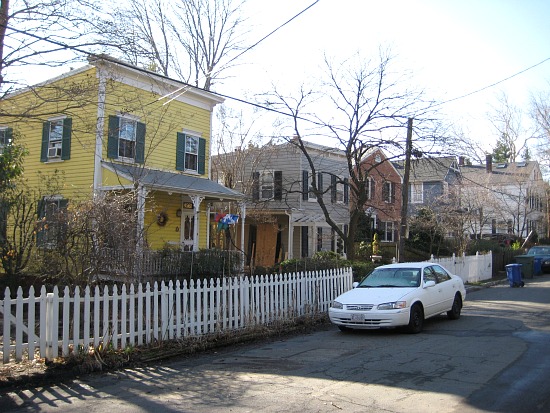 Homes Along Grant Road
Tenleytown homes have traditionally been slightly less expensive than those in surrounding neighborhoods, but the prices can't be described as bargains: three-bedroom listings are currently selling for between $650,000 and $880,000, and four-bedrooms range from $635,000 to $1,255,000, according to Kennedy.
The area has a few condo developments, most notably Cityline at Tenley, which sits atop the Metro station on Wisconsin Avenue, and Tenley Hill, a few blocks farther north. Rentals are available, but not as plentiful as other parts of the city. One-bedroom apartments go for between $1,500 to $2,200 a month, and two bedrooms run from $1,900 to $2,900.
Not Exclusive to Families, But Kid Friendly
Tenleytown residents have a reputation for being typical upper Northwesters: professional couples earning two incomes who might've gotten started on their families a little later than average. But Kennedy said that these days she doesn't have a typical client, selling to all kinds of folks, many of whom don't have kids.
Still, it's a great area for children. The public schools are some of the best in the city, and Woodrow Wilson Senior High School is currently undergoing what some would describe as a futuristic renovation. Well-known private schools like Sidwell Friends and Georgetown Day School are nearby.
There are also a bunch of high-quality public services for kids. After years of bickering and indecision, the airy, LEED-certified Tenley-Friendship Library finally opened on Wisconsin Avenue a couple of months ago and the newish Wilson Aquatic Center, a public complex attached to Wilson, includes four year-round swimming pools. Fort Reno Park, a large, hilly expanse that is also the highest point in DC, lies in the middle of the neighborhood.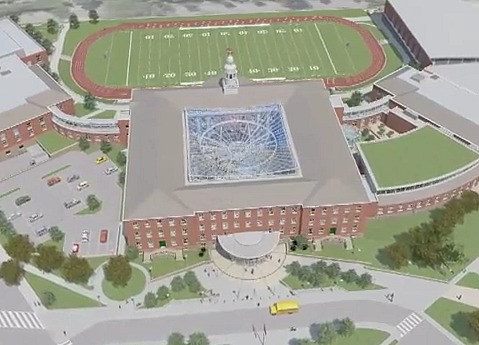 Rendering of the new Wilson High School
Anti-Development Sentiment
Tenleytown hasn't had an active citizens' association for some time, but ad hoc groups like the Coalition to Stop Tenleytown Overdevelopment, which later morphed into the Alliance for Rational Development, seem to form whenever a new, potentially outsized project looms.
The issue of density seems to galvanize residents like no other. While smart growth theories emphasize greater development near Metro stations, many residents in Tenleytown are content with the level of growth they already have, and fear greater crowding on Metro trains or increased traffic along Wisconsin Avenue.
Sitting astride his bicycle after doing errands, resident Horst Kleuting gestured around him. "Why do I need exceptional stores?" he asked rhetorically. "You need stores for basic needs, and here, there's almost everything."
But Ralph White, a lawyer who's been in the neighborhood since 1988, said he's open to more density. "Yes, it is bucolic, but it's also well inside the city limits," he said, indicating that more growth would make sense.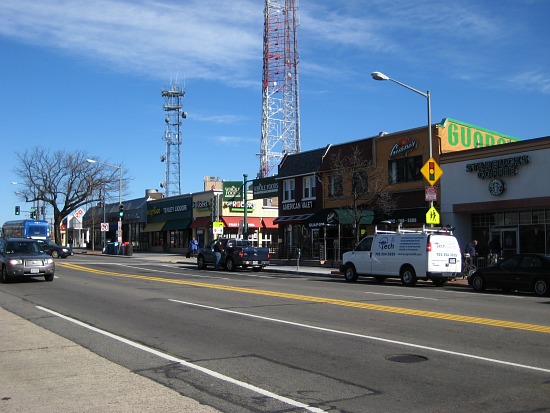 Tenleytown's Commercial Strip
Serviceable, But Pretty Blah
A casual observer wandering along Wisconsin Avenue in Tenleytown would probably note that the area could use a little upgrading. Near the Metro are several busy stores, including Whole Foods, Best Buy, Starbucks, and Guapo's, a Mexican restaurant that has been a mainstay in Tenleytown for over 20 years. And on the whole, the retail strip has surprisingly few empty storefronts.
Still, the shops and restaurants are unremarkable: there are a couple of Japanese restaurants, a cigar shop, a few dry cleaners, Café of India, the French restaurant Le Chat Noir, and 4912 Thai Cuisine—all serviceable neighborhood businesses, but little that might draw outsiders to the area. Only Pete's Apizza, a new outpost of the popular Columbia Heights pizzeria, stands out.
Greg Drury, who recently moved away but still works in the area, is hoping to establish a neighborhood business association to market Tenleytown's strengths. He's thinking of talking to Cleveland Park's business association, in the hopes of copying that neighborhood's success in drawing interesting, unique businesses to the area.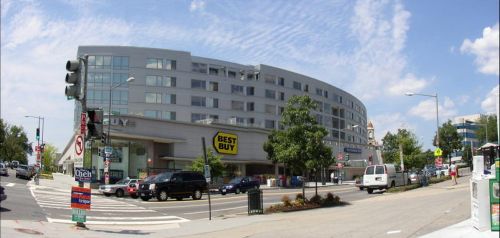 Cityline at Tenley
New Development Could Be On The Way
There are a few notable developments and improvement projects in various stages of limbo in Tenleytown. Renovations to the local Safeway were stalled for months, but the planned improvements appear to be on course to eventually happen. And Douglas Development told UrbanTurf that the plans for the former Babe's Billiards on Wisconsin Avenue remain open-ended and the space could become anything from a one-story restaurant to a six-floor office and retail building. Also looming are changes to American University, which has proposed moving the Washington School of Law to its Tenley Campus, just south of the Metro station.
The ANC this year is as favorable to growth as it's ever been, with just about every member having a smart growth orientation. "We're proceeding cautiously, but I think we're all receptive to having more density along the avenue," said Jonathan Bender, chair of ANC 3E; his district, 3E03, covers much of the retail corridor. "But it's more of a means than an end; the end is a more vibrant avenue, with more interesting, appealing retail and restaurants."
Quality of Life Upsides
Ralph White said that crime-wise, he's never heard about anything more serious than a car being broken into, and he doesn't worry about walking the few blocks home from the Metro, even at 1am. The Metro station is within walking distance of the entire neighborhood and buses run regularly along Wisconsin Avenue, making Tenleytown a very public-transit friendly area. The Beltway is about a ten-minute drive north on Wisconsin Avenue, and northern Virginia can be accessed via MacArthur Boulevard and the Chain Bridge.
Real Estate Agents Serving Tenleytown
The following real estate agents are active in Tenleytown. Call or email them to get in touch.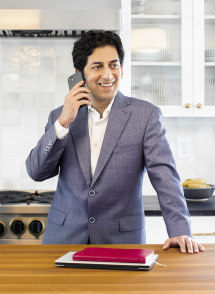 Sean Aalai
Compass
Phone: 202-552-9167
Website: View website

The Bottom Line
Despite the convenience offered by stores like BestBuy and Whole Foods, what Tenleytown needs — and seems to be moving toward — are restaurants and retail that will make its commercial stretch more of a destination. However, even without those improvements, Tenleytown remains a very pleasant neighborhood for those who can't pay the premium to live in the areas that surround it.
Amanda Abrams is a Washington, DC-based journalist who has written feature stories for The Washington Post, Christian Science Monitor, and Washington City Paper.
Zip Code: 20016
Schools: Janney Elementary School, Deal Junior High School, Wilson Senior High School
Tenleytown real estate data from Redfin
Tenleytown rental listings from Craigslist
This article originally published at https://dc.urbanturf.com/articles/blog/tenleytown_not_quite_like_its_neighbors/3127.
DC Real Estate Guides
Short guides to navigating the DC-area real estate market
We've collected all our helpful guides for buying, selling and renting in and around Washington, DC in one place. Visit guides.urbanturf.com or start browsing below!
First-Timer Primers
Intro guides for first-time home buyers