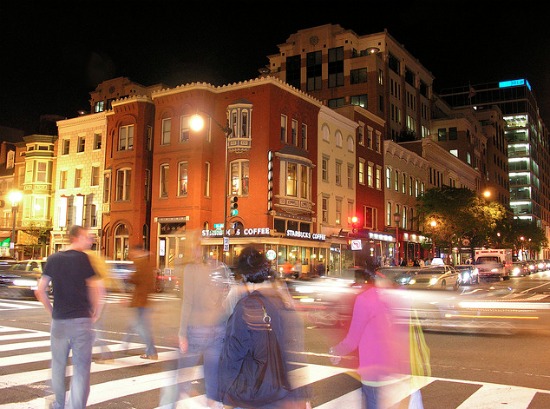 Penn Quarter by
otavio_dc
If an urban area is defined as a place with chockablock storefronts, sophisticated restaurants, and a high ratio of pedestrians per square foot of pavement, then DC's most urban neighborhood would have to be Penn Quarter/Chinatown. Regardless what time of day, the area always seems to draw a crowd, whether it's red-jerseyed Capitals fans, hanging-out teenagers, or folks swankily decked out for the night.
But there's another definition of urban, and that's the idea of a bustling retail area that also has a residential component animating it. These days, Penn Quarter/Chinatown's got that, too. While most DC area residents think of the area as simply a place to visit on the weekends, it's gradually grown all of the services that a genuine neighborhood requires, allowing several thousand District residents to call it home.
From Seedy to Built Out in Less Than Two Decades
The Penn Quarter/Chinatown neighborhood stretches from Pennsylvania Avenue to Massachusetts Avenue, and from 4th Street to 10th Street.
Talk to a native Washingtonian and they'll tell you about the old Chinatown—a rundown area that was not considered safe after dark. Things began to change in the early 1990s and picked up speed in 1997, when the Verizon Center (then called the MCI Center) opened. In a relatively short period of time, 7th Street, the area's main spine, was lined with shops and restaurants, particularly near the Gallery Place Metro station. Meanwhile, Penn Quarter proper, south of F Street, has developed more slowly, as have surrounding blocks.
You Might Not See Them, But They're There
It's easy to wander around the neighborhood without even realizing that many of the stores and restaurants are topped by condo and apartment buildings. They're there, though, often sitting right next to office buildings, and even above the Gallery Place Metro station.
Coldwell Banker's Tammy Britt and Evan Johnson say that the area is popular among buyers, and that demand remains steadily high. "Most properties go pretty quickly, depending on price," Johnson told UrbanTurf.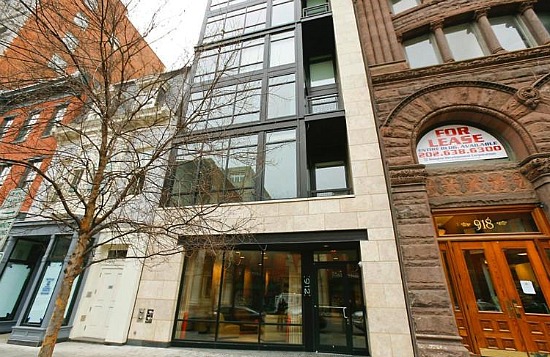 Condo building at 912 F Street
The vast majority of condo units are one-bedrooms, and recent sales have ranged anywhere from $298,000 to $599,000, according to Britt. A studio apartment sold for $250,000 a few months ago, and two-bedrooms usually sell for between $410,000 and $624,000, though prices in certain boutique buildings have gone as high as $1.3 million. Buyers will find that most units in the area have fairly high condo fees compared to the rest of the city in order to cover expenses like in-house fitness centers and 24-hour front desks.
The neighborhood isn't the place in DC to find cheap rentals. One-bedroom apartments rent for between $1,800 and $2,400 a month, and two-bedrooms are anywhere from $2,300 to $3,000 or higher.
A Very Specific Demographic
Given the property prices and rents, it's unsurprising that most of the neighborhood's residents are young professionals with reasonably-sized disposable incomes. Stand on the street and watch passers-by around rush hour, and just about everyone heading into the area residences are in their 20s, 30s, or 40s.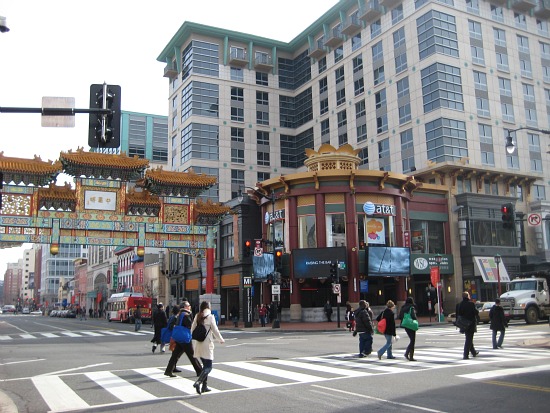 7th and H Streets NW
Lauren and Jason, both 28, bought a condo on Massachusetts Avenue a year and a half ago. He's a lawyer and she works on Capitol Hill, and so far, they have been enjoying their new home and the neighborhood.
"The building we live in has happy hours, and I've found it pretty easy to meet people," said Lauren. "A lot of my friends live in the building." The only downside, she said, was that the Penn Quarter doesn't have quite the character of some of DC's older neighborhoods.
Lots and Lots of Entertainment Options
One of the biggest draws about Penn Quarter/Chinatown is the area's many amenities that offer a slew of things to do. "I love it," said Susan Dove, a 27-year-old graphic designer who moved to the neighborhood with her boyfriend in November. A former Cleveland Park resident, she said it's been a nice change having tons of stuff going on right outside their door.
Besides the Verizon Center's concerts and sports events, Regal Gallery Place movie theater is right in the middle of the neighborhood, as are the Woolly Mammoth Theatre Company and the Shakespeare Theater. Arguably the most accessible Smithsonian museum, the American Art Museum and Portrait Gallery, presides nobly over the area, and while the Penn Quarter isn't the place to go if you're seeking a patch of green, the National Mall is only a few blocks to the south.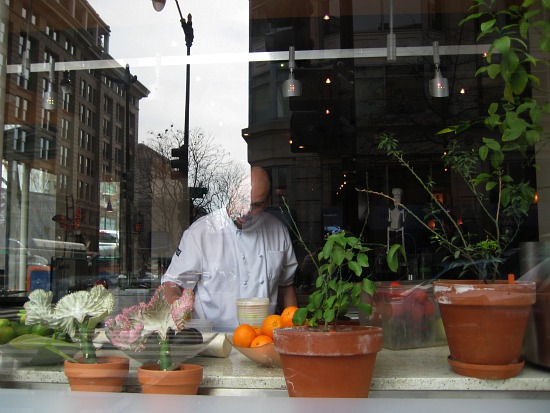 Making guacamole at Oyamel
The Range of Possibilities is Slowly Expanding
While the busy block near the Gallery Place Metro station is packed with chain restaurants and fast food, to the south and west are a number of DC's better restaurants, like Jose Andres' quartet of tasty eateries (Oyamel, Jaleo, Café Atlantico, and Zaytinya); Proof, an upscale wine bar and restaurant; and Poste, a classy brasserie in the middle of Hotel Monaco.
In addition to chains catering to tourists and sports fans and upscale restaurants designed for those with big bucks, the area is gradually developing more varied options—places like Vapaiano, Pho DC, Pitango Gelato, and Chinatown Coffee—that make it feel, little by little, more like an authentic neighborhood than a pre-planned one.
Noise? People? It Comes With the Territory
The disadvantage of living in a place with so much happening is that the streets are rarely quiet. And while that may be fine for those seeking a Manhattan-type vibe, it can get a little old for those who want a quieter atmosphere when they come home at night.
But Evan Johnson, the realtor and also a resident, learned pretty quickly how to read the neighborhood. He's adjusted his schedule to work out at 5:30am, when everything's quiet, and he stays away from certain restaurants in the evenings, depending on what's going on that night.
Susan Dove said that the noise on the street was a major problem at first; she and her boyfriend live in a corner unit facing 7th Street and found "those Caps fans to be really loud." But they bought a sleep machine for the noise and it hasn't been a problem since.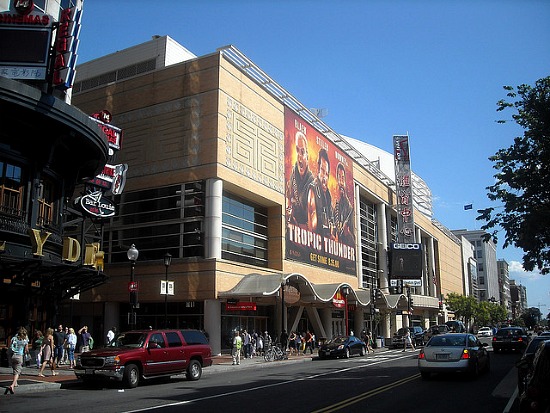 Verizon Center
Bark, But Not Much Bite
Gallery Place developed a notorious reputation over the last year as a place where unruly groups of teenagers liked to hang out; several fights have been reported on and around the Metro, and last fall, business owners installed a machine emitting a high pitched sound that they hoped would keep the younger groups away (they discontinued it a month later due to the public outcry). But no one that UrbanTurf spoke to said they felt unsafe in the area, including Lauren, the Hill staffer, who said that the area feels a lot safer than when she moved in eighteen months ago.
Could Transit Options Get Any Better?
Public transit options in the Penn Quarter/Chinatown neighborhood are plentiful. One of the city's busiest Metro stations, Gallery Place (on the Red and Green/Yellow lines) is smack in the center of the neighborhood, and Metro Center (on the Red and Blue/Orange lines), another of the city's most-used transit hubs, is on its fringes. A couple of other stations on the Green/Yellow lines are also in or near the neighborhood.
Numerous bus routes run right through the neighborhood, which is also central enough that residents easily get around much of the city by bicycle.
As for parking, residents who are determined to have cars in the neighborhood have to pay for it: on-street parking is hard to come by, which means most people pay several hundred dollars a month for a spot in a garage. Jason, the lawyer, sold his car a few months ago and said it was the best decision he's made all year.
The Bottom Line
For the past few years, the Penn Quarter neighborhood has been a bit of an outlier in DC: the area's non-stop energy level made it a great place to hang out, but living there meant cultivating an appetite for constant activity. These days, the activity is still around, but the neighborhood seems to be mellowing a bit, which means it's becoming a viable option for a wider range of home buyers.
Amanda Abrams is a Washington, DC-based journalist who has written feature stories for The Washington Post, Christian Science Monitor, and Washington City Paper.
Note: A reader emailed UrbanTurf and said that the machine installed at the Gallery Place Metro last summer was not installed to keep younger groups away, but to discourage loiterers of all ages.
More Info on Penn Quarter
Zip code: 20001
Schools: Thomson Elementary School, Jefferson Middle School, Dunbar High School
Penn Quarter/Chinatown real estate data and profile from Redfin
Penn Quarter/Chinatown rental listings from Craigslist
This article originally published at https://dc.urbanturf.com/articles/blog/penn_quarter_chinatown_dcs_go-go-go_neighborhood/2971.
DC Real Estate Guides
Short guides to navigating the DC-area real estate market
We've collected all our helpful guides for buying, selling and renting in and around Washington, DC in one place. Visit guides.urbanturf.com or start browsing below!
First-Timer Primers
Intro guides for first-time home buyers