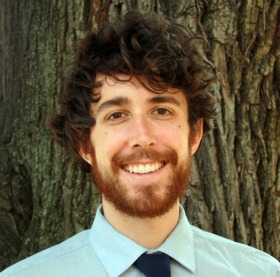 Brett Wiley
In this week's One on One, we sat down with Brett Wiley, the lead organizer of the Strong Homes Program for Groundswell.
Groundswell is a non-profit that links up groups of organizations, churches, businesses and homeowners with contractors who can make their buildings more energy efficient. In short, Groundswell helps facilitate lower costs for groups through bulk purchases. The organization launched three years ago as Weatherize DC with a focus on helping individuals; last year, they changed to Groundswell and have shifted to aiding groups. So far, the organization has helped around 500 homeowners begin the process of investing in energy efficiency.
Their Community Power Project, which is directed at organizations, has gotten a good bit of press in the past few months, but this interview will focus on the Strong Homes Program, which is for homeowners.
How can people get involved in the Strong Homes Program?
Brett Wiley: They can give us a call or go on our website. They can also get involved by joining their neighbors. After a homeowner expresses interest, we work with them to bring people together for an energy meeting. We'll work with that homeowner to help them find their cohorts. So, it could be family and friends or people in their workplace or church or even their neighbors.
Can you provide an example of how the program works?
BW: Right now, we have a project with homeowners from Capitol Hill, Petworth, Eckington and Edgewood. These homeowners are collectively investing in energy efficiency services, and we're facilitating a competitive bidding process for them. Instead of a homeowner calling up a contractor and asking for a quote, they call us and say 'Can you facilitate a process for us? I'm interested in X, Y and Z' — usually energy efficiency services, but it can also be general home improvement, like fixing a roof, redoing a porch, or getting solar panels. We're combining all of these needs and competitively bidding them out to contractors throughout the area. Then, the homeowners can select a contractor that meets their needs for cost, qualifications and business practices.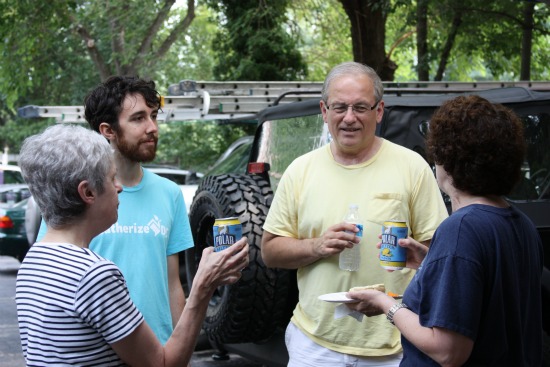 Wiley with a community of weatherizers.
How do you facilitate like-minded people meeting each other?
BW: People say friends of friends are the best friends. We have homeowners come to a house meeting where they invite their friends and neighbors, and then they can meet the friends of their neighbors…it's a melting pot. Leaders are also essential. Each of our projects have had two or three leaders who not only say 'I want to do this,' but they bring in five to ten other people. The more people they bring in, the more of a discount the group can get.
Is there a critical mass that needs to be reached?
BW: Around five people. At the point of five, we can say there's a direct need, and we can competitively bid out that need to contractors. Most of our projects have been averaging 15-20 homeowners.
What happens next?
BW: In our program, you have to commit to doing an energy audit, get a detailed look at your home's health and determine how air is flowing the property. People also commit to air sealing and attic insulation. These are common upgrades with quick return on investment in residential homes, especially older homes. The commitment is also how we convince contractors that it's going to be worth their while to give discounts.
How do you bring costs down for the homeowners, and by how much?
BW: Instead of a contractor spending thousands of dollars on advertisements to get a lead or a customer, we're creating a demand for local businesses. The contractors know that these are homeowners who they don't have to do any outreach for, who are committed to doing work, and who are in generally the same community. So, the contractors are going to competitively bid. We've seen up to 15 percent discounts on work when we're running these.
Some people can just invest $4,000 to $6,000, which is the average investment for weatherization. Through that, they can see a 20 percent energy savings. If you invest over $10,000, you can probably hit 30 percent in energy savings.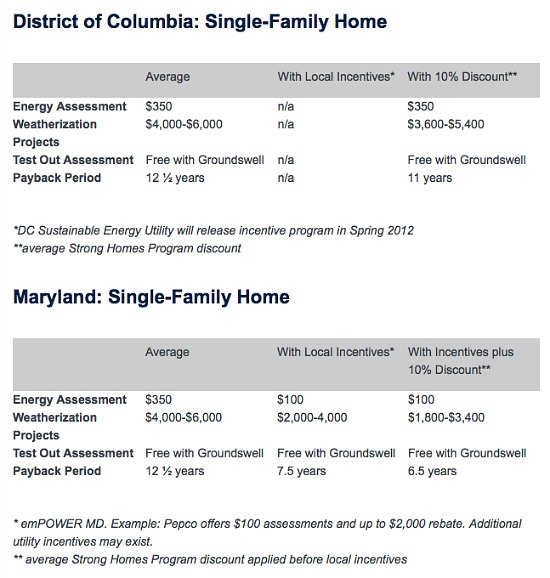 Charts outlining savings through Groundswell.
What can you do to DC homes to make them more energy efficient?
BW: Lots of homes in the city are very old. The simplest things are the best: getting air sealing, insulation, changing a door or two. In terms of energy reduction and comfort, you want to make sure you're addressing air flow. Insulating is like putting a jacket on. A lot of these DC homes have holes in their jackets. Or they've lost their fluff; you touch the wall and it's ice cold.
We have seen homeowners save 30 percent on their energy bills by changing out their boilers. Many homes have radiant heat. If they put in a boiler, it may cost $10,000, but the savings works out to 30 percent of monthly heating costs. Those savings will come back very quickly.
What are some common misconceptions that people have about weatherizing their homes?
BW: I would say you get what you pay for. If something is free in energy efficiency, it's too good to be true. In DC, for example, there's a free energy audit program, but these audits can't really be used by a lot of the home performance businesses because they don't look at health and safety. That's important, because if you're sealing up your home and putting that jacket around it, you don't want to tighten up the jacket if there's carbon monoxide. A lot of the older homes in DC have leaky boilers and furnaces that are usually gas or oil powered. If carbon monoxide is spewing out, you want to address that first. Energy efficiency is also health related.
Another myth is that 'windows are salvation.' People think they will change the windows and save 50 percent on their energy bills. No one is saving 50 percent on their energy bills if they switch out their windows! You're spending tens of thousands of dollars to switch out something that could bring you the same energy savings as air sealing and insulation, which costs $4,000-$6,000.
Any final thoughts?
BW: It's important to note the benefits of energy efficiency. People think they're going to be more comfortable in their homes, they'll save money on their bills, reduce their carbon footprint, but another big thing is that energy efficiency allows you to protect your home. If you are air sealing your home, you're keeping out water, condensation, rodents — you're keeping it all out.
Similar Posts:
This article originally published at https://dc.urbanturf.com/articles/blog/one_on_one_going_green_with_your_friends/5605.
DC Real Estate Guides
Short guides to navigating the DC-area real estate market
We've collected all our helpful guides for buying, selling and renting in and around Washington, DC in one place. Visit guides.urbanturf.com or start browsing below!
First-Timer Primers
Intro guides for first-time home buyers