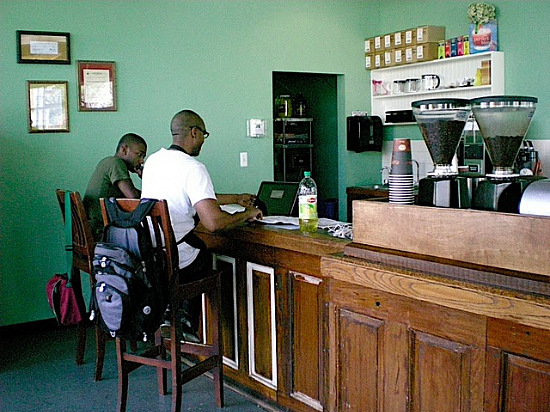 The counter at Spotlight Cafe
There's no one way to describe Mount Rainier.
"It's a group of well-educated, politically-minded, middle class people, both elderly and young," said Vincent Philips, a partner in local bakeshop Delectable Cakery.
"It's a socially aware community, with an anti-war contingent, strong GLBT (gay, lesbian, bisexual and transgender) presence, and a simple living element," says P.J. Park, who co-founded the neighborhood's bike co-op.
"Takoma Park at half the price and twice the diversity," writes one local blogger, perhaps most succinctly.
Given that the tight-knit century-old community boasts an arts district, a food co-op, an active e-mail listserv and even a silo full of corn used to heat homes, perhaps it would best be described as Park Slope, Brooklyn meets Ames, Iowa. However, nowhere in Park Slope are you going to find as affordable homes as you will in Mount Rainier.
A Former Streetcar Suburb
Mount Rainier is the first locale in Maryland you hit if you take Rhode Island Avenue northeast out of DC. It sits on the northeast side of Eastern Avenue, the dividing line between the District and Maryland, and is serviced primarily by Rhode Island Avenue, aka Route 1. It's abutted by Brentwood and Highland to the east, and Hyattsville to the northeast.
The arrival of a trolley car connecting DC to Mount Rainier in 1897 cemented the area as a "streetcar suburb"— an easily accessible neighborhood just over the DC border into Maryland. The town was incorporated in 1910, and grew rapidly in the decades that followed, with the steady development of single-family homes in the 1920s and 30s and the construction of brick apartment buildings around World War II. It reached its peak population of 11,000 in 1950.
In 1958, the trolley car line was replaced with bus service and that change ushered in a period of decline in the area, when the population dropped off and many of the buildings fell into disrepair. In the 1980s, a homegrown preservation movement helped to restore many of the buildings, and eventually resulted in the designation of the city in 1990 to the National Register of Historic Places. Today, the population hovers around 8,500 and the community remains diverse, with the last census reporting a 60 percent African-American, 20 percent white, and 20 percent Hispanic population breakdown, and a median age of 32.
"I feel like it's getting recognized more and more," says P.J. Park, 29, who grew up in the area. "It's finding its place on people's internal map."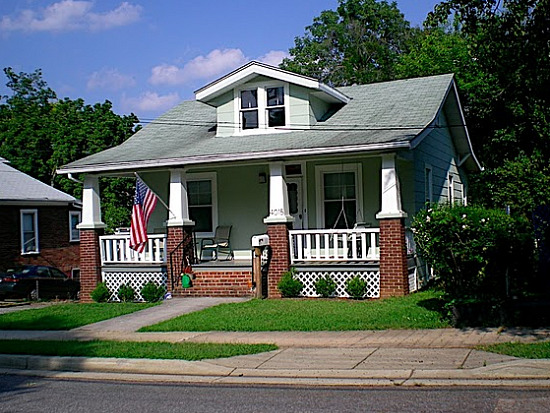 Mount Rainier Bungalow
"Unheard Of" Home Prices
"The area has really great historic homes, mostly bungalows and Victorians," says Keller Williams agent Laura Bowman Pimentel, who noted that the neighborhood appeals to people who are looking to purchase an affordable single-family home with ample green space. "The draw is the prices. A two-bedroom this close to DC in the $200s, or $300s if renovated, is almost unheard of."
Most of the homes have three to four bedrooms with porches and plenty of tree cover, and several were originally built as ready-to-assemble Sears and Craftsmen homes and have since been restored. But the can-do attitude that Mount Rainier is known for will also be necessary for those considering buying a home here.
"It is a certain kind of buyer who can live without a lot of conveniences," Pimentel said. "You have to be prepared for some of the aches and pains of an old home."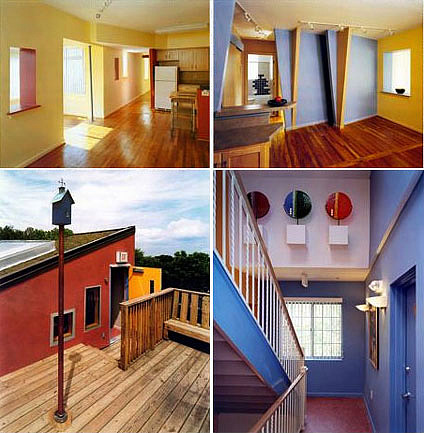 Inside the Mount Rainier Artist Lofts
Rentals in the area are a mix of group homes, basement apartment units, and several apartment buildings on Mount Rainier's northern edge. The average price for a one-bedroom is about $700 per month; $1,100 for a two-bedroom. The 44-unit Mount Rainier Artists Lofts (MRAL) building on Route 1 that opened five years ago provides subsidized housing to an assortment of dancers, actors, painters, sculptors and musicians.
"It's extremely mixed, with people of all colors and different types of talents," MRAL resident Marsha Stein, a painter who lives with her 22-year-old daughter in the lofts, said.
Slowly Developing Commercial Corridor
Most of the commercial activity in Mount Rainier is limited to the intersection of 34th Street and Route 1, however a walk down 34th Street reveals many empty storefronts. That said, Glut, the vegetarian food co-op on 34th Street serves as the active anchor of the neighborhood, and at 40 years old, is one of the oldest co-ops in the country.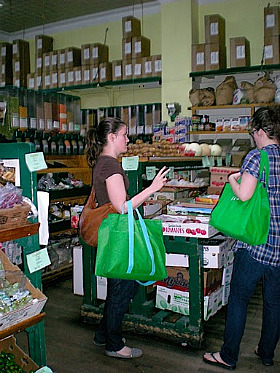 A shopper at Glut
"I moved back largely because of Glut," says employee Mike Turner, who manages the tofu, dairy, and egg fridge and recently began renting a room in a group house in the area after relocating from Laurel.
Other eateries include ZZPizza, the Island Ice Cream shop with Jamaican-infused flavors (think soursop and guava), and two businesses in the Artists Lofts building: the Spotlight Cafe coffee shop and Delectable Cakery, which are owned by area residents Derek Lowery and Brian Rhone. Spotlight opened within the past six months and serves a menu of sandwiches, salads, wraps, plus South American coffee and espresso. The Mount Rainier community donated the homey mismatched furniture — classic coffee house decor — and also sponsors the bulk of the shop's events: one resident hosts a Friday game night, there's a conversation night on Tuesdays hosted by a local blogger, and on Thursdays bluegrass and jazz acts perform.
Lowery was selling his signature sweet potato cakes for over ten years before he opened his first storefront. He considered opening Delectable Cakery in Columbia Heights before getting the space in Mount Rainier. "We're trying to get more businesses to come to the area," he said. "But you have everything you need for a small community."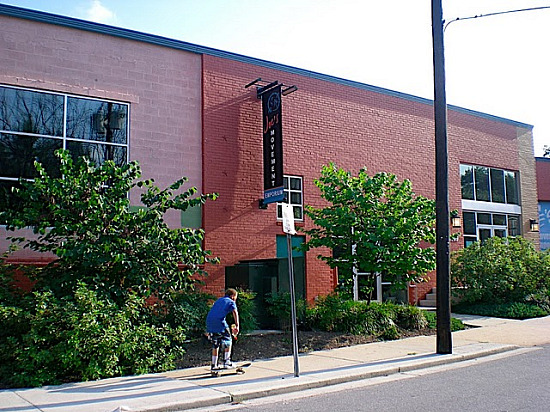 Joe's Movement Emporium
That everything also includes Joe's Movement Emporium, a 20,000 square-foot performance arts facility that hosts local performances and dance classes, an active bike co-op, which rebuilds bikes for local kids, and a new farmer's market that opened across from the Artists Lofts this summer. Oh, and that huge silo of corn behind the bike co-op? Property of the Preserve our Planet Corn collective (POPCorn) that uses the kernels as a heating source.
Despite this variety, some residents would still like more commercial options.
"I'd like to see a little bit more investment along Route 1 in the farmer's market area," says P.J. Park. "We need to put some good businesses in there and put people on the streets."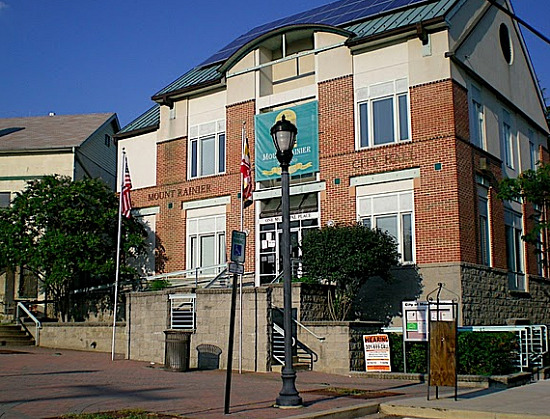 Mount Rainier City Hall
Thriving and Striving
With an active community board and socially engaged citizens, Mount Rainier celebrates its centennial this year. The city is planning the construction of a LEED certified community center and library along Route 1, and recently built a skate park for area kids. They're currently offering a green home incentive program for weatherizing homes and making them more energy efficient, and will be hosting a house tour this fall for the first time in 10 years.
But Pimentel says despite efforts like these, the struggling school system in Prince George's County and lack of transportation options beyond the bus system limit the investment opportunities. But, she says, many people who move to Mount Rainier want to put down roots here, so they are open to alternative methods of schooling and not solely focused on the investment potential of their home.
Access and Crime Issues
Mount Rainier is served by the WMATA and Metrobus lines along Route 1, and is a 15 to 25-minute walk from the West Hyattsville Metro on the Green Line depending on where you live. Parking is easy to find on the street, but there have been recent instances of break-ins and stolen cars.
The major concern has been the bus station across from City Hall, where a group of indigent drinkers have caused problems in the past. The city recently tore down major eyesore Bass Liquors in an effort to stem the public loitering and neighbors have noticed a change. P.J. Park, who grew up in the area, remembers when the bus station was an open-air drug market. "I feel real safe walking around downtown now," he says.
But some are still wary. "I don't walk the streets at night," says resident Marsha Stein.
Should You Move Here?
Living in Mount Rainier comes down to a matter of priorities. Right now, it's choosing between knowing your neighbors and being near a bustling shopping district, having a back yard versus ready access to the Metro. Despite having some of the lowest home prices in the DC area, buyers will need to have the willingness to cope with the peccadilloes of older homes. But for someone looking for a diverse community of socially engaged residents, Mount Rainier might be the perfect fit.
Janelle Nanos is a Washington, DC-based journalist. Her work has appeared in The Washington Post, The New York Times, Slate and New York magazine among other publications.
More Stuff about Mount Rainier
ZIP

code: 20712
Schools: The two public elementary schools are Mount Rainier and Thomas Stone. The middle school is Hyattsville Middle and the high school is Northwestern Senior High School.
Mount Rainier real estate data and profile from Redfin
Mount Rainier rental listings on Craigslist
This article originally published at https://dc.urbanturf.com/articles/blog/mount_rainier_artists_affordable_homes_and_a_silo_full_of_corn/2472.
DC Real Estate Guides
Short guides to navigating the DC-area real estate market
We've collected all our helpful guides for buying, selling and renting in and around Washington, DC in one place. Start browsing below!
First-Timer Primers
Intro guides for first-time home buyers