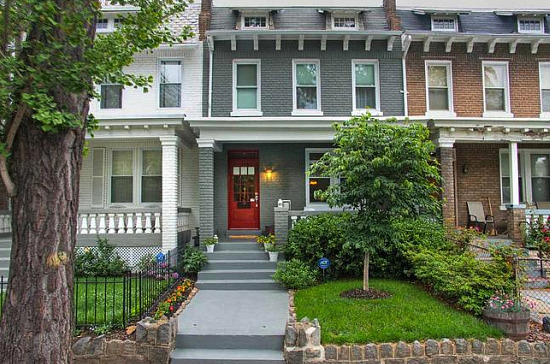 Row houses on Bay Street in Hill East
Mention Hill East to a longtime resident of the neighborhood southeast of Capitol Hill, and you might get some puzzled looks. "Hill East?" asked Malcolm Shute, who's owned a row house near the corner of 14th Street and Potomac Avenue SE for the past decade. "Never heard of it." That's not necessarily surprising. Hill East is one of those new names that ambitious real estate agents and hopeful new homeowners give a neighborhood, the kind that grants an area a little bit of cachet. In this case, though, it's not clear how the moniker originated; it may have been adopted after the city publicized its plans for a large plot of land just east of the neighborhood. Regardless of its genesis, the name has stuck, describing an area that's close to Capitol Hill's many amenities but whose homes have lower price tags. The affordability comes with a trade-off: crime is higher than on the Hill and there are far fewer businesses nearby catering to residents. But many of the area's residents seem willing to buy into an area where their investment may pay off five to ten years down the road.
New Possibilities
Bounded by 14th and 19th Streets, Independence Avenue to the north, and the Southeast Freeway to the south, Hill East is an area slated for major change in the next few years.
The city has targeted a large plot of land just next to the neighborhood for a major development known as Hill East waterfront. Currently used as the DC General Health Campus, the area lies between Independence Avenue to the north, 19th Street to the west, Congressional Cemetery to the south, and the river to the east. Original plans called for a 50-acre mix of retail, office, and residential buildings, some five million square feet in total, but that was long before the country was hit by the recession. DC officials announced in April that they plan to scale the project back and begin with a nine-acre "town center" development of roughly 500,000 square feet that will be clustered near the Stadium/Armory Metro station. The city has yet to pick a developer for the project and the larger development is on hold until economic conditions improve, so residents aren't holding their breath. "Due to its sheer size, you have to look at this from a longer-term perspective," explained Tyler Garrison, a broker with Hounshell Real Estate.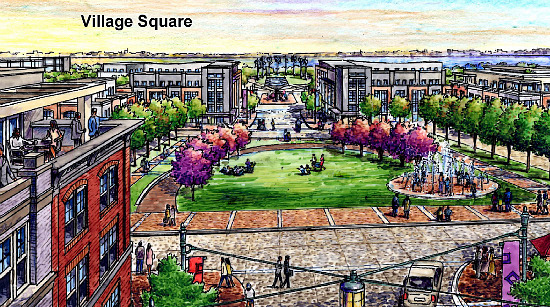 One of the original renderings for the Hill East Waterfront
Nonetheless, the Hill East project gives the area a sense of promise, explained Gerard DiRuggiero of UrbanLand Company. "This creates opportunities for people to take a chance. They can expect to pay a decent price for something that'll grow in five to ten years, and feel they'll be in good shape when they want to sell."
Hill Homes – The Good and The Shabby
The Hill East neighborhood that currently exists has a similar if slightly shabbier housing stock than Capitol Hill proper. There are Victorians peppered throughout the area, but most of the neighborhood's row houses are in the smaller, Federal style, many with high stoops and porches, others flat on the ground and porchless. The number of well-maintained homes is about equal to properties that need some fixing up. Hill East has only a few new developments (most of which have sold out) including Jenkins Row, a large condo project at the neighborhood's western fringe. There is also Axis on 15th Street just south of Massachusetts Avenue and C Street's Capitol House. The neighborhood also has some newly converted apartment buildings, many of which were built in the early part of last century, like The Colleen, The 420, and The Chelsea.
The Long-Term, the Now Adjusted and the New Arrivals
Hill East's population is like that of many District neighborhoods that are in the middle stages of change. There's a large group of long-term residents, many of whom are working and middle class African Americans. Then there are newish arrivals, professionals -- often in their 30s and 40s and employed by the federal government, Congress, or nonprofit organizations -- who took a gamble on the neighborhood a decade ago or more and are now attached to it. Finally, there are the young professionals in their late 20s and 30s who've arrived in the last few years and are still getting to know the neighborhood. Ron Hanson falls into the middle group: now in his late 40s, he's been in the area since 1999 and knows most of his neighbors. "I love it," he said. "I have great neighbors, people established in the community who want to do right by it. They keep up their homes and really look after each other."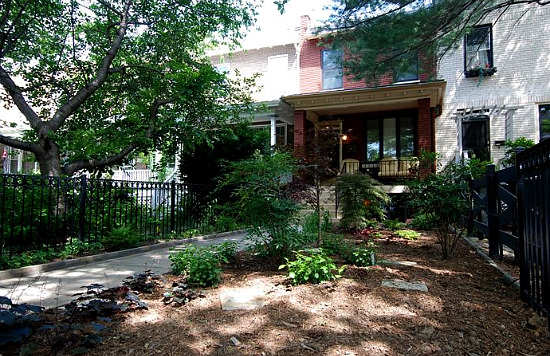 Home on the market on Potomac Avenue
Rock Bottom Home Prices Would Be an Exaggeration
Last year, 117 of the area's single-family homes sold, as well as 63 condos, according to Tyler Garrison. Two-bedrooms sold for an average of $444,000, three-bedrooms for $478,000, and one-bedroom condos for $302,000. Those prices are not exactly rock bottom by DC standards, but Gerard DiRuggiero still thinks the neighborhood is a good investment: even without the Hill East waterfront, the Stadium/Armory Metro station is ripe for development and will be built up with new housing and retail in the next few years, he says. "It's one of the top underdeveloped stations in the city."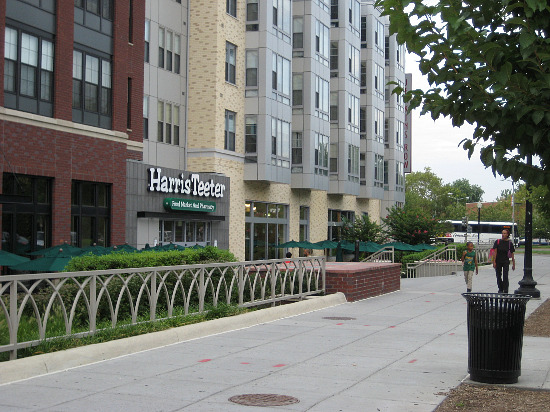 The Harris Teeter under Jenkins Row
Eating In
Hill East isn't the place to go if you're hoping to walk out your door and immediately have a variety of restaurants and bistros to choose from. That's true for Capitol Hill whose business districts are only seven to twelve blocks to the west, but Hill East is largely residential. There are a couple of beloved bars that serve food on Pennsylvania Avenue, though: Trusty's, a funky dive bar, and Wisdom, known for its extensive list of absinthe. But for the foodie, cooking in is easier than going out. The neighborhood boasts both a Safeway and a Harris Teeter (which, like the Jenkins Row building it's housed in, is at the far western edge of the area) and residents credit both for the area's livability.
Some Kids Running Around, More Dogs
While you won't see hordes of strollers choking the sidewalks, Hill East is fast becoming home to tiny tots on four wheels. "There's an extraordinary amount of young people and families moving in," Hanson told UrbanTurf. The area boasts a number of family-friendly amenities, like playgrounds, small parks, and the large playing fields of nearby Watkins Recreation Center, but it isn't yet as clean, green, and inviting as Capitol Hill. It might be easier to be a dog owner in Hill East. Congressional Cemetery, one of the city's best -- and best-known -- dog parks lies at the neighborhood's southeast corner. With its vistas of the blue hills behind Anacostia and rambling grounds, it is a great open space for pets to run around.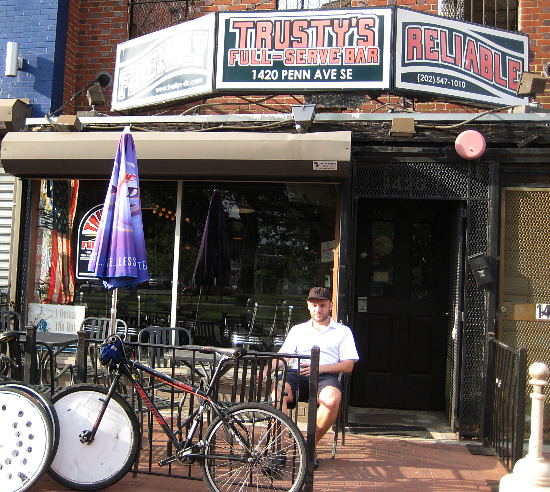 Happy hour at Trusty's
The Transportation Options
The neighborhood is served by two Metro stations -- Potomac Avenue and Stadium/Armory, both on the Blue and Orange lines -- as well as a number of bus lines, including the 34, 36, 96, 97, B2, C40, and D6. "My husband and I have a car, and we don't need it," explained Shannon Long, who was walking out of the Potomac Avenue Metro station on a recent evening. "We walk everywhere." If you do drive, finding parking does not seem to be a problem. "I can count on two hands the number of times we haven't been able to park directly in front of the house," Hanson said. "We have parking in the back of the house and we finally decided to enclose it and extend the backyard because we didn't need it."
The Caveat
Like other DC neighborhoods that have been labeled as transitional, Hill East still has a problem with crime. In the past year, the neighborhood experienced roughly 40 percent more violent crimes than Capitol Hill, and 16 percent more property crimes. Hanson, who's been in the neighborhood for 11 years, experienced his share of crime several years ago. "I had my jaw broken by a group of teenage delinquents. It made me skittish, but it didn't send me away," he said, remaining optimistic. "It's far from being the worst neighborhood in the city." Shannon Long, who's been in the area for four years, said she feels safe, but makes a concerted effort to be careful.
The Bottom Line
Like Rosedale and to a lesser extent the H Street Corridor, Hill East is a neighborhood that has a growing and very vocal resident support system that will trumpet the neighborhood through thick and thin. Here is a comment from an UrbanTurf post in May where a reader asked what the neighborhood was like: I live on Burke Street SE and find it to be very pleasant. We've been there just under two years and have seen several sales on the street to bring new neighbors, but there are also some families that have been there for decades. Everyone is friendly and it's nice to be out walking the dogs and say hello to the neighbors! It's relatively quiet for a city street and you can't beat the metro access to Stadium-Armory. Residents like this will likely continue to move into the neighborhood at a faster pace for years to come, drawn by the housing prices and the growing potential of a neighborhood that might look vastly different in a decade. Amanda Abrams is a Washington, DC-based journalist who has written feature stories for The Washington Post, Christian Science Monitor, and Washington City Paper.
More Stuff about Hill East
ZIP code: 20003
Hill East real estate data and profile from Redfin
This article originally published at https://dc.urbanturf.com/articles/blog/hill_east_capitol_hills_lesser_known_neighbor/2331.
DC Real Estate Guides
Short guides to navigating the DC-area real estate market
We've collected all our helpful guides for buying, selling and renting in and around Washington, DC in one place. Visit guides.urbanturf.com or start browsing below!
First-Timer Primers
Intro guides for first-time home buyers