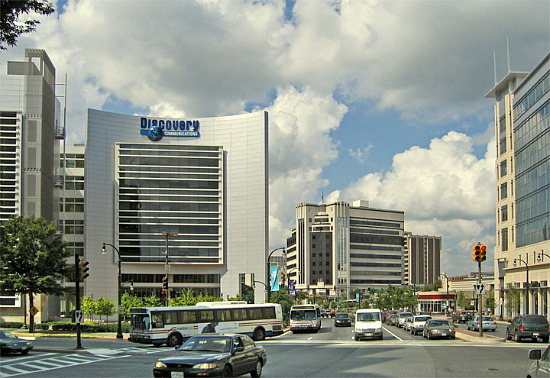 Downtown Silver Spring. Photo by
faceless b
.
The renaissance that started in downtown Silver Spring nearly a decade ago continues apace with a surge of new housing, restaurants, shops and entertainment. Considered an unsuccessful example of urban renewal in the 1980s, the area now attracts street festivals, concerts, and farmers and craft markets, while great schools, convenient transportation and relatively affordable housing are bringing in people that did not expect to find themselves buying here. Newlywed Emily Ehrens just bought a home here after renting in DC for years. "We loved Adams Morgan but wanted to start investing our money and couldn't afford to buy there," Ehrens said, noting that she is happy to have found a lot of similarities between Silver Spring and her old neighborhood. For Evan Glass, it was the convenience of walking to shops and restaurants and the easy commute to DC that sold him. "This is one of the few places in the DC area where there are a number of new developments right near a Metro," he said. Glass, now a condo owner himself, first cased the neighborhood by renting here 10 years ago -- a cautionary move warranted by Silver Spring's hiccoughing history.
A Flashy Past -- And a Flash in the Pan
Silver Spring's name comes from an area spring that sparkled with specs of mica, but it wasn't until the mid-20th century that the neighborhood itself started to sparkle. In 1947, Hecht's opened DC's first suburban department store (and the county's first public parking lot), and Sears, J.C. Penney and a number of smaller shops soon followed suit. Prosperity continued with the opening of the Beltway in the 1960s and the Silver Spring stop along Metro's Red Line in 1978.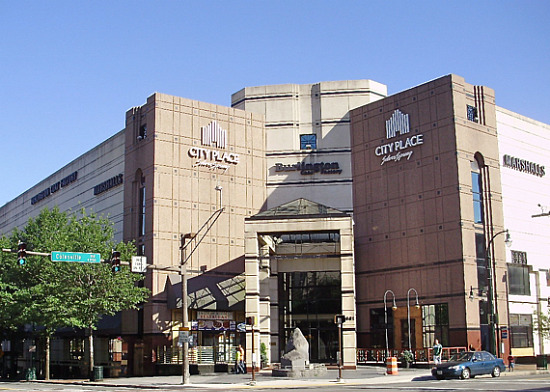 City Place
However, in the 1980s, the department stores decamped, and Silver Spring began to lose its allure. The Hecht's site was taken over by City Place, but the new mall failed to bring in upscale retailers. Attempts to revitalize the commercial center stumbled in the mid-1990s, when plans to turn City Place into a mega mall fell through for lack of funding. The experience left doubts about Silver Spring's future -- as well as the frumpy City Place. "Everybody hates that stupid mall," says life-long resident Debbie Cook.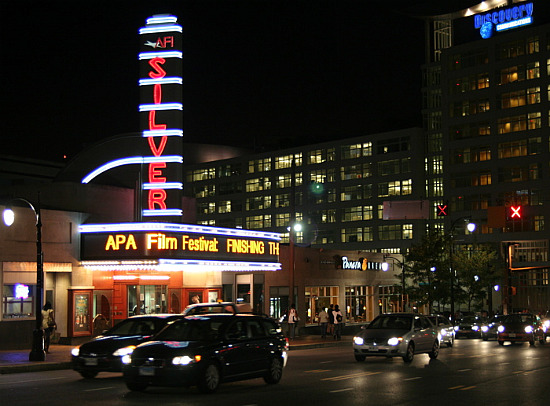 AFI Theater
However, at the beginning of the new millennium, over $1 billion in public and private funds jumpstarted Silver Spring, and arts and entertainment fittingly drove the renaissance. The American Film Institute moved into the old Silver Theater movie palace and Discovery Communications (home to the Discovery Channel) lit up the skyscape with its sleek new headquarters. Next came new restaurants, Whole Foods and an open-air mall anchored by a 20-screen megaplex cinema and a Borders Books and Music with fine dining and retail shops peppered throughout. The Silver Spring Civic Building just opened its gorgeously contemporary center and a Fillmore-style music hall is slated to open in the historic J.C. Penney building next year. All this action has spawned a slew of new luxury condos and apartment buildings, some virtual cities unto themselves with retail, restaurants, swimming pools and fitness centers.
Location, Location
The area we've designated as Downtown Silver Spring is bordered by 16th Street and Eastern Avenue to the west, Spring Street and Cedar Street to the north, Grove and Fenton Streets to the east and King Street to the south.
Sligo Creek Park to the east and Rock Creek Park to the west offer huge woodsy expanses for biking, hiking, playgrounds and tennis courts, and their parkways provide good weekday thoroughfares for commutes north and south.
Where to Live
In the last five years, 1,225 new residential units have been built in and around downtown Silver Spring, and another 1,325 new apartment and condo buildings are under construction, according to Ehrens, a Long & Foster realtor. One-bedroom condos are priced in the low to mid-$200,000 range, two-bedroom units in the low $300,000s. Here are a list of some of the area's residential projects:
Aurora Condos - 7923-7915 Eastern Avenue
The Crescent - 930 Wayne Avenue
The Galaxy - 8061 13th Street
MICA Condominiums - 1220 Blair Mill Road
Silverton Condominiums - 1201 East-West Hwy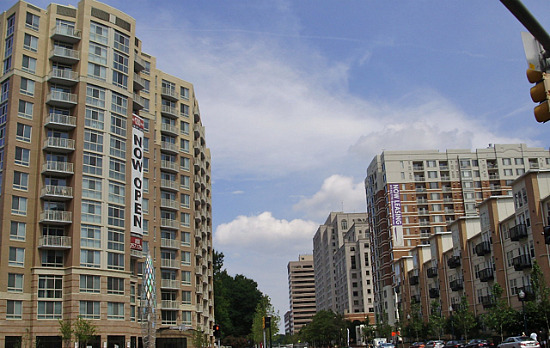 New Condos Along East-West Highway
Most single-family homes are on the outer edges of downtown and range from $350,000 to $1,000,000 and up. Debbie Cook, who has been selling property in the area for 20 years, says that area homes usually sell faster than those further outside the beltway. The average price for two-bedroom detached house is around $370,000, the average three-bedroom detached home is $465,000. The oldest homes are brick colonials and the area's signature 1920s bungalows, many of which have been remodeled and thus have their own character and flair. Most of the town house developments in the vicinity of downtown Silver Spring are to the north along Georgia Avenue. The Blair, a mammoth complex near the Metro, offers everything from loft-style condos to garden apartments and town homes. The 27-acre complex boasts a Giant grocery store, a CVS Pharmacy, a cleaners, bank, nail salon, restaurants and even a doctor's and dentist's office.
Renting
Rental housing abounds in downtown Silver Spring with a number new complexes currently leasing. Some of the older apartment buildings are pretty tired looking from the outside, but many have had extensive interior renovations. The average monthly rate for a one-bedroom rental is about $1,400, two-bedrooms are going for $1,900 and three-bedrooms for $2,300 a month.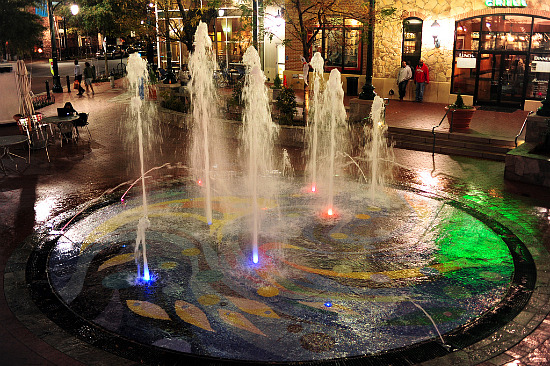 Silver Plaza Fountain by Eddie Welker
The Melting Pot Mix
Silver Spring has more in common with homey Takoma Park to the east than upwardly mobile Bethesda to the west. According to Census data collected from 2005 to 2007, 38 percent of the area's residents are white, 26 percent Hispanic, 26 percent black and nine percent Asian. An active Jewish community has created some 16 synagogues, Jewish centers and Hebrew schools. The Jewish Peace Lobby and the Jewish National Fund are also headquartered in Silver Spring. The median age in the area is 36, 42 percent of residents own their homes, and 29 percent have children, according to The Washington Post. The average household income is about $100,000, according to census data.
Great Schools and Fun for the Kids
Montgomery County boasts some of the nation's best public and charter schools, and Cook says that can be the deciding factor when people are comparing Silver Spring with other DC suburbs. Montgomery Blair High School, with its highly competitive math and science magnet program, is one of the top schools in the Washington metropolitan area. The neighborhood is also served by Silver Spring International and Takoma Park middle schools, Shepherd Elementary and a half dozen private schools. Montgomery Community College has a campus near downtown, with a new health sciences facility, a performing arts center with a 500-seat theater and a dance studio close to completion. The environs of downtown Silver Spring are so child-friendly that it was fitting when Nickelodeon named AParentInSilverSpring.com as one of their best local blogs. The ample educational and entertainment options for kids include the CREATE Arts Center; the Silver Spring Gymboree, which offers music, art and sports classes for kids; School of Rock, where professional musicians teach students in second grade through high school; and the summer "Little Tots Fun Series" concerts.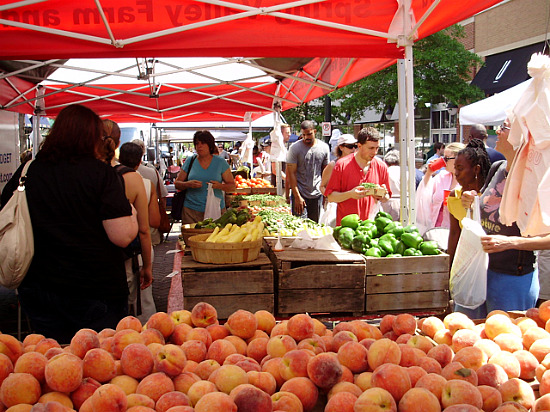 Silver Spring Farmer's Market
For the Grown-Ups
"One of the greatest things about Silver Spring is that a new restaurant opens every month," Glass said, exaggerating only slightly. The area boasts about 150 eateries to satisfy a huge range of tastes. The latest star is the upscale 8407 Kitchen Bar, whose chef was called "an underdog of deliciousness" by DC Magazine. There is also Ray's the Classics, a steakhouse that is part of the popular chain that President Obama likes to frequent. Fire Station One Restaurant and Brewery, named for the renovated facility housing it, and Pacci's Pizza are also popular newcomers. The area is not quite ready for nightclubs, but a number of bars offer live music, mostly jazz and bluegrass. Hot spots include the deceptively divey-looking Quarry House Tavern with its great beers, burgers and eclectic bands, and Jackie's Sidebar, a speakeasy-themed bar with vinyl records and a pool table. In addition to great movies, the American Film Institute offers a variety of programs and lectures and it hosts the annual international Silver Docs Film festival (that LeBron James attended two years ago). On Saturdays, the Fenton Street Market sells antiques, jewelry, crafts and furniture and the farmers' market sells veggies as well as cheeses, meats and breads.
Getting Around
"When we moved here everybody said 'You're going so far away,'" says Ehrens. "I don't think people understand the proximity. I can drive to Columbia Heights in 10 minutes and metro to Union Station in about 15." Glass loves that he can live in a suburb virtually car-free, hopping on the Metro to get to work and doing all his shopping on foot. He drives occasionally on the weekends when he visits friends in "far-flung places like Virginia." Street parking is relatively ample on the side streets and there are 16 parking lots and garages downtown. If you do drive, beware that traffic can still snarl on Colesville Road at rush hour, and the nearby section of the Beltway sees some of 495's heaviest volume. The Metro's Red Line stop in the center of downtown is currently under an eight-acre redevelopment project that will create a multi-level, pedestrian friendly complex for Metro, MARC, bus and taxi traffic as well as retail space. The Silver Spring Metro Bus lines are almost too numerous to list (but we will do it anyway): F4, F6, J1, J2, J3, East-J4, West-J4, J5, Q2, S2, S4, Y5, Y7, Y8, Y9, Z2, Z6, Z8, Z9, Z11, Z13, 70,71, 79. Ride On: 1, East-2, West-2, 3, 4, 5, 8, East-9, West-9, 11, 12, 13, 14, 15, 16, 17, 18, 19, 20, 21, 22.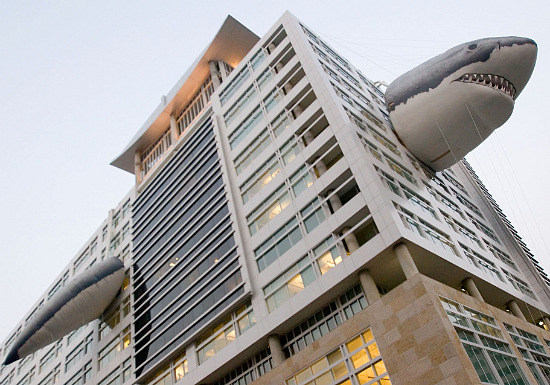 Discovery Channel Headquarters Celebrating Shark Week
Safety
Crime has been falling in Silver Spring, according to Montgomery County Police statistics, which show personal crimes down about 34 percent and property crimes down 30 percent over the past year. Thieves make most of the trouble, committing 28 burglaries and 164 larcenies so far this year, as there were just 23 robberies and 14 assaults. Glass says problems have decreased significantly since a crackdown at a Days Inn where a brisk prostitution business spawned drug dealing and muggings. "We took a pretty aggressive approach and got local prosecutors to apply pressure on the motel owners to change the way they do check-ins. Now they keep better tabs on who's coming and going," says Glass.
Bottom Line
Emily Ehrens advises buyers looking in downtown Silver Spring to plan on hanging onto their homes for at least five years if they want a significant return on the investment. "The new businesses will definitely bring more housing demand, but I don't think it will be overnight," she said, noting that renovating a fixer-upper might be the better way to go for those who want to just flip a house. Condo sales are experiencing a bit of a slump but Debbie Cook says they're still selling well. And while prices for single-family homes have dropped, they've only decreased between three and eight percent, compared to the 10 to 20 percent drop that other areas in the region have seen. Glass is so confident about the community that he now heads the South Silver Spring Neighborhood Association. One of his primary goals is to change Silver Spring's image as just a bedroom community. "A lot of people here have ties to DC and work for the government, so when they come home they aren't necessarily interested in local concerns," he says. The association holds monthly socials to get people out to meet one another and Glass is planning events like street festivals for restaurateurs who want to give tastings. While he is enthusiastic about all the new construction, Glass is also lobbying to preserve and add green space downtown. "As someone who lives here now and knows there will be more commercial growth, I realize we also need to maintain these areas." Gretchen Cook is a Washington, DC-based journalist whose work has appeared in The New York Times, The Washington Post and Washingtonian Magazine.
More Stuff about Downtown Silver Spring
ZIP code: 20910
Downtown Silver Spring real estate data and profile from Redfin
Downtown Silver Spring rental listings on Craigslist
This article originally published at https://dc.urbanturf.com/articles/blog/downtown_silver_spring_experiencing_a_resurgence_after_a_bumpy_history/2281.
DC Real Estate Guides
Short guides to navigating the DC-area real estate market
We've collected all our helpful guides for buying, selling and renting in and around Washington, DC in one place. Start browsing below!
First-Timer Primers
Intro guides for first-time home buyers