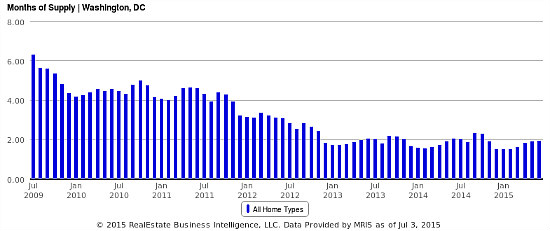 Inventory of homes for sale in DC. Click to enlarge.
The well-documented shortage of homes for sale in the District has been a thorn in the side of homebuyers for some time. But just how long the shortage has been going on may surprise some people.
The benchmark of a balanced housing market is usually a six-month supply of homes on the market. The inventory of active listings for sale in the District has been below the six-month level since July 2009.
In the last few years, that shortage has become more acute. The inventory of homes for sale in the city has been south of three months since July 2012; since late 2014, the inventory has not risen above two months.
The reason for this shortage has little to do with a lack of listings hitting the market. June marked the 18th month in a row that housing inventories rose in the area, and new listings were at the highest level for June since 2007.
Rather, the culprit is buyer demand, which remains very high. For virtually all of 2015, there has, on average, been more than one pending contract per active listing in the city.
"Buyers have pushed up demand for DC real estate for several reasons: fast rising rents, increases in household formations, relatively strong incomes (especially two income families) and historical low mortgage rates," John Heithaus of RealEstate Business Intelligence told UrbanTurf. "Based on these factors and assuming no change in the economic drivers impacting real estate, we expect the shortfall between supply and demand to continue which should push prices higher."
This article originally published at https://dc.urbanturf.com/articles/blog/dcs_six-year_supply_problem/10140