It was the snow boots that really bothered Greg Lopes the most.
When the city was frozen over this February, when people lost power and couldn't leave their homes for days, Lopes found himself out on the patio of his first floor apartment, standing in five degree weather attempting to call into his office. Sure, he saw the irony: Lopes, who works in health care policy, was subjecting himself to illness while trying to make calls to pass historic health care reform. But the most frustrating part was that Lopes knew that even after the snow melted, he'd still end up on the patio. Rain, snow, sleet or sun, there was no cell phone coverage in his apartment.
Nearly 20 percent of Americans now rely on cell phones as their primary telephone line, a number that has doubled in the past four years, reports the Pew Research Center, which has had to shift their survey policies in order to account for that change.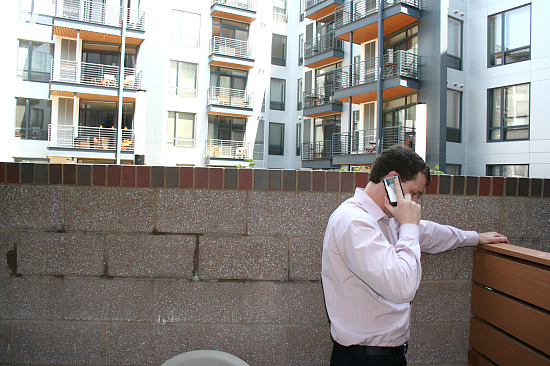 Lopes making a call in the one place that he can find a signal.
You don't need a study to recognize that DC's young, affluent population make up just the kind of respondents that Pew noted were most likely to be cell-only telephone users. Just look at any bar, Metro platform, or coffee shop. And cherish their cell phones they do. A study released last October by Samsung revealed that 27 percent of city residents would rather forgo sex for a year than ditch using their cell phone for the same amount of time.
All of this means that it's become increasingly important for your cell phone to actually work when you're at home, not only so you can answer when Pew gives you a ring, but so that you can stay in touch with the outside world, or in a worst case scenario, attempt to make a 911 call. It becomes a quality of life issue, as comments about DC coverage at Cellreception.com attest through a chorus of frustration:
15th Street NE/South Capitol: "Virtually no reception at my new house—I receive messages hours after they were sent, and calls do not come through!"
13th and Colorado: "90 percent of calls dropped in and outside around my house. Perfect reception everywhere else in the city."
Wisconsin Avenue: "My iPhone drops every phone call inside my house. If I am on a call I always have static."
Lopes acknowledges that he's made life more difficult for himself. He doesn't have a computer or WiFi installed in his apartment, and he's "not an early adopter," so Skype isn't really an option. He doesn't want the expense of having to add a landline and he doesn't want to change his carrier. But mainly it's a matter of principle. He's subleasing his apartment in the Allegro Apartments in Columbia Heights, a modern building with amenities galore. He says he never thought to check whether his phone worked before deciding to move in.
"I have Verizon, one of the only carriers that works on the Metro," says Lopes. "If you can get a signal underground, you should be able to get one in your apartment."
"We understand and empathize with [his] concerns, and some members of our staff who use Verizon have experienced the weak signal in a few locations within the building," said Nicole Jones, a spokesperson for Kettler Management, which manages Allegro. "The best solution is for Verizon to improve its service in our area and, although it's not something we can control, we have reached out to Verizon to request that they strengthen their signal ASAP."
Verizon could fix the problem, but Lopes' case also raises a question about whether building management should be more upfront about cell phone service in their units.
"It's certainly a valid question," says Long & Foster's Lance Horsley. "There is no space on a home seller's disclosure form provided under DC law about communications — nothing about Internet or cable." Horsley noted that disclosure forms generally cover items of typical concern to a buyer like damage to property, termites, floods, leaks, but that in this day in age, phone reception may need to be included.
"I think this is a newer phenomenon due in part to the way that concrete and steel buildings are being constructed," he said. "I have sold condos all over the area, and you hear from clients all the time that they have to walk to their windows to get reception."
For Robert Michael Murray, an adjunct professor of Public Relations and Corporate Communications at Georgetown University, it is a matter of social responsibility.
"At what point is it dependent on the real estate community to disclose the information?" Murray wondered. "Data is listed about square footage and how many windows have southern exposure on Redfin.com — when does cell reception get incorporated into that? Or more importantly, when are people going to start demanding it?"
Murray said that since the management companies aren't disclosing the information, the person occupying the unit is the one who'd be responsible for telling a prospective tenant, and that's only if they're nice enough to do so.
"At some point, some lawsuit is going to come along and shift that."
Lopes says he isn't yet ready to go that route.
"It's turned warm and I can sit outside and talk," he rationalized. "And they've said they are working on resolving the problem before next winter."
Janelle Nanos is a Washington, DC-based journalist. Her work has appeared in The Washington Post, The New York Times, Slate and New York magazine among other publications.
This article originally published at http://dc.urbanturf.com/articles/blog/can_you_hear_me_now/2003
DC Real Estate Guides
Short guides to navigating the DC-area real estate market
We've collected all our helpful guides for buying, selling and renting in and around Washington, DC in one place. Visit guides.urbanturf.com or start browsing below!
First-Timer Primers
Intro guides for first-time home buyers