The Year End 2009 Washington Metro Area Condominium Market Overview was recently released by real estate sales and marketing firm McWilliams|Ballard and, among other analysis, the report offers a discussion of the new condo market for all of the DC metropolitan area's counties and cities. Following is a summary of each.
(Also be sure to see our previous coverage of the McWilliams|Ballard report, The New Condo Market in the DC Metro: A Snapshot.)
The District
Not surprisingly, the report showed that DC is the strongest market in the region. Half of gross sales in 2009 occurred in the District, and McWilliams|Ballard expects that it will continue to be the most active market in the near term. Big new condo projects aren't planned to deliver until at least mid-2012, though, so in the interim small projects will fill in the gaps. "Developers who can deliver smaller, cost-effective, quality conversion product in Northwest DC submarkets in 2011 will have the opportunity to be highly successful," reads the report. There is also a strong possibility that some of the big rental projects currently under construction will actually deliver as condos.
The Northeast quadrant of DC and East of the River are essentially the Prince William County of DC; sales in these areas are characterized by high rates of foreclosure and short sales. In fact, short sales accounted for 55 percent of condo resales East of the River in 2009 while in Northwest they were only 13 percent.
Current new condo inventory in DC stands at 1,368 units.
Arlington
After DC, Arlington is the second healthiest market in the metropolitan area and currently has more residential units under construction than any other city or county. The Rosslyn-Ballston Corridor — the stretch that starts in Rosslyn, passes through Courthouse and Clarendon, and terminates in Ballston — is the dominant market in the county, and it has already started to feel a shortage of new condos. As a result, McWilliams|Ballard predicts residential construction will be more active in the RB Corridor than in any other market in the region over the next one to two years. There are already more than 2,000 residential units expected to break ground in 2010.
Shirlington is also an active market, and the West Village of Shirlington was the second fastest-selling project in the whole metropolitan area in 2009.
Foreclosures and short sales accounted for only 9 percent of resales in 2009 in the RB Corridor, while in the rest of Arlington they accounted for 25 percent.
Current new condo inventory in Arlington stands at 571 units.
Alexandria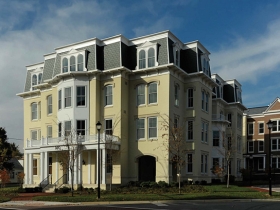 900 North Washington in Old Town
There are only four new projects that will have inventory in Alexandria in 2010. One of those, Abingdon Row, has only three units left. When it sells out, The Duke, 900 North Washington in Old Town and The Jamieson in Carlyle are the only remaining new projects with units to sell.
There are over 1,600 units planned and/or approved across Alexandria, but they have not broken ground and so most, if not all, won't deliver until at least 2013.
Old Town is Alexandria's healthiest submarket. Only 6 percent of resales in Old Town were foreclosures or short sales compared with 45 percent city-wide.
Current new condo inventory in Alexandria stands at 141 units.
Montgomery County
New condo sales are slow but sure in Montgomery County. North Bethesda and Rockville are expected to sell out or lease their remaining inventory by the end of 2010. In Bethesda and Potomac, 15 to 20 percent price reductions have spurred sales activity. Downtown Silver Spring is one of the county's weakest markets, with no new condo units on the market and condo resales in 2009 seeing a high level of foreclosure and short sales. Despite all of the above, McWilliams|Ballard considers Montgomery County a healthy market for the future and notes that it has the second largest number of approved residential units in the region.
Bethesda is the county's healthiest submarket. In 2009, only 9 percent of resales were foreclosures or short sales, compared with 43 percent across the rest of the county.
Current new condo inventory in Montgomery County stands at 608 units.
Fairfax County
Aside from a few bright spots, Fairfax is having a hard time selling out its remaining new condo inventory. The bright spots include steady sales at Midtown Alexandria Station, Midtown Reston, and Elan at East Market, while North Point Villas in Reston and Morgan at McLean both sold out in 2009.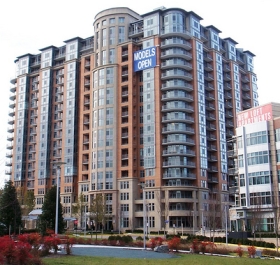 One Park Crest, courtesy
CONDO
AUTHORITY
Currently, over 50 percent of the remaining condos are concentrated in two projects: The Spectrum at Falls Church and One Park Crest in Tysons Corner.
2010 will be largely uneventful in Fairfax, with no new development scheduled to break ground. Even most approved projects "are likely to sit on the shelf for some time longer," according to the report. Looking further out, the Metro extension through Tysons Corner will have a predictably big effect on residential development in Fairfax.
Foreclosure and short sale rates are high across the county. McLean and Oakton were the least affected, and the only areas that had rates below 40 percent in 2009. Herndon, Centreville, Lorton, and Annandale were harder hit, with rates between 70 and 80 percent. Particularly bad was Chantilly, where 86 percent of condo resales in 2009 were foreclosures or short sales.
Current new condo inventory in Fairfax County stands at 615 units.
Prince George's County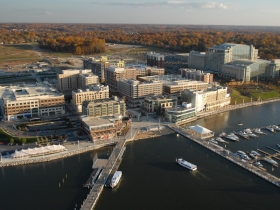 National Harbor in PG County
By all measures, the new condo market in PG County is hurting. The vast majority of sales in 2009 came from only three projects: One National Harbor, Fleet Street at National Harbor, and Tribeca at Camp Springs. "New condominiums are simply not viable options in the county unless they are Metro oriented or at National Harbor," writes McWilliams|Ballard.
At 43 percent, PG County had the highest foreclosure rate of any market in 2009, which drove down the price of condo resales as much as 40 percent from the beginning of 2008 through the end of 2009.
McWilliams|Ballard notes that despite the market's current woes, PG County has a fairly robust pipeline, with projects planned in College Park, Hyattsville, Suitland, and at Woodmore and Westphalia Town Centers.
Current new condo inventory in PG County stands at 597 units.
Prince William County
Like PG County, the new condo market in Prince William County is grim. There is a persistent glut of inventory, exacerbated by a painful 73 percent rate of foreclosure and short sales. The new condo projects in Prince William were largely developed by national home builders like Pulte and Ryan, who have proven resistant to lowering prices to meet the market. But there is recent evidence that this resistance is waning, according to McWilliams|Ballard, which would help move the excess condo inventory.
Given how overbuilt Prince William County is, it won't likely see any new development in the near term.
Current new condo inventory in Prince William County stands at 1,059 units (second only to DC).
Loudoun County
Most of the new condos in Loudoun County are townhomes, which puts them at a disadvantage because they compete with traditional townhomes and single-family homes. Furthermore, like its neighbor Prince William County, Loudoun is ravaged by a 70 percent rate of foreclosure and short sales among condo resales. Also like Prince William, new condo projects in Loudoun are dominated by national home builders who finally appear willing to lower prices of their remaining inventory to compete with foreclosure and short sales.
Current new condo inventory in Loudoun County stands at 424 units.
See other articles related to: bethesda, condo shortage, dc area condo market, dc area market trends, dc condos, dclofts, fairfax county, loudoun, maryland condos, mcwilliamsballard, national harbor, northern virginia condos, prince george's, prince william, rb corridor
This article originally published at https://dc.urbanturf.com/articles/blog/breakdown_of_the_new_condo_market_in_the_dc_metro_by_city_county/1761.
DC Real Estate Guides
Short guides to navigating the DC-area real estate market
We've collected all our helpful guides for buying, selling and renting in and around Washington, DC in one place. Visit guides.urbanturf.com or start browsing below!
First-Timer Primers
Intro guides for first-time home buyers