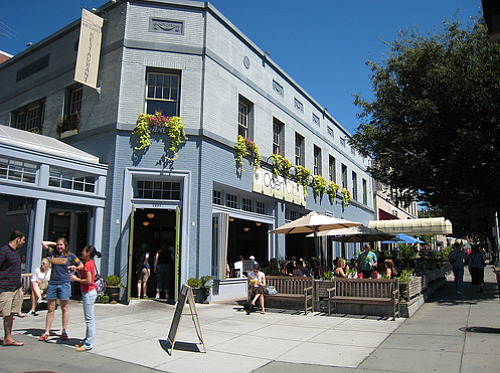 The brunch crowd at Open City. Photo by
Jim Malone
.
For many DC residents, Woodley Park is just a Metro stop on the Red Line that is passed on the way to a destination like Dupont Circle or Union Station. Sure, some have headed over on the weekends to face the 45-minute wait at popular brunch spot Open City or hopped off the Metro and wandered up Connecticut Avenue past the abbreviated strip of restaurants and the red-brick co-ops to the National Zoo. But this stretch of Connecticut Avenue is only a small part of Woodley Park. Head to the side streets and the hubbub goes quiet, with the neighborhood exuding a virtually suburban vibe.
Where the Presidents Used to Summer
Woodley Park is bounded by Rock Creek Park to the east, Calvert Street to the south, Cleveland Avenue to the west, and the grounds of the Washington International School to the north.
Back in the late 1800s, the area was the site of summer homes for the well-to-do. Presidents Martin Van Buren and Grover Cleveland spent their Augusts on the grounds of what is now the sprawling Maret School, and the founder of the National Geographic Society built a home near Woodley Park's northern boundary. That area is now used by the government of Taiwan and the Washington International School, but 20 wooded acres abutting the school, called the Tregaron Estate, are part of a conservancy and open to public use. The area still has a gracious, old-fashioned feel. Connecticut Avenue and neighboring streets might be studded with tall apartment and condo buildings housing students and young professionals, but roads farther to the east and west are lined with large, shady row houses and well-kept brick duplexes, Cape Cods, Tudors, and split level homes. A number have generous yards or gardens, and summer evenings ring with kids' voices and neighbors chatting over lush lawns.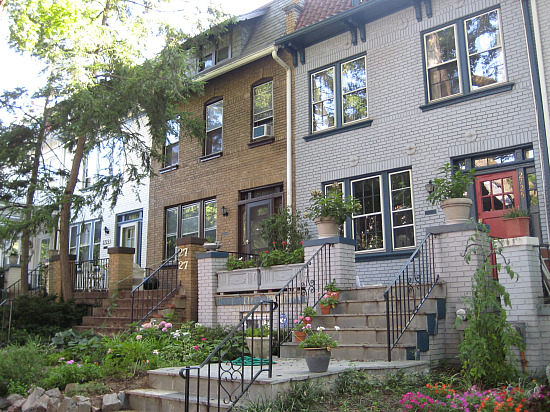 Row Houses in Woodley Park
"Closer to Connecticut, the houses get a little smaller -- but not too many would be considered small [by the city's standards]," conceded long-time resident Caren Wilcox as she walked her dog recently. She added that, unsurprisingly, residents are a cross section of DC's professional class: journalists, lawyers, World Bank employees, Foreign Service officers, and business people.
Not Georgetown Home Prices, But Definitely Costly
It's fair to say that Woodley Park's single-family homes aren't for the average DC home buyer: big homes in the neighborhood don't run cheap. Since the beginning of the year, seven single family homes sold -- and five more are under contract -- at prices ranging from $900,000 to $2.5 million, according to Joseph Poduslo, a broker with Sotheby's Realty. Condos are more affordable, with one-bedroom units costing an average of $375,000. While some are in tall, 1970s-style buildings, a number are located in lower, greener complexes built in the graceful Beaux Arts and Art Deco styles.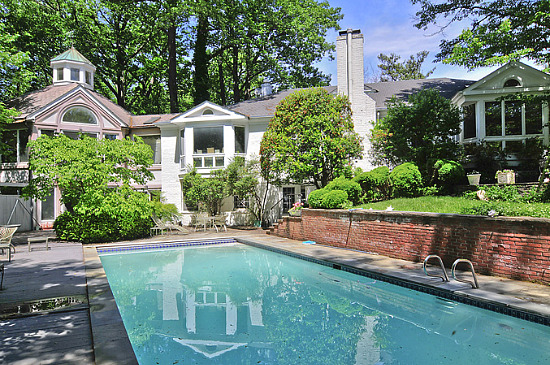 A multi-million dollar home on the market
The neighborhood is in demand and prices will probably continue to climb; in the last year, properties spent an average of 27 days on the market, "suggesting a very vibrant market," said Matthew Roberts, a Long & Foster broker who works in the area. For buyers who have been lamenting the condo shortage in DC, fear not. The Woodley Wardman, a condo project that's the first new construction in the neighborhood in 16 years, is currently under development on Connecticut Avenue. Composed of four Wardman rowhouses -- homes by the famed Washington builder Harry Wardman, who was known for his high quality and attention to detail -- as well as a new seven-story tower, the project will add 39 new units to the area at prices ranging from the upper $200,000s for a studio to several million dollars for a penthouse. The townhome phase is set to deliver in November and the tower phase in May 2011. As for renting, one-bedroom units go for an average of $1,800, though a savvy renter might be able to find the random basement apartment for a few hundred dollars less.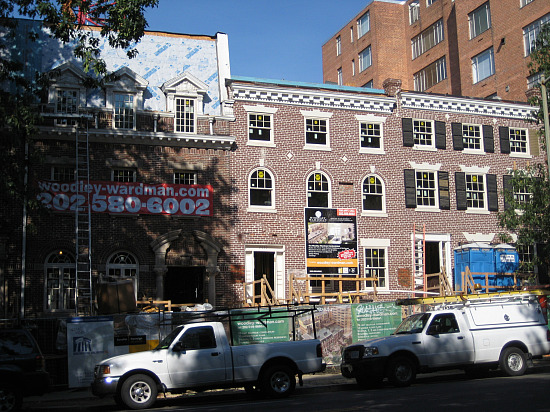 Under construction: the new Woodley-Wardman development on Connecticut
Very Central
Now, back to that bustling zone of Connecticut Avenue that is Woodley Park's central spine. At first glance, the block appears to be one of those small commercial zones that are a hallmark of city living. But the neighborhood is also home to several huge hotels and the National Zoo, and is frequently crowded with tourists. With so many transient visitors, it lacks that familiar, neighborhood-y climate. Restaurants offer many cuisines to choose from -- French, Indian, Thai, and even Afghan -- but some residents say the quality can be uneven. There are some standouts, like the Lebanese Taverna, Open City, and the upscale New Heights restaurant; across from the zoo, there is the Zoo Bar, a long-time rock and blues venue that has many fans. Just don't go to Woodley Park looking for gritty dive bars or restaurants with a lot of atmosphere. The best thing about Woodley Park might be its proximity to the rest of the city: within close walking distance are Adams Morgan, Cleveland Park, and Rock Creek Park. Dupont Circle is a twenty-minute walk away. "The location is great," said Thad Paul, who recently relocated to the area from Logan Circle. "I go jogging in Rock Creek Park, and can even walk to Glover Park from here."
Perfect for Families (That Can Pay)
Woodley Park is an ideal neighborhood for those families who have the funds to buy here. With its large lawns and quiet residential streets, kids have room to play, and there are a number of local parks and playgrounds -- plus Rock Creek Park, of course. The neighborhood is also home to several high-quality schools, including Oyster Elementary, a bilingual public elementary school. Private schools include Aidan Montessori and the Maret School, and a number of other private schools are close by, including Washington International School, the National Cathedral School, and St. Albans.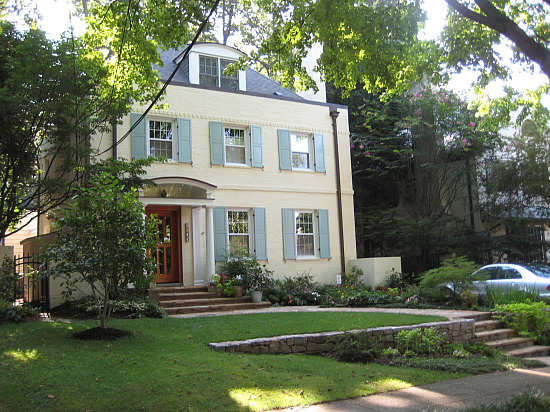 A Hub of Public Transportation
The Woodley Park-Zoo/Adams Morgan Metro station on the Red line is located in the center of the neighborhood, and the area is served by several buses, including the L1, L2, L4, 90, 92, 93, 96, and the popular Circulator shuttle bus. Because Woodley Park is so centrally located, driving is a little tougher. But if you head south on Rock Creek Parkway, you can easily connect with several main Northern Virginia highways including I-66 and the George Washington Parkway. Connecticut Avenue also runs north-south, connecting downtown with the Maryland suburbs and the Beltway. As for parking, "we're pretty fortunate," said Wilcox: finding a space isn't particularly hard, especially in the neighborhood's outer reaches.
Almost As Peaceful As It Seems
Woodley Park's quiet streets are as peaceful as they seem. The area is fairly safe, though it has had its share of property crimes and a handful of violent crimes over the past year. "We're careful, but we haven't had too many issues," said Wilcox. "There's occasionally a break-in or burglary. One night my car wasn't locked and someone opened it, but they didn't find much."
The Bottom Line
While it may not have the distinctive personality of some its neighbors, its peaceful environment, green spaces, and great location make Woodley Park one of the city's choicest neighborhoods. But getting in depends on being able to pay, and with new, glitzy condos going up in the middle of the neighborhood, its cost is only going to go up. Amanda Abrams is a Washington, DC-based journalist who has written feature stories for The Washington Post, Christian Science Monitor, and Washington City Paper.
More Stuff about Woodley Park
This article originally published at https://dc.urbanturf.com/articles/blog/woodley_park_deceptively_residential/2295.
DC Real Estate Guides
Short guides to navigating the DC-area real estate market
We've collected all our helpful guides for buying, selling and renting in and around Washington, DC in one place. Visit guides.urbanturf.com or start browsing below!
First-Timer Primers
Intro guides for first-time home buyers