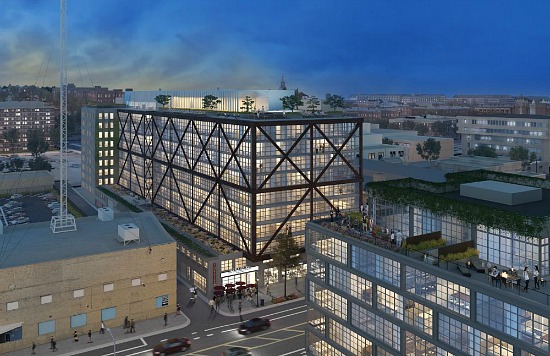 Rendering of Atlantic Plumbing project. Morris Adjmi Architects.
While DC is populated by stately historic buildings and charming Victorian rowhouses, many of the new residential buildings tend to take a similar form: boxy, unsculpted and squat. Multifamily buildings sprouting up all over the District are rarely inspiring. UrbanTurf investigates why the city's new residential architecture isn't more adventurous.
DC's Height Restriction: The Box Effect
One of the more popular arguments to explain the lack of award-winning architecture in the nation's capital is DC's height restriction.
"When you don't have the height issue, it's much easier to make a building that has different forms," architect Eric Colbert, who has designed dozens of multifamily buildings throughout the District, told UrbanTurf.
The problem, explained Colbert, is related not just to the height restriction, but also the floor area ratio (FAR). Because the cost of the land is based on the amount of square footage that one is allowed to build, developers feel compelled to build to the full FAR, which often means building out to the property line and up to the maximum height. This creates the box effect that is so common in new DC buildings.
"There is an incredible amount of pressure on the architect to design something that maximizes the salable or leasable square footage," shared Colbert. "If you were to raise the height but not change FAR, it would allow more sculpting in the facade."
Would loosening the height restriction allow buildings to take more original forms? Perhaps, though it's not a guarantee, said Steve Calcott, a senior preservation planner at the Historic Preservation Office (HPO). "If 50-story buildings were allowed, would there be more opportunity for sculpting, or would the land prices simply reflect the fact that you can build a 50-story building?," wondered Calcott.
The Historic Preservation Office, Board of Zoning Adjustment and ANCs around the city are sometimes blamed for DC's lack of exciting architecture. When a developer has to gain approvals from these entities, they are subject to a good deal of public scrutiny, which can lead to a differently designed building than what was originally planned. Some believe that the compromising process takes the steam out of potentially inspiring designs.
Calcott refutes that claim, noting that buildings going up outside of Historic Districts or being built as a matter-of-right (i.e. those not subject to review) are not markedly more adventurous.
And sometimes, the review process results in an improved design. As an example, Calcott recalls a project currently under construction at 1919 14th Street NW, developed by level2 Development and designed, coincidentally, by Eric Colbert.
"When the project was proposed, there was a lot of concern within the community about the design and its relationship to Wallach Street, which is an intimate, small-scale block," remembers Calcott. "By lowering the height at the corner and stepping back the tallest portion of the building by 10 or 15 feet, the building was sculpted to a point that it won widespread support. I think that resulted in a 5 percent loss of square footage, but clearly it's a viable building and it's very handsome."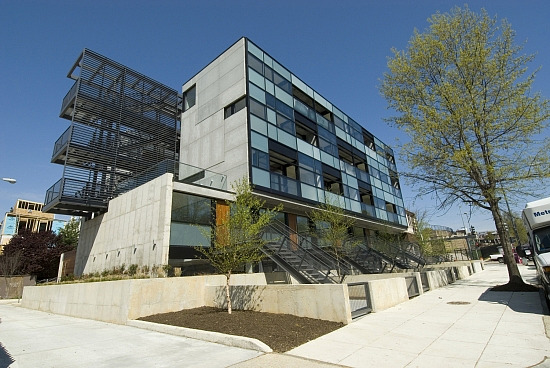 The Lacey
Good Design Costs More. Is DC Willing to Pay?
In 2009, Division1 Architects designed The Lacey, a glassy, Mondrian-inspired 26-unit condo building on 11th Street NW that went on to win several design awards. However, developers had trouble selling the units and a number of price reductions were necessary before the building sold out.
Granted, the state of the real estate market in 2009 and 2010 made life difficult for many in the new construction business. But Division1 feels that their unusual, higher-end units appealed to a smaller proportion of the buying public.
"People don't want to pay the difference for that quality and design," said Debi Fox of Division1. "It's a niche market."
The Lacey cost more to build than neighboring condos. The higher-quality materials and the architect's increased time investment resulted in a higher price per square foot. There were no comps in the neighborhood at the time, Fox told us.
But in addition to the price, not everyone was open to a living in a steel, glass and concrete structure with such a modern vibe.
"Buyers will come to me and say they want a contemporary, loft-style home, but when you take them out, what they mean by contemporary is just new," noted Fox. "They don't want ultra-modern."
As Division1 learned, going outside the box, so to speak, can be risky. "When a developer is thinking about multifamily, they are trying to cast the widest possible net and appeal to the maximum number of people," believes Calcott.
More often, observed Calcott, you will see experimentation in the single-family home arena. Forest Hills, with its plots of land tucked near Rock Creek Park, has become a showcase of modern, adventurous architecture.
In the multifamily world, ambitious design tends to exist at the very high end and, surprisingly, at the very low end. "There was a lot of experimentation in the mid-20th century in assisted living and public housing projects," believes Calcott. He points to Langston Terrace on Benning Road NE. The first public housing project in DC, Calcott admires the modern, Bauhaus style of the building, which is now a designated landmark.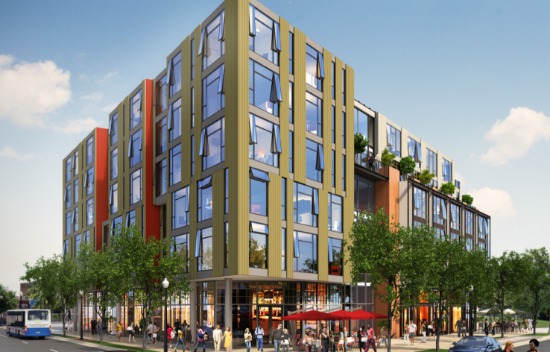 JBG
's Florida Avenue project. Rendering courtesy of Miller Hull architects
Some Developers Are Pushing the Boundaries
Despite current constraints, there are developers and architects working to create unique residential projects in DC.
Both Calcott and Colbert mentioned JBG as a company that is trying to champion residential buildings that are contemporary and adventurous. Calcott spoke admiringly of JBG's project on Florida Avenue between 7th Street and 9th Street, which was designed by Seattle-based Miller Hull Architects.
He also pointed to the Cityline project in Tenleytown and the residential buildings coming to CityMarket at O, both designed by Shalom Baranes. And though her designs are sometimes hotly debated with neighborhood community groups, Calcott applauds Suzane Reatig for bringing unquestionably modern-looking buildings to historic districts.
DC architecture fans have a couple reasons to be hopeful: the market for more adventurous architecture seems to be expanding a bit, and the city is currently in the midst of a Height Master Plan study, where the National Capitol Planning Commission and the Office of Planning have been taking a serious look at changing the current height restrictions through modeling studies and comparative city studies.
Of course, DC's current development boom means that many neighborhoods are already being built out. By the time the market catches up, will there be anywhere for adventurous multifamily buildings to go?
This article originally published at https://dc.urbanturf.com/articles/blog/why_isnt_dcs_residential_architecture_more_adventurous/7466.
DC Real Estate Guides
Short guides to navigating the DC-area real estate market
We've collected all our helpful guides for buying, selling and renting in and around Washington, DC in one place. Start browsing below!
First-Timer Primers
Intro guides for first-time home buyers