Micro-apartments are currently all the rage in the District, but many DC apartments were built small long before it was trendy. More than three years ago, Elizabeth Arend found herself signing a lease on just such an apartment. But she wouldn't be living in the 310-square-foot studio alone: her partner, Seiphemo Monnapula, would be joining her when he moved to DC.
The location, in the Ravenel near Dupont Circle, was perfect. The price was right. And the size — well, Arend didn't think about it too much.
"I didn't really factor in what it would be like when another human being was in that space," she said. "We figured out very quickly that we were going to kill each other."
The two had a full-sized bed, since they refused to compromise with a Murphy bed or a futon; a small couch that pulled out into a twin-sized bed for guests; a coffee table; a small sewing machine table that Monnapula called his "office"; a desk that held lots of storage; and two bookcases. And that was it.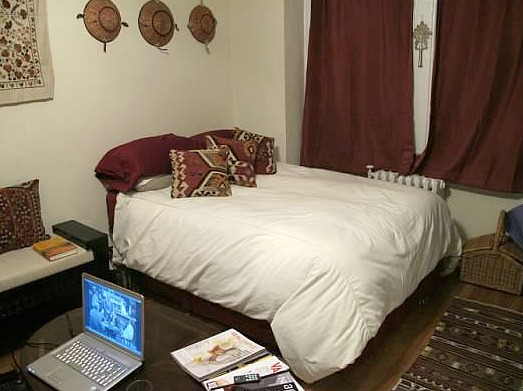 They wouldn't compromise on a Murphy bed or futon.
Almost immediately, they needed to come up with solutions to thorny space issues.
"We stored everything," Arend said. "Winter and summer clothes, cereal boxes on top of the cabinet, stuff stacked on top of the fridge and the closet — It's how I imagine New Yorkers are. They build up."
The apartment's cleanliness was a sticking point; there were so few areas to walk that any clutter was difficult to live with. Their closet runneth over and was prone to collapse when the interior structure got too overloaded, which happened four times in three years. Each time, the building's maintenance crew added more support to hold up the weight. At one point, Arend said, the 300-pound handyman who came to fix the closet happily dangled from the new rail.
"'That should hold,'" he said, as Arend tells it.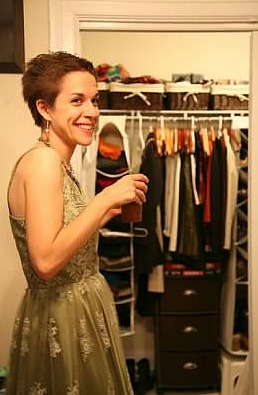 Arend in front of the notorious closet.
The prone-to-collapse closet also served as one of the few places in the apartment that could be reserved for some private time. "I would find Seiphemo on the floor in the closet reading the news at times when we had guests over," Arend said. Two meditation cushions stored neatly under the coffee table were often placed on the closet floor so Arend could "privately" take phone calls.
House guests, for whom Arend would set up a three-panel screen to afford them some privacy, could stay for a maximum of three days. Longer than that and "you start to go a little crazy."
The studio was the venue for a few dinner parties — two guests at a time to avoid "a fire hazard," Arend said — where the couple would perch on the bed or sit on the floor while their guests sat on the couch.
"I can't say that many of our dinner guests ever came back," Arend said. "They'd invite us over to their place the next time."
In the absence of actual privacy, they came up with a system to tell each other they didn't want to be disturbed. Monnapula would tell Arend he was "going into the office."
"He was three feet away from me," she explained. "But if he said that, it meant 'I need to do my work without interruptions.'" When she needed space, Arend would resort to taking a bath or heading to yoga.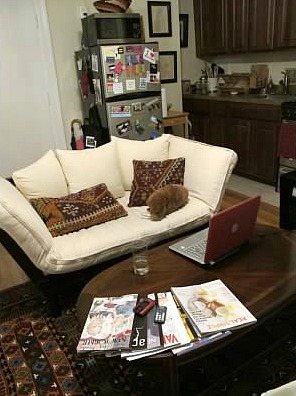 When Arend and Monnapula got married and Arend secured a new job, her parents insisted they buy a larger place. After a long search, they managed to find a one-bedroom condo in the neighborhood that gave them a little more breathing room.
"I was ready for a bigger space, but I would've stuck it out," Arend said. "I thought our space and our neighborhood, the quality of life that comes with a 20-minute walk to work, was worth it."
Monnapula had a different idea. "I did not think we'd stay in that place for as long as we did," he said. "It's just nice to have corners."
Grudgingly, Arend agrees.
"I have to admit that the first time that a girlfriend of mine called me and I was able to say, 'Oh, just give me a minute, I'll go into the bedroom and close the door,' I thought: 'Oh my god, I can close the door!'"
This article originally published at https://dc.urbanturf.com/articles/blog/three_years_living_together_in_310_square_feet/8985.
DC Real Estate Guides
Short guides to navigating the DC-area real estate market
We've collected all our helpful guides for buying, selling and renting in and around Washington, DC in one place. Visit guides.urbanturf.com or start browsing below!
First-Timer Primers
Intro guides for first-time home buyers